UC the World community offers international housing experience
University of Cincinnati living/learning housing gathers students interested in global citizenship
University of Cincinnati students piloted a living/learning community on campus this year to pursue their interests in cross-cultural connections and their dreams of a global future.
The first year brought together a small group of American and international students interested in international education and global citizenship.
Though the COVID-19 pandemic limited the pilot, they leave the community they built to future students to expand into a true residential experience.
Newly rebranded as UC the World to reflect the international makeup of the community, the LLC (originally Bearcats Abroad) is just one of the living/learning communities students can choose for on-campus housing.
The community is located in a designated block of units in the University Park Apartments.
Living/learning communities
Living/learning communities (LLCs) are small residential communities that bring together students with common academic interests. Most are associated with specific degree programs.
Students live together in a dedicated section of a residence hall in order to build connections that go beyond the classroom and to engage with each other and with faculty and staff to enrich their academic experience and their campus life.
The unique focus of each LLC determines the eligibility requirements, the academic connections and the community activities.   
The LLCs differ from residential interest communities or other group housing options because they include that academic focus. Participants commit to pursuing their academic passion with like-minded students.
UC the World was conceived as a community for students — both US and international — who are interested in learning about world cultures, travel, languages and a future as global citizens.
Unlike other LLCs, it is not associated with a specific degree program. In fact, the students' diverse backgrounds and perspectives are an essential part of this LLC's appeal.
The 2020-21 resident adviser, Daniel Posmik, said that the choice was deliberate to make the community an LLC rather than an interest community or other group housing type because of its inherent learning focus.
"I believe it will remain an LLC. I'm very certain about that, and that's because at its center it's not just the interest that the students have in common but also the pursuit of that global scholarship — studying abroad, learning from different people. Learning is central to this community, just not in the same way that it is to the engineering and business honors LLCs. It is very much by definition an LLC, a living/learning community."
While the academic components of the LLC were virtual in 2020-21, Posmik looks forward to in-person programming that can take place post-COVID, like international movie nights, study abroad fairs, guest speakers and potluck dinners, that can spark more cultural exchange, help international students transition to life in the United States, and prepare American students for international education.

Advisers' trip sparked idea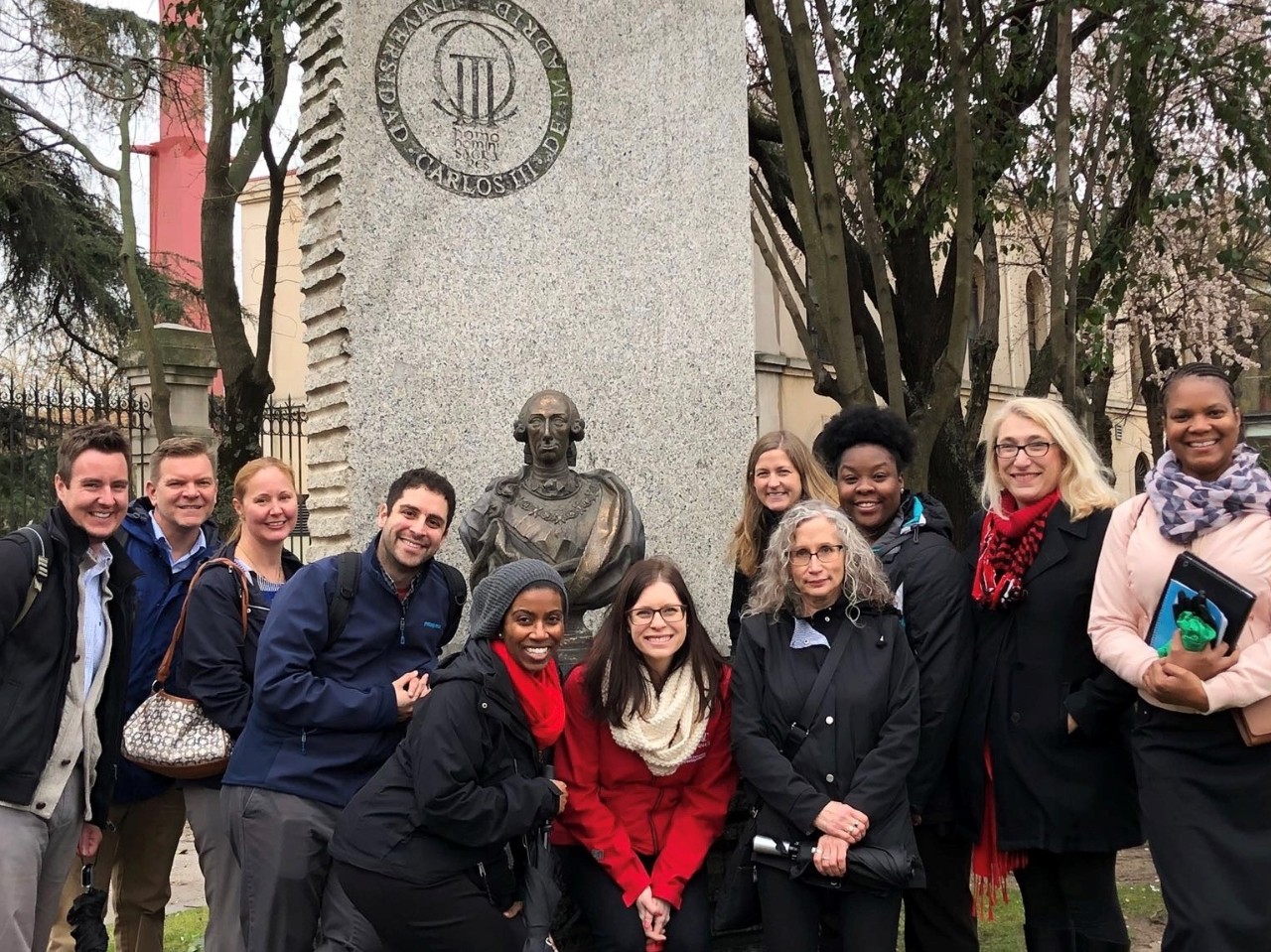 The UC the World LLC was born from an international academic experience — one designed for UC advising staff.
In 2018, UC International piloted a program to familiarize University of Cincinnati academic, financial aid, student activity and residential life advisers with what the study abroad experience is like for students. The original goal was to improve and diversify recruitment for study abroad.

Ryan Meyer, associate director of international programs (study abroad), credits the advisers for the idea. "It really came from them saying, 'I think the best way for us to be on board is to really know what this experience is like for students,' meaning the prep, the thought behind it, and then the experience itself."
Resident Education & Development (RED) Community Coordinator Makayla Owens heard about the program and was excited at the opportunity to participate. She was fairly new at UC at the time. She had studied abroad herself as a student, making service learning trips to Belize and the Phillipines, so she knew the value of the international study experience.
The group of advisers visited UC's exchange partners Europea University and Carlos III University in Madrid and the University of Bordeaux, one of UC's strategic partners. Their trip was organized to mimic an actual faculty-led program, with the same preparatory meetings and common travel arrangements, meals and activities.
"Part of the objectives going into that trip was everyone was to come out with a tangible outcome, a real world takeaway," Owens said. "I came back thinking, we have theme communities and we have living learning communities.

"And that's where I got the idea of Bearcats Abroad. Everything connected for me and sparked the interest for me to do that partnership with University Housing and UC International. Students needed a new community to learn from one another and about one another."
She decided to create a living/learning community that would serve both incoming international students and those interested in study abroad.
She and her colleagues spent a year developing the proposal and setting up the new housing community, ready to open in fall 2019.
And then coronavirus struck.
It was a rough year to pilot the LLC.
Few international students could come to the United States. Fewer American students than usual were interested in campus housing. Social distancing and online learning requirements forced the rapid retooling of the LLC's community and academic components, and computer fatigue took a toll on both aspects. Everyone acknowledged that the pilot LLC couldn't live up to the founders' dreams.
But with COVID-19 vaccinations looking promising, more students expected back on U.S. campuses and a record number of first-year international applicants at the University of Cincinnati for fall 2021, the reimagined UC the World LLC is an exciting prospect once again.
Owens looks forward to starting again with UC the World, and in particular connecting to UC's international students and faculty.
"We'll take it one step at a time. But it will be a great journey!"

Apply to be part of UC the World in fall 2021
Eligibility guidelines
Details are available in the LLC Descriptions section of the living/learning communities page of the Housing website.

To apply, you must answer some essay questions about why you want to be part of the UC the World community.
Deadlines
Housing applications are open now for fall 2021. The deadline for priority housing requests for admitted freshmen and new residents is May 5.

Room selection for new first-year students takes place June 1 - July 31.
Additional questions?
Email the UC International study abroad staff, and they will refer you to one of the advisors working with the LLC this fall.

The featured image shows the University Park Apartments.
1
Could an energy audit save you money?
November 23, 2022
Architectural engineering students at the University of Cincinnati are helping community partners save on monthly utility bills through energy audits.
2
CBC: Feast of Carols is a "best bet" for Cincinnati holiday...
Event: December 3, 2022 12:00 AM
Bring your family to enjoy the annual Feast of Carols concert at UC's College-Conservatory of Music. Named in the Cincinnati Business Courier's top "10 best bets for Cincinnati's performing arts this season," the concert is presented at 2 and 5 p.m. on Saturday Dec. 3, and Sunday, Dec. 4 in CCM's Corbett Auditorium.
3
CCM shares spring 2023 schedule of major performances and events
November 22, 2022
Audiences are invited to return to the University of Cincinnati College-Conservatory of Music's (CCM) concert halls and theaters to experience world-class performances and presentations by the next generation of performing and media artists! The college's spring 2023 schedule of free and ticketed events is now available. Tickets go on sale to the general public beginning on Monday, Nov. 28, through the CCM Box Office.
Debug
Query for this