UC researcher receives patent for new breast cancer treatment
RNA nanoparticle hoped to overcome drug resistance, increase efficacy and lower treatment toxicity
On the field of battle, an opposing force can identify probable points of attack and fortify the weak area to regain the upper hand. However, a keen general can keep the enemy's defenses weak by blocking access to supplies and reinforcements.
Much like a battle, certain breast cancers are able to build up their defenses and develop resistance to current treatments, but University of Cincinnati researcher Xiaoting Zhang and his team have recently been awarded a patent for new technology that could remove a key breast cancer co-driver and prevent the cancer from growing and resisting treatment.
Targeted breast cancer treatments are effective at times, but nearly all advanced cancers will eventually become resistant to current therapies, according to Elyse Lower, MD.
"The development of drug resistance remains one of the greatest challenges in breast cancer today," said Lower, professor of medicine, director of the UC Cancer Center's comprehensive breast cancer center and a UC Health physician. "Newer therapies have improved patient survival but have frequent side effects, and unfortunately these drugs soon 'stop working' and the disease progresses in nearly all cases."
There is currently no effective treatment for therapeutic resistant and metastatic breast cancer, Zhang, PhD, said, but his 20 years' of research work includes a research study published earlier this year which helped identify that a gene, called MED1, plays a large part in breast cancer's therapy resistance, metastases (or spread) and stem cell formation. 
Zhang's research found that MED1, a protein coding gene working closely together with the two most important breast cancer genes called estrogen receptor (ER) and HER2, often works excessively more than it should to make tumors spread and more resistant to therapeutics. 

"Because MED1 is at an elevated level and hyperactivated, now the tumor is more aggressively spreading and resistant to the treatment," said Zhang, professor and Thomas Boat Endowed Chair in UC's Department of Cancer Biology, director of the Breast Cancer Research Program and member of the University of Cincinnati Cancer Center.
Zhang and his colleagues have developed a multifunctional RNA nanoparticle that shuts down MED1 in the cancer cells, preventing it from being able to work to promote tumor growth and therapy resistance. The new therapy is delivered intravenously.
"It's like MED1 is downstream and estrogen receptor and HER2 are upstream," Zhang said. "So if you take the downstream thing out, then the estrogen receptor and HER2 cannot come down to drive the tumor growth."
The patent for the nanoparticle was issued in September to Zhang and Peixuan Guo, professor at The Ohio State University.
About 75% of all breast cancer is developed through the estrogen receptor, while about 10% to 20% is traced back to HER2, so removing MED1 could be an effective treatment strategy for nearly 90% of all breast cancer patients, Zhang said. It's currently estimated that more than 280,000 American women will be diagnosed with invasive breast cancer this year, and more than 43,000 patients will die of breast cancer in 2021, according to Zhang.
We think this RNA nanotechnology is the next generation of new therapy.
Xiaoting Zhang, PhD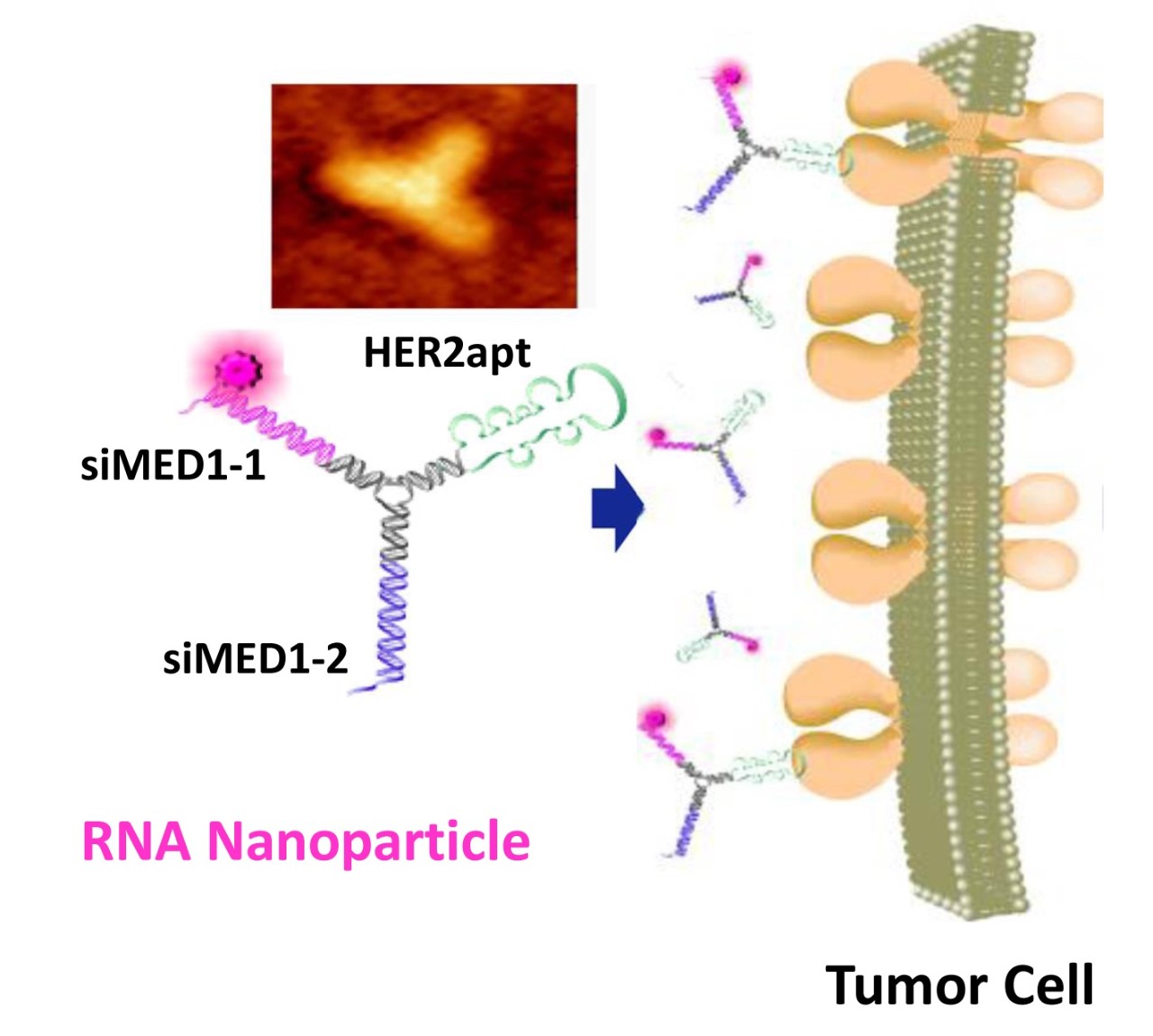 The nanoparticle is shaped like a three-blade fan. Zhang said one of the blades attaches itself to the HER2 protein on the surface of the tumor so that the therapy is targeted to the tumor and does not affect healthy cells throughout the rest of the body. The other two blades contain siRNA therapies — a therapy that stops the production of an undesirable protein before it has even been made — that stops the production of MED1 in the cells.
Through testing in vitro and with animal models, the RNA nanoparticle so far has shown to be effective with no apparent toxicity or side effects, Zhang said. 
"It's RNA nanoparticles, so it's known to be less toxic. That's what the FDA is looking for," Zhang said. The team had success in tests in the lab and in animal models before starting clinical trials, "so we're in good shape with this highly innovative and promising technology."
In animal models, the nanoparticle was shown to be more effective than a currently common treatment, tamoxifen, an estrogen modulator. Zhang noted the nanoparticle is only administered once every week while tamoxifen is administered five days a week, and there is potential to combine the two therapies to make the treatment even more effective.  
"With its many advantages over the conventional small molecule chemical drug and biological (e.g. antibody) therapies, we think this RNA nanotechnology is the next generation of new therapy," he said.

With the patent in hand, Zhang and his team are now working with the UC Venture Lab, 1819 Innovation Hub and UC technology transfer office and have recently obtained the initial accelerator support backed by Ohio Third Frontier Technology Validation and Start-up Fund and Entrepreneurial Services Provider Program to commercialize the technology. 
"Our goal is to set up a startup within a year to further this technology," Zhang said. "Hopefully with more additional investments including seed funding, capital investment and other support, we can finish the research and development studies to get FDA approval for clinical trials within two to three years."
The exact timeline will depend on investment into the project, but Zhang said the broad use and effectiveness of the COVID-19 RNA vaccines has brought more light to the power of RNA technology and could accelerate investment.
"Now people all know or have heard about RNA, and it has started to generate lots of interest in investing in RNA therapeutics globally," Zhang said. "We are excited and highly optimistic but we have to see and hope we can find the answer in clinical trials soon."
Lower said it is "imperative" to support this project to get it to the point of testing in clinical settings.
"It is remarkable that Dr. Zhang's group has developed this now patented novel RNA technology-based nanotherapy to target MED1 specifically in cancer cells," she said. "This is the exact medical innovation our society needs to invest in, and our UC comprehensive breast cancer center will be very excited to participate in onsite clinical trials."

There is still a lot of work to be done, but Zhang said RNA nanoparticles could become a groundbreaking new therapy beyond breast cancer treatment.
"If this one works, then it will have a very broad impact," he said. "Right now, we target it in breast cancer, but this similar approach can be applied to other cancers, other diseases, so this could have a very large impact."

Impact Lives Here
The University of Cincinnati is leading public urban universities into a new era of innovation and impact. Our faculty, staff and students are saving lives, changing outcomes and bending the future in our city's direction. Next Lives Here.
Zhang's research into MED1 and developing the nanoparticle was supported by funding from Breast Cancer Alliance, Susan G. Komen for the Cure Foundation, American Cancer Society, Ride Cincinnati, Ohio Cancer Research, UC Cancer Center, Center for Clinical and Translational Science and Training, Department of Defense and the National Cancer Institute. Dr. Zhang cites no conflict of interest.
Featured photo at top of Dr. Zhang at microscope. Photo/Andrew Higley/UC Creative + Brand
2
Local 12: UC startup gains approval for trials
May 30, 2023
A startup founded by four University of Cincinnati physicians gained FDA approval to move forward with clinical trials for its portable system that can detect brain injuries, Local 12 reported.
3
Newsweek: Conservative justices deal a blow to Ivermectin in...
May 29, 2023
The Wisconsin Supreme Court ruled earlier this month that hospitals can't be forced to issue Ivermectin to patients. It backed an earlier appeals court decision. Jennifer Bard, PhD, professor at the University of Cincinnati College of Law, weighed in on the decision during an interview with Newsweek.
Debug
Query for this