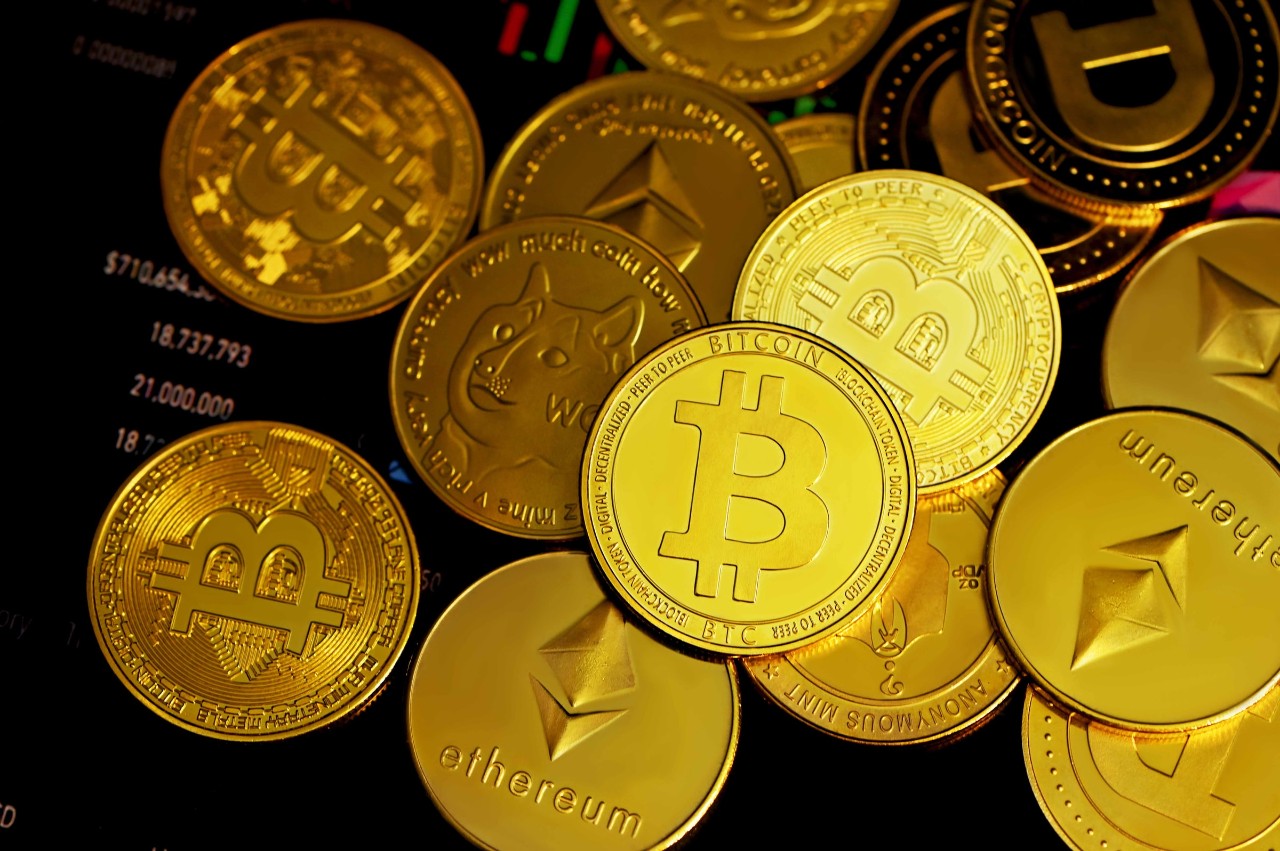 Is cryptocurrency the future of philanthropy?
Flashpoint Series to explore how growing technology will affect nonprofits
As cryptocurrencies gain prominence in the financial sector, the philanthropic world is seeking ways it can utilize this new technology to advance the work of nonprofits.
The Digital Futures Flashpoint Series, a series of "conversations of consequence," will host a discussion Feb. 17 exploring: "Is Cryptocurrency The Future Of Philanthropy?"
"43% of men in the United States between the ages of 18 and 29 have bought cryptocurrency. And the three youngest billionaires on Forbes' list of billionaires earned their wealth from crypto," said Michael Jones, the Kautz-Uible Professor of Economics in the University of Cincinnati's Carl H. Lindner College of Business. "As the next generation grows older, cryptocurrency donations to nonprofits will become increasingly common. The cryptoeconomics lab at UC is researching best practices for how philanthropic organizations can accept, manage and distribute cryptocurrencies."
In 2021, the market cap of cryptocurrencies exceeded $3 trillion, six new crypto billionaires joined the Forbes 400 and the CEO of Twitter sold a non-fungible token (NFT) for charity. The Giving Block, an organization that helps nonprofits with cryptocurrency fundraising, reported a 583% increase in cryptocurrency donations in 2021.
Flashpoint Series panelists will discuss their experiences with accepting and using cryptocurrencies to advance their nonprofit mission.
Panelists will include:
Michael Jones, Kautz-Uible professor in economics, UC's Kautz-Uible Economics Institute
Alex Wilson, co-founder, The Giving Block
Erin Clemons, president and CEO, Northern Cincinnati Foundation
Edwin Goutier, vice president of innovation, United Way
The one-hour forum will be moderated by Jai Chabria, former senior adviser to Ohio Gov. John Kasich and current managing director at Mercury, a global strategy firm. It will be hosted virtually beginning at 1 p.m. Feb. 17.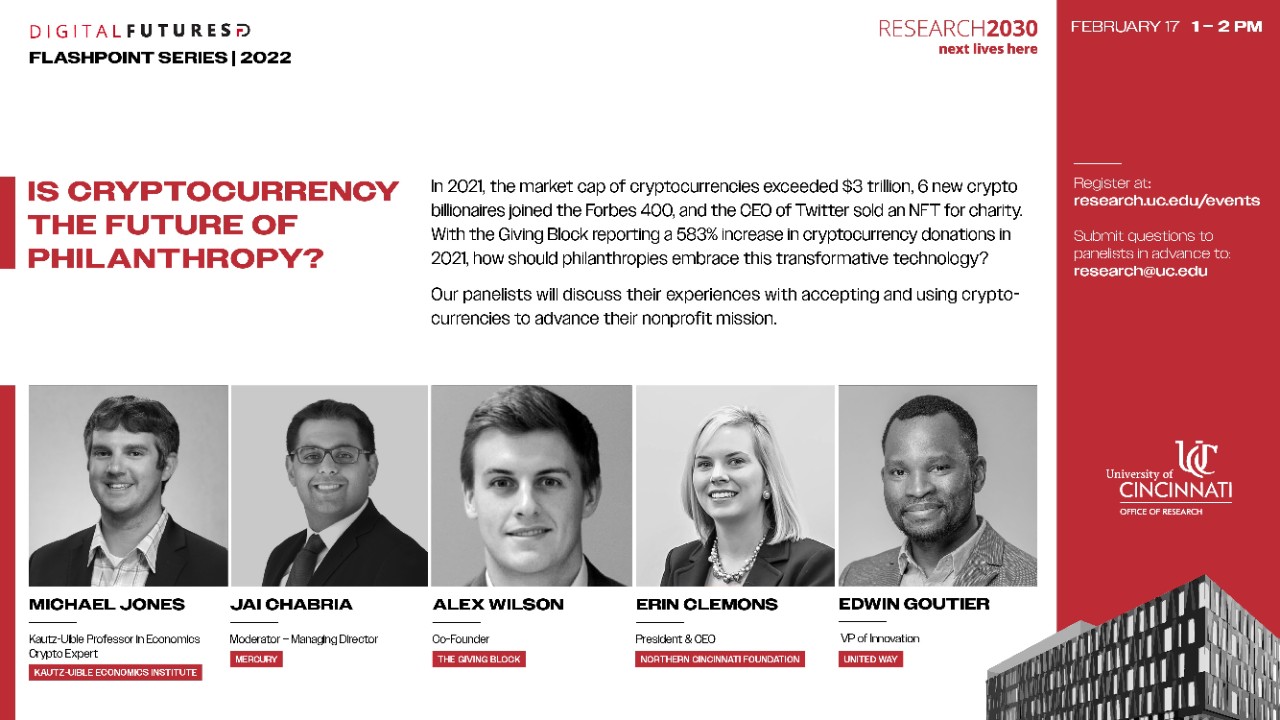 The discussion about cryptocurrencies and philanthropy is the first Flashpoint Series event of 2022. The series aims to bring together experts, from UC and beyond, to talk about topics including the heroin epidemic, water quality on the Ohio River and cyber security in elections.

"Digital Futures is all about solving problems that matter, and these are conversations about those problems and how researchers and others are working right now to solve them," Chabria said.
UC is planning a new space for these conversations in the future. Six stories tall and 180,000-square-feet, UC's new Digital Futures building will be the first facility for interdisciplinary research in UC's 200-plus year history when it celebrates its grand opening in September.
"Digital Futures will house some of UC's top talent working at the intersection of imagination and innovation," said Jennifer Krivickas, UC's associate vice president for research. "Not bound to any one college or discipline, the Digital Futures research program is intentionally inclusive, intellectually diverse and will allow UC researchers to partner and more directly act on its impetus to both serve the public good locally and have an impact globally."
To register to attend the Feb. 17 forum, which is free and open to the public, visit research.uc.edu/events. Community members can submit questions for the panelists in advance by emailing: research@uc.edu.
Featured image at top courtesy of Unsplash.