How blind cavefish survive a low-oxygen environment
UC biologists discover another novel adaptation in extraordinary fish
Cavefish have obvious adaptations such as missing eyes and pale colors that demonstrate how they evolved over millennia in a dark, subterranean world.
Now researchers at the University of Cincinnati say these incredible fish have an equally remarkable physiology that helps them cope with a low-oxygen environment that would kill other species.
Biologists in UC's College of Arts and Sciences found that Mexican cavefish produce more hemoglobin through red blood cells that are much larger compared to those of surface-dwelling fish. Hemoglobin helps the body transport oxygen and carbon dioxide between a fish's cells and organs and its gills.
The study was published in the Nature journal Scientific Reports. It demonstrates how much more there is to learn about animals that have intrigued biologists for 200 years.
"I've been fascinated by these fish for a long time," UC associate professor Joshua Gross said.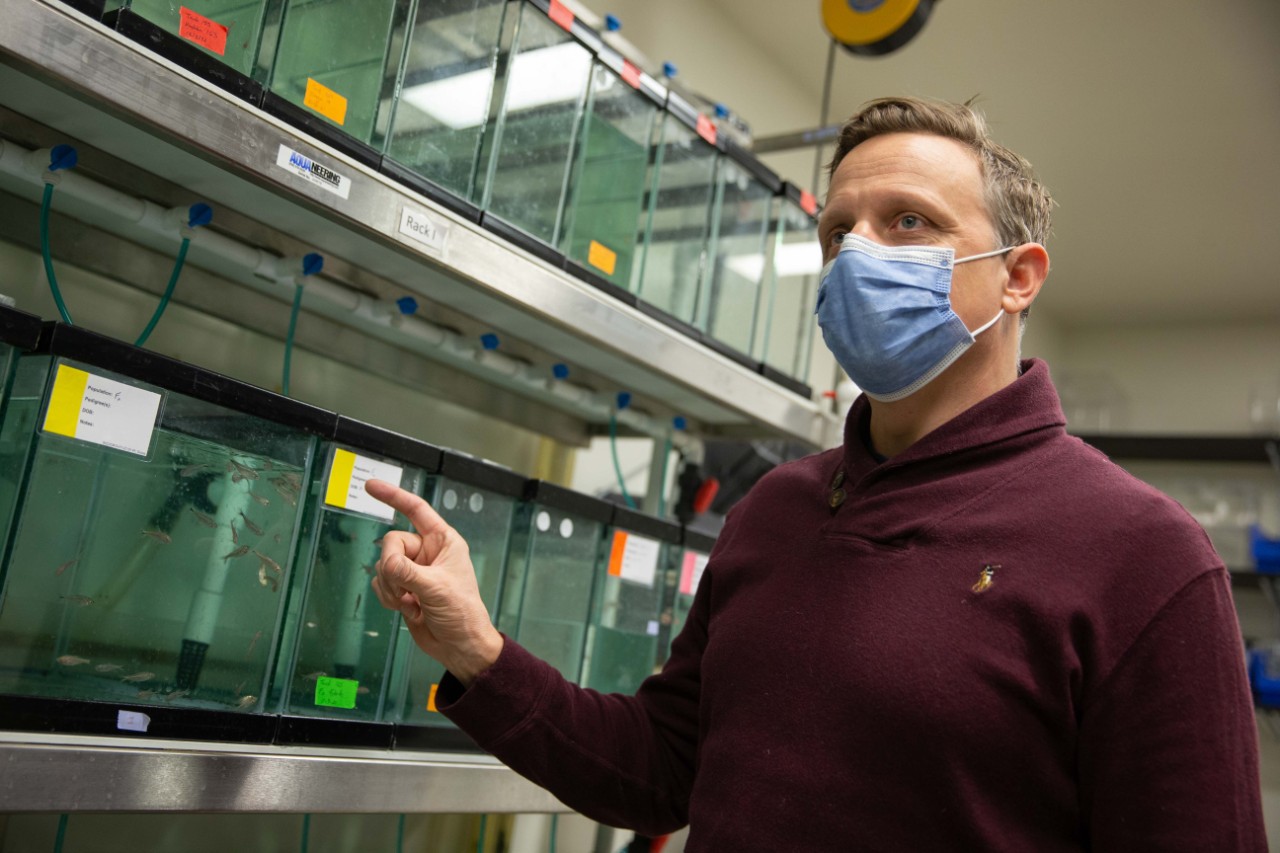 Cavefish evolved in caverns around the world. The species UC biologists examined, Astyanax mexicanus, diverged as recently as 20,000 years ago from surface fish still found in nearby streams in Sierra de El Abra, Mexico.
Cavefish are pale pink and nearly translucent compared to their silvery counterparts on the surface. While cavefish have the faintest outline of vestigial eye sockets, the surface tetras have enormous round eyes that give them a perpetually surprised expression.
Despite their many obvious physical differences, the two fish are considered the same species, Gross said.
"Unlike Charles Darwin's finches in the Galapagos that are separated at the species level, both the cavefish and surface fish are considered members of the same species and can interbreed," he said.
That makes them a good model system for biologists to study evolutionary and genetic adaptations, Gross said.
It's a paradox. They're expending all this energy. Where does it come from?
Tyler Boggs, UC biology student
Gross and his students have learned a lot about these puzzling fish over the years. They found that the fish's skull is asymmetrical, which could be an adaptation for navigating in a world with no visual cues. And they identified the gene responsible for the fish's ghostly pallid color. It's the same gene responsible for red hair in people.
They also observed that cavefish approach potential prey or unusual stimuli from the right side of their bodies while approaching familiar cavefish from the left while socializing.
Scientists elsewhere have reported that cavefish sleep less than surface fish.
For the latest study, Gross and UC biology students Jessica Friedman and Tyler Boggs, the study's lead author, examined hemoglobin in cavefish blood to see if it might explain how they survive the low-oxygen environment of deep underground caves. The UC study examined cavefish from three populations in Mexican caves called Chica, Tinaja and Pachón.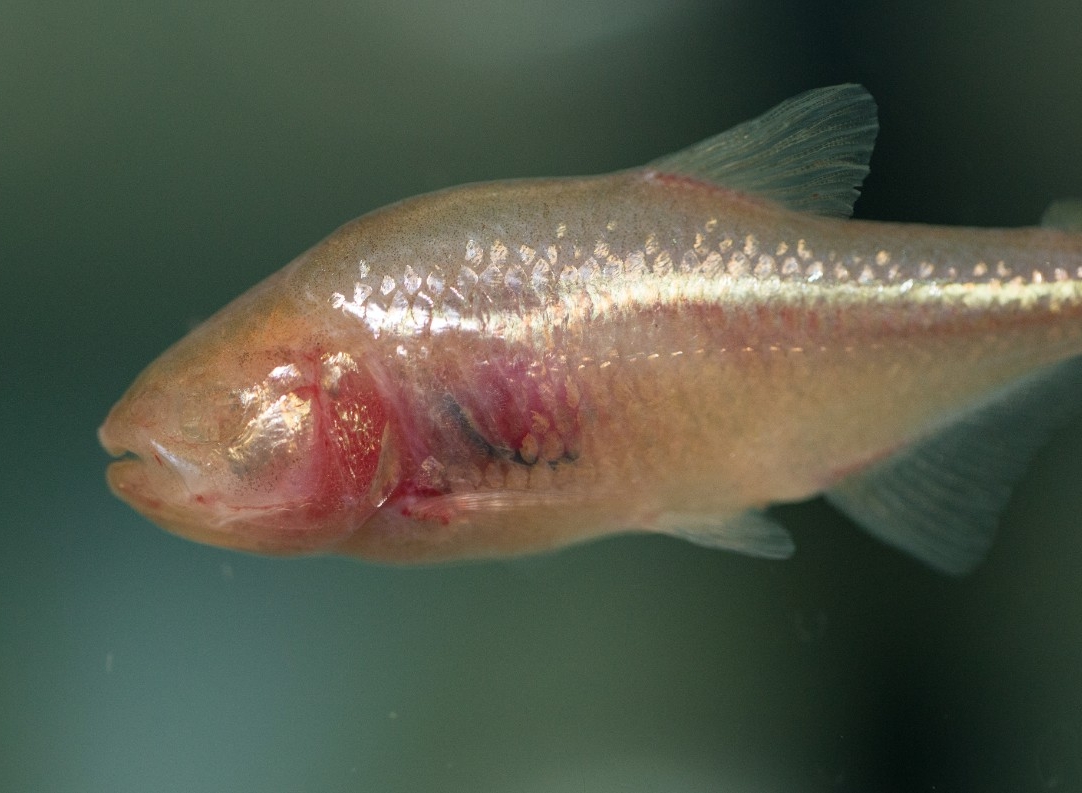 While fast-moving surface streams are saturated with oxygen, cavefish live in deep caverns where standing water lies undisturbed for long periods. Studies have found that some of these standing pools have far less dissolved oxygen than surface waters.
"They move around all the time, but they have little access to nutrition," Boggs said. "It's a paradox. They're expending all this energy. Where does it come from?"
Blood samples revealed that cavefish have more hemoglobin than surface fish. UC researchers assumed that cavefish must have a higher hematocrit — a clinical measure of the relative contribution of red blood cells in whole blood.
Researchers expected to find more red blood cells in cavefish.
"But they were virtually the same," Gross said. "We couldn't figure out what was going on."
UC biologists examined the red blood cells of both fish and found that those of cavefish are significantly larger by comparison. Gross likened them to softballs compared to the baseballs of surface fish.
"That alone is really what explains the differences in hematocrit," Gross said. "We know very little about the mechanism of cell size in evolution, so this finding is something we could capitalize on to gain insight into how animals evolve elevated hemoglobin capacity."
Gross said the elevated hemoglobin might allow cavefish to forage longer in the low-oxygen environment. Cavefish often have to work harder to find limited food available in the caves.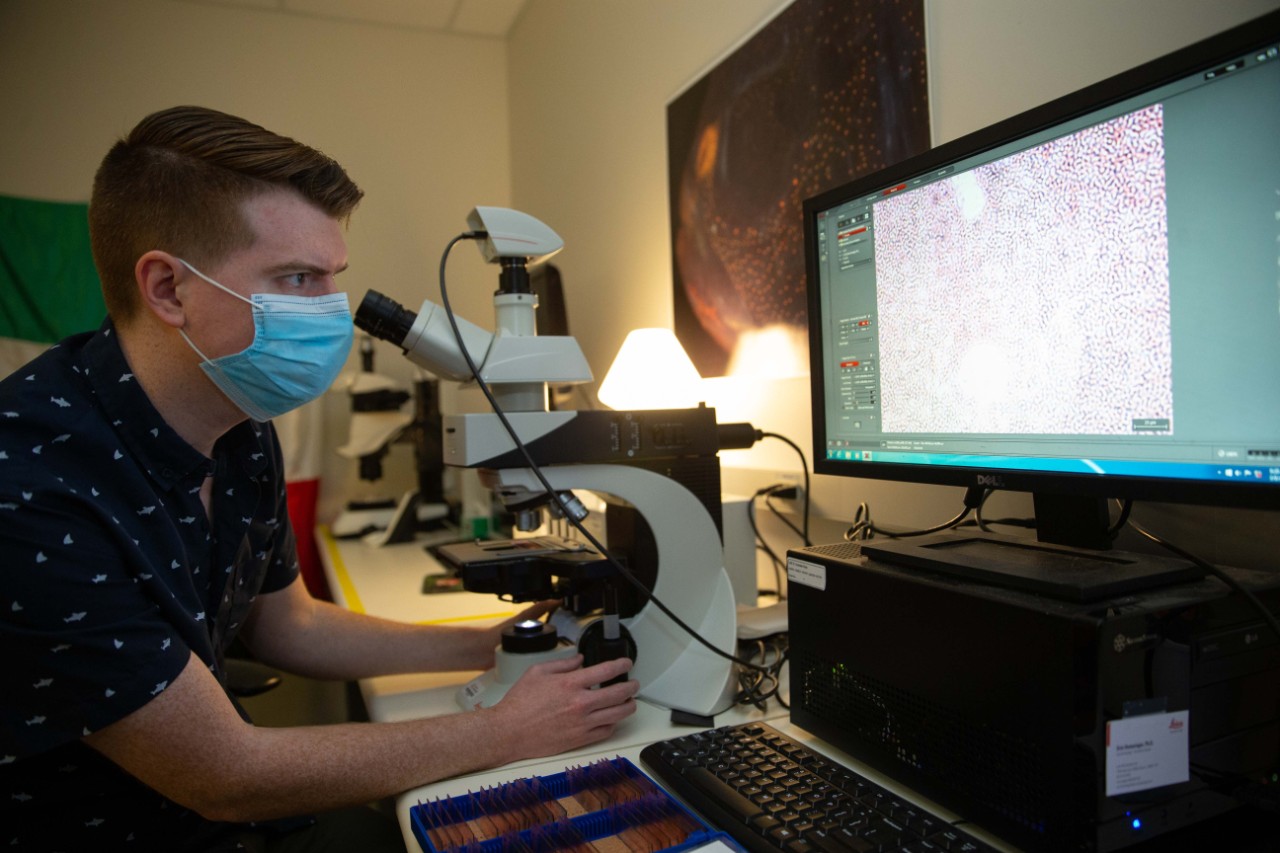 Boggs said scientists are very interested in how fish draw oxygen from the water. Because of climate change and human development, marine systems are seeing more ecological disasters such as red tides, algae blooms that create low-oxygen environments that often lead to massive fish kills.
"There is a lot of ecological relevance here," he said. "It's happening in freshwater environments, saltwater environments. Researchers are trying to call attention to this awful issue."
The study has potential clinical relevance, too, Boggs said.
"Maintaining cell size and hemoglobin regulation is vital to an efficient circulatory system," Boggs said.
Altering cell size can lead to medical issues such as anemia.
"I don't think cavefish experience this, which is impressive to me," Boggs said.
Featured image at top: Mexican blind cavefish lost their eyes and developed pale colors over thousands of years of evolution in their subterranean world. Photo/Andrew Higley/UC Creative + Brand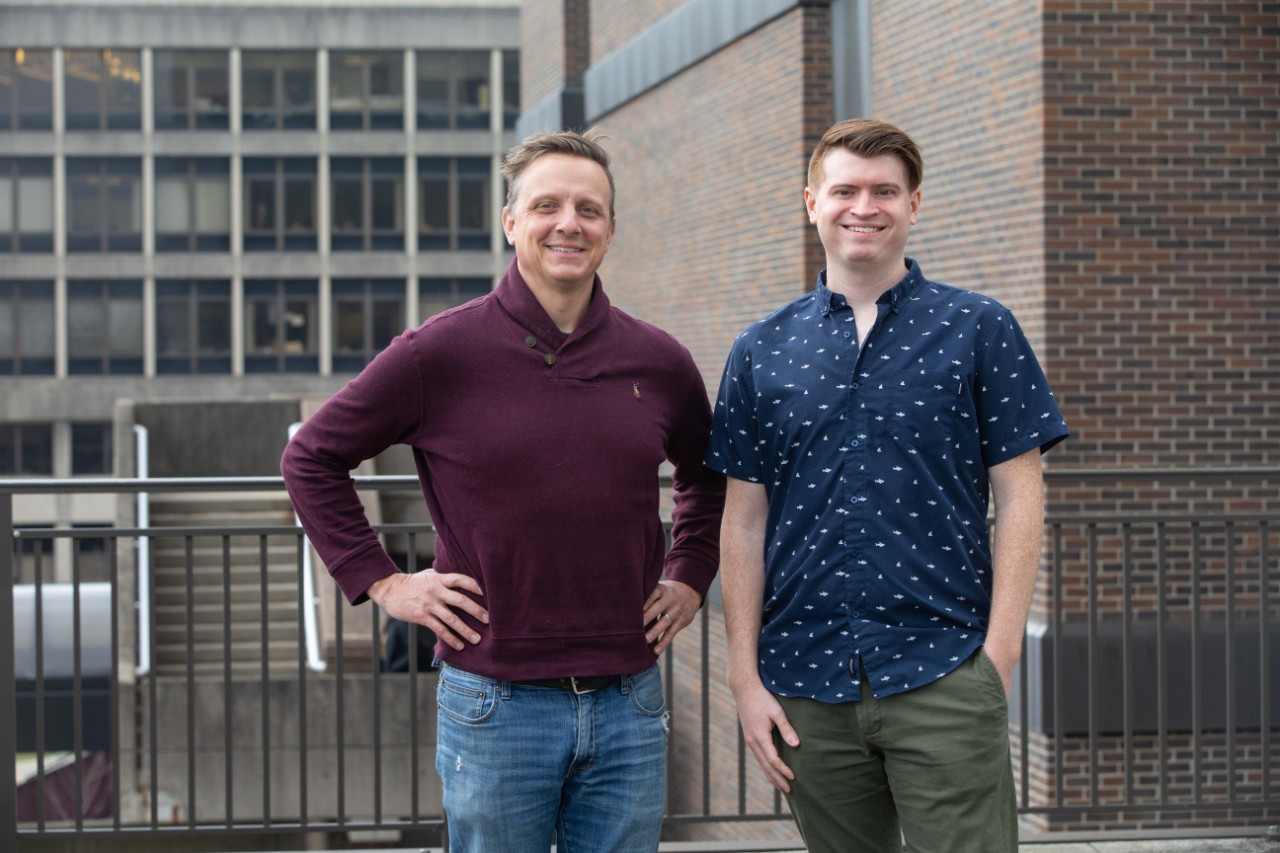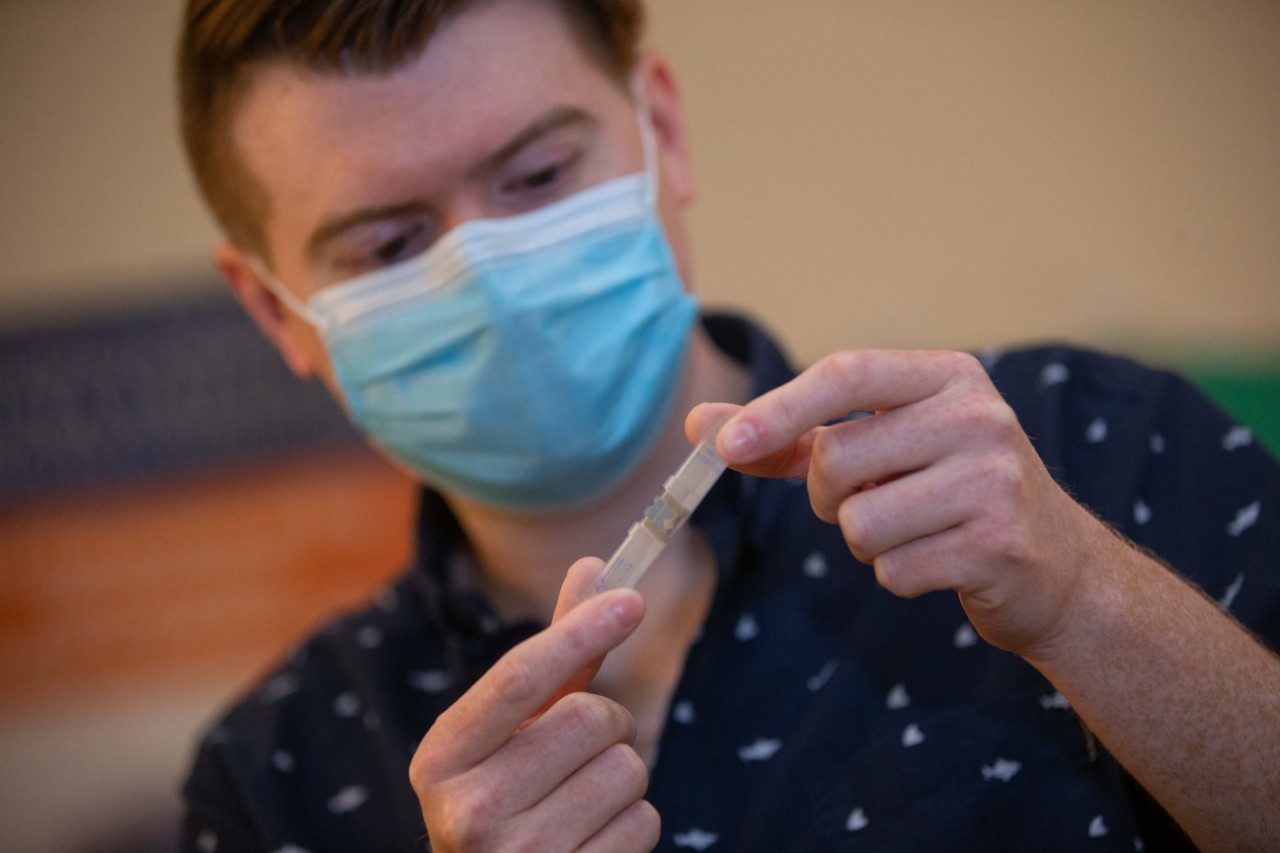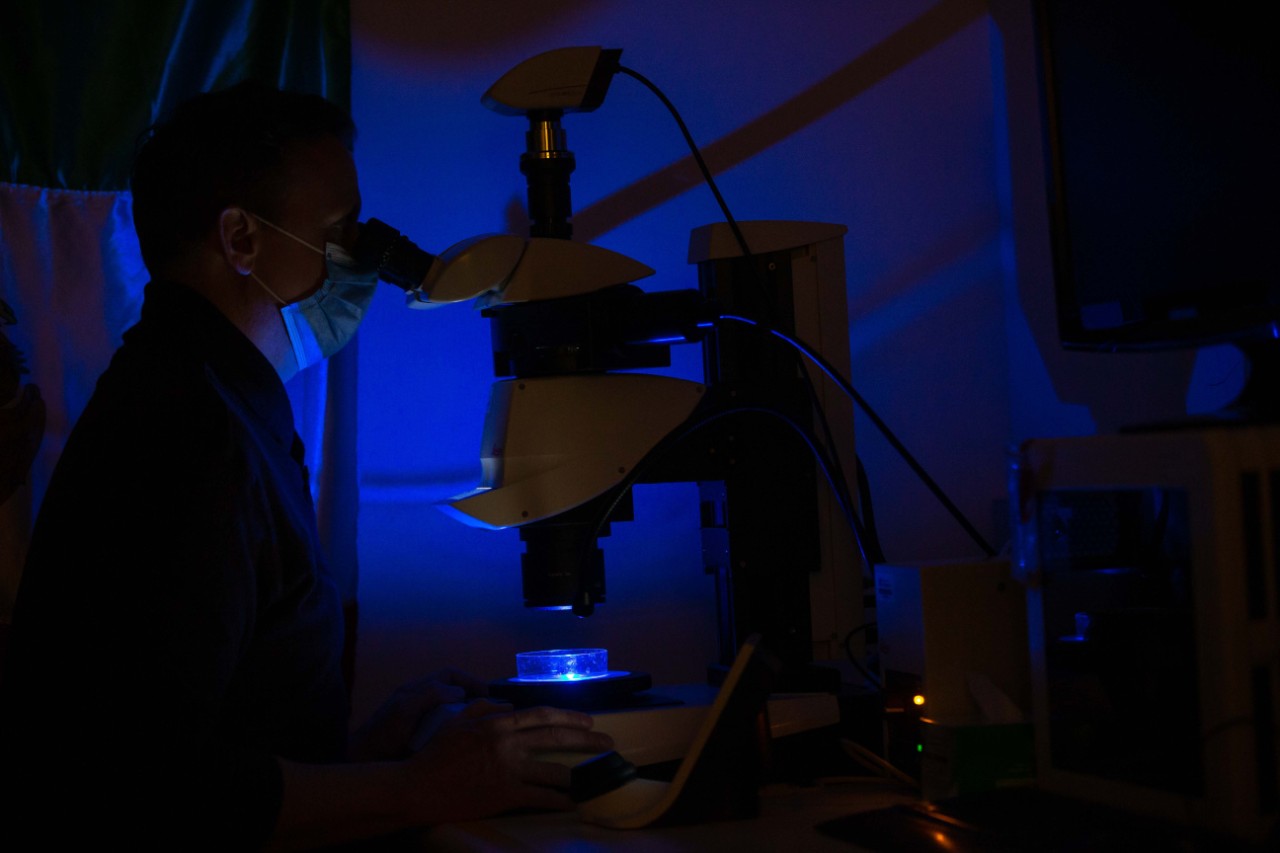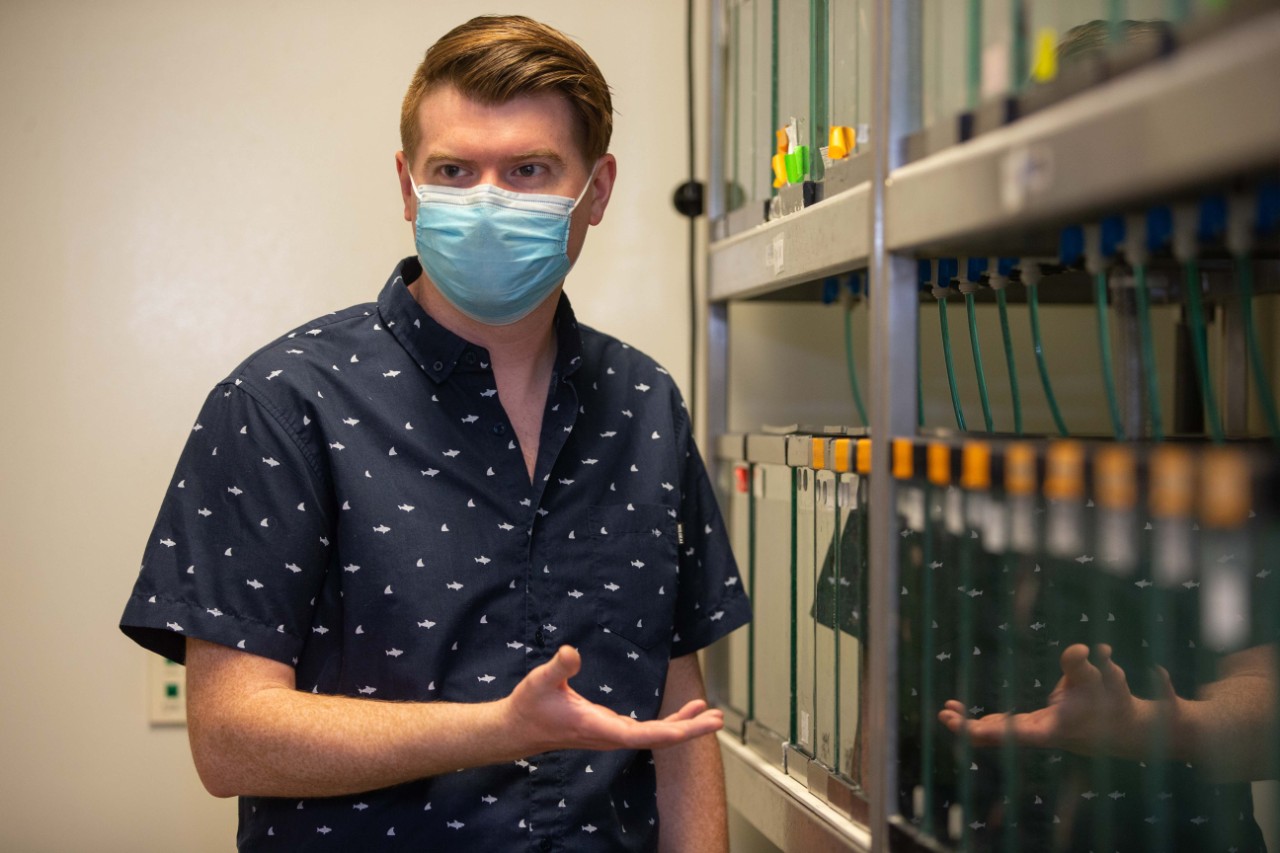 Next Lives Here
The University of Cincinnati is leading public urban universities into a new era of innovation and impact. Our faculty, staff and students are saving lives, changing outcomes and bending the future in our city's direction. Next Lives Here.
1
UC students plan documentary in Eastern Europe during the war 
December 2, 2022
As global media descends on Eastern Europe to cover Russia's war in Ukraine, two University of Cincinnati students are planning to cover the region from a different angle. Hunter Shallcross and Tanmay Srivastava, both digital media collaborative majors in the College of Arts and Sciences, have planned a trip to multiple European countries to film their own documentary, titled "The Edge of Chaos." The trip is scheduled for May of 2023.  The pair became friends through their passion for film, and soon started partnering on projects. Last February, Shallcross and Srivastava became interested in the way culture and art are changing in countries on the edge of Europe due to the war, and decided to develop the idea into a documentary. "Everybody is flocking to Eastern Europe to document what is going on. We want it to show the artistic side," says Shallcross. "The shots, the camera angles, and the narrative we want to tell about relationships and personal issues that go beyond war."  They began pitching their documentary idea to various professors and making any connections they could to bring their idea to life. Last May, they even attended the Cannes Film Festival, to get some first-hand film experience, while networking with people there. 
2
Venture Lab, Center for Entrepreneurship merge to boost...
December 1, 2022
The UC Venture Lab and the UC Center for Entrepreneurship will merge into a single unit. The newly integrated team will be led by Kate Harmon, executive director of the Center for Entrepreneurship and the El and Elaine Bourgraf Director of Entrepreneurship.
3
UC research seeks to protect athletes from brain injuries
December 1, 2022
Former football players worry about the effects of concussions suffered during their playing careers and hope research from the University of Cincinnati will help them and future generations avoid the worst consequences of brain injuries. UC's Office of Research hosted a panel discussion in the Flashpoint Series, "Brain Injuries in Sports: How we can help our athletes," which addressed the effects of brain injuries and how research aims to develop solutions to protect athletes.
Debug
Query for this