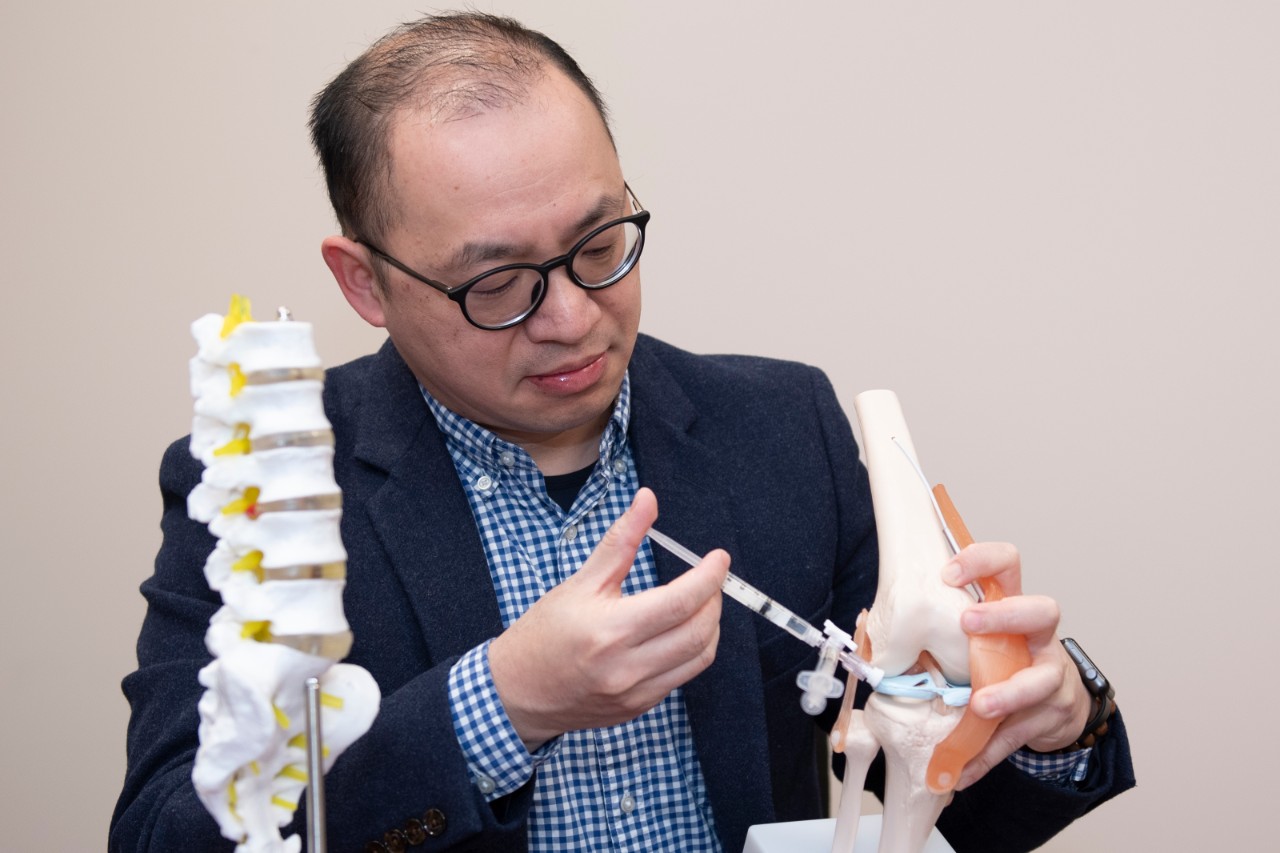 Venture Lab-backed startup earns $6 million of funding
Amplicore develops innovative methods to treat musculoskeletal disorders
With $6 million of funding, including $2 million from the U.S. Department of Defense, a University of Cincinnati Venture Lab-backed startup is developing methods to treat musculoskeletal disorders that are minimally invasive and could regenerate damaged tissue.
The startup, Amplicore, based in Mason, Ohio, is working on multiple products to treat joint osteoarthritis, cartilage damage, degenerative disc disease and acute meniscus tears. The company's injectable therapeutics offer hope that in the near future wear and tear on joints could be treated with a regenerative approach that reduces the need for invasive surgeries and addictive painkillers.
"From our research, we've identified our drug, a different class of drug, and immediately sensed its potential," said Chia-Ying James Lin, PhD, Amplicore's founder, president and chief executive officer. "It's a much safer drug, and our research suggests that it can not only provide pain relief but also promote the regeneration of damaged tissue."
Amplicore is one of the startups that have come out of the Venture Lab at UC and received seed funding through the program.
UC's Venture Lab accelerates and simplifies the process of creating a new company from scratch. The Venture Lab connects entrepreneurs to talent and funding to help launch new companies.
Amplicore plans to begin a first clinical trial in 2022 for its solution to treat acute meniscal tears, one of the most common knee injuries.
Brian Grawe, MD, an associate professor of clinical orthopaedic surgery in UC's College of Medicine, will be the principal investigator for the Department of Defense-funded early phase clinical trial, with partners Walter Reed National Military Medical Center and Oregon Health & Science University.
"For us, it's a huge milestone and something that obviously our potential investors are excited about," said Tyler Vandivort, PhD, Amplicore's director of regulatory affairs and operations.
Currently, operative treatments are considered to be the most clinically appropriate means to treat certain types of acute meniscal tears. However, the failure rate for these surgeries is almost 25%, which can lead to post-trauma osteoarthritis and an unstable knee.
This is of particular concern to the United States military as more than one in three veterans suffer from symptoms associated with osteoarthritis.
Amplicore has developed an injection kit, which is used alongside surgery to reduce the risk of failure. Another innovation from Amplicore aims to treat wear and tear on joints before surgery is needed.
Current treatments for joint discomfort include physical therapy, visco-supplements such as hyaluronic acid injections and anti-inflammatory corticosteroid injections. While those treatments can mask pain, none are reparative.
"That's the holy grail, for osteoarthritis in particular, to not only treat short-term pain but to attenuate or reverse the progression of that degradation of that cartilage in the knee," Vandivort said.
Amplicore is developing an injection that early research shows could offer pain relief and regeneration of damaged tissue. The company hopes to pursue a clinical trial for that product next year.
While work continues on both products, Amplicore also has started Series A fundraising and is seeking to raise $30 million.
Being an urban university, we get a lot of major industry players in the area. I think that climate is unique and very beneficial.
Chia-Ying James Lin Amplicore founder, president and CEO
Lin, a research professor at UC and the Mary S. and Joseph S. Stern, Jr. Chair in Musculoskeletal Research, said he thinks Amplicore is making great progress as many startups don't reach the clinical trial phase before securing Series B funding, the next step after Series A funding.
Investors also have been encouraged by the progress as the chances of company success drastically increase after reaching clinical trials. Prior to clinical trials, a product has about a 1 in 5,000 to 1 in 10,000 chance of success, Vandivort said. Once clinical trials are reached, the success rate increases to approximately 1 in 5 to 1 in 10.
Lin, who founded Amplicore in 2019 based on research in his lab at UC, said the environment at UC and the assistance of the Venture Lab have been helpful in developing his company.
"I think UC has been doing a great job," he said. "Being an urban university, we get a lot of major industry players in the area. I think that climate is unique and very beneficial."
As Amplicore gains more funding, it hopes to further expand its team and develop an extensive co-op program that will lead a pipeline of UC students to the company. Thus far the company has had one co-op student, a chemical and biomedical engineering student from UC.
Amplicore also would like to continue to grow the spectrum of products it offers to treat more musculoskeletal disorders.
"Ultimately I think we can develop an even more extensive product line to take care of more diseases," Lin said.
Featured image at top: Chia-Ying James Lin injects a needle into a model of a joint. Photo/Colleen Kelley/UC Creative + Brand
About UC Venture Lab
A leading model for urban-centered universities, the UC Venture Lab activates a high density of rapidly curated startup opportunities that attract outside entrepreneurial talent and investors. We connect university students, faculty, staff, and alumni to talent and funding to help launch new companies. Our team includes Office of Innovation staff as well as Entrepreneurs-in-Residence (EIRs), coaches, curated service providers, and subject matter experts.
About the Cincinnati Innovation District
The Cincinnati Innovation District® is a unique and thriving ecosystem that attracts, produces, retains and develops talent by co-locating and collaborating with organizations. Unveiled in 2020 by Ohio Governor Mike DeWine and Lt. Governor Jon Husted along with JobsOhio and innovation district leadership, the district envelops myriad innovation assets and access to some of the world's leading academic and research centers, organizations and talent pools. Powered by the University of Cincinnati, the CID includes the world-renowned Cincinnati Children's Hospital Medical Center and other national research centers. The district's mission is to become a globally recognized talent hub and lead a transformational movement. The combination of industry engagement, unique experiential platforms and accessible research expertise — working at the pace of change — will become a model nationwide. For more information on the Cincinnati Innovation District, visit www.cincyid.com.
1
UC study examines role of metabolites in disease treatment
June 8, 2023
Each year, about 200,000 people in the United States are diagnosed with a bulge in the lower part of the aorta, the main artery in the body, called an abdominal aortic aneurysm (AAA). New research from the University of Cincinnati examines the role a particular metabolite plays in the development of AAA and could lead to the first treatment of the condition.
Debug
Query for this