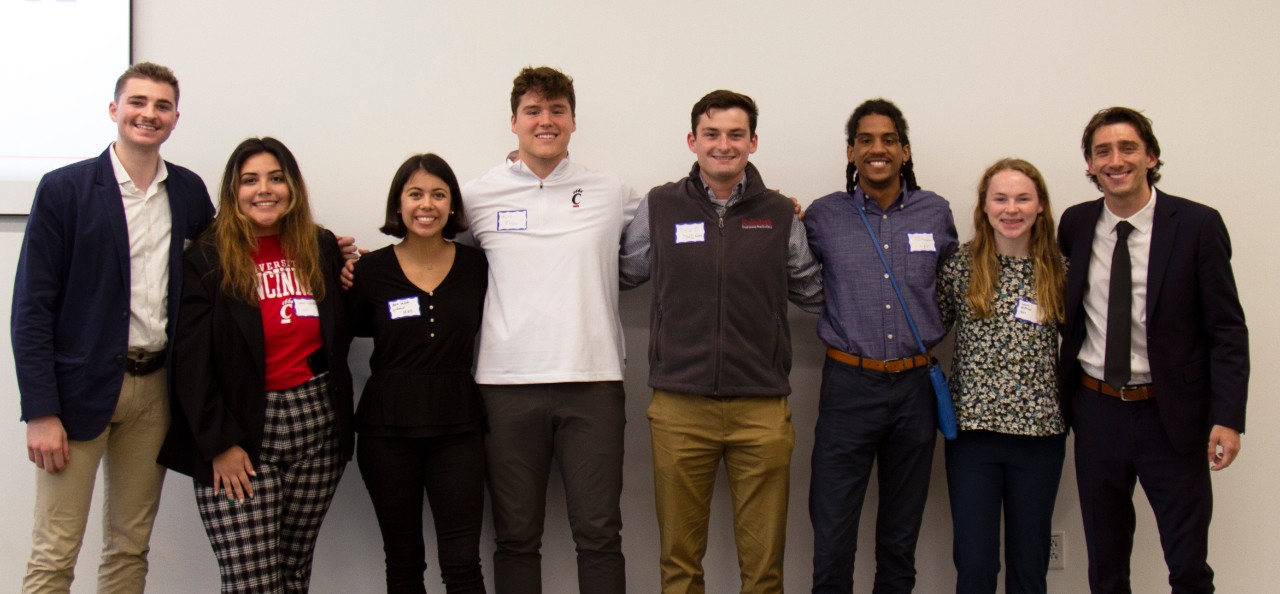 2022 Warren Bennis Leadership Experience focuses on emotional intelligence
Psychologist Daniel Goleman lends leadership perspective to students
The fifth annual Warren Bennis Leadership Experience (WBLE) was held this week at the Carl H. Lindner College of Business. Over a hundred student leaders from across campus gathered at Lindner Hall for the yearly forum that honors the teachings of Warren G. Bennis, UC's 22nd president and an author/expert on leadership.
The WBLE is part of the Warren Bennis Leadership Initiative (WBLI), which is dedicated to creating a leadership movement and an interdisciplinary institute for leadership development at UC while honoring Bennis, known as the "Father of Leadership."
The evening's keynote event was a recorded conversation between WBLE co-founder and WBLI coordinator Jack FitzGerald, A&S '17, '20, and acclaimed psychologist Daniel Goleman, PhD. Goleman is known for his bestselling book "Emotional Intelligence," and also co-authored "Transparency: How Leaders Create a Culture of Candor" with Bennis.
Attendees viewed the discussion between FitzGerald and Goleman in "breakout rooms" throughout Lindner, stopping three times throughout the video to engage in discussion headed by a WBLE student facilitator and a UC alumnus.
FitzGerald opened the program by recalling his introduction to work of Bennis, who was president of UC from 1971-77 and spearheaded the university's entry into the University System of Ohio. As punishment for breaking curfew in high school, FitzGerald read Bennis' book, "On Becoming a Leader." FitzGerald co-founded the WBLE as an undergraduate, recruiting former (and now interim) Starbucks CEO Howard Schultz and former J.C. Penney CEO Myron E. Ullman III, Bus '69, as speakers for the inaugural event in 2017.
"For the last five years, we've had the opportunity to tell what I think is one of the best stories at the university, and that is the story of Warren Bennis," FitzGerald said.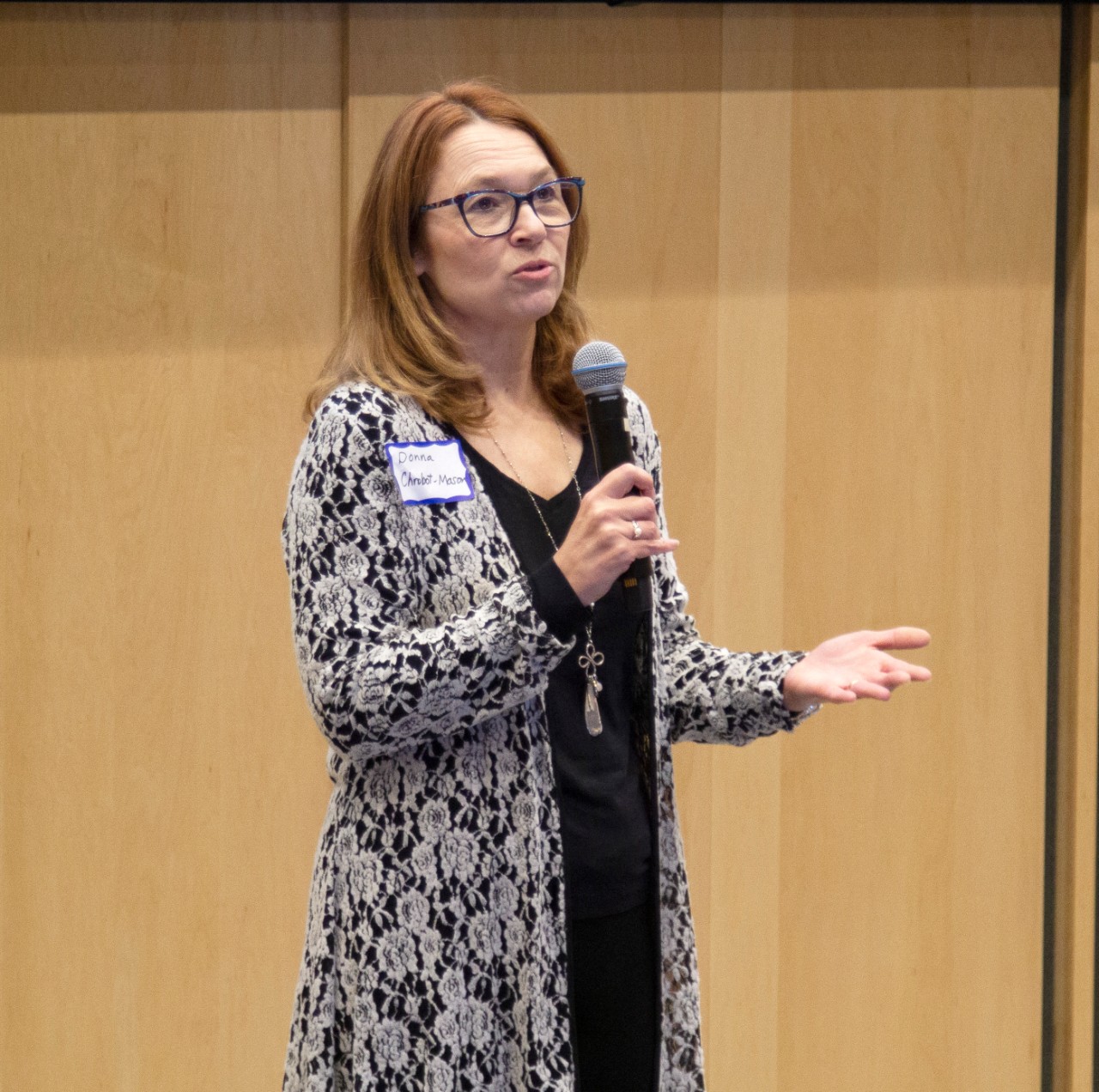 WBLI Thornburgh Academic Director Donna Chrobot-Mason said that "this is just the beginning" and reiterated that the WBLI is in the midst of a two-year process of creating a leadership institute. Attendees were encouraged by Chrobot-Mason to submit feedback through two available surveys so the WBLI team can "hear what might be missing and what would be most helpful."
"The Warren Bennis Leadership Experience has been so successful that we have had alumni come to us and say, 'We want to do more. We want to create this leadership movement on campus.' I'm here to tell you, we are doing more," she said. "We want the Experience to be just one of many events, opportunities, tools and resources that we can give to you to turn you into leaders before you graduate, and to help you improve your leadership skills." 
In the breakout rooms, attendees watched FitzGerald's interview with Goleman, which touched on topics including his friendship with Bennis and the relationship between emotional intelligence and leadership. Goleman noted that emotional intelligence is valuable regardless of the career a person pursues.
"The best leaders are emotionally intelligent," Goleman said.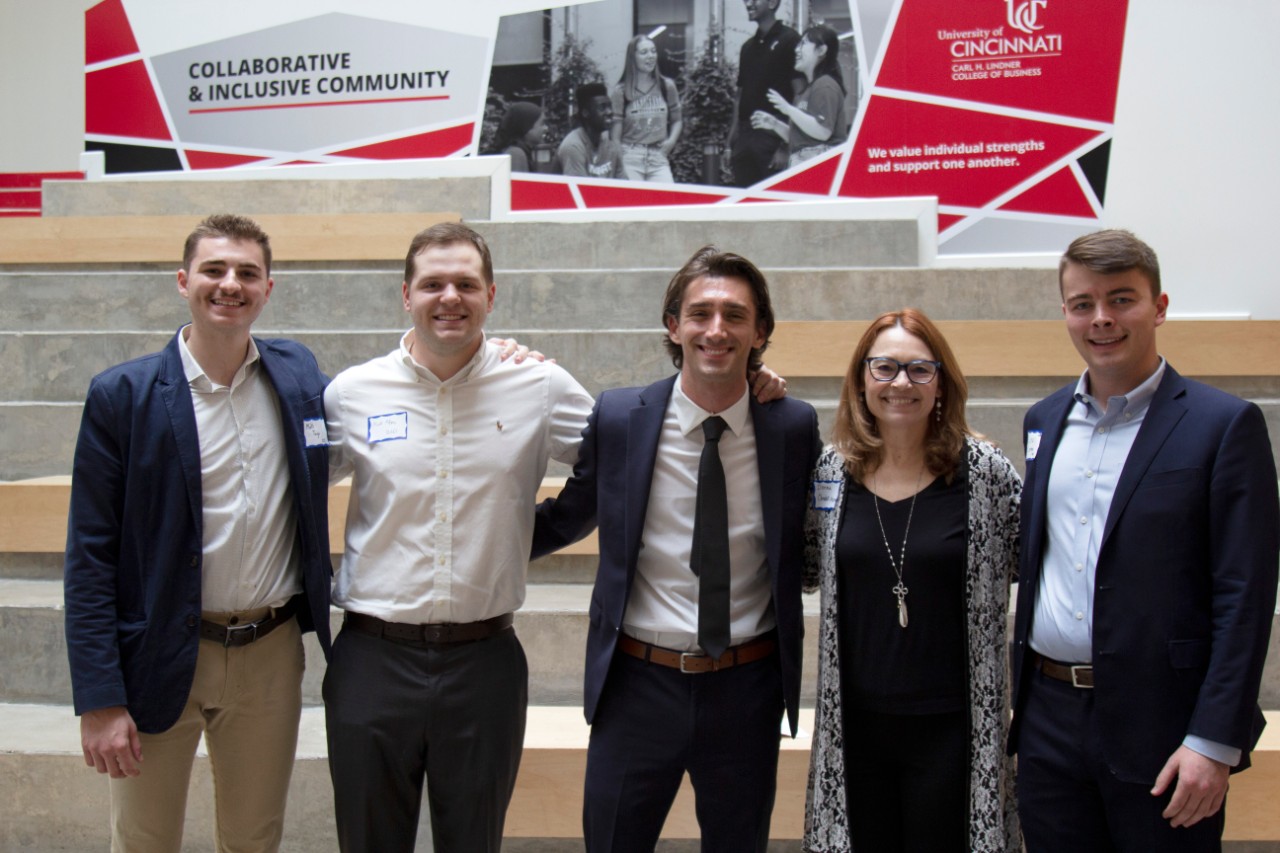 Student leaders in the breakout room co-led by FitzGerald shared their life experiences and personal growth as it relates to emotional intelligence, while having in-depth conversations on family values and vulnerability, and how they correlate to leadership.
Overall, the evening was another step forward in the WBLI's mission of building on Bennis' legacy and fostering the leaders of tomorrow. WBLE Student President Nick Albers (Bus '22, '23) called the evening a "great step in the right direction for starting a leadership movement on-campus."
"Each year, I am impressed by the passion that UC students have for developing their interpersonal skills," Albers said. "I firmly believe that the WBLE enhances the experience of high-performing leaders on-campus and teaches them valuable skills for their years beyond college." 
Featured image: WBLE student team member Matt Toigo (far left) and WBLE co-founder Jack FitzGerald (far right) pose with 2022 WBLE attendees. All photos by Suzane Buzek.

Support the Warren Bennis Leadership Initiative
1
Cincinnati Edition: U.S. joins a growing number of governments...
March 24, 2023
TikTok has 1.5 million users in the United States, and is currently under review by the U.S. congress. The Chinese company has been accused of aggregating data for nefarious purposes, as it is ultimately controlled by the Chinese Communist Party. Cyber security expert Richard Harknett was a guest speaker on "Cincinnati Edition" to discuss measures that might be, or should be, taken to protect Americans privacy and national security
2
Narrowing the digital divide for health care
March 24, 2023
Many parts of rural America with less access to health care also have limited broadband internet that could help them take advantage of increasingly popular online health services.
3
P&G alum revs up gaming scene in UC Esports Lab
March 24, 2023
In September 2021, Brad Walsh became the coordinator for the University of Cincinnati Esports Lab, which opened the following August inside the 1819 Innovation Hub. Prior to this role, Walsh had 30 years of experience in process development as a technical director managing intellectual property at Procter and Gamble.
Debug
Query for this