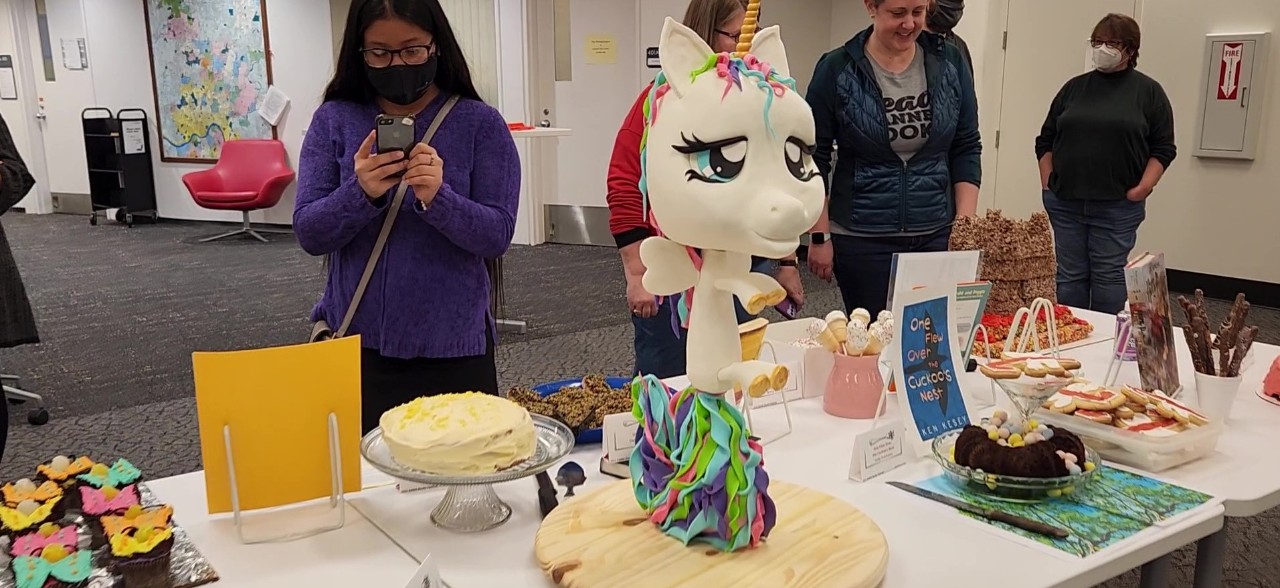 Yahoo News: "It's incredible" -International edible books festival
UC's Edible Books Festival displays an appetite for reading
UC's International Edible Books Festival attracted Cincinnati reporter Kristyn Hartman (WCPO), whose local news story was picked up by Yahoo News. 
"Everyone loves the Edible Books festival," says Melissa Norris, director of library communications at the University of Cincinnati where the festival was held on April 1st.  
The annual festival features culinary delights that correspond with a book title. This year's top two awardees were: Cincinnati resident Rebecca Tabaja was awarded "Best Overall" entry for her unicorn cake depicting the book "Fairy the Farting Unicorn and UC student Milly Diaz Perez was awarded "Best Student Entry" for her "The Boy Who Lived" confections.
All sixteen participants received recognitions and attendees shared their efforts at a reception following the event.  
Edible Books Creators 2022 awardees:
1.      Luahna Winningham Carter – The Dark Tower – Most Checked Out
2.      Holly Prochaska – One Flew Over the Cuckoo's Nest – Most Imaginative
3.      Debbie Weinstein – The Girl Who Drew Butterflies – Most Whimsical
4.      Olga Hart – The Vanishing Half – Most Literary
5.      Melissa Cox Norris – A Cast of Literary Birds – Most Clever
6.      Natalie Rogers - If You Give a Moose a Muffin – Most Delicious
7.      Jessica Ebert – Crazy Plant Lady – Most Creative
8.      Ben Kline and Aaron Libby – The Secret Lives of Color – Most Fun
9.      Jenny Mackiewicz – Should I Share My Ice Cream? – Most Adorable
10.   Debbie Tenofsky – Olive Kitteridge – Most Taboo
11.   Debbie Tenofsky – Olive, Again – Most Taboo
12.   Sam Norris – Batman: The Court of Owls -Scariest
13.   Steve Norris – Death and the Penguin – Most Deadly
14.   Jack Norris – Too Many Carrots – Silliest
15.   Rebecca Tabaja – Fairy the Farting Unicorn – Best Overall
16.   Milly Diaz Perez – To the Boy Who Lived – Best Student Entry

Featured image at top provided by UC Libraries/Melissa Norris. 
Impact Lives Here
The University of Cincinnati is leading public urban universities into a new era of innovation and impact. Our faculty, staff and students are saving lives, changing outcomes and bending the future in our city's direction. Next Lives Here.