UC startup helps people breathe easier
PEP Buddy reduces the effects of shortness of breath, improves mindful breathing
Helping the 10% of adults who suffer shortness of breath as a result of lung disease is just one of the ways a University of Cincinnati Venture Lab-backed startup expects to improve people's lives.
The startup, PEP Buddy, was created by Muhammad Ahsan Zafar, MD, and Ralph J. Panos, MD. Zafar is an associate professor in pulmonary and critical care and a quality improvement expert at the UC College of Medicine while Panos is a professor emeritus in pulmonary and critical care at the UC College of Medicine and is the director of national tele-ICU program for the U.S. Veterans Affairs.
Together they created a hands-free device that relieves breathlessness.
"It's a very simple device like a whistle," Zafar said. "You can hold it in your mouth without your hands."
While they set out to help the one in 10 adults who suffer from the debilitating effects of chronic obstructive pulmonary disease, their studies found their device also offered benefits for people dealing with stress and anxiety, and those practicing mindfulness, meditation or yoga.
"There are many benefits of slow breathing and prolonged exhalation," Zafar said. "This becomes a tool to do it easily and consistently."
PEP Buddy is one of the many startups that have come out of the UC Venture Lab pre-accelerator program and received seed funding.

UC's Venture Lab, operated by the Office of Innovation, provides a launch pad for entrepreneurs to turn their ideas into a startup reality. The UC Venture lab is located in the 1819 Innovation Hub in the Cincinnati Innovation District, providing a connection point to talent, support and funding to help launch new companies.
"The Venture Lab has been an amazing experience," Zafar said. "As a physician and as a researcher, there's a lot I did not know about how to get a product from a successful research product, a successful invention, all the way to the hand of a consumer."
The Venture Lab pre-accelerator program is available for free to all members of the university community. The program provides guidance to launching a startup and pairs aspiring entrepreneurs with executives for mentoring.
"It's incredible what happens when you equip smart, dedicated innovators with the resources and connections they need to make ideas into reality," said David J. Adams, UC's chief innovation officer. "PEP Buddy is evidence of what our amazing faculty are capable of here at the University of Cincinnati, and it's proof of what happens when you create a connected ecosystem for innovation like we have here: You reach breakthroughs."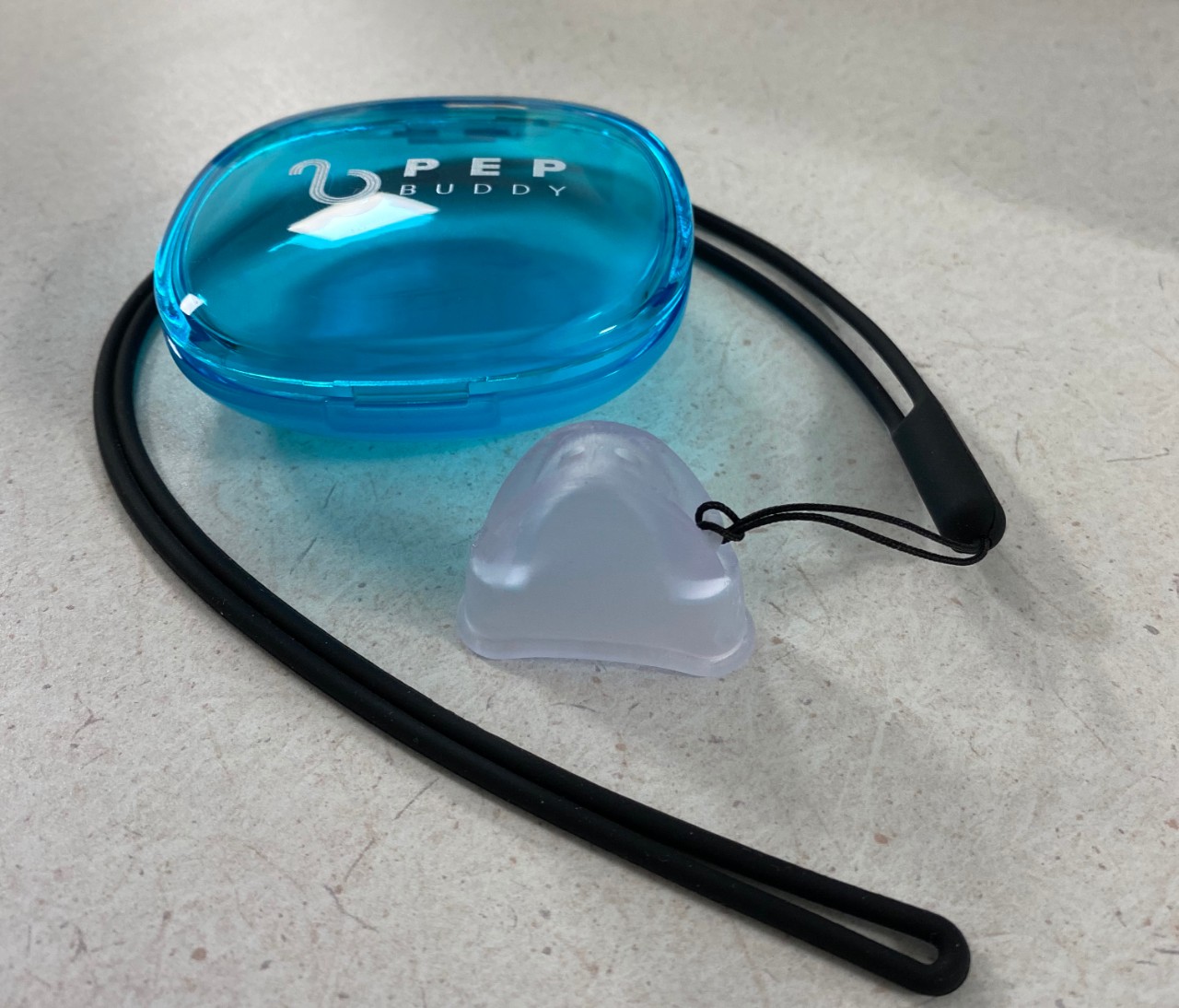 With COPD, it takes longer for people to get inhaled air out of their lungs. With each breath, extra air is retained in the lungs. This "air stacking" during activities (dynamic hyperinflation) is the primary reason for breathlessness in people with COPD and also leads to decreased oxygen levels.
The effects of COPD increase during physical activity, which causes many people with the disease to become inactive.
"One of the things many people in our study reported is there also is fear of getting short of breath," Zafar said. "And that fear itself also propagates inactivity. People would not challenge themselves. They would not do exertional things just because they don't want to get short of breath.
"This becomes a vicious cycle: They don't want to do activity, and when they do activity, they get short of breath."
To ease the effects of COPD, Panos and Zafar spent the past decade researching the disease and developing PEP Buddy.
In May, the two presented their findings at an American Thoracic Society gathering and received positive feedback from the medical community.
"This would be a dream for a physician like me if you're able to help people with such a low-cost, simple intervention that does not have any side effects," Zafar said.
Their device gives a gentle back pressure while the user breathes out, which assists in keeping open air tubes in the lungs and preventing them from collapsing. The device also prolongs the exhalation phase and reduces the breathing rate, decreasing the effects of air stacking.
PEP Buddy can be used during exertion, helping to reduce breathlessness, or after exertion, helping to decrease recovery time. However they used it, the team's study found 72% of users reported meaningful improvement in their shortness of breath.
"People found benefit in multiple ways in our study," Zafar said. "Some people found it useful while they were exerting, while they were walking. And some found it useful right after exertion."
Also during the study, participants reported reduced levels of stress and anxiety. That led Panos and Zafar to investigate the benefits of their device for mindful breathing and anxiety reduction.
"Slow breathing and focused breathing have many effects on our body," Zafar said. "It reduces the stress hormone levels, it reduces the heart rate, and it also reduces the blood pressure.
"It helps you focus on your breathing, which is a very important part of mindful breathing for relaxation."
Zafar expects PEP Buddy will be beneficial for a wide variety of people and improve their quality of life, whether they suffer from breathlessness or want to improve their mindful breathing. He wants the reusable device, which can be cleaned with soap and water or in a dishwasher, to be accessible and affordable to everyone.
PEP Buddy will be available for purchase later this month through the company's website, pepbuddy.com, and on Amazon. Zafar and Panos eventually plan for PEP Buddy, which is being manufactured in Dayton, Ohio, to be available in stores and doctors' offices as well.
"There's a huge audience out there who needs help," Zafar said. "We want to help everyone we can."
Featured image at top: PEP Buddy. All photos provided.
About UC Venture Lab
A leading model for urban-centered universities, the UC Venture Lab activates a high density of rapidly curated startup opportunities that attract outside entrepreneurial talent and investors. We connect university students, faculty, staff, and alumni to talent and funding to help launch new companies. Our team includes Office of Innovation staff as well as Entrepreneurs-in-Residence (EIRs), coaches, curated service providers, and subject matter experts.
About the Cincinnati Innovation District
The Cincinnati Innovation District® is a unique and thriving ecosystem that attracts, produces, retains and develops talent by co-locating and collaborating with organizations. Unveiled in 2020 by Ohio Governor Mike DeWine and Lt. Governor Jon Husted along with JobsOhio and innovation district leadership, the district envelops myriad innovation assets and access to some of the world's leading academic and research centers, organizations and talent pools. Powered by the University of Cincinnati, the CID includes the world-renowned Cincinnati Children's Hospital Medical Center and other national research centers. The district's mission is to become a globally recognized talent hub and lead a transformational movement. The combination of industry engagement, unique experiential platforms and accessible research expertise — working at the pace of change — will become a model nationwide. For more information on the Cincinnati Innovation District, visit www.cincyid.com.