UC alum is a Queen City Pollinator
Sylvana Ross is saving Cincy bees for you and me
Sylvana Ross, a Cornell University-bound 2018 biology alumna and talented former track athlete from the University of Cincinnati, is working with UC's beekeeping club as well as the Queen City Pollinators Project, helping Cincinnatians find space for their bee hives while mentoring current students. Her work helps protect the city's declining pollinator populations while promoting environmental sustainability for the entire community.  
"In Ohio, beekeepers are reporting about a 46% annual decrease in hives," Ross lamented. This is due to climate change, pesticides, varroa mites, and more.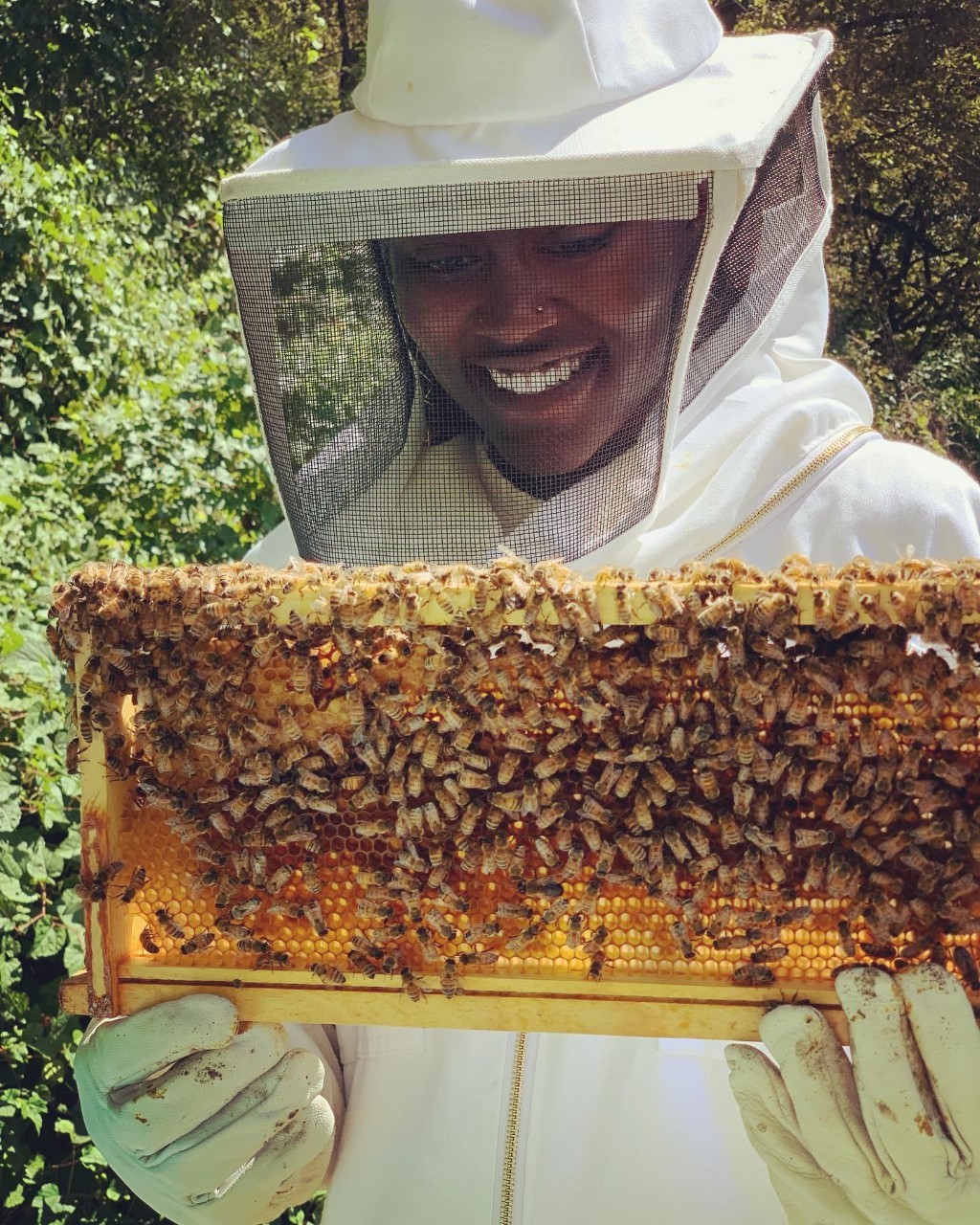 According to the founder Noah Katz, a 2019 business analytics and economics UC alumnus, UC's beekeeping club is a welcoming space for honeybee enthusiasts and apiarists alike, with the primary goal being to educate people on the importance of honeybees in our ecosystem. Students in the club keep bees, make honey, beeswax candles and mead, and learn about bees.     

The Queen City Pollinator Project (QCPP) is a 501(c)(3) nonprofit that teaches courses designed for grades 3 and up to adults about pollinators, namely bees and butterflies. QCPP courses are taught to community organizations, garden groups, local businesses, schools, and others. QCPP collaborates with communication researchers from the University of Cincinnati and Xavier University as well as entomology researchers from the Ohio State University.  
The QCPP and the UC beekeeping club are in close contact and the QCPP actually helped set up a hive in a Walnut Hills garden for the beekeeping club, which had hitherto been hiveless.
Like many students, Ross enrolled in UC unsure what she exactly wanted to do. She had chosen the school for its track and field program, her teammates and the campus itself. In fact, she was uncertain as to what to do with her biology program and opted to explore what she could do with her degree by taking courses and seeing what interested her. Replace with your text
It wasn't just the work and what we were studying. It was the people. My labmates and Dr. Morehouse were just amazing and really passionate about what they were studying
Sylvana Ross
Ross first garnered interest in insects while finishing her degree in 2018. She needed an upper elective credit, so she took associate professor of biology Nathan Morehouse's class, Biology of Sex, which was all about sexual and natural selection. Loving what she learned, she took the opportunity to work under Morehouse in a lab about jumping spiders, studying their mate choice and visual systems. Surrounded by enthusiastic ecologists and evolutionary biologists, she cultivated a curiosity for insects. 
"It wasn't just the work and what we were studying. It was the people. My labmates and Dr. Morehouse were just amazing and really passionate about what they were studying," remarked Ross. "Dr. Morehouse sat me down and told me 'you really like this, you should be in science.'"    
After graduating, Ross first taught after-school environmental programs before forming the Queen City Pollinators in February 2020 alongside co-founders Carrie Driehaus and Jenny O'Donnell. On the board of directors, Ross later took on the additional role of a science educator and beekeeper, teaching lower-income communities about pollinators in urban ecosystems and how to communicate that education to others, such as one's family, school board or city officials.  
"Our whole mission was to provide pollinator education to our community through schools, community garden groups, neighborhoods, and family members because they have some say in the land surrounding their property, so we can advocate for safer, pollinator-friendly practices."
Ross was recently accepted into Cornell University for a Ph.D. in entomology along with a two-year fellowship, where she will be advised by a renowned myrmecologist, Corrie Moreau. Ross plans to research the genetic mechanisms of a population used in adapting to cities while facing climate change. She hopes that her work will help demonstrate the impacts systemic racism and residential segregation have on cities' ecological and evolutionary dynamics.
Ross also earned a graduate research fellowship from the National Science Foundation (NSF), an independent federal agency tasked with advancing science by funding research and education in all non-medical science and engineering fields. This is an incredibly competitive and prestigious feat; for instance, in 2020 the NSF Graduate Research Fellowship Program received over 13,000 proposals, of which 2,000 were accepted. As such, Ross will be under a fellowship for the entirety of her graduate program.  
Ross hopes her passionate learning inspires equitable environmental policies and the inclusion of minorities within fields of science.        
"Stay passionate — love what you do, and remember why you love it. And don't stop talking about it; people love to hear others get excited about it."
Featured image at top: Provided
Next Lives Here
The University of Cincinnati is classified as a Research 1 institution by the Carnegie Commission and is ranked in the National Science Foundation's Top-35 public research universities. UC's graduate students and faculty investigate problems and innovate solutions with real-world impact. Next Lives Here.