Cincinnati Edition: Are we heading toward a recession?
UC professor Asawari Deshmukh joins discussion about the state of the economy
With high inflation persisting, is the economy heading toward a recession?
Asawari Deshmukh, an assistant professor – educator in the University of Cincinnati's Carl H. Lindner College of Business, was part of a Cincinnati Edition panel discussion to try to answer that question.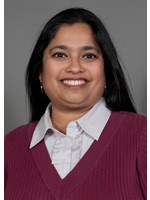 There are many factors that determine the strength of the economy. Currently there are positive signs such as strong consumer spending but also troubling signs such as high inflation.
"It's a combination of many different things that determine whether we are heading for a recession or not," Deshmukh said. "Typically, the start of a recession, one of the features seen is pretty high inflation, which we have seen right now. We also see a good amount of consumer demand. Although it is slowing down, it still is pretty high."
Inflation has led to conflicting behaviors among consumers.
For some goods and services, people are scaling back their purchases because prices are rising. But for other categories, people still are spending, likely in anticipation that prices could be higher in the future.
Deshmukh said the COVID-19 pandemic also likely changed consumers' calculations, spurring them to spend more.
"There is a sea change, in my opinion, which COVID brought about in a shift of priorities," she said. "What do I want to do? Does it matter if I save all that money for later or should I just splurge and get it done with because I don't know what tomorrow holds for me?"
Next Lives Here
The University of Cincinnati is classified as a Research 1 institution by the Carnegie Commission and is ranked in the National Science Foundation's Top-35 public research universities. UC's medical, graduate and undergraduate students and faculty investigate problems and innovate solutions with real-world impact. Next Lives Here.