DAAP fashion show displays fashion cents with thrifted items
Students upcycle thrifted items as part of sustainability project with St. Vincent dePaul
What once was old is new again, and upcycling — the reuse of existing materials for modern use — is a practice that has become increasingly popular among the environmentally conscious. This practice, however, has been part of the curriculum at the University of Cincinnati's fashion design program for almost two decades.  
Beginning in 2003, the UC School of Design, within the College of Design, Architecture, Art, and Planning, has collaborated with the Catholic charity St. Vincent de Paul on a summer fashion show called "RetroFittings" — where UC fashion design students are given a small stipend to shop at a St. Vincent de Paul thrift store and turn their purchases into fashion statements.
The annual fashion show, which takes place Oct. 20, benefits the Society of St. Vincent de Paul, a social service agency that operates a charitable pharmacy, thrift stores, food pantries and more.
While the event was paused for two years during the pandemic, the 2022 showing called "Hues of Hope" displayed the creativity and ingenuity of 32 students, three of whom received recognition for their standout designs: Cierra Calamise, Jodie Pierce and Audrey Slyter.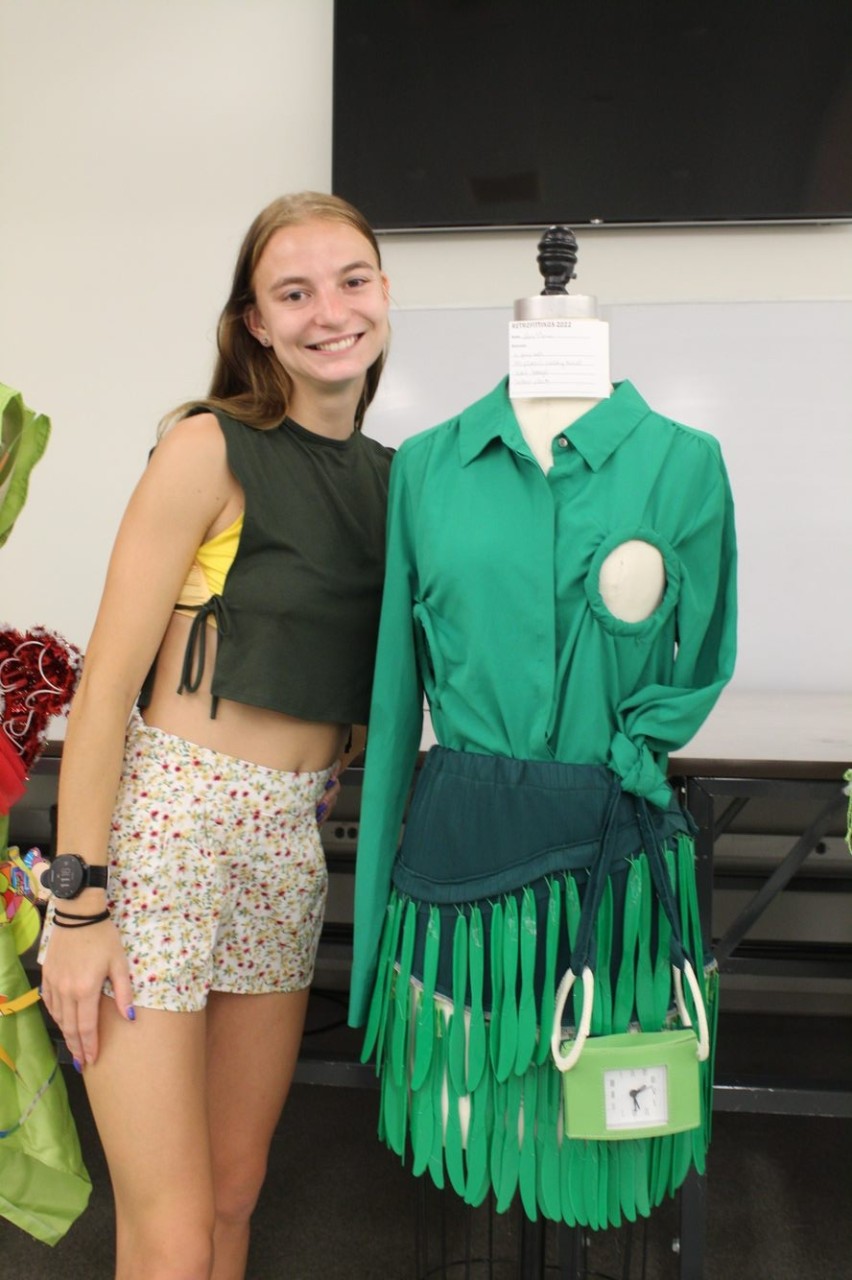 "The biggest challenge using upcycled pieces is having to work within the parameters of what you have — you don't have an endless supply of any material. In my opinion, that fosters creativity, but also makes it trickier," says Pierce, a third-year fashion major and environmental studies minor. Her ensemble, a cut-out shirt with a plastic knife fringe skirt and clock purse, all in hues of green. Her creation was in keeping with the event's theme which honors St. Vincent de Paul's mission of supporting the community and the bright vibrance that is their mission, says Zachary Hoh, the assistant professor who coordinates the fashion design program.
Sustainability, he says, is an increasingly critical component of fashion industry practice — whether that be materials and garment life cycle considerations, recycling fibers to make new fabrics, technological advances that reduce waste in the development process. This collaborative project, he says, "demonstrates the potential for recycling and reimagining our raw materials," noting that now, more than ever, students are focused on the environmental impact of the fashion industry.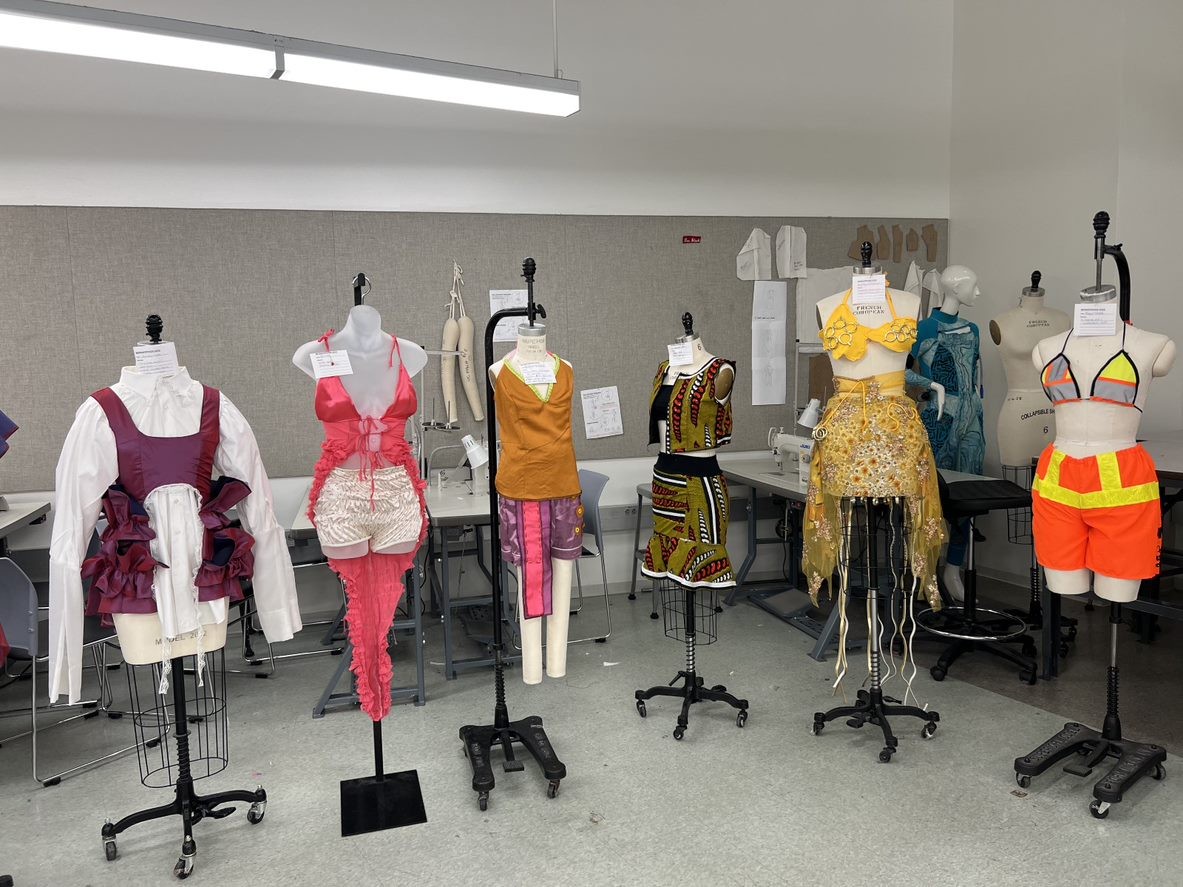 Pierce says she has been thrifting "as long as I can remember" and rarely buys new clothing and accessories anymore. "Upcycling is super relevant and important because we already have so much clothing (and everything!) in production, and we really don't need to be making more."

From an economical and environmental standpoint, she says, "thrifting and reusing is the best thing consumers can do."
 "We are thrilled to partner with UC to bring RetroFittings back this year," says Kristen Gallagher, the organization's marketing and communications manager.
Proceeds from this event, Gallagher says, will help provide necessities in times of crisis such as with families facing eviction, rent and utilities assistance, meals to the hungry, access to their life-saving medications, and a warm place to stay at night.
Featured image at top by Samantha Norton/DAAP.  
RetroFittings will take place on Thursday, October 20th at 6pm Cincinnati Music Hall. Tickets will be available at Retrofittings.org.
Impact Lives Here
The University of Cincinnati is leading public urban universities into a new era of innovation and impact. Our faculty, staff and students are saving lives, changing outcomes and bending the future in our city's direction. Next Lives Here. 
1
WATCH: CCM presents 'A Voice Like Mine' mini documentary
September 30, 2022
Enjoy a behind-the-scenes look at CCM's acclaimed Voice and Opera programs courtesy of the new Backstage at CCM documentary series. Titled "A Voice Like Mine," this mini documentary spotlights bass-baritone John Mburu, who is pursuing his Master of Music degree in Voice Performance at CCM. Declared a "top college vocal program" by Backstage Magazine and described as "one of the continent's major music schools" by the Toronto Star, CCM's Departments of Opera and Voice provide one of the most comprehensive training programs for opera singers, coaches and directors in the United States.
2
Get to know CCM's newest faculty/staff members and unit heads
September 29, 2022
UC's College-Conservatory of Music welcomes six new full-time faculty members and five new staff members to its roster of distinguished performing and media arts experts this fall. In addition, the college is also welcoming five current faculty members into new leadership roles for 2022-23.
Debug
Query for this