UC researcher receives grant to develop new breast cancer treatment
Venture Lab-backed startup uses RNA nanoparticles in a targeted approach
A University of Cincinnati Venture Lab-backed startup is developing a breast cancer treatment that may be more effective with fewer side effects thanks to RNA nanotechnology that is similar to what was used to produce COVID-19 vaccines.
The startup, RNA Nanotherapeutics, was founded by Xiaoting Zhang, a UC researcher who has spent the past 20 years investigating fundamental mechanisms and new treatments for breast cancer. He has developed an innovative, patented RNA nanotechnology-based approach and recently received a Small Business Technology Transfer phase 1 grant from the National Cancer Institute (NCI).
"This grant will help us to move further along in our commercial development, and it is a timely recognition of what we have done so far," said Zhang, professor and the Thomas Boat Endowed Chair in UC's Department of Cancer Biology, director of the Breast Cancer Research Program and member of the UC Cancer Center. "The NCI and reviewers really liked what we presented, the new technology, the new target, the science and team behind it to address a significant unmet clinical need. It is an important milestone we have achieved, which hopefully will help attract additional investors as well."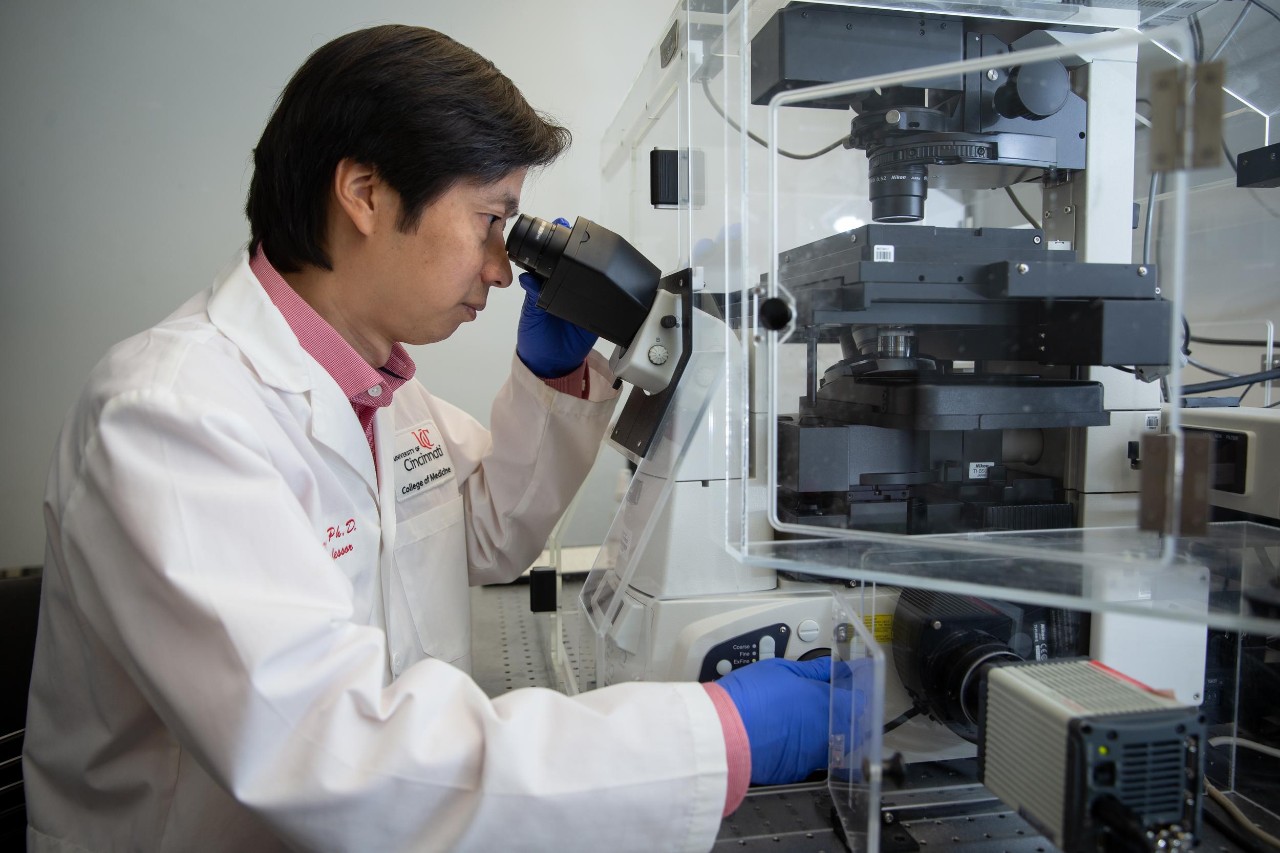 RNA Nanotherapeutics is one of the many startups that have come out of the UC Venture Lab pre-accelerator program and received seed funding.
"It's a very inclusive and supportive environment," Zhang said of the Venture Lab. "I learned a lot about business development, and it makes you feel comfortable and excited to launch a startup."
UC's Venture Lab, operated by the Office of Innovation, provides a launch pad for entrepreneurs to turn their ideas into a startup reality. The UC Venture lab is located in the 1819 Innovation Hub in the Cincinnati Innovation District, providing a connection point to talent, support and funding to help launch new companies.
"Those initiatives were borne out of the university's desire to facilitate impact for researchers, in this case helping them advance their ideas from bench to bedside. Dr. Zhang's work is exemplary of the talent within UC. We are proud of his efforts to solve problems that matter," said Kaethe Beck, associate vice president for operations in the Office of Innovation.
The Venture Lab pre-accelerator program is available for free to all members of the university community. The program provides guidance for launching a startup and pairs aspiring entrepreneurs with executives for mentoring.
"For researchers to find and partner with appropriate business sources helps them get to their end game, which Xiaoting's end game is to save more lives," said Joe Buse, a Venture Lab entrepreneur-in-residence who partnered with Zhang to move RNA Nanotherapeutics forward. "He has been enabling breast cancer research for more than 20 years. We want to save lives."
It's a very inclusive and supportive environment. I learned a lot about business development, and it makes you feel comfortable and excited to launch a startup.
Dr. Xiaoting Zhang RNA Nanotherapeutics president
Breast cancer is one of the leading causes of death for women in the United States. The American Cancer Society estimates that more than 287,850 new cases of invasive breast cancer will be diagnosed in the U.S. in 2022, and approximately 43,250 women will die because of the disease.
Approximately 75% of breast cancer is estrogen receptor-positive breast cancer, and approximately half of all cases become resistant and fail to respond to the current anti-estrogen therapies.
"The main problem with the treatment is therapy resistance," Zhang said. "Unfortunately, about one-half of all patients don't respond to the treatments and relapse."
Current treatments include highly toxic chemotherapy and radiation therapy, which aren't targeted and thus affect healthy cells in addition to tumor cells. Antibodies have also been developed, but they're limited in what they can target, and almost all advanced cancers eventually will become resistant to current therapies.
With multifunctional RNA nanoparticles, Zhang can target breast cancer cells to block the production of MED1 proteins that is a co-driver of most cases of the disease.
For researchers to find and partner with appropriate business sources helps them get to their end game, which Xiaoting's end game is to save more lives. He has been enabling breast cancer research for more than 20 years. We want to save lives.
Joe Buse Venture Lab entrepreneur-in-residence
RNA Nanotherapeutics' testing in vitro and with animal models has shown the RNA nanoparticle to be highly stable and effective with no apparent toxicity or side effects, offering the promise of a better approach to treating breast cancer. It could thus potentially benefit breast cancer patient care through better efficacy, fewer unwanted side effects, improved patient quality of life and treatment compliance.

"It's one of those diseases that affects your mom, your grandmother, your wife, your daughter, and it's so prevalent that anything we can do to help those suffering is something I'm interested in," said Buse, who graduated from UC with a marketing degree prior to his work with pharmaceutical companies and RNA Nanotherapeutics. "When Xiaoting approached me, I liked the whole concept of the new RNA treatments and thought this is definitely something I could, at least in the initial stages, help guide and use my experience on the business marketing side of pharmaceuticals."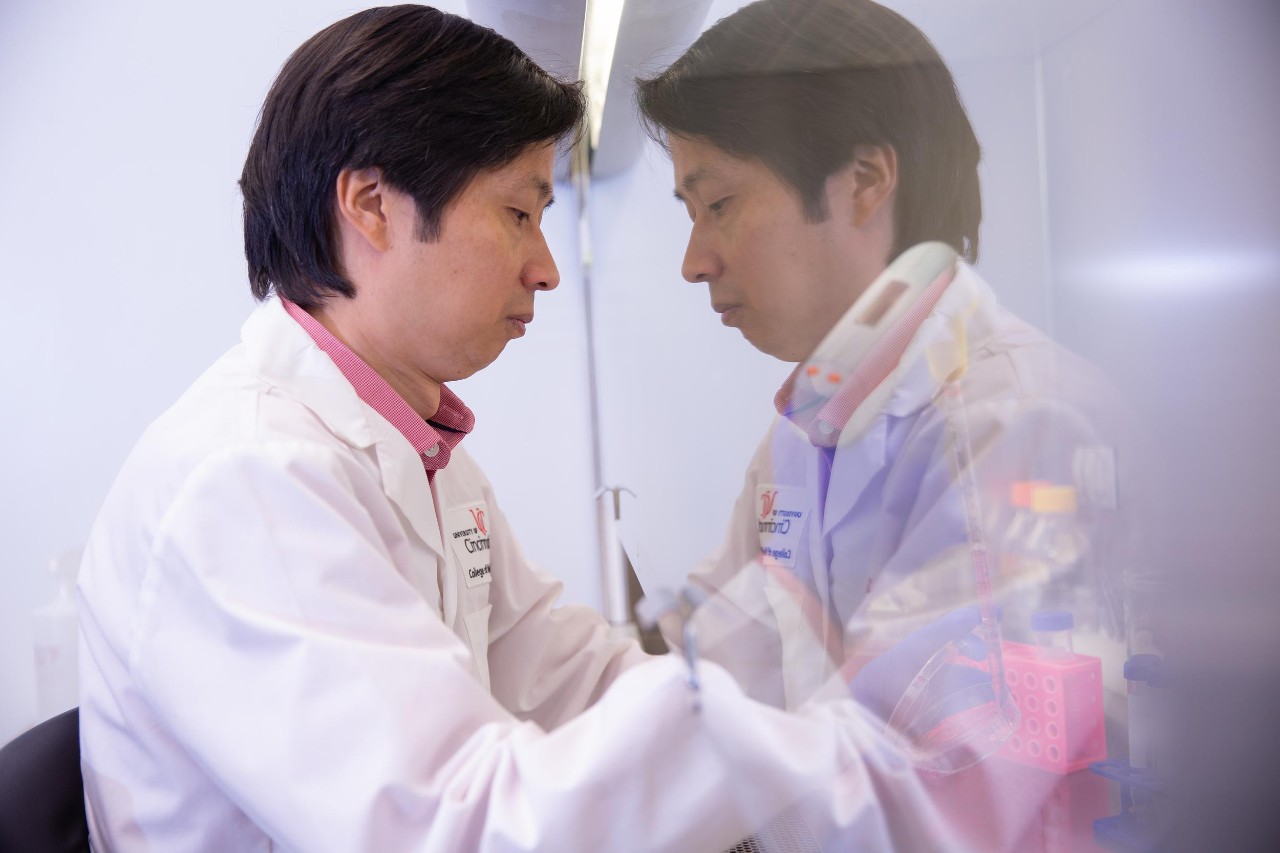 Supported by funds through the UC Venture Lab, RNA Nanotherapeutics has recently successfully scaled up the production of its nanoparticles, an important step toward commercialization.
But before the startup can offer its treatment to the public, it will need to complete an investigational new drug development study that involves additional safety and toxicity studies.
After the investigational new drug development study is completed, the company would be able to seek U.S. Food and Drug Administration approval to move into clinical trials.
To complete the study, RNA Nanotherapeutics will need to raise approximately $5 million to $10 million. While he had been well versed in grant writing, Zhang said his experience in the Venture Lab helped him further develop his approach, which he hopes will help attract more investors and grant awards.
"We need to move science forward, move our learning into the clinical trial phase, and to do that we need funding," Buse said. "We have a great opportunity to progressively use RNA nanoparticles to extend the lives of loved ones."
Buse and Zhang's goal is to have a commercially available product that will be more effective in breast cancer treatment in the next three to five years. They also believe that the process could be adapted to treat other cancers and diseases as well.
"We want to move this into clinics as quickly as possible," Zhang said. "The only step to get us there is to get commercial investments and more grants to support our activities for a successful clinical trial outcome."
Featured image at top: RNA Nanotherapeutics President Dr. Xiaoting Zhang works in his lab. All photos by Andrew Higley/UC Marketing + Brand
About UC Venture Lab
A leading model for urban-centered universities, the UC Venture Lab activates a high density of rapidly curated startup opportunities that attract outside entrepreneurial talent and investors. We connect university students, faculty, staff, and alumni to talent and funding to help launch new companies. Our team includes Office of Innovation staff as well as Entrepreneurs-in-Residence (EIRs), coaches, curated service providers, and subject matter experts.
About the Cincinnati Innovation District
The Cincinnati Innovation District® is a unique and thriving ecosystem that attracts, produces, retains and develops talent by co-locating and collaborating with organizations. Unveiled in 2020 by Ohio Governor Mike DeWine and Lt. Governor Jon Husted along with JobsOhio and innovation district leadership, the district envelops myriad innovation assets and access to some of the world's leading academic and research centers, organizations and talent pools. Powered by the University of Cincinnati, the CID includes the world-renowned Cincinnati Children's Hospital Medical Center and other national research centers. The district's mission is to become a globally recognized talent hub and lead a transformational movement. The combination of industry engagement, unique experiential platforms and accessible research expertise — working at the pace of change — will become a model nationwide. For more information on the Cincinnati Innovation District, visit www.cincyid.com.
1
UC COVID-19 studies awarded $425K
April 15, 2020
Understanding that time was of the essence in combating this highly infectious disease, UC and its College of Medicine's Office of Research conducted a rapid review and distribution of $425,000 in novel pilot grants to researchers, focusing on eradicating the disease.
2
Educational breast cancer event focuses on empowerment
Event: November 3, 2018 9:00 AM
"Beyond Breast Cancer: The Path to Empowerment" is an educational event for breast cancer survivors, their families and the community; it will be held from 9 a.m. to 3 p.m. Saturday, Nov. 3, at the Kingsgate Marriott Conference Center, 151 Goodman Drive.
Debug
Query for this