UC Blue Ash College honors outstanding faculty, staff and alumni
Kim Oberlander, DMD, discovered her interest in public health dentistry through the volunteer opportunities she experienced as a student in the dental hygiene program at the University of Cincinnati Blue Ash College.
"Not only do you work in the clinic at the school, but you get to go out into the community," Oberlander shared. "I got to meet so many wonderful patients, and the gratitude from them, it was just enough to change my mind away from private practice."
Oberlander serves as chief dental officer for Primary Health Solutions, dental director of the Cincinnati Dental Network, and as a dentist for the Cincinnati Health Department. She is being honored with the 2022 UC Blue Ash College Distinguished Alumni Award for her dedication to dental public health in the Cincinnati region and her commitment to treating disadvantaged or homeless individuals who may not have access to quality health care.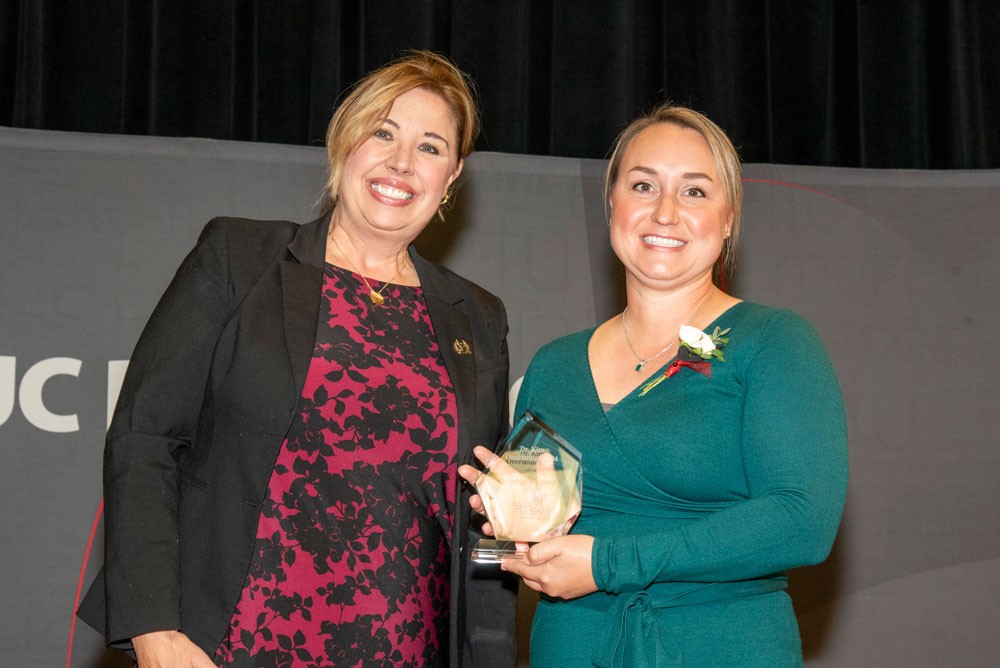 "Oftentimes, people forget about public health dentistry, and I'm happy this award can bring it to the forefront so others may learn more about it," Oberlander said. "People ask me questions and I can now share with them some of the things I do. Cincinnati has such a great dental public health system and I hope to see it keep growing."
Oberlander was one of 11 notable UC Blue Ash faculty, staff and alumni who were honored at the college's 2022 Distinguished Awards celebration on September 29.
The annual event was held on the UC Blue Ash campus, where Robin Lightner, dean of the college, highlighted the remarkable accomplishments of each recipient, shared a video featuring each award winner and presented them with their award.
The 2022 award recipients include the following:
Distinguished Alumni Award – Kim Oberlander, DMD
Distinguished Teaching Award – Krista Wood, PhD
Faculty Exemplary Scholarship Award – Taylor Wadian, PhD
Innovative Teaching Award – Lori Wortylko
Outstanding Faculty Service Award – Gene Kramer, PhD
Provost Award for Faculty Excellence – Rob Gioielli, PhD
Provost Award for Faculty Excellence – Helene Hart, EdD
Provost Award for Faculty-to-Faculty Research Mentoring – Brad Mallory, PhD
Staff Distinguished Service Award - Eric Van Hoose, PhD
Staff Rising Star Award – Alana Dillon
Young Alumnus Outstanding Achievement Award – Erica Partin
Featured image: (L to R) Tracy Herrmann, Brad Mallory and Brenda Refaei enjoy the reception at the UC Blue Ash Distinguished Awards event.
About UC Blue Ash College
UC Blue Ash College is a regional college within the University of Cincinnati. It offers one of the best values in higher education with access to a nationally recognized UC education in more than 50 degree and certificate programs, as well as tuition that is about half of most colleges and universities. The college is located on a scenic 135-acre wooded campus in the heart of Blue Ash, Ohio. To learn more, call 513-745-5600, visit us online, like us on Facebook or follow us on Twitter and Instagram.
2
UC Blue Ash professor wins national award for expertise in...
November 30, 2022
Kelly Vearil, assistant professor of veterinary technology at the University of Cincinnati Blue Ash College, was recently honored with the 2022 VTS-Dentistry Excellence in Dentistry Education Award by the National Association of Veterinary Technicians in America (NAVTA).
3
UC Blue Ash professor finds inspiration in documents from...
August 21, 2020
A 1925 property deed owned by her late grandfather inspired Rhonda Pettit to address racial segregation and institutional racism in her poem 'A Deed Supreme.' It is one of two poems by Pettit included in the Anthology of Appalachian Writers Crystal Wilkinson Volume XII, which was recently released by the Shepherd University's Center for Appalachian Studies and Communities.
Debug
Query for this