UC, Lt. Gov. Husted celebrate success of Ohio IP Promise
Ohio IP Promise streamlines commercialization process for entrepreneurs, students and faculty
University of Cincinnati President Neville Pinto, UC Executive Vice President Ryan Hays, Ohio Lt. Gov. Jon Husted and entrepreneurs within the Cincinnati Innovation District today celebrated the economic impacts of the Ohio IP Promise — a statewide commercialization initiative launched in 2019 that streamlines the patent and licensing process, enabling inventors to own their intellectual property. 
"Under the lieutenant governor's leadership, we have built a sustainable environment that will allow the next generation of entrepreneurs to thrive," Pinto said. "The Ohio IP Promise sets the table for industry and academia to work hand in hand."
UC's technology transfer team engaged faculty and would-be entrepreneurs in developing new protocols to identify and remove barriers that slowed the process of taking ideas from the laboratory to the marketplace. A new industry-tier and express licensing program were created and adopted.
The lieutenant governor and InnovateOhio challenged the whole Inter-University Council of Ohio to identify and codify best practices for intellectual property developed by faculty, staff and students at state universities. UC and The Ohio State University led Ohio's 14 public universities in a collaborative effort to develop the initiative, engaging faculty, research officers, entrepreneurs, investors and attorneys to gain insights into their needs and ideas.
Husted rolled out the Ohio IP Promise initiative which has since been adopted by 16 colleges and universities across Ohio, including all 14 of the state's public universities.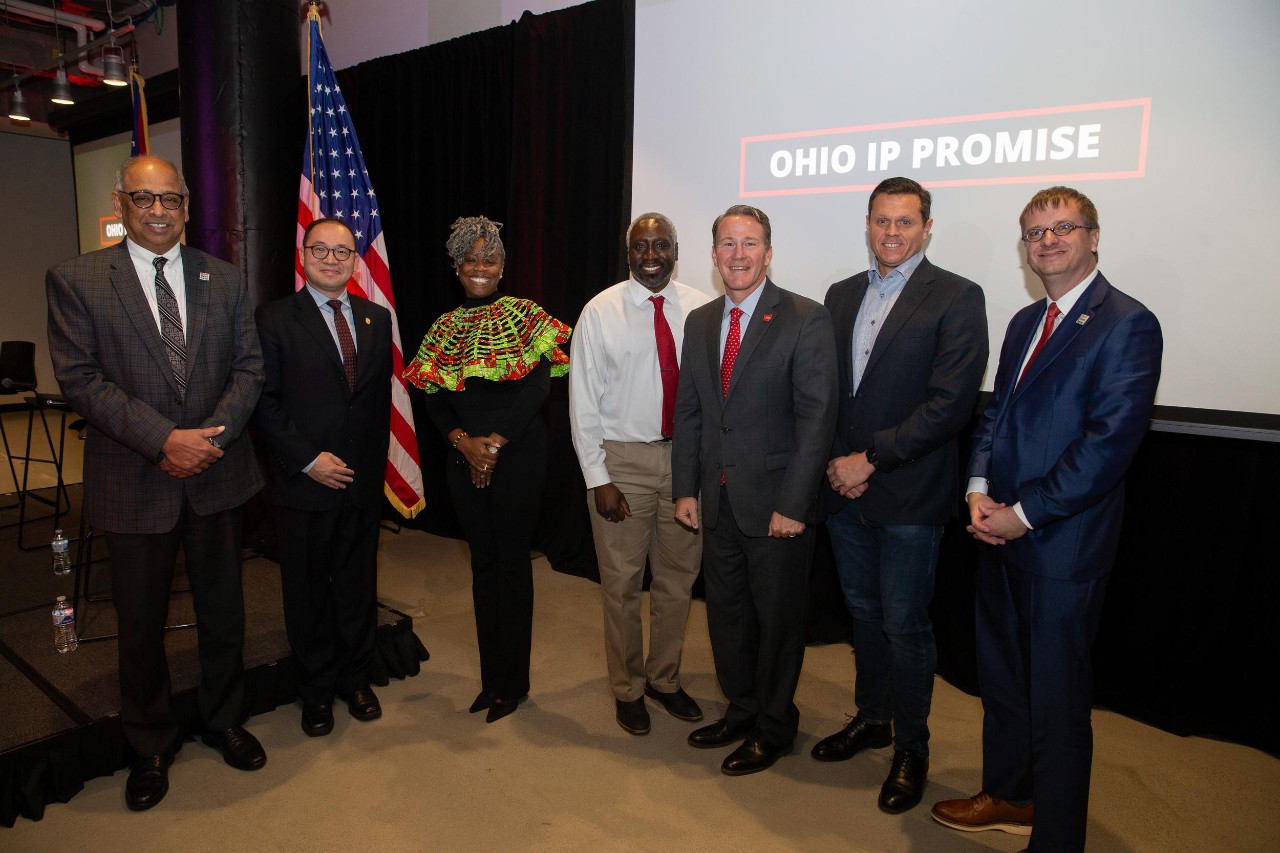 The state's unified process for commercialization is based on six guiding principles to strengthen Ohio's economy, attract innovative researchers and serve as a magnet for investors and entrepreneurs:
Flexibility: provide industry choices for accessing intellectual property developed through sponsored research
Transparency: implement set standards for sponsored research and license agreements
Simplicity: deliver fair guidelines, streamlined for faculty creator startups
Clarity: communicate licensing processes on university websites in a clear, prominent way
Ease: provide well-defined university entry points for industry, investors and entrepreneurs
Speed: reduce obstacles that hinder the pace of transactions
"The Ohio IP Promise creates a culture of innovation by reducing friction and attracting resources and capital for innovators and entrepreneurs to get their ideas to market," Lt. Gov. Husted said. "Now, on college campuses in Ohio, it is easier to go from research to reality."
UC's efforts to foster innovation are apparent, said Hays, also UC chief innovation officer.
In the four fiscal years (2018-22) since UC has implemented its expedited process, Hays said, the university has seen a rise in key data points as compared to the previous fiscal years of 2013-17:
Invention disclosures by UC faculty have risen 51% (from 546 to 823);
Filed patents by UC faculty have risen 62% (from 583 to 944);
Issued patents for UC faculty have risen 94% (from 83 to 161);
Deals with UC faculty have risen 109% (from 55 to 115); and
Startups going through the UC Venture Lab — which helps would-be entrepreneurs explore the commercial potential of their product or service — have increased from one or two per year to an average of 14 per year.
"If you break down the barriers to innovation, connecting entrepreneurs with university talent and research, great things can happen for everyone," Hays said. "And they are happening due to this proactive approach, simplifying the process for faculty and staff to share intellectual property."
Projects that have benefited from the Ohio IP Promise include Orange Grove Bio, a preclinical drug investment firm; Amplicore, an early-stage biopharma startup developing drugs to treat musculoskeletal disorders such as osteoarthritis; Cinthesis, a startup developing a new method of chemistry that could make a wide range of products including agrichemicals, pharmaceuticals and plastics more environmentally friendly; and Cool Comforts, a startup in the process of patenting a feminine hygiene product.
James Mack, a UC professor of chemistry and founder of Cinthesis, said the Ohio IP Promise significantly reduced the barrier to commercialization. Before receiving assistance, he wasn't sure how to commercialize his team's new method to conduct chemical reactions.
"Getting help from Ohio IP Promise not only significantly reduced the barrier to get Cinthesis started, but it also provided the support that simply would not be available otherwise," Mack said. "Furthermore, Ohio IP Promise provides recognition that the commercialization of research ideas is important and valuable at a university. Without this program, there is no way we would be where we are today."
Featured image at top: University of Cincinnati President Neville Pinto speaks during an Ohio IP Promise event at UC's 1819 Innovation Hub. Photos by Andrew Higley/UC Marketing + Brand
About UC Venture Lab
A leading model for urban-centered universities, the UC Venture Lab activates a high density of rapidly curated startup opportunities that attract outside entrepreneurial talent and investors. It connects university students, faculty, staff and alumni to talent and funding to help launch new companies.
The team includes UC Office of Innovation staff as well as Entrepreneurs-in-Residence, coaches, curated service providers and subject matter experts.
1
UC's $10.6 billion impact
May 9, 2023
The University of Cincinnati delivers a significant economic boost to the region and state of Ohio thanks to alumni impact, operations and research spending, student demand for goods and services, launch of startup companies and more.
3
UC nationally recognized for innovation in economic engagement
December 21, 2022
For the second consecutive year, the Association of Public and Land-grant Universities (APLU) has recognized the University of Cincinnati with an Innovation & Economic Prosperity (IEP) Award for exemplary initiatives in education and workforce development.
Debug
Query for this