UC to honor area vets at annual observance
Ceremony at TUC on Thursday will recognize veterans from UC and region
The University of Cincinnati will pay tribute to veterans on Thursday in the atrium of Tangeman University Center for this week's Veterans Day.
The university is closed Friday in observance of Veterans Day.
The ceremony is presented by UC's Veterans Programs & Services and the U.S. Army and Air Force ROTC. It starts at 10 a.m. Thursday, Nov. 10. Members of the public are welcome to attend to pay tribute both to UC and Cincinnati-area veterans.
More than 3% of UC students are veterans or dependents of veterans, according to UC's Office of Institutional Research. One of them, Tim Fancote Jr., is studying social work in UC's College of Allied Health Sciences.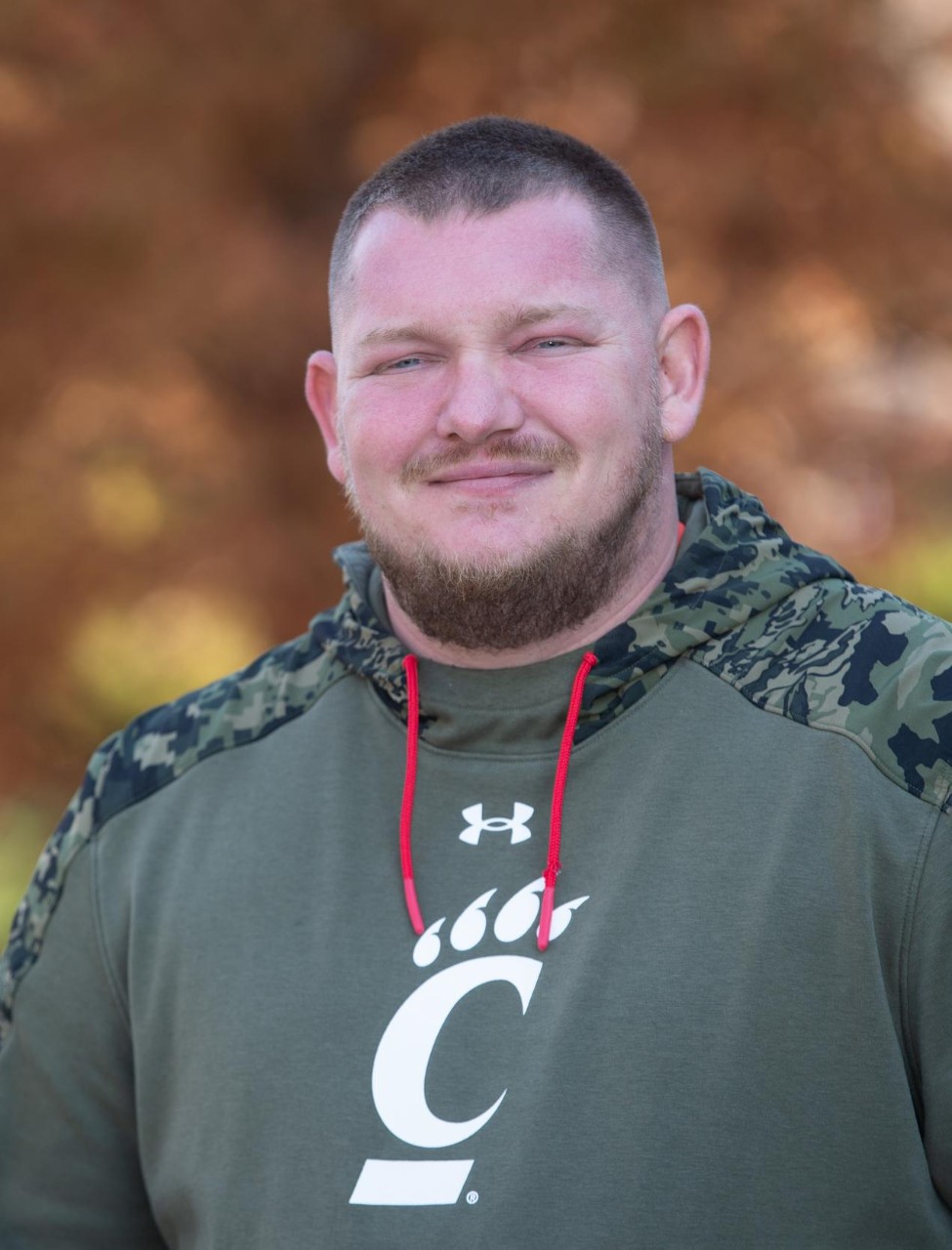 Fancote is a U.S. Navy veteran who served eight years of active duty. He enlisted in the military after graduating from Cincinnati-area St. Bernard High School in 2007.
In high school, Fancote never imagined himself as a college student. But his grandfather was in the military and Fancote thought it would be a good fit.
"I wasn't mature enough and ready to go to college at 18," he said. "It took me a little while to figure out what I wanted to do."
He was stationed in Japan for four years and at Naval Air Station Fallon in Nevada for nearly four years more. But after his honorable discharge from the military and spending time working as a data entry operator for the Hamilton County Sheriff's Office, he decided to go back to school to study social work where his interpersonal skills will be a big asset.
Fancote and UC student veteran Andrew Ritter were 2022 recipients of a $5,000 military scholarship from the Cincinnati Bengals and construction equipment firm Ohio CAT. They were recognized Nov. 6 during the Bengals' win against the Carolina Panthers.
As a nontraditional student, Fancote said it took some time to adjust to college life.
"It's hard being a little bit older. You feel out of place. You're in college at 34 and thinking, 'I shouldn't be here,'" he said.
But that feeling went away quickly once he started getting involved on campus, he said. He has a work study job at regional campus UC Blue Ash and serves as a mentor for other first-year student veterans who may likewise feel like a fish out of water when they first arrive.
"They see a friendly person who they can ask questions," he said. "I want to be the guy who's there for them."
Fancote said he emphasizes how UC is in the student's corner to help them succeed.
"Everything about UC is welcoming to veterans," he said. "It's a special place. UC has really helped me."
U.S. Navy veteran Brad Wendeln talked to Spectrum News about his experience as a UC student veteran. He is pursuing a bachelor's degree in sports administration from UC's College of Education, Criminal Justice, and Human Services.
Wendeln was a weather forecaster in the U.S. Navy — a big responsibility for air and sea crews who must be ready to respond in all weather.
"When it comes to forecasting for our assets, our pilots and our ships, that's 100% on us," Wendeln told Spectrum News. "We take a lot of pride in what we do in making sure our shipmates are safe every single day."
Wendeln said he is determined to succeed at UC.
"I'm pretty proud of myself and I know my family is too," Wendeln said.
Watch the Spectrum News story.
Featured image at top: UC student veteran Tim Fancote Jr. serves as a student mentor to other veterans enrolled at UC. Photo/Andrew Higley/UC Marketing + Brand
Impact Lives Here
The University of Cincinnati is leading public urban universities into a new era of innovation and impact. Our faculty, staff and students are saving lives, changing outcomes and bending the future in our city's direction. Next Lives Here.