UC celebrates record fall commencement
Graduates put their stamp on banner year at Fifth Third Arena
The University of Cincinnati recognized a record number of graduates Friday for fall commencement at Fifth Third Arena.
Family and friends filled the arena to celebrate a record 2,537 fall graduates, matching similar records set in spring and summer 2022.
"Welcome to the history books, class of 2022!" UC President Neville Pinto said in his address to graduates.
In his speech, Pinto celebrated the graduates' accomplishments while highlighting some of the important volunteer work students perform at UC. He singled out the Village Life Outreach project, established by UC College of Medicine professor Christopher Lewis, M.D., to provide clean water, health services and educational and business opportunities to rural parts of Tanzania.

"Our students have helped treat close to 20,000 people in mobile field clinics. They introduced clean water and sustained a crucial food program to the schools," Pinto said. "Their work has been transformational for these communities in Tanzania, but perhaps more importantly, it has been life-changing for our students.
"Whether you volunteered 7,000 miles away in Tanzania or interned as a student-teacher across the street at Hughes High School, your experiences combined with your rigorous academic work have prepared you to do great things in the world," Pinto said.
Miss the ceremony? Watch it here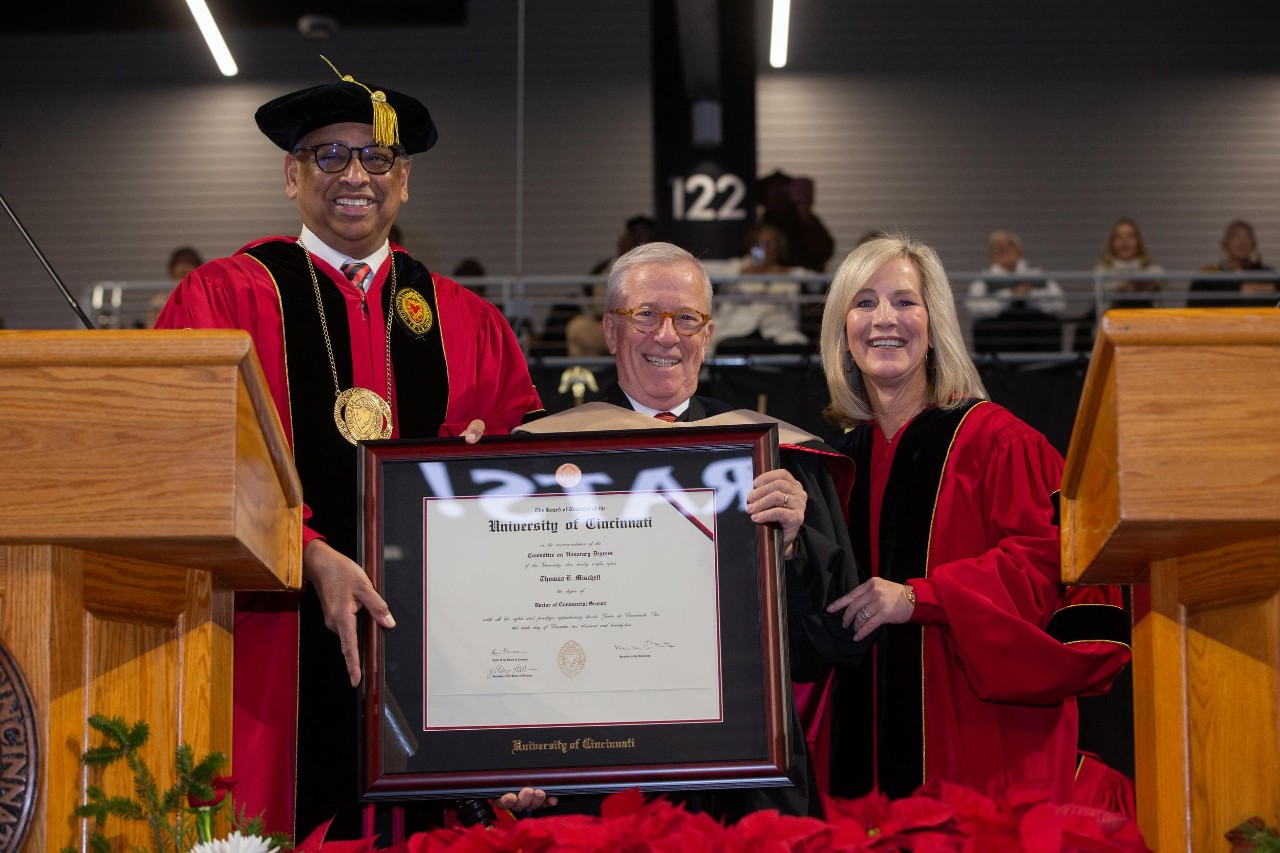 UC conferred an honorary degree to Thomas E. Mischell, who has ties to the university from the 1970s when he was a UC student.
Pinto presented Mischell with a Doctor of Commercial Science, honoris causa.
"Your impact on our community is measured in decades of dedicated service," Pinto said.
"As both a philanthropist and a visionary, you have helped build a foundation of support for generations of Bearcat athletes," he said. "Your family invested in life-giving medical discoveries through the Pam and Tom Mischell Neuro-Oncology Research Fund."
Mischell had a distinguished career at American Financial Group, the holding company for Great American Insurance Group, where he retired as senior vice president.
Mischell served on the UC Board of Trustees from 2016 to 2021, including roles as board secretary and vice chairman. He also served on UC Health's Board of Directors on behalf of the university. Prior to that, he was a member of the UC Foundation's Board of Trustees for 13 years.
Mischell and his wife, Pam, established a neuro-oncology research fund to advance the lifesaving work of the UC Gardner Neuroscience Institute. He has volunteered his time to the Lindner College of Business in multiple ways over the years, including membership on the Business Advisory Council and the Lindner Honors-PLUS Advisory Board. He has been an active supporter of UC Athletics and is a longstanding member of UCATS.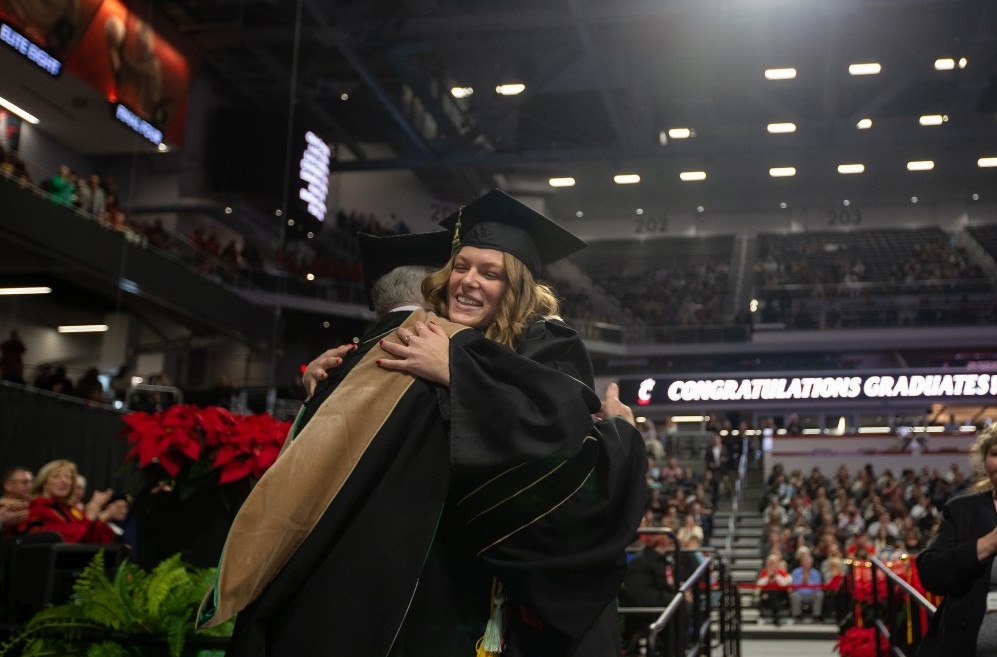 About the fall class of 2022
UC awarded 236 associate degrees, 1,168 bachelor's degrees, 1,016 master's degrees and 124 doctoral degrees at fall commencement. This fall, 49% of degrees awarded are in the fields of science, technology, engineering, math and medicine.
The youngest grad, earning a bachelor's degree, is 18. The oldest, 69, is earning a master's degree. The average graduate is 28 including all degrees. Women grads outnumber men almost 3 to 2.
Among fall grads are 73 that graduated from Cincinnati Public Schools. And 14% of fall grads are first-generation college students. Two grads celebrated their birthday Friday.
While more than half of graduates are from Ohio, UC's fall class has a broad reach across 47 states. About 21% of UC's fall class hail from another country. UC's fall grads represent 45 countries across five continents.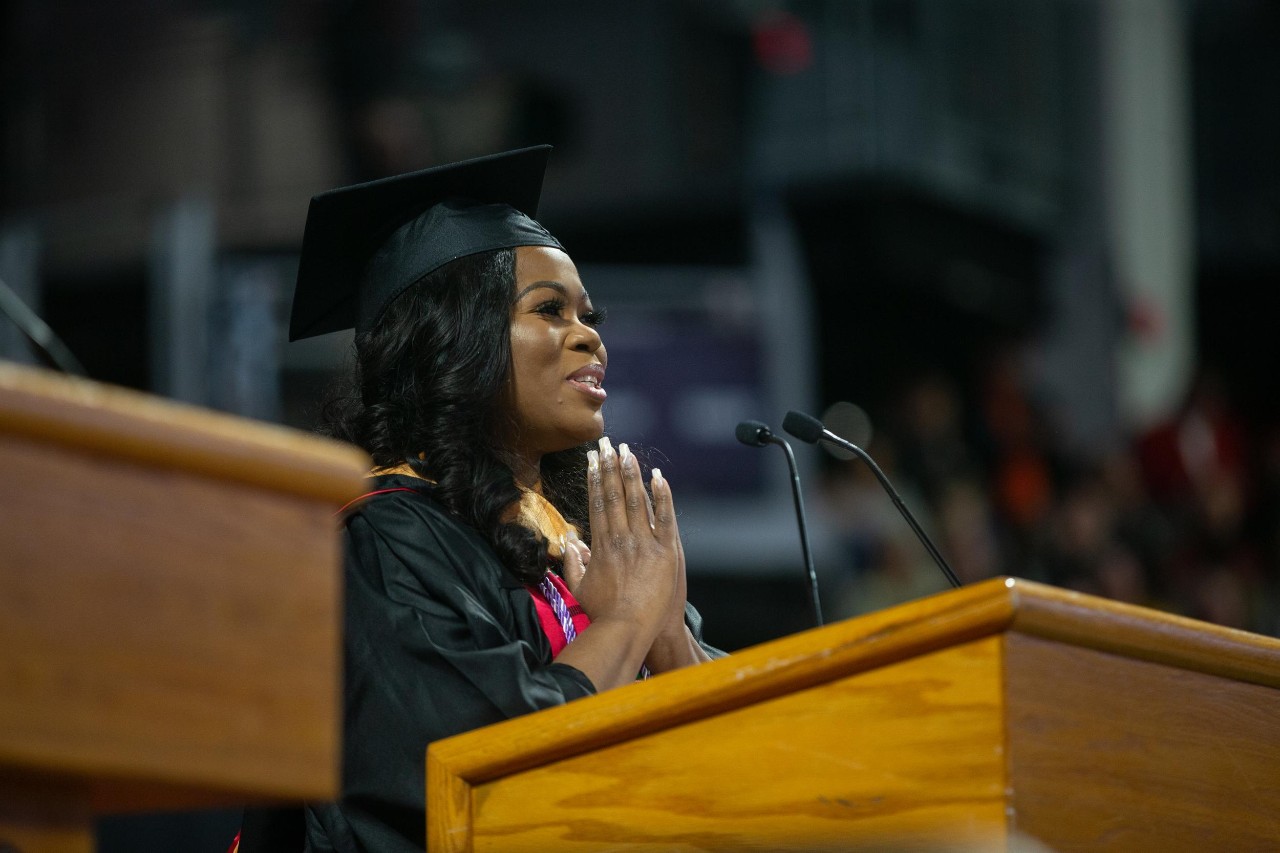 Student speaker Eniayo Olawoye, a graduate of UC's College of Nursing, is from Silver Spring, Md., but shared Cincinnati highlights from her time at UC, including trips to the Cincinnati Zoo & Botanical Garden, cheering the Cincinnati Bengals in the Super Bowl and seeing the UC Bearcats compete in the College Football Playoff.
Olawoye said UC's top-rated co-op program gave her practical experience while doing clinical rotations at Cincinnati Children's Hospital Medical Center and UC Health. This experience helped her land a job in the competitive field of pediatrics. She will work in the pediatric intensive care unit at Children's.
She credited the community she found at UC for her success.
"UC and the city of Cincinnati are communities where I got a chance to achieve my dreams and find my purpose," she said. "Next truly does live here. Now it's time for us to go out into the world, serve our communities and make a difference in people's lives."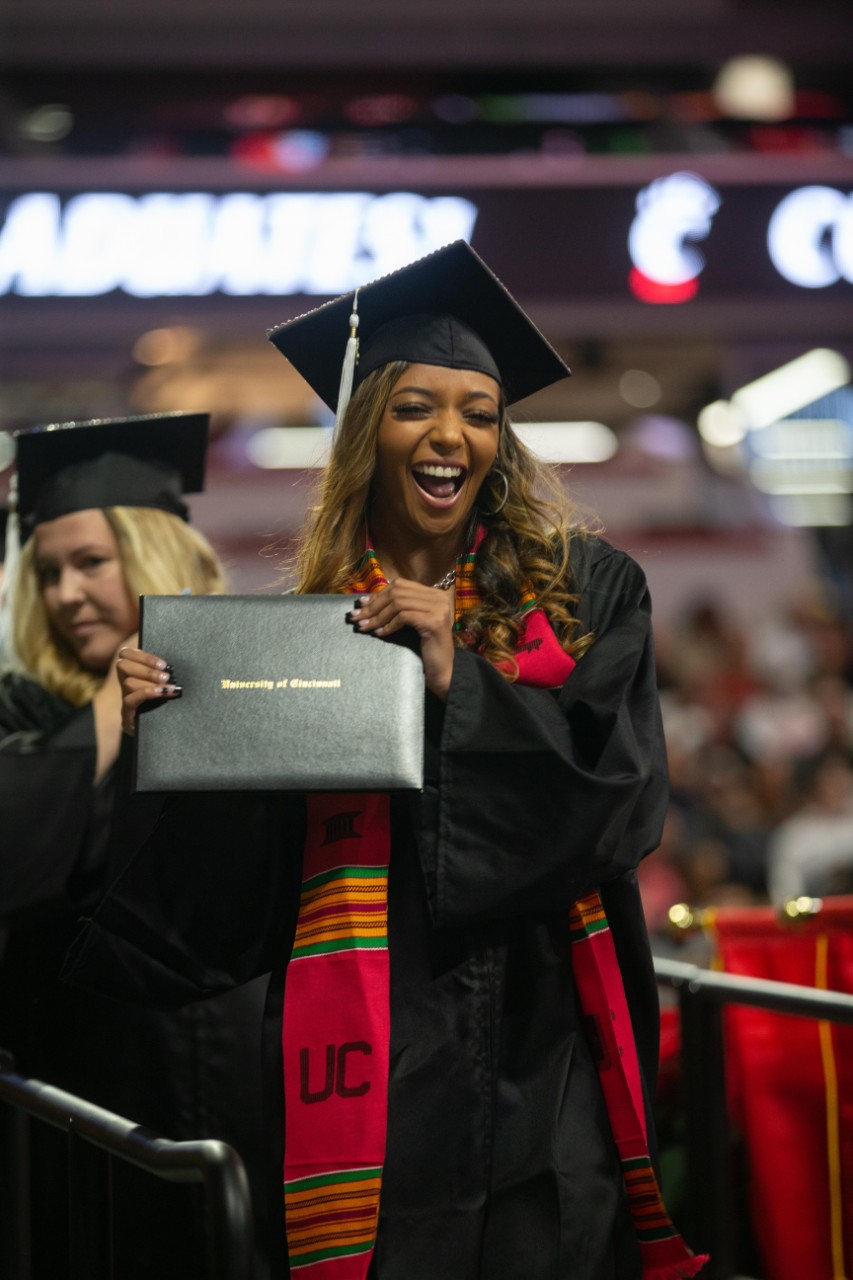 UC College-Conservatory of Music singer Victoria Popritkin performed for her 10th and final commencement before taking the stage herself as a UC graduate. She earned two bachelor's degrees, in voice from CCM and neuroscience from UC's College of Arts and Sciences.
"The wedding singer finally gets married!" she joked.
Popritkin has performed in both operas and theatrical shows at UC. She can't remember a time when she didn't sing.
"Looking back, there's a picture of me at 4 singing. I sang with my family a lot. I played the piano and I was in musical theater and choir before college," she said. "I watched my first opera at 16 and started crying before anyone even started singing. So I knew there was something there."
But Popritkin also has a passion for science, studying circadian rhythms for her neuroscience capstone project.
Her advice to first-year students: "Stay focused and stick to your vision. But be open to new things," she said. "You might be surprised."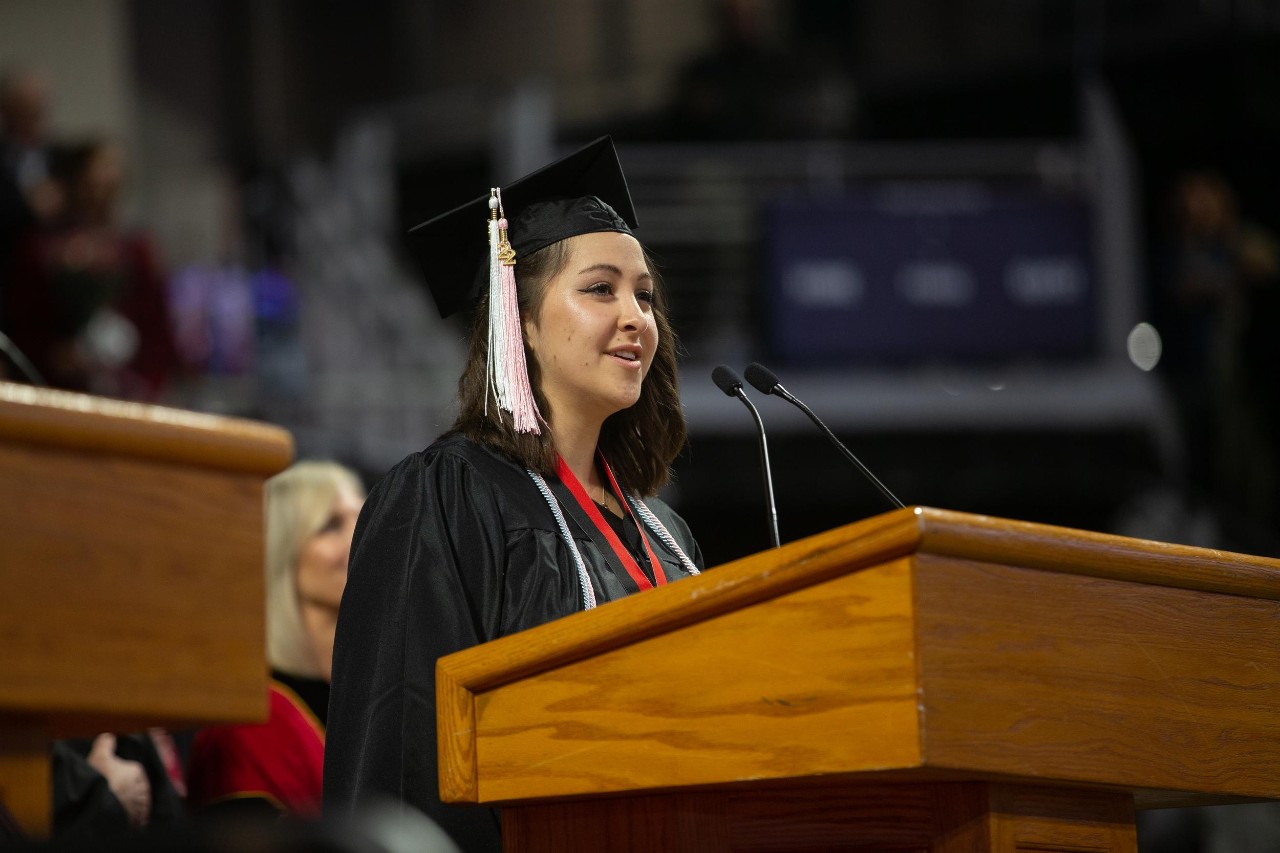 Commencement is also a time for graduates to thank their friends and families for their support.
Dana Richard celebrated attaining a bachelor's degree in creative writing from UC's College of Arts and Sciences while her husband, Greg, their two daughters and her parents watched in Fifth Third Arena.
She was a nontraditional student, coming back to school to earn her bachelor's degree after several years.
"It's huge for me. I'm a returning student. I never thought I'd make it this far," Richard said.
Richard said UC's faculty was very supportive, helping her every step of the way. Now she counts herself among UC's more than 330,000 proud alumni. She offered some advice to other people like her who are considering a return to school.
"If they're on the fence about coming back, do it. It's been a great experience for me," she said. "You might surprise yourself."
UC College of Nursing graduate Okechukwu Elechi was recognized on stage for earning a master's degree while his wife, Nancy, watched in the audience. His parents were watching the ceremony from Nigeria over UC's livestream.
"The professors were excellent and welcoming. They tried to make it easy for me to adapt to this style of education," Elechi said. "I think I'm ready to move on with my career as a nurse."
Sam Chastain's mom, Andrea Chastain, and aunt, Kathy Collin, came to cheer her accomplishment. Chastain earned a bachelor's degree in biology from UC's College of Arts and Sciences. At UC, Chastain was able to work on projects at the zoo.
"She found her niche," her mom said. "I'm so proud and excited for her!"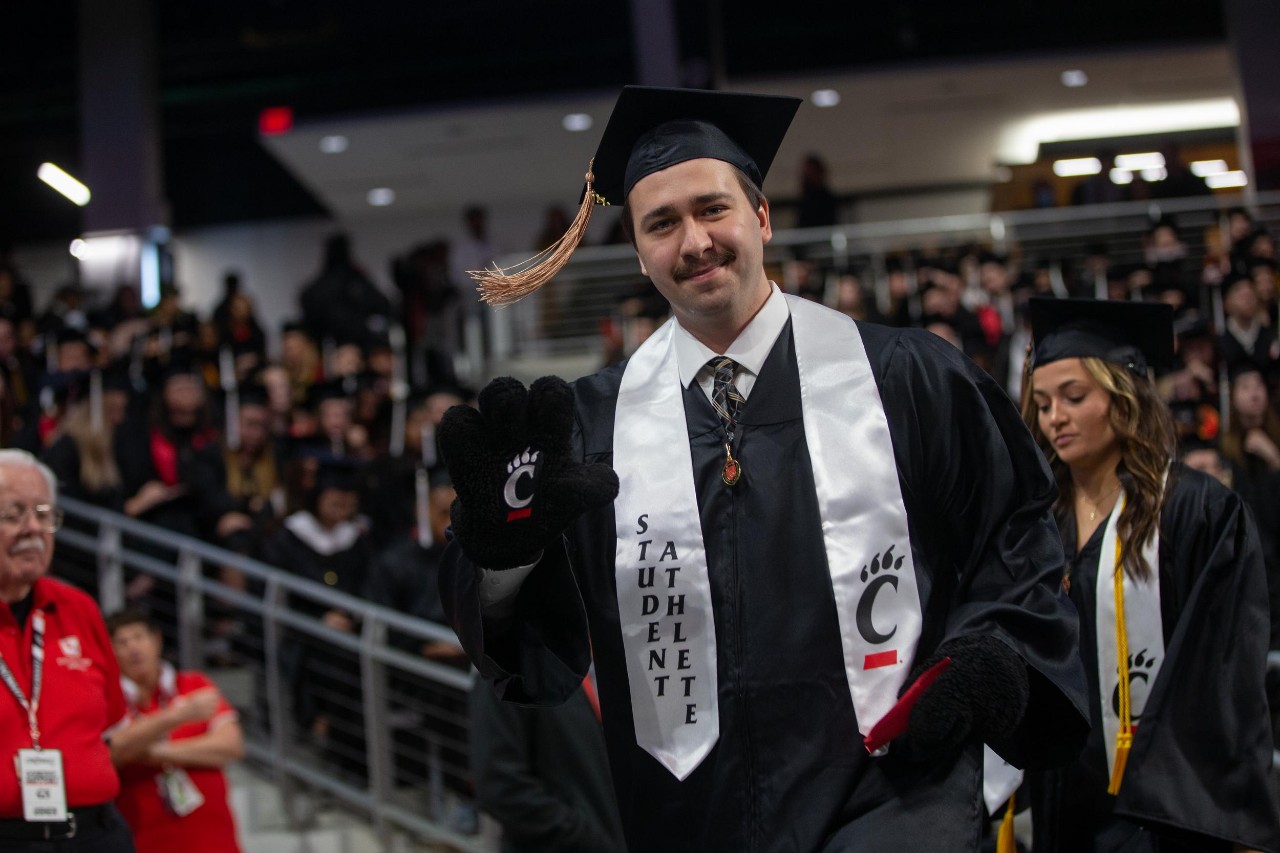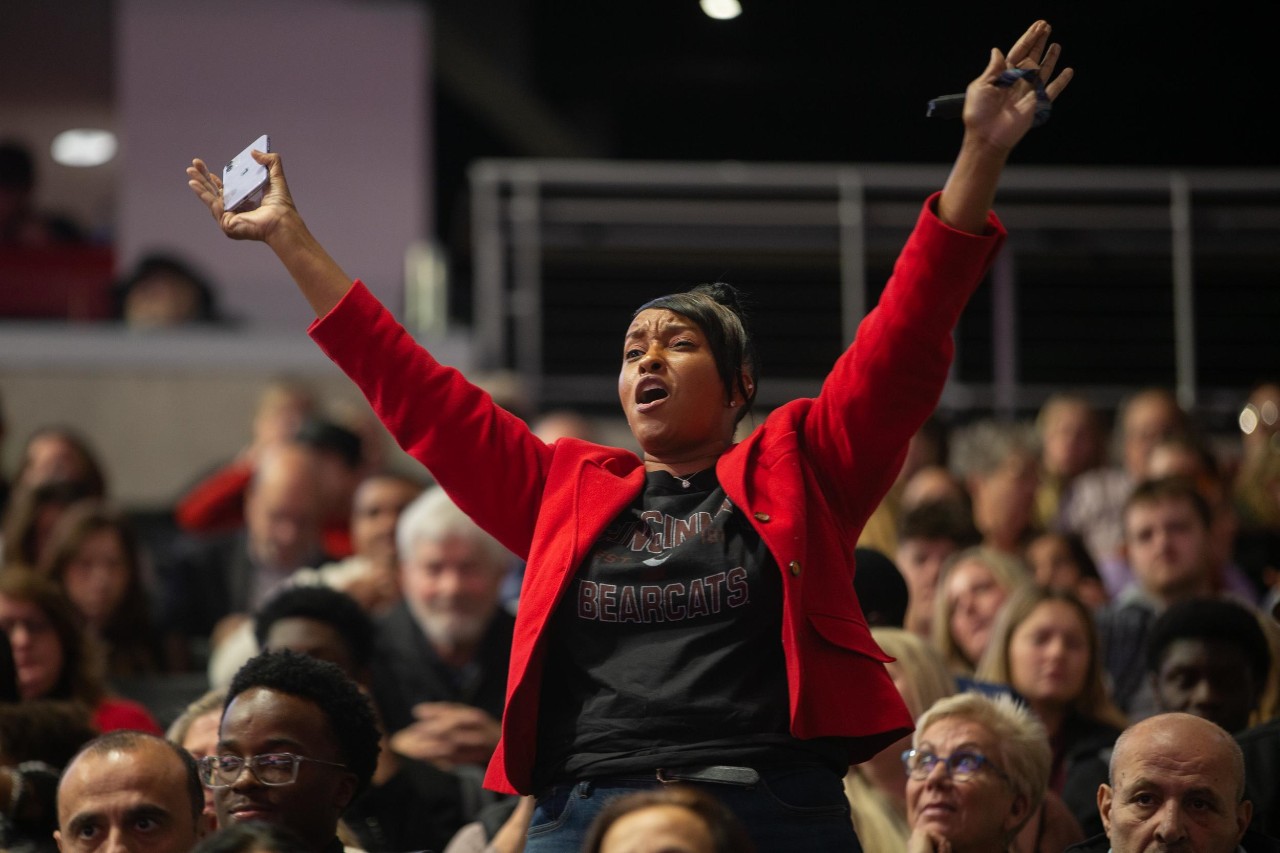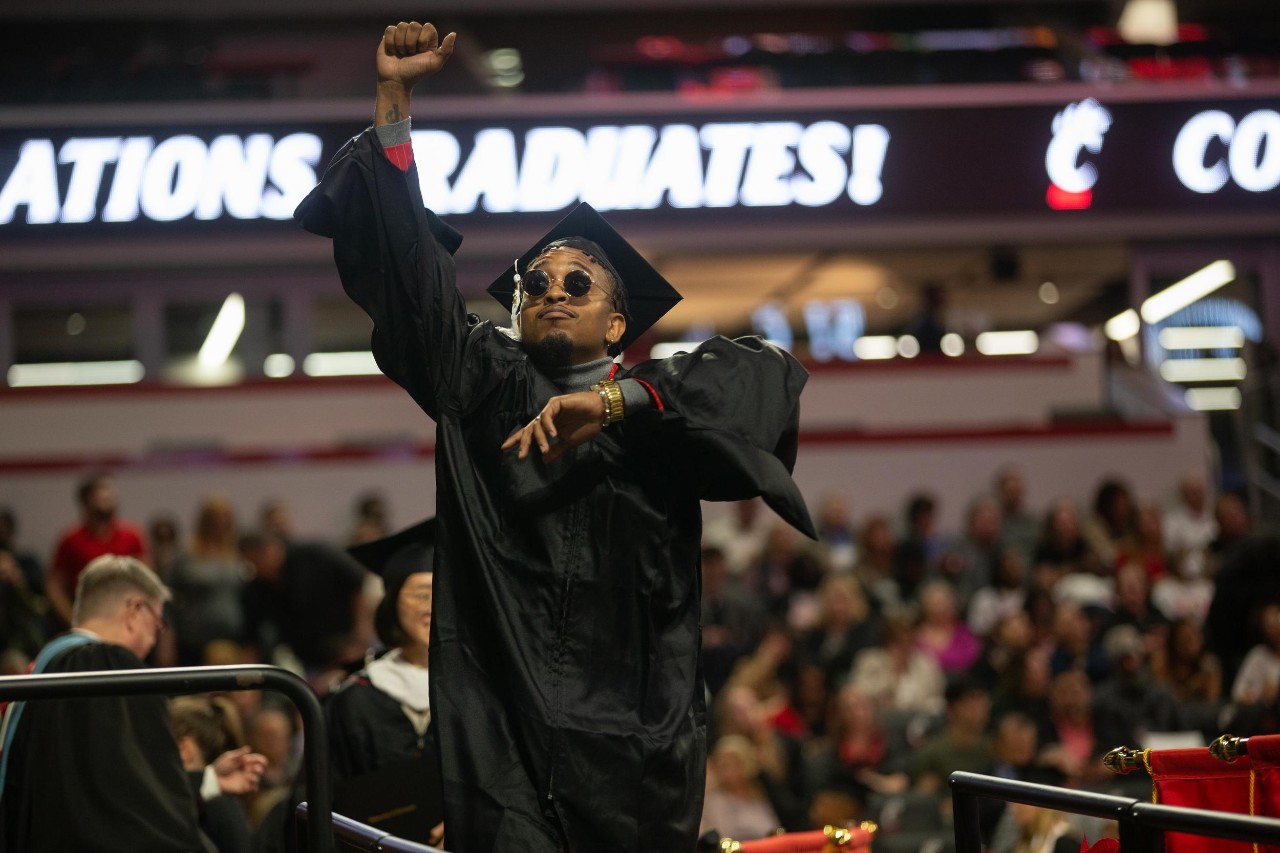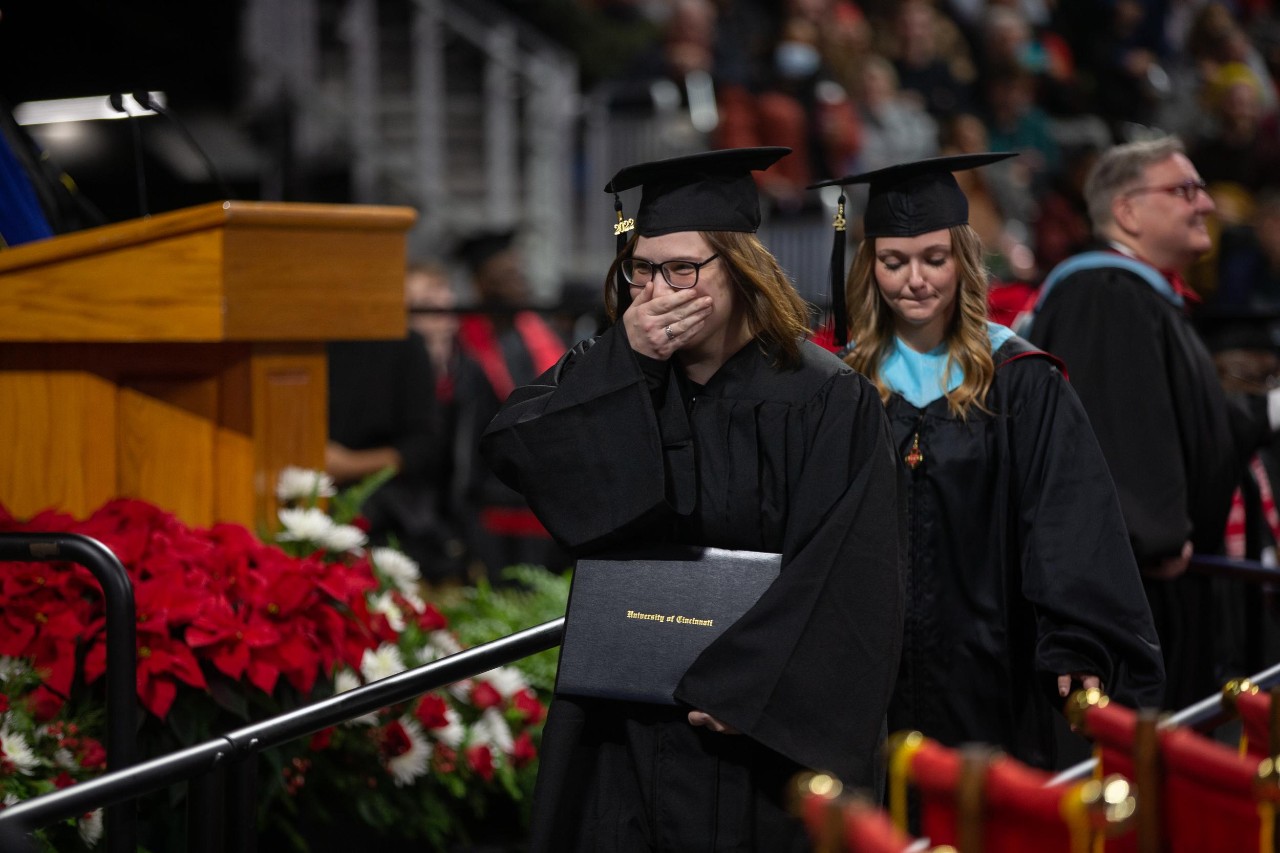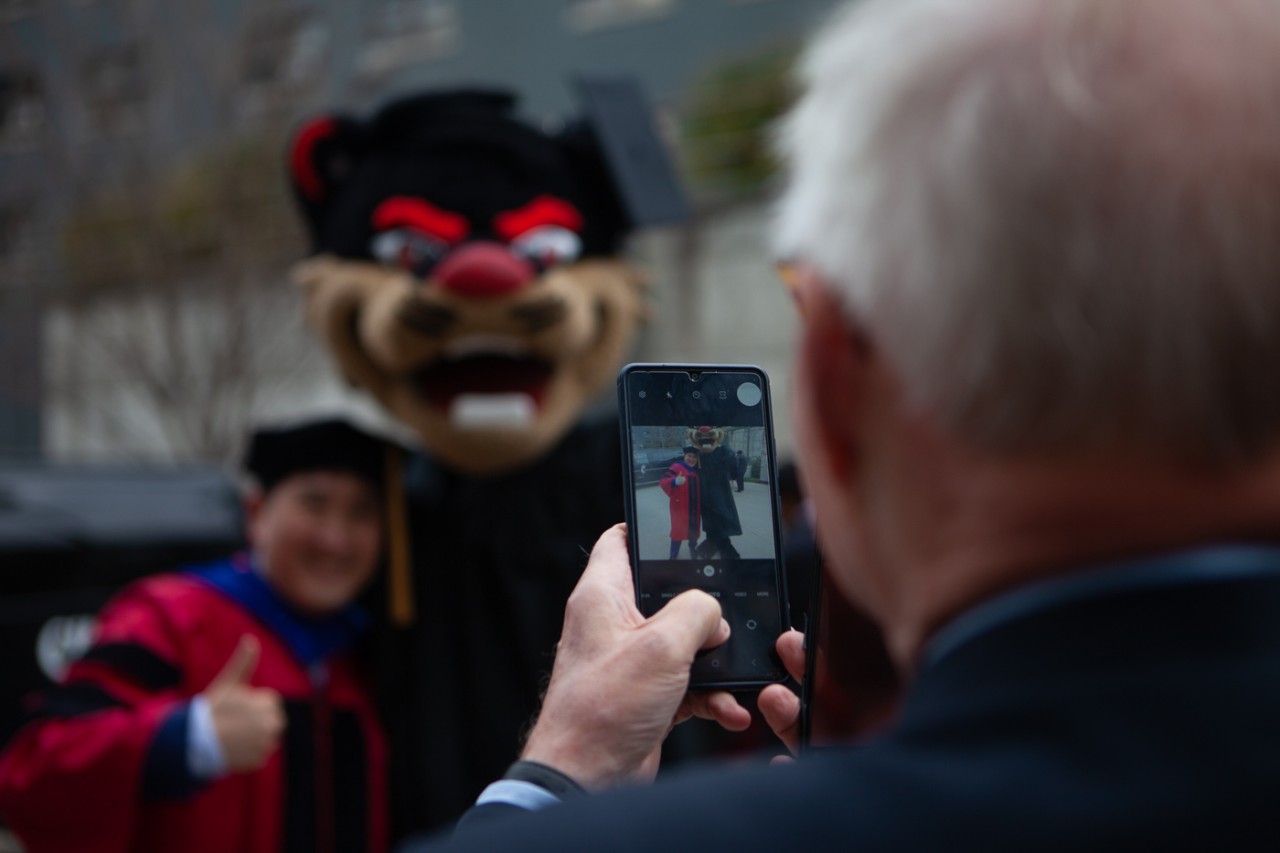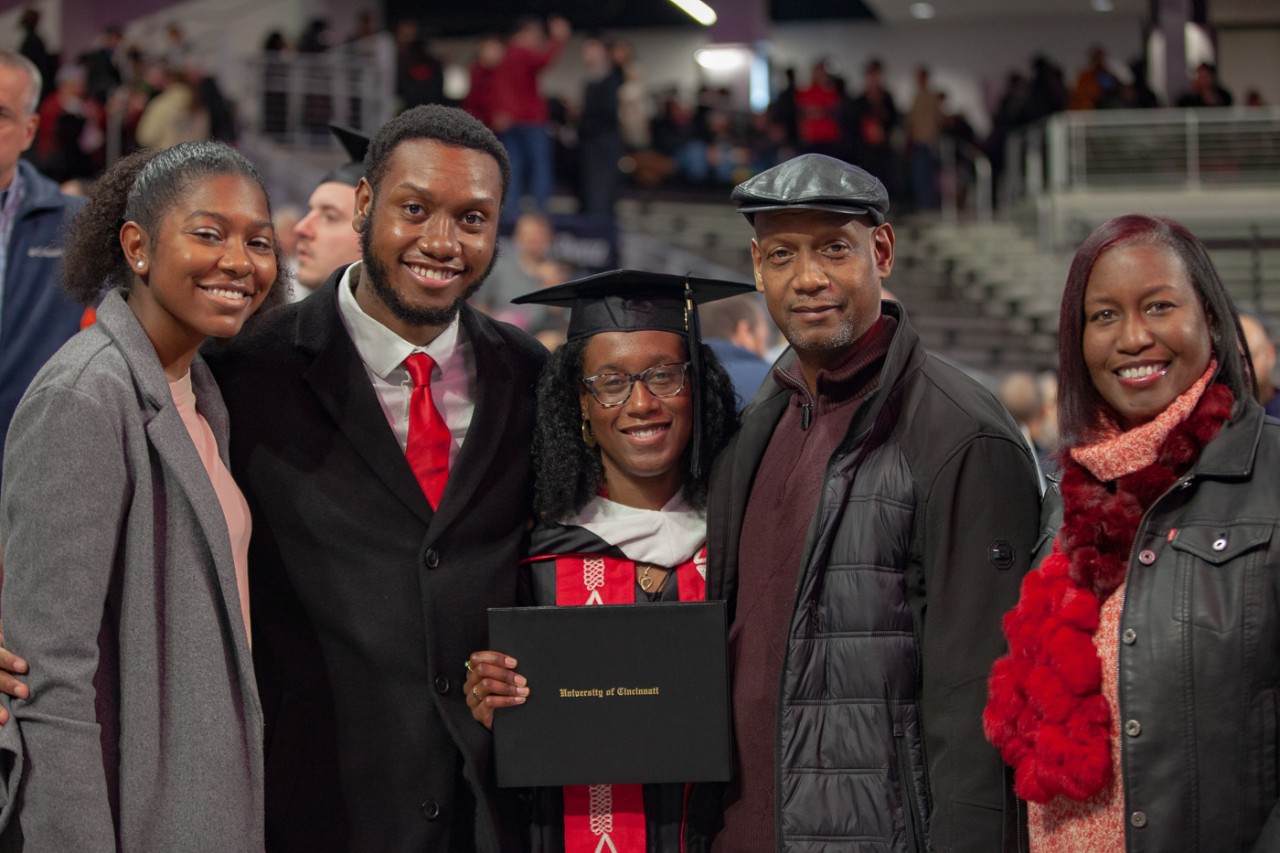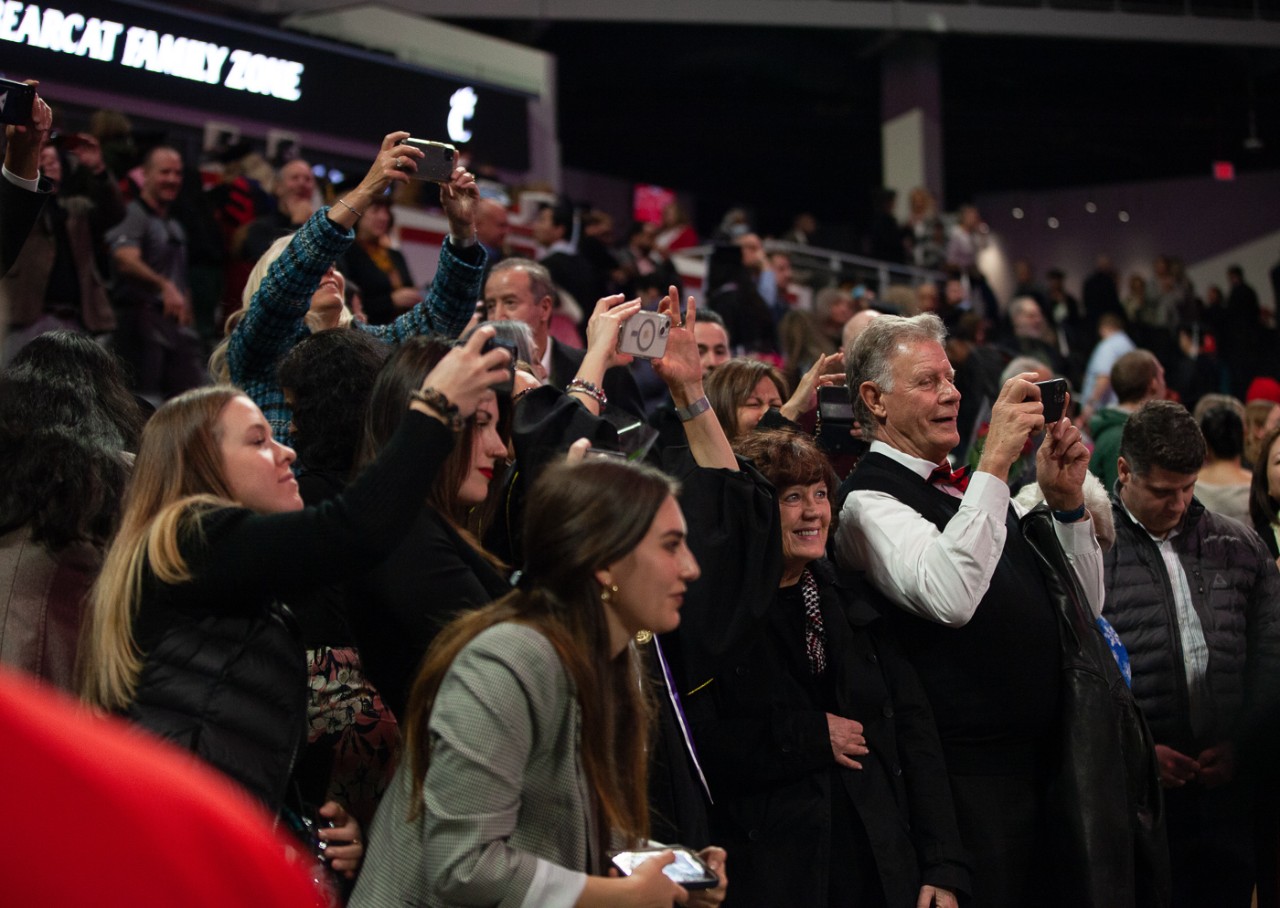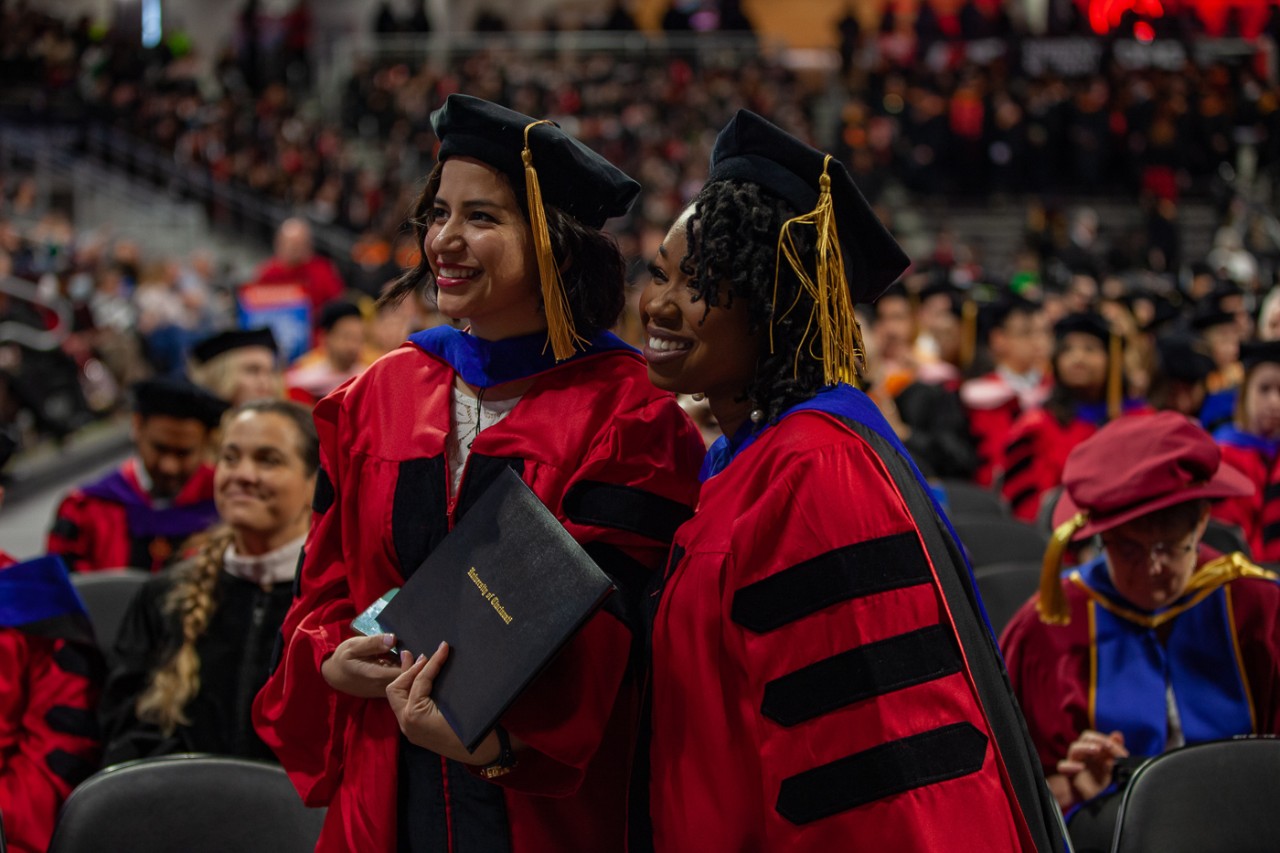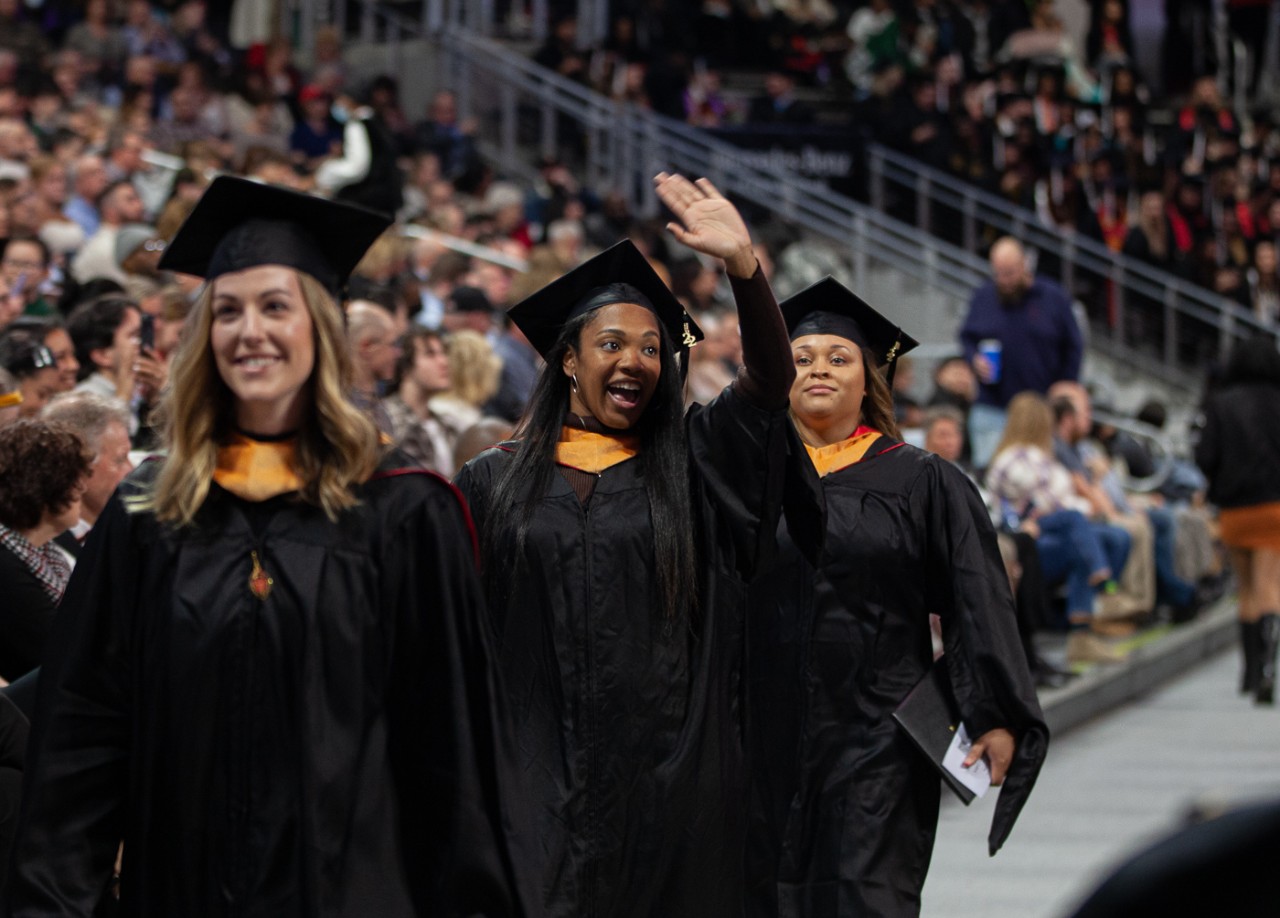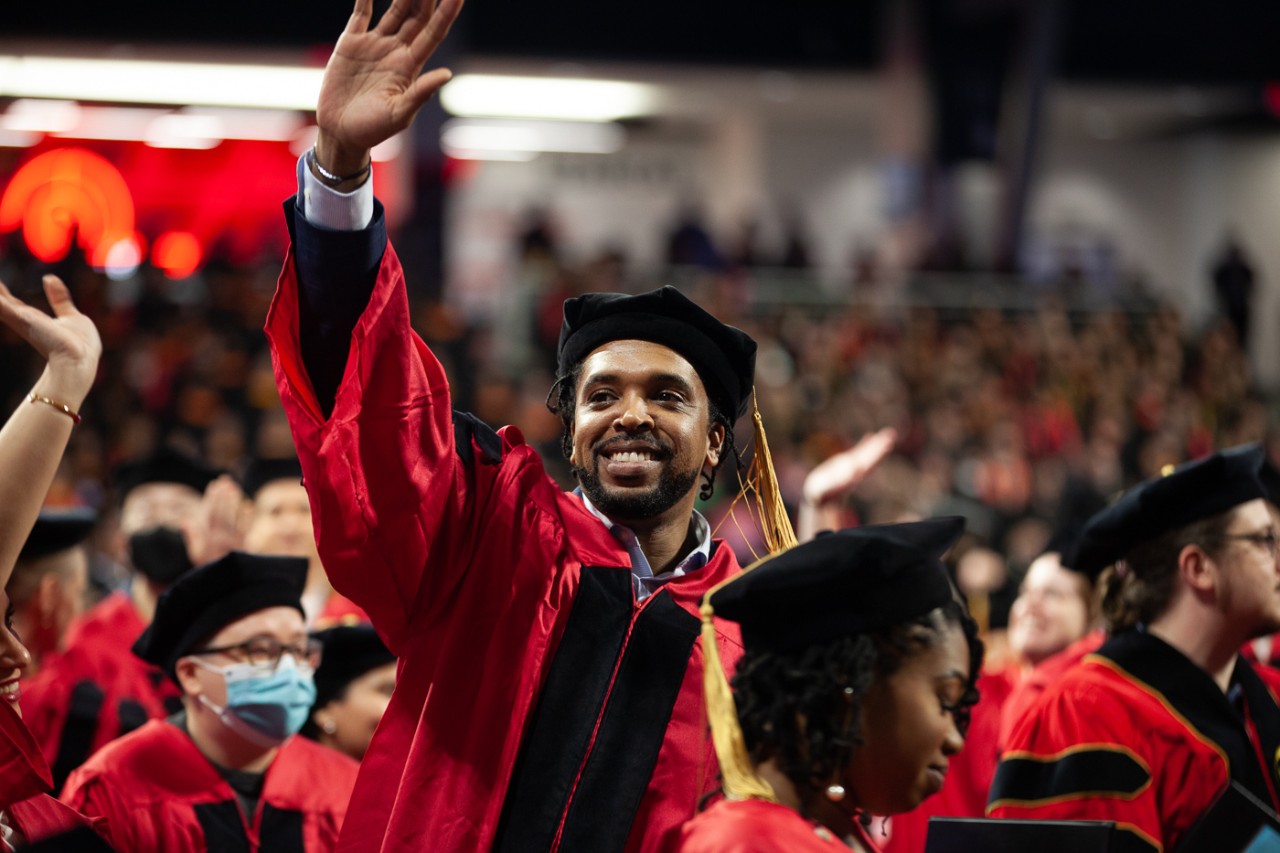 Become a Bearcat
Whether you're a first-generation student or from a family of Bearcats, UC is proud to support you at every step along your journey. We want to make sure you succeed — and feel right at home.