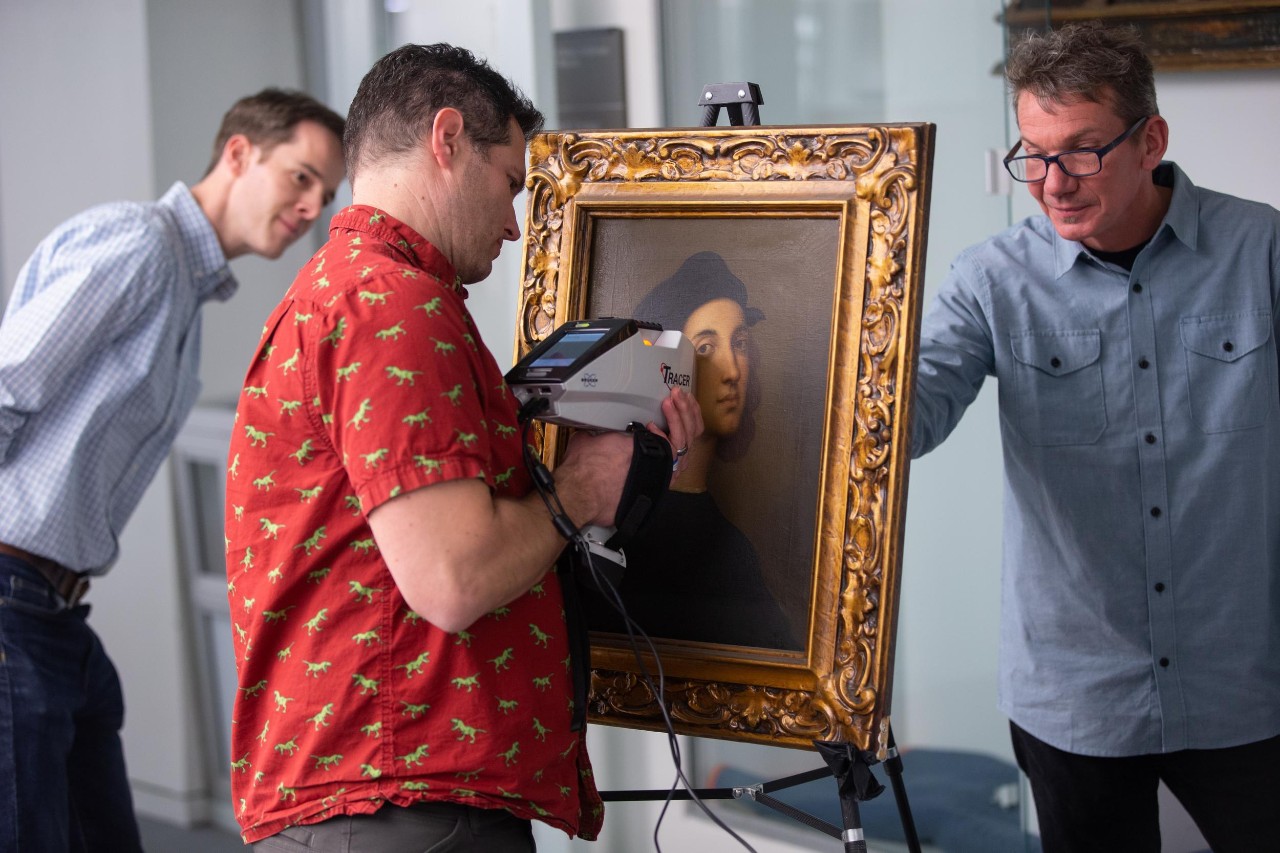 WLWT: UC works with art museums to identify fakes and forgeries
Project uses latest science tools to study art in a new way
WLWT highlighted a novel collaboration between art museums and geologists, chemists and art historians at the University of Cincinnati to examine precious artworks using the latest scientific tools.
UC worked with the Taft Museum of Art to use tools such as Xray fluorescence spectroscopy to study the pigments in two paintings in the hopes of learning more about the masterpieces.
Art historian Christopher Platts in UC's College of Design, Architecture, Art, and Planning, and UC College of Arts and Sciences geologist Daniel Sturmer and chemists Pietro Strobbia and Lyndsay Kissell examined "Panel with the Crucifixion" and "Landscape with Canal" in Taft's collection.
The first was a painting on a wood panel in the style of Italian Renaissance artist Bernardo Daddi. UC's chemical analysis revealed more modern pigments in the painting.
UC's experts hoped to shed light on the landscape painting's suspicious signature. The painting was signed John Constable, but experts long have suspected the work was created by contemporary Frederick Waters Watts. UC's analysis was inconclusive.
UC researchers say these tools can help historians pin down the dates the artworks were created and potentially identify a fake or fraud. The Taft Museum of Art included the paintings in an exhibit titled Fakes, Forgeries and Followers in the Taft Collection that runs through Feb. 5.

1
UC offers new social justice, Latin American studies degrees
October 7, 2020
University of Cincinnati students can now enroll to earn a Bachelor's degree in two new humanities programs: Social Justice, and Latin American, Caribbean and Latinx Studies, offered through UC's College of Arts and Sciences.
2
UC to host symposium on socially just community research
Event: March 5, 2021 9:30 AM
On Friday, March 5, The Cincinnati Project (TCP) will host its seventh-annual symposium titled "The Art and Science of Socially Just Community Partnered Research," sponsored by UC's College of Arts and Sciences and The Taft Research Center. Director of the Center for Culture-Centered Approach to Research and Evaluation (CARE) Mohan Dutta will deliver the keynote speech. Based in New Zealand, CARE is a global organization dedicated to developing community-based solutions for social change, advocacy and activism, inspired by the conviction that health is a human right. Founded in 2016, TCP unites researchers from UC's College of Arts and Sciences with community partners to benefit marginalized communities in Cincinnati, tackling economic, race, gender and health issues. Past TCP research has focused on high eviction rates in Hamilton County, resulting in city legislation to protect the rights of renters through an eviction prevention plan. In addition to the keynote speaker, the symposium will include discussion panels from area organizations such as Housing Opportunities Made Equal (HOME), the Urban League of Greater Southwestern Ohio, the Center for Closing the Health Gap, and UC faculty researchers. Topics will include ways in which community-based research can be conducted in socially just ways, in order to benefit the communities it is designed to serve. The symposium will be held virtually via Zoom from 9:30 a.m. to 1:30 p.m., and is free and open to the public. For more information or to register, please visit The Cincinnati Project.
3
UC student body leaders use platform to empower others
October 28, 2021
University of Cincinnati student body leaders have taken on a full slate of undergraduate activities, including classes, studies, Bearcats games and leading student government for UC. Elected as president and vice president earlier this semester, the students set to work delivering on their platform of diversity and inclusion, sustainability, campus spirit, mental health and accessibility.  Initiatives so far include a Mental Health Advocacy Week, a career-ready clothing drive and civil discourse training.
Debug
Query for this