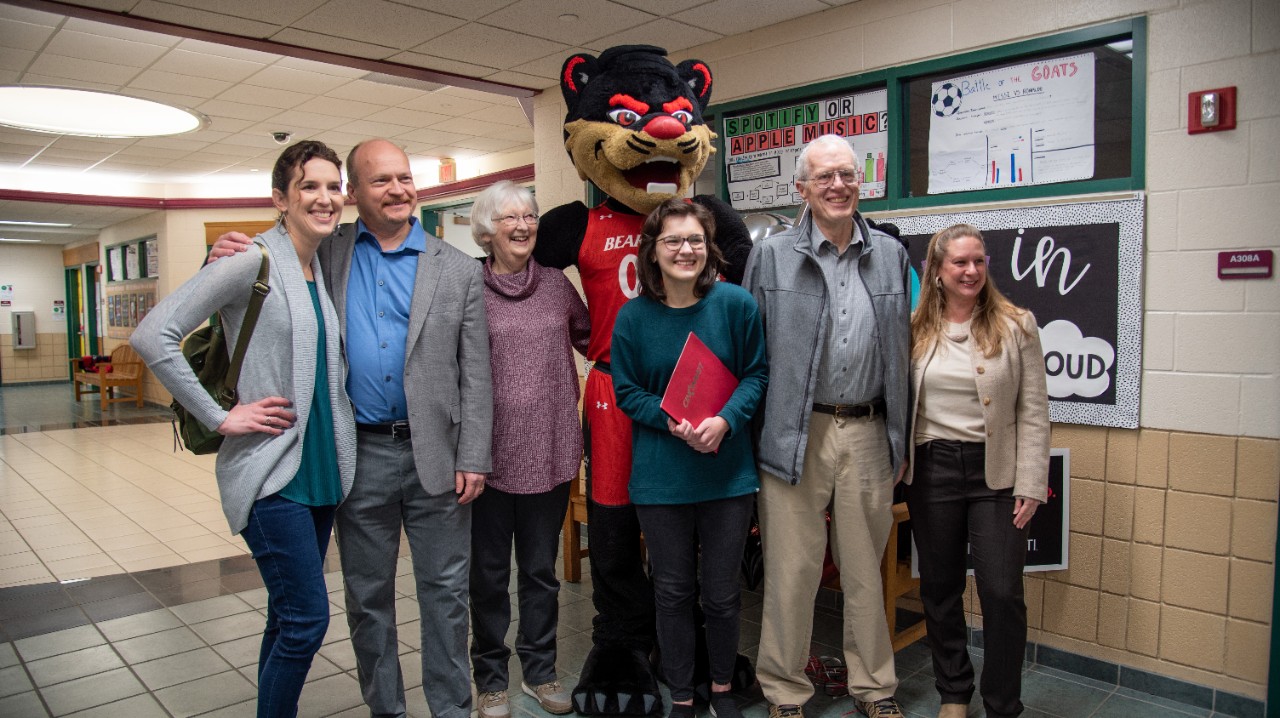 Decision Day brings surprises and scholarships to future UC Blue Ash students
Mason and Sycamore students are among the first to learn they have been admitted to UC
There were tears, laughter and a lot of smiles as two students received the news that they were admitted to UC Blue Ash College during the University of Cincinnati's annual Decision Day.
Brooke Hewitt and Ava Hartmann were the first students to be admitted to the UC Blue Ash fall 2023 class.
Pursuing a career full of smiles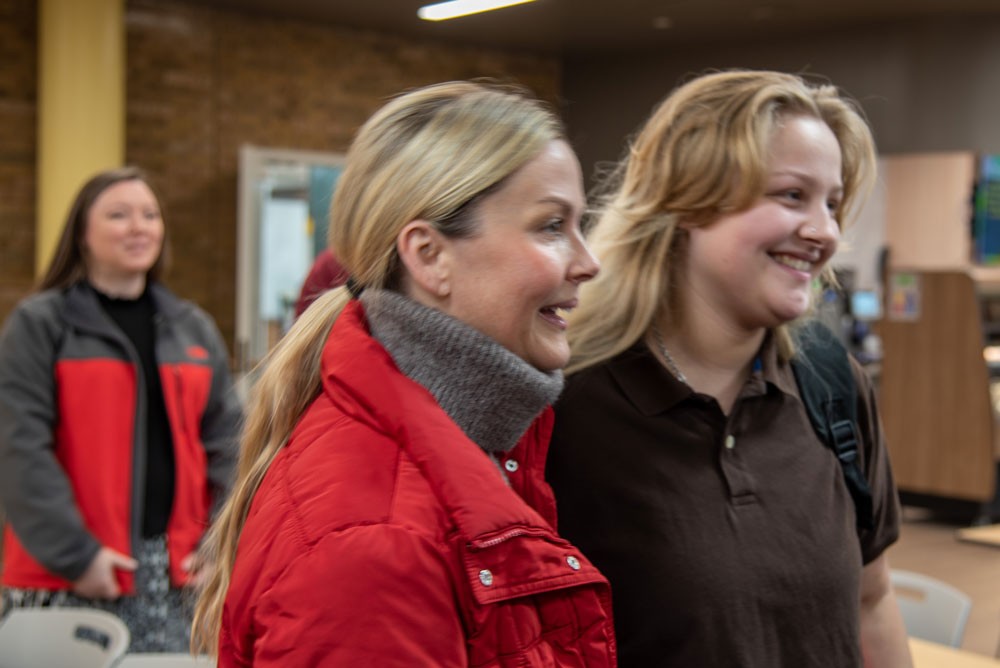 Hewitt is a senior at Sycamore High School who maintains a 3.2 grade point average while taking honors courses, volunteering in the community and working as a lifeguard at Great Wolf Lodge. She plans to attend UC Blue Ash this fall to enroll in the highly competitive dental hygiene program and pursue her goal of becoming a registered dental hygienist.

Robin Lightner, dean of UC Blue Ash, was accompanied by the UC Bearcat and members of the UC enrollment management and UC Blue Ash communications teams when she surprised Hewitt at the high school. Chad Lewis, Sycamore Schools superintendent, was also there to celebrate the good news. Along with her letter of admission, Hewitt received a $2,000 grant that can be used toward her tuition. She could also be eligible for a $1,000 academic achievement scholarship.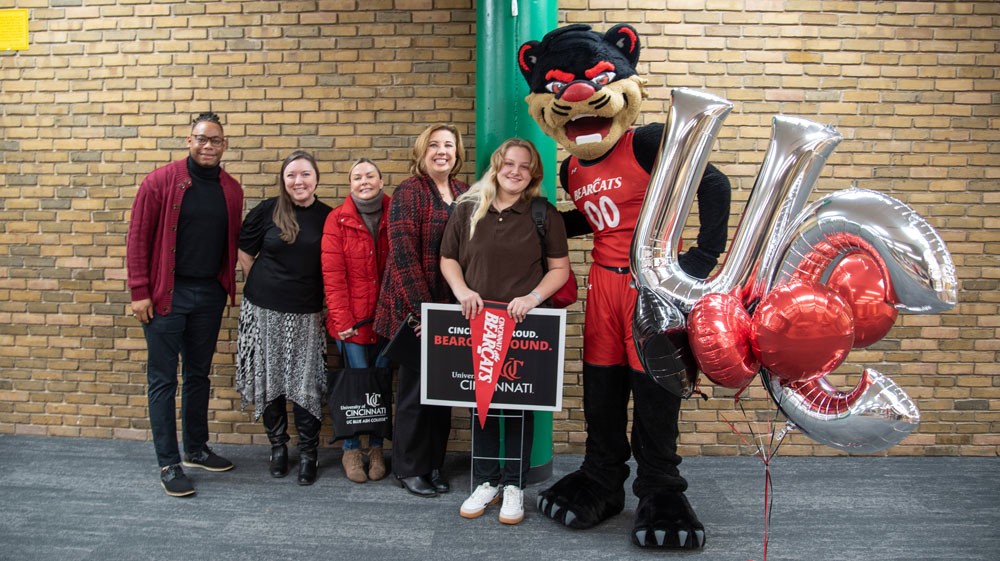 "I'm really excited. I wasn't expecting anything like this, it means a lot.
Brooke Hewitt
Hewitt became emotional as the details of her admission and grant were shared by Dean Lightner. "I'm really excited. I wasn't expecting anything like this, it means a lot," said Hewitt.
The moment was made even more special by having her mom, Mary Hewitt, on hand. She is a nurse at Cincinnati Children's Hospital Medical Center who is proud of her daughter's plans to pursue a career in dental care.
"I am so excited to celebrate Brooke. She is a model student and a natural leader. We look forward to her becoming a Bearcat," said Mary Hewitt.
Ava Hartmann is a senior at Mason High School who maintains a 4.0 GPA while participating in the school's symphonic band, concert choir, German National Honor Society and Inclusive Excellence Leadership Team. She is a legacy Bearcat whose grandparents and aunt all graduated from UC. She also has a connection to UC Health through her father, Dr, William Hartmann III, who is a psychiatrist at the Lindner Center of HOPE.
Hartmann plans to enroll in the pre-mortuary science program at UC Blue Ash while pursuing the goal of becoming a funeral director. She was drawn to the field based on her desire to help others in a non-traditional medical field. She also likes that the program combines her interests in science, psychology, art and culture.
Hartmann was nearly speechless when Lightner, the Bearcat and several others came into her German class for the big surprise. She also received a $2,000 grant and qualifies for a $1,000 academic achievement scholarship and $1,000 Honors program scholarship based on her strong academic performance. Hartmann was joined by several of her family members, including her parents, grandparents and aunt.
"Ava is a keen observer of the world around her, and how she can impact it," said her mom, Adrianna Hartmann, who managed to keep the secret about the Decision Day surprise for more than a week.
"We are proud to offer Brooke and Ava admission to UC Blue Ash College," said Lightner. "They are outstanding students who are very involved in their school and their community. I am delighted that we could share the good news in person, and I look forward to seeing all they will achieve as they pursue their goals."
Hartmann and Hewitt plan to join the more than 4,000 students enrolled at UC Blue Ash College, a regional college of UC that offers more than 50 academic programs with bachelor's, associate, transfer and certificate options. The college combines all the resources of a world-class university with the advantages of a small college campus, including small class sizes, low tuition, and the personal attention that helps students thrive.
Applications for fall semester 2023 will be accepted until July 1. Learn more and apply online today.
Featured Image: Ava Hartmann had several family members on hand for her surprise at Mason High School, including her parents, grandparents and aunt.
About UC Blue Ash College
UC Blue Ash College is a regional college within the University of Cincinnati. It offers one of the best values in higher education with access to a nationally recognized UC education in more than 50 degree and certificate programs, as well as tuition that is about half of most colleges and universities. The college is located on a scenic 135-acre wooded campus in the heart of Blue Ash, Ohio. To learn more, call 513-558-9495, visit us online, like us on Facebook or follow us on Twitter and Instagram.
2
'The perfect situation': Look inside UC's nationally-ranked co-op program
November 29, 2021
The University of Cincinnati's co-op program rose to No. 4 in U.S. News & World Report's latest rankings, released in mid-September this year. The local program has historically placed in the top 5 co-op programs in the country. Its reputation is enough to attract students from all over the world, reports the Cincinnati Enquirer.
3
'I can focus on how best I can give back'
July 19, 2022
Sushruth Muthuluru, a graduate of duPont Manual High School in Louisville, Kentucky, is an incoming Cincinnatus Presidential Scholar who has already conducted four years of medical research.