UC alumna, Ohio Rep. Rachel Baker ready to apply nursing skills to policymaking
Baker's nursing background has prepared her to make informed decisions and advocate for constituents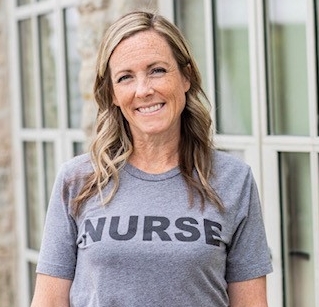 Rachel Baker is ready to bring her nursing skills to Ohio public policymaking.
Baker, a University of Cincinnati bachelor's and PhD in nursing graduate, was elected this past November to the state House of Representatives for the 27th district, which includes parts of Cincinnati's east side. She was sworn in Jan. 3 and looks forward to leveraging her nursing background to make decisions and involve the community in statewide issues.
For Baker, a nurse researcher for Cincinnati-based health system TriHealth Inc., political aspirations weren't in her purview until the pandemic took hold. After watching local elected officials make decisions about health and safety, she became more aware of government processes and realized nurses' skills would translate well to policymaking.
"This light bulb went off that nurses should be at the table doing this, because this is what we do," Baker says. "We make hard decisions with patients. We incorporate lots of viewpoints and different priorities, we collaborate with different people and we're the person who brings it all together. And to bring those skills to legislation would be amazing."
As a nurse researcher, Baker works with bedside nurses at TriHealth locations to answer clinical questions with current research and available data. If neither exists to answer the question at hand, she collaborates with nurses to design a research study and publish or present the findings locally or nationally. As a recent example, Baker worked with post-anesthesia care unit (PACU) nurses to investigate the optimal time to remove a patient's oxygen mask after a procedure. Their study found that keeping the mask on 15 minutes longer reduced instances of nausea and vomiting, common side effects of anesthesia.
Nurses have a lot of skills to bring, so I'm hoping more nurses get involved (in government).
Rachel Baker
When it comes to policymaking, Baker expects to apply the same evidence-based practice approach to statewide issues — review credible research and data and make decisions based on the policies and practices that would be most effective, given the available evidence.
"A lot of legislation that comes to the House may be on topics that I know nothing about, but I'm going to seek out the stakeholders and experts on the topic. I'm going to look for data and evidence and I'm going to talk to the people that would be impacted by the legislation," she says.
More than research and evidence-based practice, Baker's background centers on relationship-building and advocacy. She earned her first bachelor's degree and a master's in social work. And after observing nurses as a medical social worker, she felt called to the nursing profession.
"I thought, 'Oh my gosh, I love this, because it still has the relationship aspect — the support and advocacy part of social work — but with more science,'" she says.
She enrolled in UC's accelerated nursing degree program and went on to earn a PhD in nursing.
"UC absolutely prepared me for my role, and I had a great experience at UC," she says. "I was challenged and pushed further and further along, so it had a huge impact."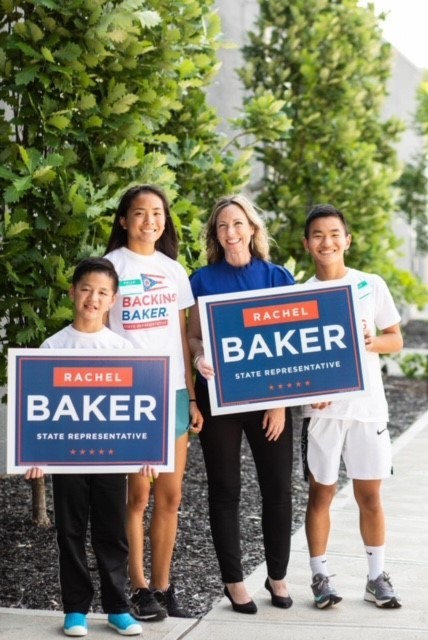 With experience building relationships and advocating for others as a social worker, bedside nurse and nurse researcher, Baker is ready to do the same for her constituents. During her election campaign, she says she talked to people about how state government impacts them and why they should get involved, rather than simply asking for votes, and she hopes to continue that effort as a state representative.
"I want my legacy to be helping to get government back to actually representing the community members and having the community members engaged enough to hold elected officials accountable."
Baker also hopes to show other nurses they can make a difference in policymaking.
"I think all nurses should be researchers and they could all be policymakers, too," she says. "Nurses have a lot of skills to bring, so I'm hoping more nurses get involved."
In the near term, Baker is looking forward to getting settled, cutting her teeth, and finding out what's do-able in the next two years. She has hired a full-time legislative aide who will work in Columbus and a part-time staff member who will work in her community. Baker will continue to work in her role at TriHealth and commute to the Statehouse once a week for regular sessions and as needed for committee meetings.
UC College of Nursing's Interim Dean Gordon Gillespie, PhD, DNP, RN, FAAN, has worked with Baker in academic and professional settings for more than a decade and looks forward to following her political career.
"I'm proud to know Rachel personally," he says. "I can attest that she is highly ethical, compassionate and competent and will be an amazing legislator."
Baker also serves as an adjunct professor for UC College of Nursing. This coming semester, she's teaching online courses in Biostatistics for Evidence-Based Practice and Research (NURS 8004) and Best Evidence for Clinical Reasoning (NURS 8006). Beyond this semester?
"We'll see how crazy life gets," she says.
Featured image at top: Rachel Baker takes the Oath of Office during the Jan. 3 swearing-in ceremony, which kicked off Ohio's 135th General Assembly. Photo/Submitted

Learn More
UC College of Nursing offers more than 30 nursing degrees and certificates. Explore your options and become part of an network of more than 15,500 living alumni making an impact across the world.

1
University of Cincinnati commits $12M to advance 'Next' inclusive culture
October 6, 2022
The University of Cincinnati is committing $12 million to grow inclusive excellence by leveraging diverse perspectives to advance innovation, creativity and complex problem solving in biomedical research. The new program, FIRST+ Lives Here for Urban Health, aligns with the National Institutes of Health's FIRST (Faculty Institutional Recruitment for Sustainable Transformation) Program and advances the university's Next Lives Here strategic direction.
2
UC joins national study on stroke prevention using wearables
November 7, 2022
The University of Cincinnati is part of a multimillion-dollar grant from the National Heart, Lung, and Blood Institute to study a strategy to prevent stroke in patients with atrial fibrillation. The trial will incorporate the use of an app on Apple Watch to monitor an irregular heartbeat to reduce patients' reliance on blood-thinning medication.
3
Classes begin for increasingly diverse student body at UC
August 23, 2021
The first day of classes for the fall semester at the University of Cincinnati starts Monday, Aug. 23, and more than 46,700 students are expected to begin instruction with a more traditional fall term, focusing on in-person instruction and activities.