UC researchers have determined what African elephants can hear
Five-year study on these endangered animals could help protect them
With an electrode adhered to one fan-shaped ear, another on the back of the neck and a ground wire at its hip, an African elephant munches on a snack as it is presented with a sound, over and over again. A team of University of Cincinnati researchers works around the animal and on a ladder beside it, monitoring its health and collecting data.
Since 2017, UC's Facility for the Education and Testing of Canine Hearing and Laboratory for Animal Bioacoustics (FETCHLAB) has sent a team of researchers to study what African bush elephants can hear.
New knowledge on the subject could inform future conservation efforts to better protect the largest land mammals on Earth, says University of Cincinnati Professor Peter Scheifele, PhD, director and founder of FETCHLAB, and leader of the research. According to the Great Elephant Census, the African elephant population has dropped 72% in the last seven decades, so time is of the essence.
"There is a crisis between elephants and humans in South Africa," says Scheifele, who returned from the latest two-week trip in late December, his fifth excursion to Bela-Bela, South Africa. Poaching continues to be a leading cause of death among African elephants, Scheifele says, but "people are also living longer because of the work of health institutions," he explains, "leading to population growth, larger families and the need for more farmland; pushing elephants out of territories where they used to live."
There is a crisis between elephants and humans in South Africa
Peter Scheifele, PhD director and founder of FETCHLAB
Consequently, elephants have turned to raiding crops, sometimes villages, Scheifele says. The hope with this work, he says, is we can learn more about how elephants communicate, to inform new ways for humans and elephants to peacefully co-exist.
The initial goal of the research was to identify what African elephants can hear, testing a full frequency of sound using speakers and electrophysiological equipment. With this last trip, Scheifele says that work is largely complete. His team has measured the neural response to sound on an elephant's auditory pathway to the brain, which very closely correlates to the threshold of its hearing range.
Now, they look to what's next.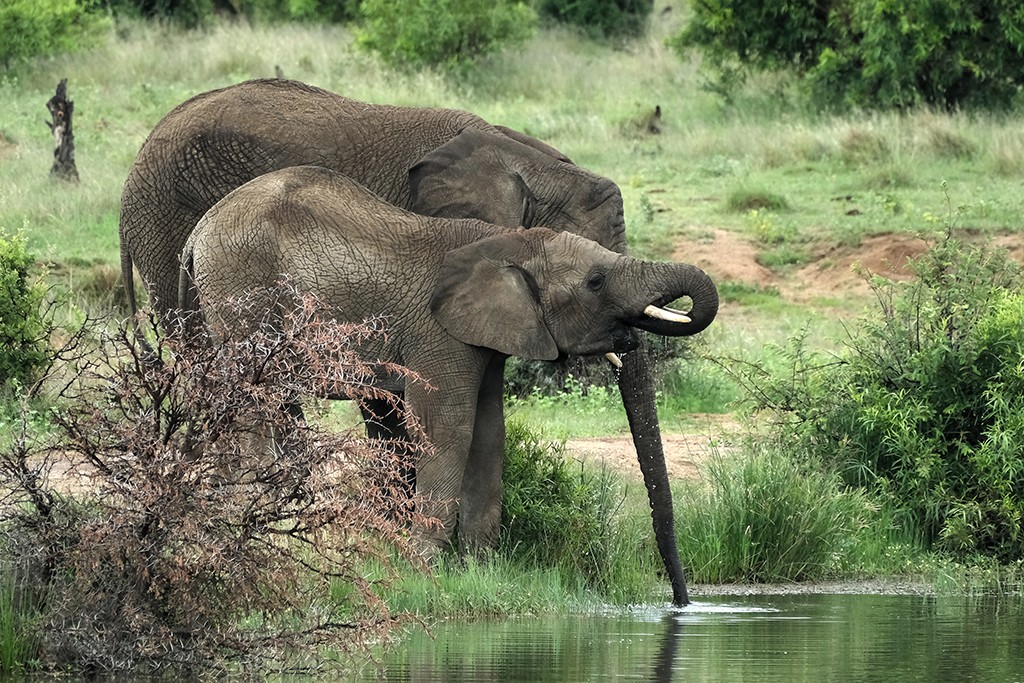 FETCHLAB: A bastion of animal audiology
By the time Jeffrey DiGiovanni came to UC in 2018 to become a professor and chair of the Department of Communication Sciences and Disorders, FETCHLAB was already well established, founded by Scheifele in 2007.
"Some of Dr. Scheifele's work has led to hearing protection for dogs and so much more," DiGiovanni says. "It was absolutely one of our areas of distinction in the department but also in the college and the university."
As new chair, DiGiovanni first went to Bela-Bela to vet the experience for UC students and faculty. The work was clearly relevant, he says, and the students praised the international educational opportunity. DiGiovanni has since joined the research team, bringing along his expertise in communications disorders and psychoacoustics.
FETCHLAB centers mostly on work with canines, providing hearing tests and hearing equipment to service, police and military dogs. It supports the U.S. Department of Defense with clinical and research topics on working dog post-traumatic stress disorder and audiological disorders and supports several aquariums including the Newport Aquarium with auditory, sound production and noise issues regarding their animals.
Before joining the ranks of academe, Scheifele spent a career in the military and is a retired lieutenant commander in the U.S. Navy. His last position was as an oceanographer at the Navy Marine Mammal Technology Program at the Naval Underwater Systems Center, studying dolphins, whales and sea lions. His auditory research extends to many other species, including reindeer and penguins.
Scheifele's work with the military, both during active duty and as a research partner, led to the U.S. Army funding the hearing study on elephants. Prior to the work by UC, the only hearing data collected on the species was on an Asian elephant in 1988. Technology today is much more advanced.
For two years FETCHLAB worked out the protocols on the African bush elephants at the Indianapolis Zoo, working with zookeeper Sarah Riffle, who went along on the research trip this year.
"What we found is different than what they found with the single elephant in 1988," Scheifele says. "Our equipment allows us to be much more precise."
An experience like no other
Michael Berick is still pinching himself. For roughly two weeks the 26-year-old got to get out of bed, eat breakfast, drive out to a herd of elephants, and hang out with them for hours.
"Every morning, elephants just feet away," says the first-year doctorate of audiology student, one of 13 graduate students on the recent trip. "It was so surreal."
With other members of the research team (which included various UC faculty, a veterinarian, veterinarian technician, animal behavioralist and Riffle from the Indianapolis Zoo), Berick helped test sounds over and over again.
"If you think about it, when you are presented with a very small sound in your ear, like a beep, you're actually getting a lot of extraneous noises—even your own body makes noise," DiGiovanni explains. "So, we actually have to present that sound hundreds of hundreds and sometimes thousands of times." 

Berick chose UC for his degree because of FETCHLAB's work with military canines, he says. While earning his undergraduate degree in speech and hearing science at Ohio State University, Berick was a combat engineer in a rapid response unit in the Air National Guard. During his training and deployments (which included Qatar and Saudi Arabia) he worked often with military dogs and has a strong urge to protect them.
The trip to Africa, though, will always be an undeniable highlight of his first year, Berick says.
Another student, Laurel Smith, echoes Berick's sentiments about Africa and FETCHLAB. The opportunity to participate in groundbreaking research was incredible, she says, but so was the chance to provide free hearing screenings to people in the community and get to know the area and its people. She'll never forget drives into the bush to see cheetahs and other wildlife, playing with baby monkeys at a vervet monkey rescue or attending several braais (grill outs), where she ate kudu steak and wildebeest and impala stew.
"We had so many incredible opportunities to fully experience South Africa," says Smith, 26, who graduates in May and is finishing her final externship at a hearing clinic in Denver, Colorado. "I am so grateful for every day we had there."
When she thinks back, Smith is amazed by the many opportunities she was presented through FETCHLAB. Where else would she have gotten to work with puppies every week; study elephants at the Indianapolis Zoo and South Africa; participate in research on walruses and horses? But also make so many friends.
"Dr. Pete says it best: 'We are Ohana,'" Smith says. Ohana means "we are family" in Hawaiian and is something Scheifele picked up when he was stationed at Pearl Harbor for nine years.
We are Ohana
Laurel Smith Audiology student
Once a student becomes a member of FETCHLAB they are forever part of the FETCHLAB family," Scheifele says. "It is much more than a laboratory or science education; it is a life experience, and we all remain in touch." 
FETCHLAB is the only academic program in the country that can issue a certificate in animal audiology. There are now satellite FETCHLABS at the University of Northern Colorado and the University of Akron. Certificates are issued solely by the University of Cincinnati.
Going beyond what the herd heard
So, what has Scheifele and the UC team learned about elephants?
First, African elephants hear a much lower frequency than humans. According to this research, African bush elephant's auditory sensitivity curve is 5 Hz to 12 kHz. Humans can (at best) hear 20 Hz to 20 kHz.
There is one more trip planned to wrap up this work at Adventures with Elephants, the conservation and education organization in Bela-Bela, home to the seven elephants in this study.
Scheifele hopes to continue to work with these animals, part of the Rory Hensman Conservation and Research Unit.
"The research we want to carry on would bring seismic experts, communications experts and audiology experts together to solve what the elephant senses—through all of its senses," Scheifele says.
Studies show that a male elephant can tell when a female is up to a mile away and display behavioral changes to far-away earthquakes and tsunamis.
"We say 'hear' but the elephants are probably feeling the vibrations," DiGiovanni says. "The belief is that they're probably getting it through their feet or through their trunk. Are they actually hearing the sound with their ear? That's debatable."
FETCHLAB is working on holding a conference at the University of Cincinnati this summer to bring potential partners together for this research.
"The question now, " Scheifele says, "is, how are they hearing it?"
Next Lives Here
Learn more about the innovative work that UC's FETCHLAB does with animals and check out the animal audiology certificate program if you are interested in being a part of their work. 
Featured image at top: The UC team poses in front of an elephant in Africa. Photo/Jeff DiGiovanni/Department of Communication Sciences and Disorders 

2
A UC first: Enrollment tops 48,000
August 18, 2022
The University of Cincinnati anticipates record enrollment as classes begin Monday, Aug. 22, with a projected 48,300 students — a 3% increase over last year. It will mark nearly a decade of continuous growth of a student body that increasingly reflects the university's core values.
3
Ready for researchers
December 9, 2022
The University of Cincinnati seeks future researchers and educators for new PhD program in Health and Rehabilitation Sciences.