WATCH: CCM student actor explores UC's motion capture lab
UC's Digital Futures AR/VR & Motion Capture Lab allows students to move like video game characters
Junior BFA Acting student Sydni Solomon punches the air, poses like a zombie and runs while her movements are recorded to make a virtual simulation of herself, like a video game character. This short scene gives viewers an inside look at UC's Digital Futures AR/VR & Motion Capture Lab; watch more online.
CCM's BFA Acting program participated in a test of the new lab, which is a perfect fit for Professor D'Arcy Smith's Acting for Motion Capture class. Students are currently working on locomotion, walk cycles and creature work — standard parts of a performance for a video game.
So what exactly is this motion capture technology? Watch our video to see it in action.
Optical motion capture systems can track and record a person's movements with millimeter precision in both physical and virtual spaces. Reflective markers are placed at key joints and locations on a person's body, and then the motion capture cameras can track every movement of the limbs and body. This data can be used to analyze how the person moves, record actions they make in a virtual simulation, or even to recreate their movements using virtual characters. 
CCM showed me that there are audio books, motion capture, voice over, new media, and so much more. There's just a multitude of avenues in this industry that I hadn't even thought about.
Sydni Solomon, BFA Acting student
"You see the results of motion capture in Hollywood movies and video games every day," says Chris Collins, Director of UC's Center for Simulations & Virtual Environments Research (UCSIM).

"UCSIM often needs actors and voice actors for our simulations," she adds. "We are working with D'Arcy to provide opportunities for student actors to get real world experience acting in VR simulations for UC researchers and our industry partners."
Collins and Smith met during the design planning for the Digital Futures AR/VR & Motion Capture Lab. "He provided critical insight into how motion capture systems are used to train actors not just for film, but also for video games and simulations," Collins says. "His input helped us define additional use cases for the motion capture system installed in Digital Futures."
UCSIM recently moved to the Digital Futures AR/VR & Motion Capture Lab, and Collins' team is excited to share all of the new facilities and equipment available to researchers at UC. In addition to the motion capture system that Smith's class is using, UCSIM offers high-end tethered or portable all-in-one AR/VR systems for researchers to borrow, AR/VR biometric data capture stations (eye/ facial tracking, heart rate, skin response), and a large volume area for individual or multi-user AR/VR. "UC researchers interested in exploring how augmented or virtual reality could benefit their work should get in touch with us," Collins says.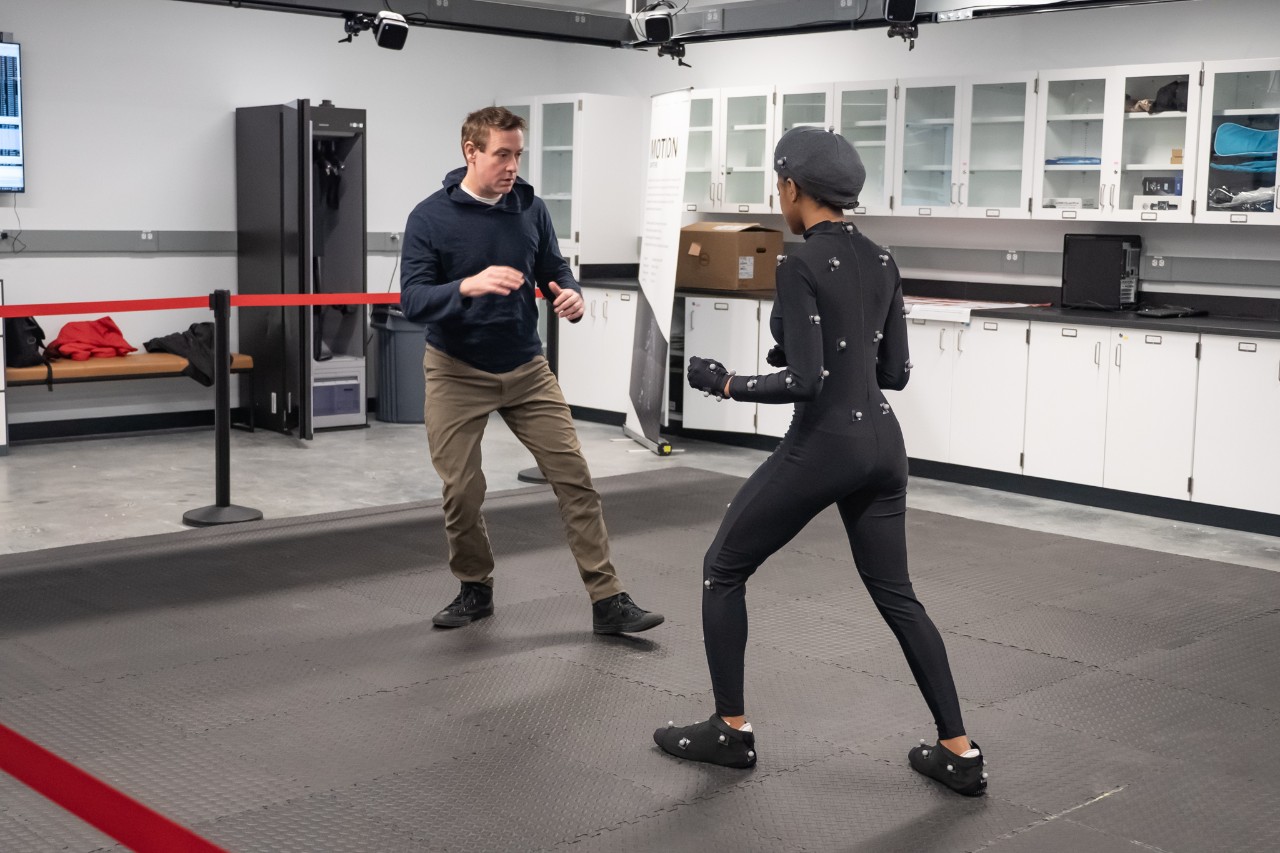 During the fall semester, Smith and one of his students, Sydni Solomon, tested the Motion Capture (MoCap) equipment in preparation for the spring semester's Acting for Motion Capture class. Smith coached Solomon beforehand to learn the movements, including different motions video game characters would do. How would a character react if they got hit? How would they recuperate? How would they attack? "With D'Arcy's coaching, I essentially got to create my own video game character along with its universe," Solomon says.

Although she isn't currently taking Smith's class, Solomon recently attended a CCM Acting MoCap master class with guest artist Michelle Ladd. An experienced fight director, Ladd's credits include work as the Motion Capture Stunt Coordinator for Thor; Motion Capture Fight Director for Pirates of the Caribbean – At World's End; Motion Capture Combat Choreographer for The Lord of the Rings – Return of the King and The Lion, the Witch, and the Wardrobe, and more.
"As someone who had beginner-level knowledge of Motion Capture prior to this experience, I truly had an 'ohhh' moment when I got to see how much could be done with what we recorded in our MoCap Session," Solomon says. "It definitely bridged the gap between what we recorded and what I see in the movie theaters."
Solomon is currently performing in Dickless at the Know Theater (Jan. 27-Feb. 12, 2023), which is directed by CCM Acting Professor Brant Russell (the production is rated R according to the website). As she prepares to enter her senior year in fall 2023, she says she is "reminded of how CCM Acting has given me an overwhelming abundance of options and tools I can use post-grad."
"When I first got to CCM in 2020, I only thought there was theatre and film, but CCM showed me that there are audio books, motion capture, voice over, new media, and so much more," she adds. "There's just a multitude of avenues in this industry that I hadn't even thought about."
The video game industry is now larger than Film/TV and Music combined, says Smith. "Actors who know how to work in this medium will be able to engage with companies that need trained actors for this kind of work," he says.
CCM's BFA Acting program trains actors for careers in theatre, film, television and digital media. Students take classes like Smith's MoCap class, plus stage combat training, movement and voice training, and more. Audiences can see CCM Acting students in their electrifying production of Frankenstein, presented Feb. 9-12 at Patricia Corbett Theater; tickets on sale now.
Feature image at the top: A professor and student pose during a motion capture recording session. Photo by Margot Harknett, Office of Research MarComm.
2
President Pinto's 2021 year-in-review message
December 17, 2021
University of Cincinnati President Neville G. Pinto looks back on a historic year that brought students, faculty, staff and the community back together like never before.
3
Classes begin for increasingly diverse student body at UC
August 23, 2021
The first day of classes for the fall semester at the University of Cincinnati starts Monday, Aug. 23, and more than 46,700 students are expected to begin instruction with a more traditional fall term, focusing on in-person instruction and activities.