High school students learn Magic of Cosmetic Chemistry
College of Pharmacy explains the science behind everyday products
"Have I stirred this well enough?" a student asked as the white powder slowly dissolved into water.
Decked out in lab coats, goggles and latex gloves, groups of four took turns stirring before adding the next ingredient into a beaker. Oil-based ingredients were combined in a separate beaker, with both containers then placed on a hot plate to warm.
After being heated to the right temperature, the beakers were combined and students continued to stir their creations together. Once the mixture had cooled, the students added one final ingredient to thicken the product, and then chose a dye and perfume to personalize their product.
In just about 30 minutes, the students had transformed raw ingredients and turned them into a lotion. They did the same to create a lip balm and began to test both products on their hands. One student said she liked the lip balm, but her group's lotion turned out too runny for her preferences.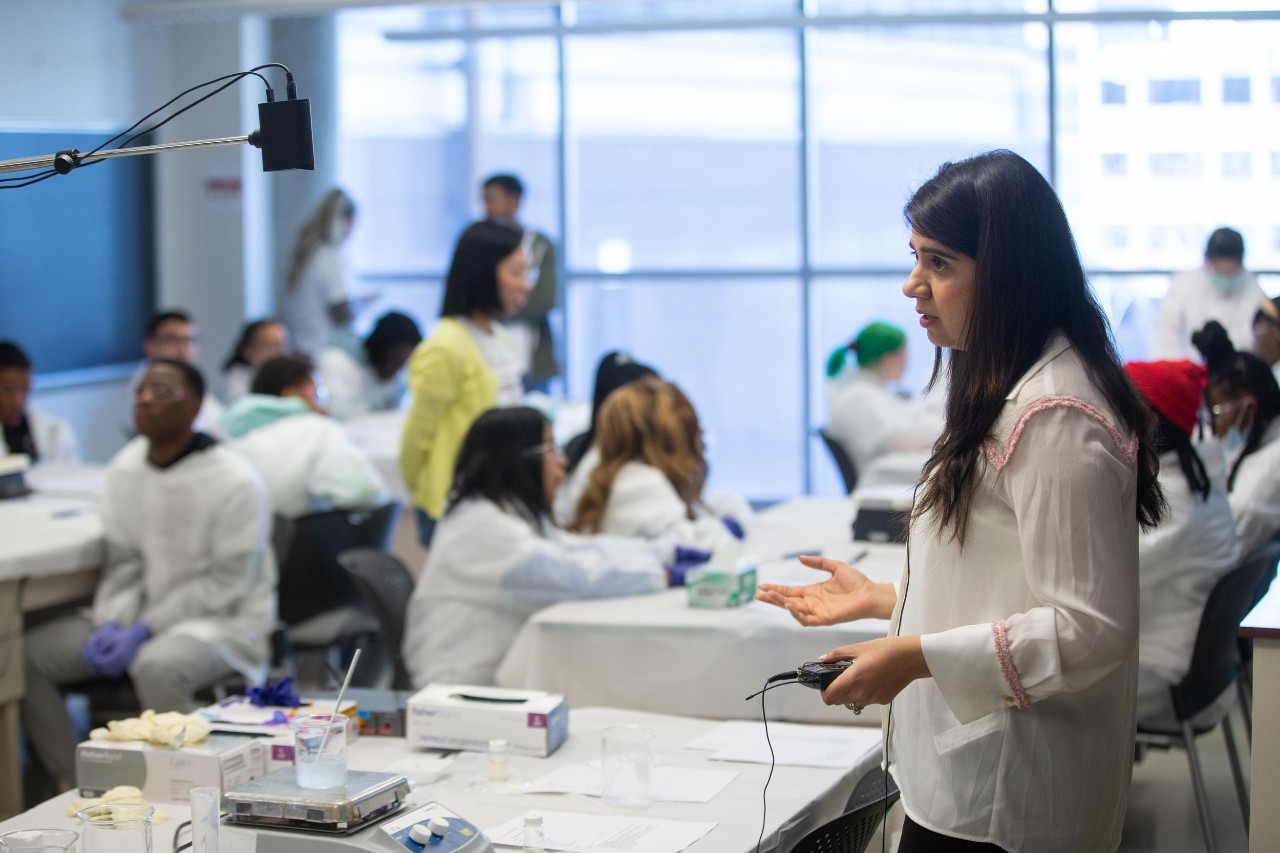 Around 45 Cincinnati-area high school students made their first emulsions and learned about potential careers as part of the Magic of Cosmetic Chemistry workshop hosted by the University of Cincinnati's James L. Winkle College of Pharmacy's cosmetic science program. The sixth annual event returned after a three-year hiatus due to the COVID-19 pandemic.
"It was very exciting to organize the workshop for high schoolers post-pandemic," said Harshita Kumari, PhD, associate professor in the College of Pharmacy's Division of Pharmaceutical Sciences and director of the Magic of Cosmetic Chemistry workshop. "I missed organizing this event and fostering energy in young kids who could transition in the areas of sciences."
Kumari created the program in 2015 shortly after joining the UC faculty, with a goal to excite students about traditional and nontraditional scientific careers at an early age.
"The enthusiasm for sciences in their formative years could help today's kids to develop into future scientists," she said.
Students from Cincinnati Public Schools' Aiken High School, Hughes STEM High School, Shroder High School and Taft Information Technology High School spent a morning in February at UC's Medical Sciences Building.
K.P. Ananth, PhD, professor and director of the cosmetic science program, gave the students an overview of cosmetic science, the work of developing the shampoos, deodorants and makeup products we all use every day. 
"Cosmetic products come in many forms and shapes and sizes and so on, but they don't just 'happen,'" he told the students. "There's a lot of chemistry that goes into it."
Ananth and Kumari highlighted that UC has the only doctoral cosmetic science program in the country, in addition to graduate certificate and master's degree options. The academic offerings, combined with consumer-goods giant Procter & Gamble (P&G) being headquartered in Cincinnati, provides a career path without students ever having to leave their hometown, Ananth noted.
"You can see that this is the center of cosmetic science around the world and a lot of exciting things are happening here," he said.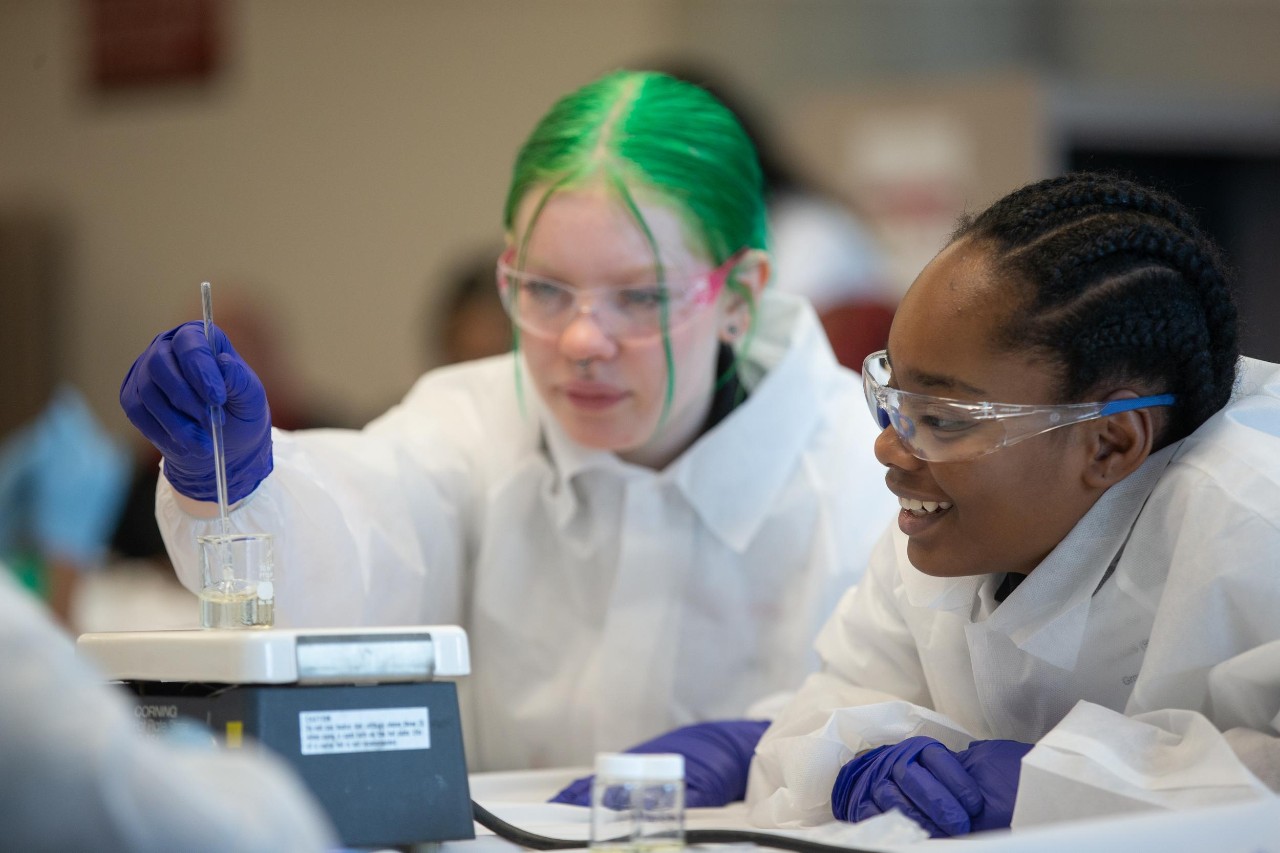 Students then moved to a lab where they began to formulate their lotions and lip balms. As they stirred, measured and combined ingredients, Kumari explained the basis of an emulsion. By combining two phases, oil and water, cosmetic chemists create emulsions that turn into products.
"We gave them some hands-on flavor to make cosmetics and showed them how scaling up in an industrial setting could result in consumer products which they routinely use in their life," Kumari said.
While the students were free to test their products in the lab, Kumari said they could not take them home since they do not have preservatives and had not been thoroughly tested for quality assurance. 
"When you think about careers in cosmetic science, you could be in the formulation lab or you could be in the quality assurance lab, where you are developing claim support data to make the product marketable," she said. These two teams then work with marketing and packaging departments to bring the products to consumers.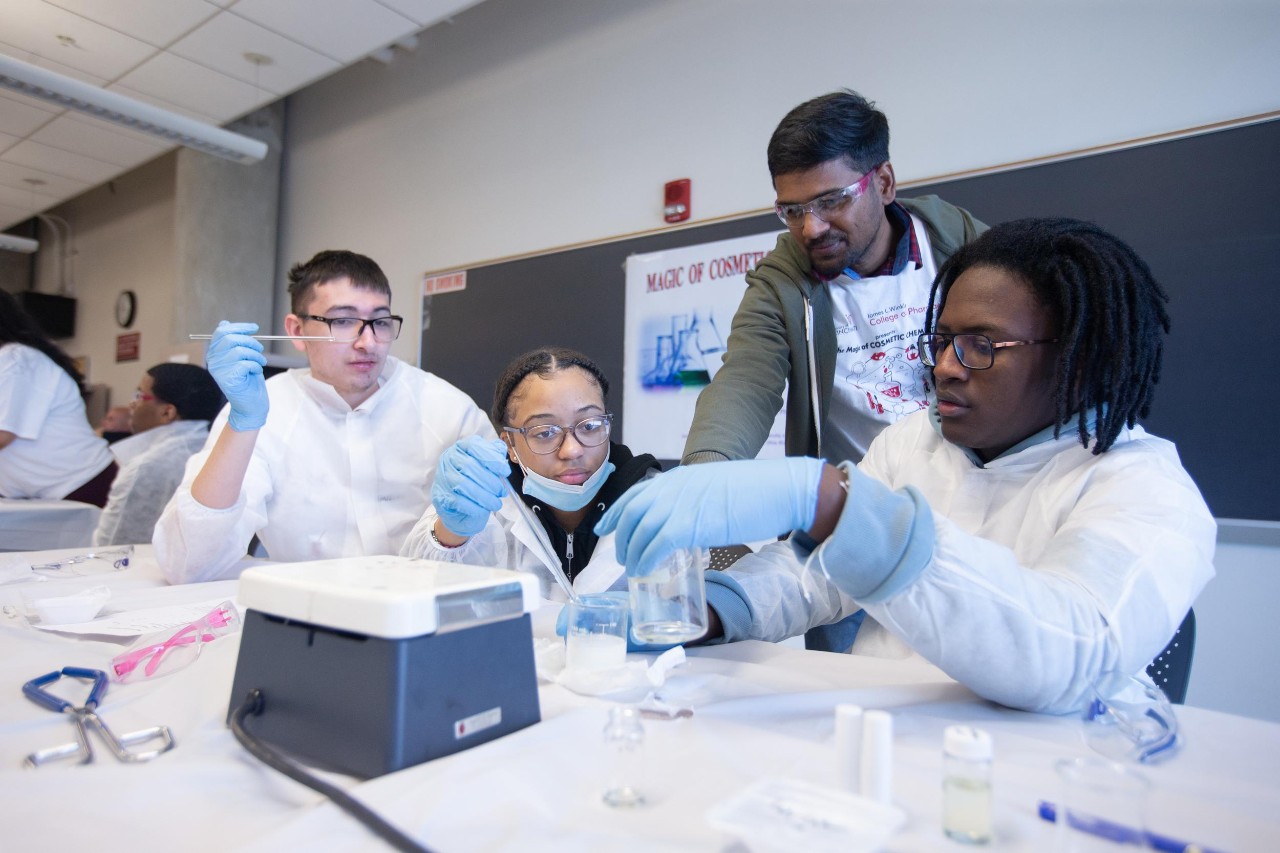 The students ended their day touring P&G facilities, seeing how the work they did in the lab gets translated for demand on a global scale. Students visited pilot plant facilities for creams, deodorants and over-the-counter drugs, microscopy labs and a hair care analytical laboratory where they interacted with P&G scientists and learned about manufacturing and quality assurance.

"Students were absolutely thrilled to watch the scaling up of products at the development site of P&G," Kumari said. "What stood out the most was the excitement and spark in students' eyes at the end of the workshop to become future cosmetic scientists."
The students were accompanied on the tour by four of their teachers, Kumari, graduate and postdoctoral students in the program; Christopher Surratt, dean of the James L. Winkle College of Pharmacy; Rose Marie Ward, vice-provost and dean of UC's Graduate Studies; and Tiffany Dolder-Holland, program director of UC's mentoring/partnership program with Cincinnati Public Schools, Bearcats Academy.
Featured photo at top of students testing the temperature of their ingredients. Photo/Andrew Higley/UC Marketing + Brand.
The workshop was sponsored by the James L. Winkle College of Pharmacy, Procter & Gamble and a Next Lives Here seed grant from the provost's office.
Become a Bearcat
Whether you're a first-generation student or from a family of Bearcats, UC is proud to support you at every step along your journey. We want to make sure you succeed — and feel right at home. Apply today.
1
High school students learn Magic of Cosmetic Chemistry
February 21, 2023
Cincinnati-area high school students made their first emulsions and learned about potential careers as part of the Magic of Cosmetic Chemistry workshop hosted by the University of Cincinnati's James L. Winkle College of Pharmacy's cosmetic science program.
2
UC surprises future Bearcats on Decision Day
January 24, 2022
Decision Day marks the moment when thousands of incoming Bearcats learn they've been accepted to the University of Cincinnati. University officials surprised four area high school seniors at their schools and homes, making them among the first to be accepted into UC in 2022.
3
Classes begin for increasingly diverse student body at UC
August 23, 2021
The first day of classes for the fall semester at the University of Cincinnati starts Monday, Aug. 23, and more than 46,700 students are expected to begin instruction with a more traditional fall term, focusing on in-person instruction and activities.