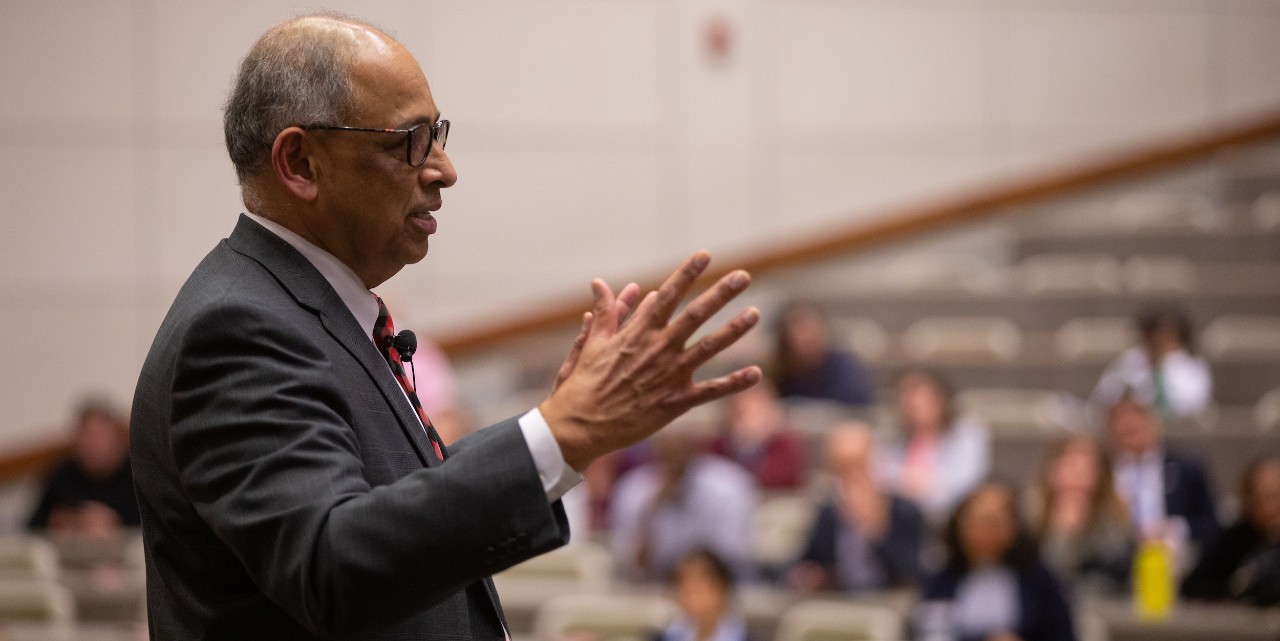 President Pinto launches college tour and listening sessions
Watch for your college's event and save the date for April 13 State of the University update
University of Cincinnati President Neville G. Pinto kicked off his tour of UC's 13 academic colleges with the first stop at the College of Engineering and Applied Science on February 27.
President Pinto's visit included an hour-long open forum with about 130 faculty and staff inside Zimmer Auditorium. He also held individual listening sessions with student leaders, faculty, staff and members of the CEAS leadership team, including Dean John Weidner.
"It is important for me to listen and learn from our faculty, our staff and our students," said Pinto. "I'm also here to thank you for all the work you have done to advance this university." 
The president's open forum centered on appreciating those in the audience for their successful efforts to expand and improve service to students. He shared UC's overall progress toward accomplishing the platforms and pathways of "Next Lives Here," the strategic direction he launched five years ago in 2018. President Pinto also detailed the vision and plans for the new pathways he has prioritized as the university moves into the Acceleration Phase of "Next Lives Here."
It is important for me to listen and learn from our faculty, our staff and our students.
UC President Neville G. Pinto
The next two college tours are set for UC Blue Ash, on March 23, and the Winkle College of Pharmacy, on March 30. Stay tuned for college-level communications about these events as well as announcements of additional tour stops at individual colleges in the coming months.
In addition, President Pinto will share his State of the University update at 3 p.m., Thursday, April 13, in the Kowalewski Hall auditorium at the Winkler College of Pharmacy, ahead of the Spring All-University Faculty meeting. Refreshments will be served at 2:30 p.m. All are welcome to attend in person, or join virtually. More details, including the virtual link will be shared with the entire university community in the coming weeks.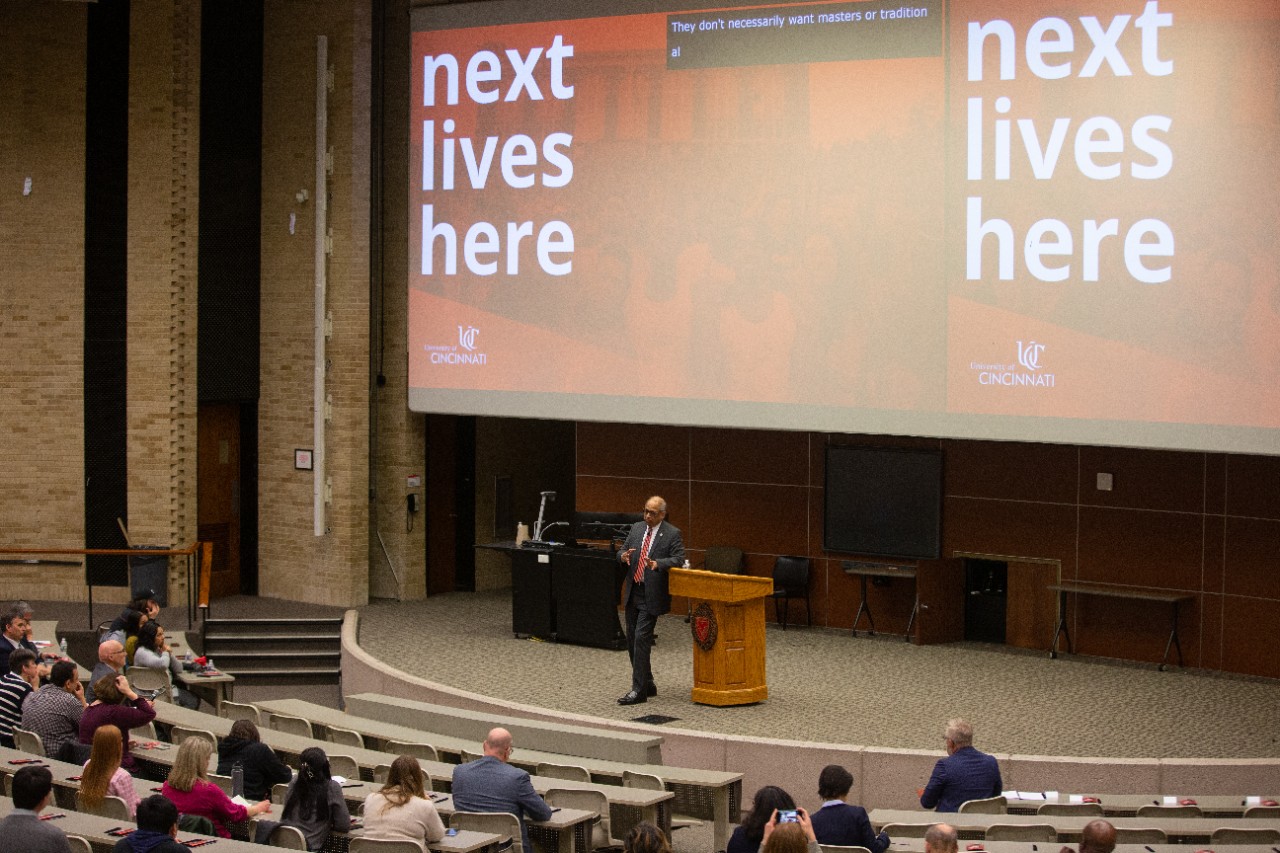 Impact Lives Here
The University of Cincinnati is leading public urban universities into a new era of innovation and impact. Our faculty, staff and students are saving lives, changing outcomes and bending the future in our city's direction. Next Lives Here.
1
UC names chief digital officer
May 19, 2022
UC President Neville Pinto announces hiring of Bharath Prabhakaran to guide the University of Cincinnati's digital transformation.
2
UC announces new chief academic officer
June 16, 2021
UC President Neville G. Pinto informed the campus community today that Valerio Ferme, PhD, dean of UC's largest college, will begin as the university's chief academic officer effective Aug. 3.
3
The Power of Vision: 5 Years of Momentum
April 28, 2022
The last five years rank among UC's best. Take a look at some of our recent accomplishments and proudest moments since President G. Pinto began his term as UC's 30th President.