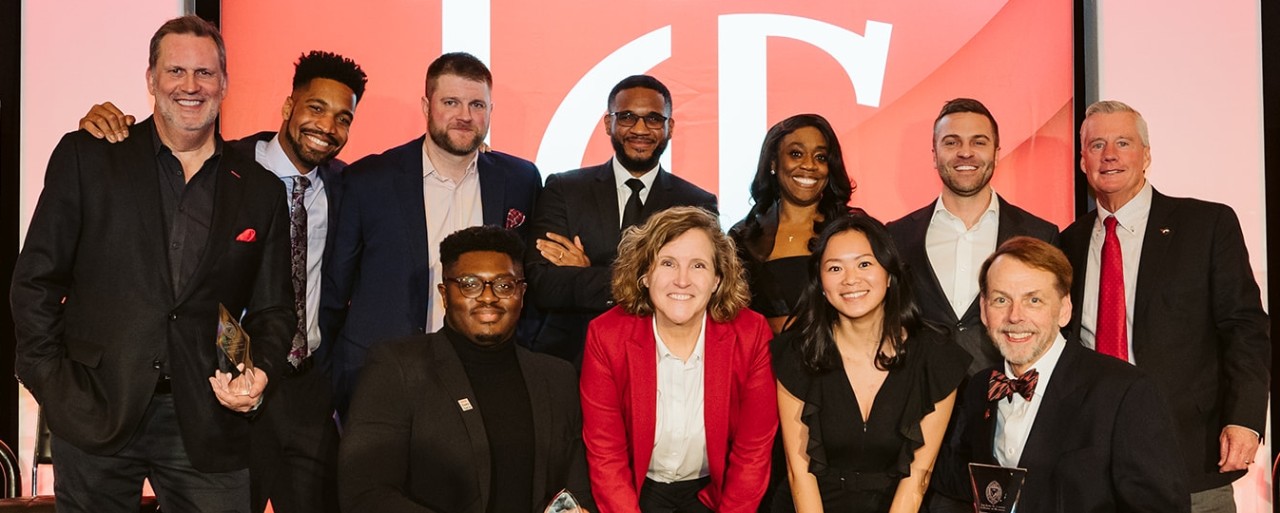 2023 Cincinnati Business Achievement Awards recognize business excellence, entrepreneurial spirit
Students, faculty, alumni and company partnerships honored
The 2023 Cincinnati Business Achievement Awards (CBAAs) delivered a brand-new event format on March 8 to honor students, faculty, alumni and supporters of the Carl H. Lindner College of Business and the University of Cincinnati.
Presented by Lindner's Alumni Council and held within the historic Cincinnati Museum Center at Union Terminal, the 38th annual CBAAs also commemorated the 25th anniversary of UC's Center for Entrepreneurship. The region's longest-standing event that celebrates achievement in business and service to communities, the CBAAs also raise funds for scholarships and financial assistance at the undergraduate and graduate levels. This year's event raised over $150,000 in sponsorship support, including over $60,000 in student support funds.
Over 400 attendees heard from Lindner Dean Marianne Lewis, PhD, the event's emcee; Ryan Hays, PhD, UC executive vice president and chief innovation and strategy officer; Total Quality Logistics (TQL) President Kerry Byrne, Bus '87, recipient of the Carl H. Lindner Award for Outstanding Business Achievement; and Jaden Walton, Bus '24, the Center for Entrepreneurship's student entrepreneur-in-residence. 
"Tonight, you will see entrepreneurs everywhere. You'll see them in our business leaders, innovators and trailblazers who are honored as award winners and scholarship recipients," Lewis said. "You'll see entrepreneurs in the exhibits you'll interact with. In fact, if you look to your left, and look to your right, you'll see an entrepreneur both in familiar faces and new connections."
Attendees were granted access to the Museum Center's Cincinnati History Museum, which was reformatted with touches of entrepreneurship, Lindner and UC for the evening. Guests viewed project pitches from entrepreneurship students and voted digitally for their favorite pitch. The winning student project will be announced soon and will receive funding from this year's CBAAs.
Other exhibits included "Cincinnati in Motion" (featuring iconic Cincinnati businesses), the "Junior Achievement Hall of Fame" (containing notable UC alumni) and the "Made in Cincinnati Classroom" (displaying historic UC photos from Museum Center archives). 
Hays highlighted UC's innovation agenda, with mentions of the Center for Entrepreneurship; the near-completion of the Bearcats Venture Fund, a student-managed venture capital fund; and the "rising tide of the Cincinnati Innovation District."
"The Entrepreneurship Center owes both its founding and its perennial force to professor Chuck Matthews. And the Center's current director, Kate Harmon, is a truly dynamic and inspiring leader who's poised to elevate these efforts to even greater heights," Hays said. "I also want to thank all of you for coming here tonight to support our Lindner College of Business, one of the biggest and best engines of optimism in our region."
Walton is a key cog in the Entrepreneurship Center's upward trajectory, having helped more than a dozen students launch businesses and raise over $500,000 in capital over the past 18 months.
"Entrepreneurship has been something I have been passionate about my entire life and has made me want to devote my career to helping others learn how to become financially independent and self-made," Walton said. "Working at the Center has introduced me to the value of interdisciplinary collaboration, the payoff of hard work and the importance of building strong relationships and networks."
The Carl H. Lindner Award for Outstanding Business Achievement, the highest honor a Lindner graduate can receive, focuses on entrepreneurial spirit, a commitment to business and reaching the highest levels of success within one's profession. Byrne, a member of Lindner's Business Advisory Council, was awarded the Lindner Medal for his impact across Lindner, UC and UC Health.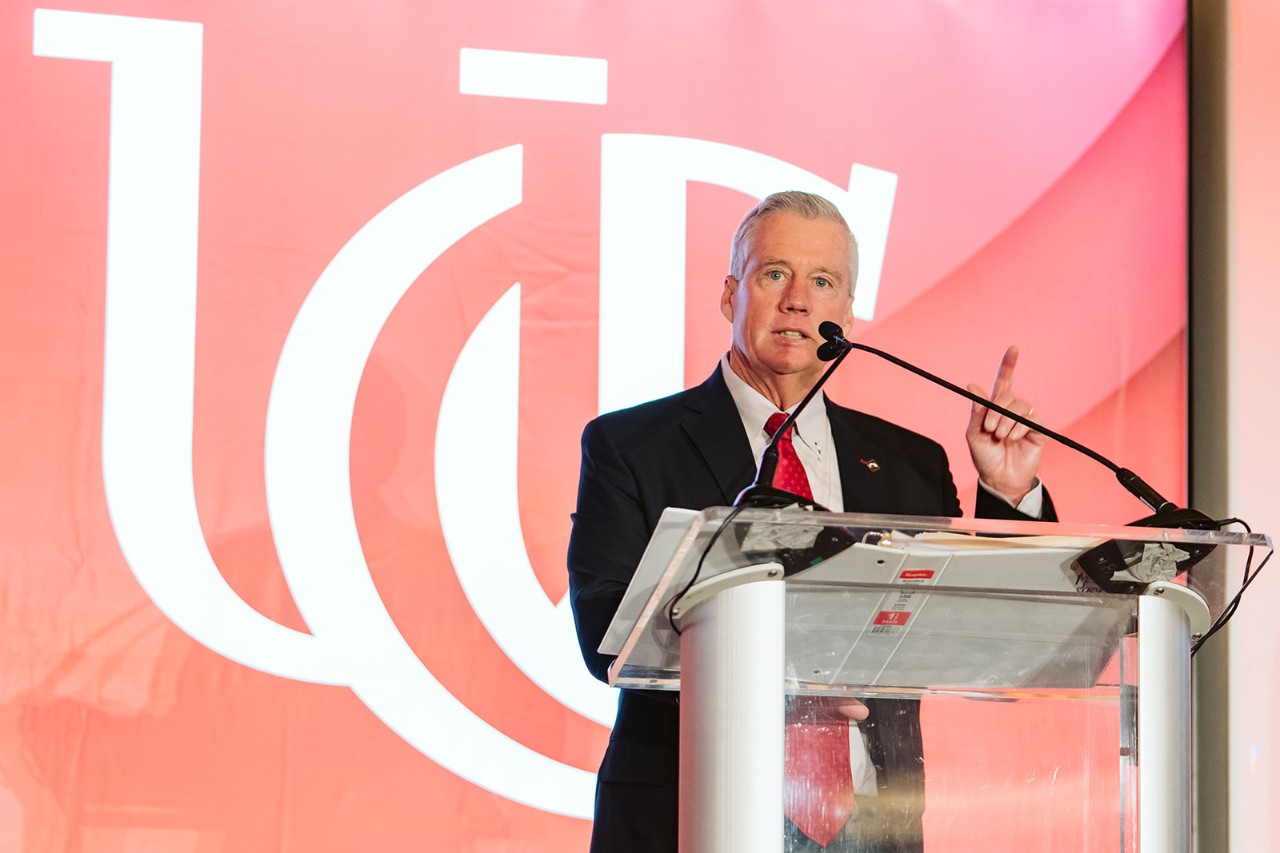 "The list and value of his contributions are extraordinary," Lewis said. "Kerry raises the bar for us all and helps ensure we hit the mark."
Byrne first congratulated his fellow honorees individually before outlining why he has become a steward of UC, Cincinnati and more.
"I care about my family. I care about the TQL family. I care about the UC and UC Health family. And I care about this city and care about the region in which we all live, work and play," Byrne explained. "So, I endeavor to do whatever I can to help in any of those areas, whether that be time, treasure or something else. And I think that perhaps — just maybe — Mr. Lindner might give a slight nod of approval to that."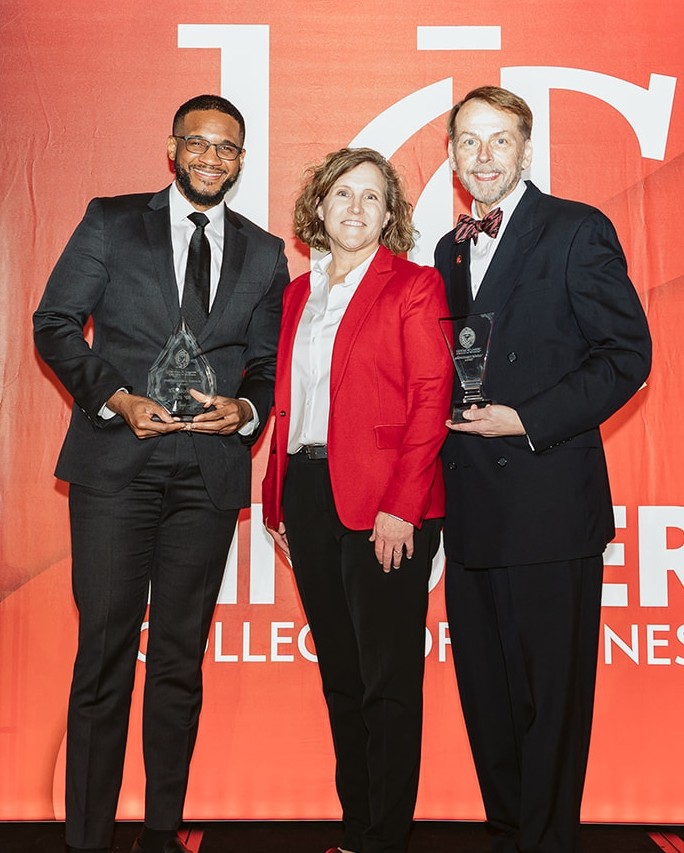 Matthews, PhD, Bus '90, and Van Jones, Bus '08, garnered the Distinguished Service Awards. Matthews, Distinguished Teaching Professor of Entrepreneurship and Strategy, Department of Management, founded what was first known as the Center for Entrepreneurship Education & Research. Matthews is an award-winning teacher and internationally recognized scholar in the field of entrepreneurship.
"Chuck serves as adviser for numerous student groups, providing a remarkable example of what it means for our faculty to go above and beyond in service of our students and our college," Lewis said. "Looking around the room tonight, I see many who were likely part of the 7,000 students who have had a class with Dr. Matthews, joined him on travel abroad or benefitted from his advice and expertise."
Jones, a member of the Business Advisory Council, serves as deal lead in diverse founders investing for Wellington Management. Jones' numerous professional accomplishments include co-founding the startup Hello Tractor in 2014 before transitioning into venture capital in 2019.
"Van's volunteer service to Lindner and UC spans disciplines and showcases his dedication as an alumnus," Lewis said. "Lindner is better because of him."
Refinery Ventures, an early-stage venture capital firm based in downtown Cincinnati, took home the Business Partnership Award. Tim Schigel, Refinery's managing partner, accepted the award.
"Something that Tim Schigel mentions frequently is feedback loops," Lewis said. "The partnership between the university and Refinery Ventures strengthens those feedback loops that fuel faster learning and more effective businesses."
To successfully empower business problem solvers and tomorrow's inclusive leaders, Lindner's curriculum comprises content and activities that embody four values: professionalism, academics, character and engagement. This year's PACEsetter award winners exemplify these values in their personal and professional lives:
The Carl H. Lindner Outstanding Junior Scholarship and the Heart of William J. Keating Leadership Award recognized a pair of current Lindner students. The former was bestowed upon Cassidy Hook, Bus '24, for typifying the energy, commitment and creativity of Carl H. Lindner. Lance Entsuah, Bus '24, earned the Keating Award, given to a junior business student for outstanding service to the university and community.

Lewis closed the award reception with thanks to all who do their part to further Lindner's purpose of empowering business problem solvers. 
"I'm so grateful for all of you for being here tonight and your continued support for our UC and Cincinnati communities," Lewis said.
Carl H. Lindner Award for Outstanding Business Achievement
Kerry Byrne, Bus '87, President, Total Quality Logistics
Distinguished Service Award 
Van Jones, Bus '08, Deal Lead, Diverse Founders Investing, Wellington Management
Charles H. Matthews, PhD, Bus '90, Distinguished Teaching Professor of Entrepreneurship and Strategy, Department of Management 

Business Partnership Award
PACEsetter Award
Paul Bessire, Bus '04
Brandon Reynolds, Bus '15
Andrew Salzbrun, Bus '08
Kesha Williams, PhD, CAHS '02
Carl H. Lindner Outstanding Junior Scholarship 
The Heart of William J. Keating Leadership Award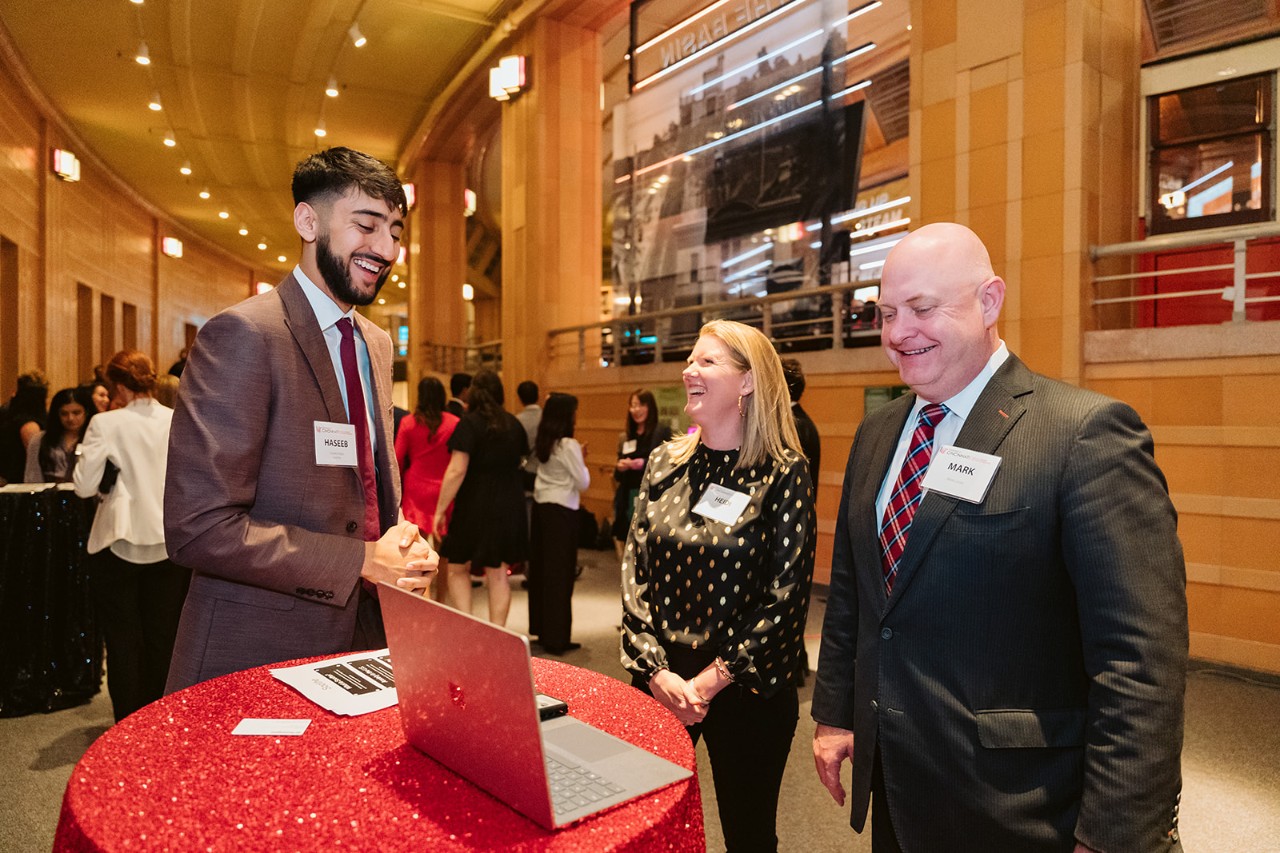 Premier
Great American Insurance Group 
TQL Foundation
Silver
Cintas
Western & Southern Financial Group 
1906
Ameritas 
Constellation Wealth Advisors
David J. Joseph Company 
EY
Johnson Investment Counsel, Inc. 
Morgan Stanley/Troy Neat
PNC

UC Health



Red and Black 
AMEND Consulting
The Cincinnati Insurance Company 
Deloitte
Dr. Charles H. Matthews & Margaret B. Matthews 
Elliott Management Group
HBH 
Lindner Graduate Programs
UC/Cincinnati Innovation District/1819
Featured image: The 38th annual CBAAs recognized nine award winners and one employer partner, Refinery Ventures. Top row, from left: Refinery Ventures Managing Partner Tim Schigel; PACEsetter Awardees Brandon Reynolds and Paul Bessire; Distinguished Service Awardee Van Jones; PACEsetter Awardees Kesha Williams, PhD, and Andrew Salzbrun; and Carl H. Lindner Award for Outstanding Business Achievement honoree Kerry Byrne. Bottom row, left to right: The Heart of William J. Keating Awardee Lance Entsuah; Lindner Dean Marianne Lewis, PhD; Carl H. Lindner Outstanding Junior Scholarship honoree Cassidy Hook; and Distinguished Service Awardee Charles H. Matthews, PhD. All photos by Lauren Meisberger.
The CBAAs Legacy of Giving
The Cincinnati Business Achievement Awards is the region's longest-standing event that recognizes achievement in business as well as service to the community. This flagship event for the college makes a direct impact on the student experience by raising funds for scholarships and financial aid.
2
Biz Courier: UC Center for Entrepreneurship, Venture Lab merge
December 9, 2022
A new partnership between two University of Cincinnati innovation fulcrums is designed to provide UC entrepreneurs with easier access to support and resources, customized programming and activities, and to build a stronger ecosystem for inventors.
3
Mastering the art of first impressions
March 30, 2023
As Cynthia Ozick, the American novelist, wrote, "Two things remain irretrievable: time and a first impression." That's especially true when introducing yourself to a possible investor. Ronald Meyers, associate professor of entrepreneurship in the University of Cincinnati's Carl H. Lindner College of Business, shares insights into teaser statements and pitches.