After traveling thousands of miles, Rauf siblings find a home at UC Blue Ash
All three siblings thrive as outstanding students in IT and health care programs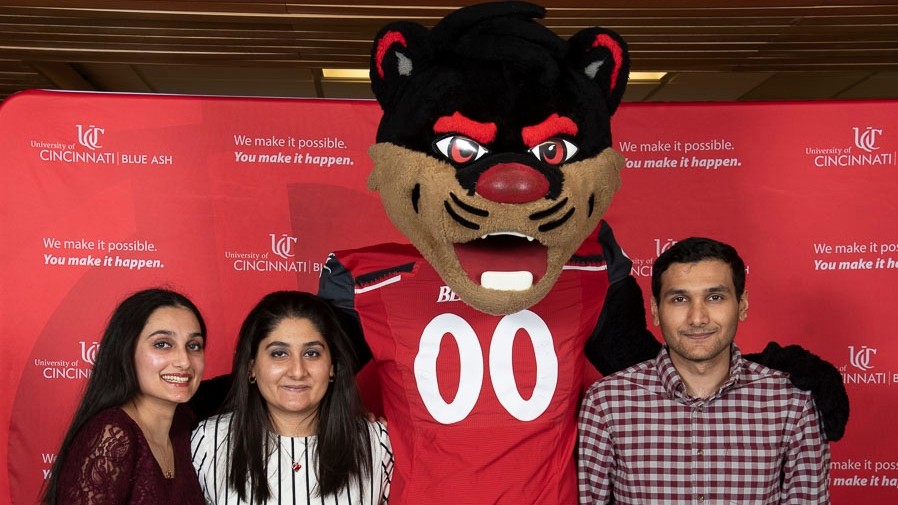 Fatima, Zainub and Hamza Rauf have lived in multiple countries, as well as different states in the U.S., but all three say they found a home at the University of Cincinnati Blue Ash College, where they have thrived as students pursuing different career paths.
The family is originally from Pakistan and lived in the Middle East for a time before coming to the United States. They resided in Illinois and Kentucky before settling in Cincinnati and discovering UC Blue Ash.
Fatima Rauf said she focused on the University of Cincinnati from the beginning as she was considering her college options.
"I first became interested in UC because I really liked the co-op programs. When I looked at UC Blue Ash, I liked the culture and diversity. It's a very warm and welcoming campus," said Fatima, who is the oldest of the three siblings. She added that the small class sizes and affordability were other factors in her decision.
UC Blue Ash has an enrollment of just more than 4,100 and is home to the most diverse student body among the different colleges within UC. It also offers a wide range of affinity groups and campus events that help students feel welcome and supported.
Fatima and Hamza are studying information technology with a focus on cybersecurity. They both graduated with honors from UC Blue Ash recently and enrolled in the cybersecurity program in the School of Information Technology at UC's College of Education, Criminal Justice and Human Services.
Hamza, who is the youngest among the siblings, said he found a passion for IT while growing up.
"From a young age I really liked to break stuff up and see what makes them work. So, over time I developed a fascination with computers and an interest with coding. I used to watch YouTube videos and look for tutorials on how to code," he said.
Zainub is taking a different track as she focuses on health care. She is a scholarship recipient and a member of the Dean's List who was pursuing a degree in the rigorous dental hygiene program at UC Blue Ash before making a switch to UC's Cancer Registry Management (CRM) program offered through UC Online.
"I'm excited that I will be playing an important role in data collection and representation of cancer diagnosis, treatment and health status for cancer patients," said Zainub. "This data will be essential to health care providers, researchers and public health officials to monitor cancer treatments and screening programs."
Zainub said the CRM program builds on her study of anatomy, physiology, pharmacology and pathology through the dental hygiene program. She is also grateful for the family atmosphere at UC Blue Ash that helped her take this next step on her journey.
"My classmates are like sisters to me," Zainub said. "We have developed a really close bond over the past two years."
Carving a path toward their goals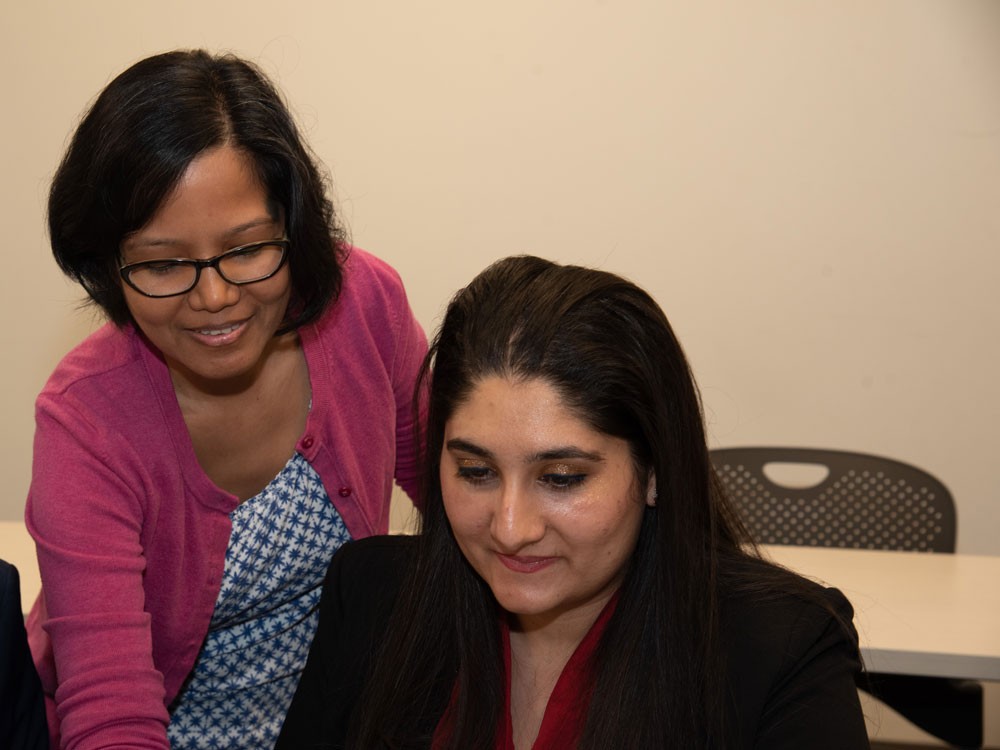 Each of the siblings said they are impressed with the faculty at UC Blue Ash, and not just for their expertise.
"The professors are awesome. They are very involved in your learning process, and they take the time to get to know their students. It feels just like home here," said Fatima, who credits some of her IT professors specifically with helping her develop an understanding of IT principles and gain confidence in her abilities.
She and Hamza are also enjoying their time outside the classroom as they begin their co-op experiences. Fatima has already completed a semester working full-time for Kroger as a data analyst and will return for a second co-op with the company this summer as a data engineer.
"It's been great taking my classroom learning and applying it in real-world situations," said Fatima.
Hamza will begin his co-op experience this summer when he works in information security for U.S. Bank. He and Fatima said they want to develop a wide range of IT skills, including cybersecurity, data analysis and software development, so they can be an asset for any employer.
Zainub also gained real-world experience by treating patients in the state-of-the-art Dental Hygiene Clinic at UC Blue Ash. She will build on that patient care background through clinical experiences in the CRM program as she learns more about the other side of health care, such as oncology coding, data analysis and abstraction.
The three siblings remain very close and said they plan to live in the same area as they pursue their professional goals after graduation. Regardless of where their careers take them, they know they will always have a home at UC Blue Ash.
Featured image: From left, Zainub, Fatima and Hamza Rauf in the UC Blue Ash Library.
About UC Blue Ash College
UC Blue Ash College is a regional college within the University of Cincinnati. It offers one of the best values in higher education with access to a nationally recognized UC education in more than 50 degree and certificate programs, as well as tuition that is about half of most colleges and universities. The college is located on a scenic 135-acre wooded campus in the heart of Blue Ash, Ohio. To learn more, call 513-558-9495, visit us online, like us on Facebook or follow us on Twitter and Instagram.
2
'Somos familia'
April 26, 2023
"Somos familia" means "we are family," and students from throughout the Latinx community are building family, finding success and continuing a legacy at UC.