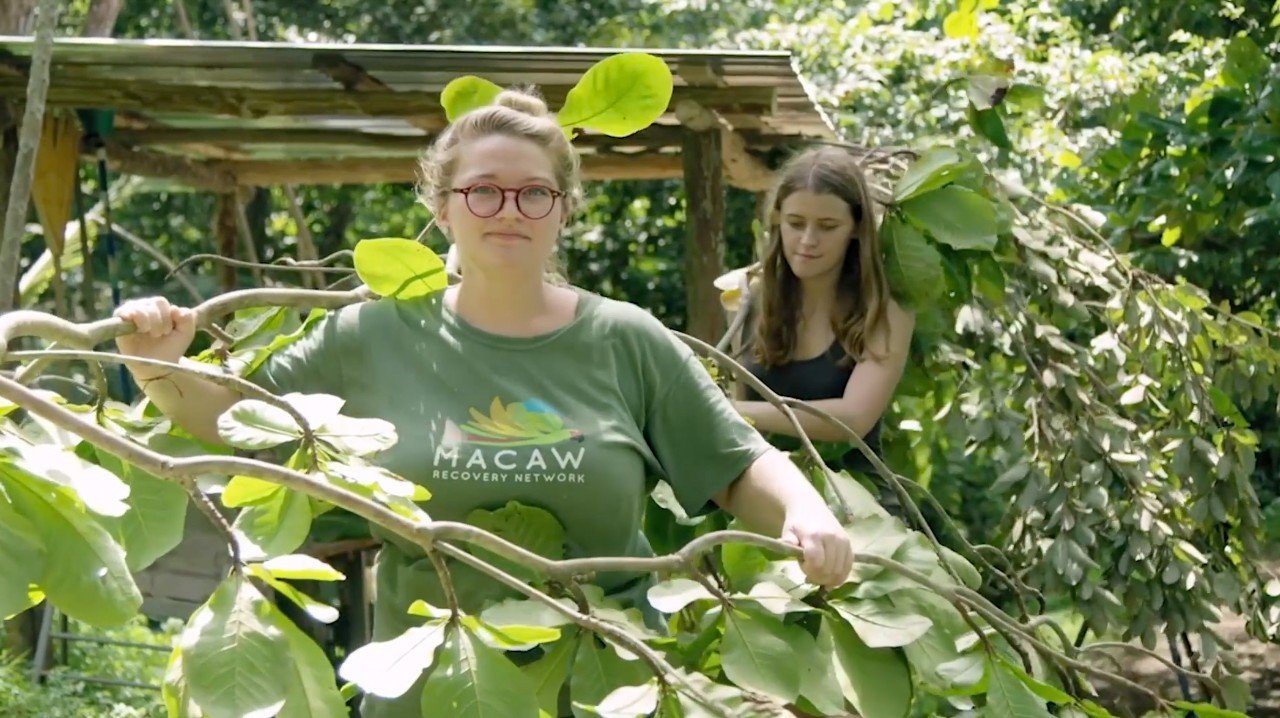 UC student's parrot conservation work featured in new docuseries
Biology student discusses her conservation work in Costa Rica
A new wildlife documentary series highlights the conservation work of a University of Cincinnati student in Costa Rica.
"Costa Rica: Animals Return" tells conservation stories in this hub of biodiversity in Central America, from the bizarre-looking tapir to pigs called white-lipped peccaries.
UC student Darby Moore worked with the nonprofit Macaw Recovery Network in Guanacaste in northwest Costa Rica where she cared for the nearly extinct great green macaw.
"There are only about 500 of them left in the wild. We think it's important to breed them in captivity so we can have the best chick survivability possible," Moore says in the film. "Then we release them so they can reproduce in the wild."
Moore will be rejoining the lab of UC Assistant Professor Elizabeth Hobson this year where she will continue her research. Besides macaws, Moore has studied the behavior of monk parakeets as a field technician in Hobson's lab.
"Some parrot species are common in the pet trade around the world despite being endangered in the wild," Moore said. "Breeding ex-pet parrots in captivity and releasing their young into the wild is becoming more popular as a conservation tool."
The lessons they learn about raising and reintroducing captive great green macaws could help bring other endangered birds back from the brink around the world, Moore said.
"This research is interesting from the perspective of animal behavior, but it also has important implications for the field of reintroduction science," she said. "Many parrot species in Central and South America face extinction due to poaching and habitat destruction."
Moore said she hopes her work will help other endangered birds such as scarlet macaws and yellow-naped Amazon parrots.

"My proposed research has the potential to inform management strategies for parrot reintroduction programs," she said.
Watch the documentary on Vimeo.
Featured image at top: UC doctoral student Darby Moore is featured in a new wildlife conservation documentary series about Costa Rica.
More UC biology in the news
2
Psychedelics may help people reinvent themselves
February 24, 2023
Psychedelics might help people change unwanted behaviors by helping them reinvent their perceptions of themselves, according to new research by the University of Cincinnati.
3
Psychedelics face corrupting influence of financial interests
September 22, 2022
Psychedelics such as magic mushrooms offer promise for addressing addiction, post-traumatic stress and other difficult-to-treat conditions. But University of Cincinnati postdoctoral researcher Neşe Devenot says the field is fraught with ethical concerns and financial interests.