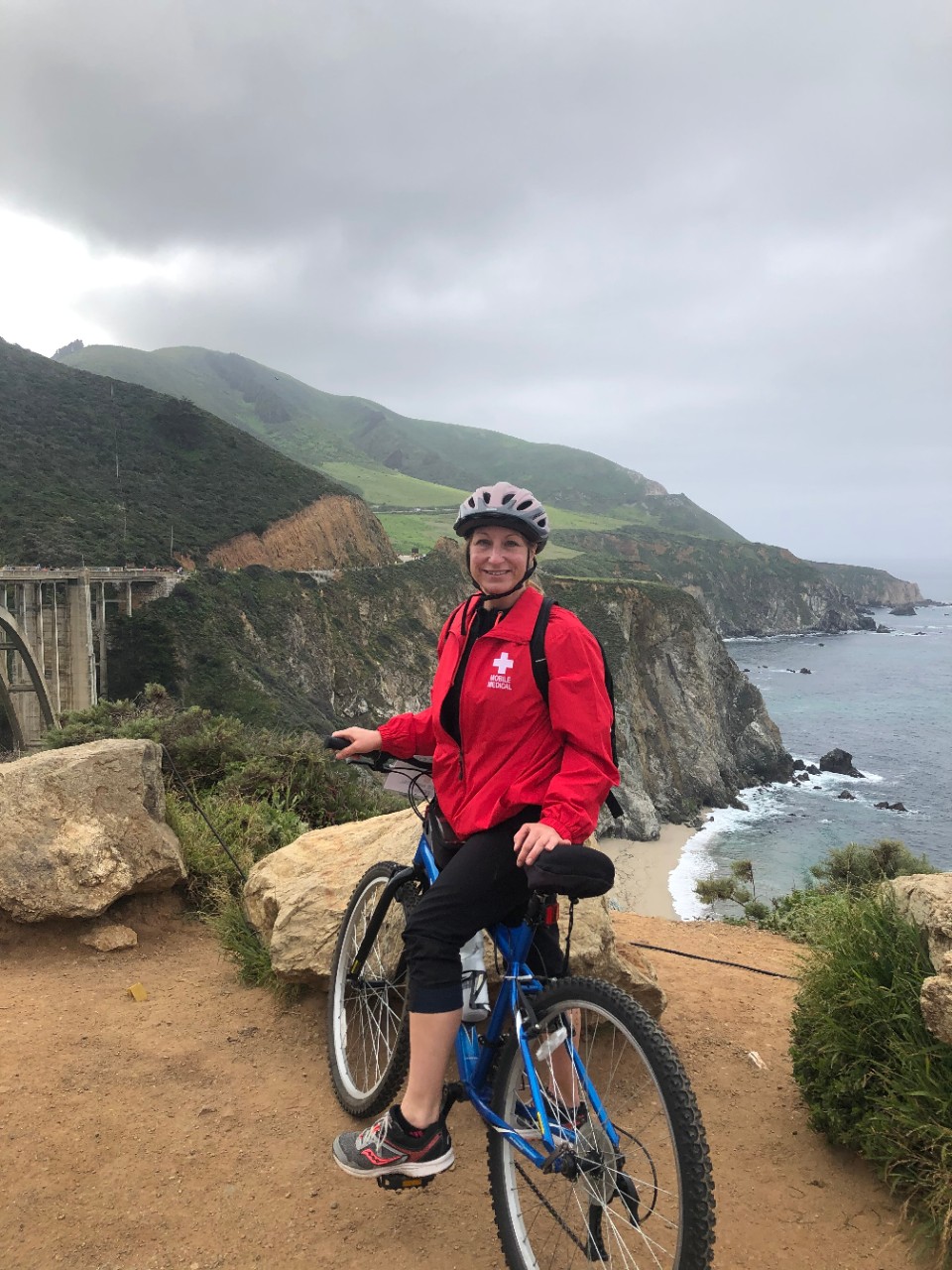 UC alumna's TEDx Talk gets personal to emphasize mind-body health link
Kimberly Godsey wants people to understand how stress impacts health and what to do about it
Physical and mental health are inextricably linked, and we aren't talking about that enough, says University of Cincinnati alumna and nurse practitioner Kimberly Godsey, who took to a TEDx event stage to share this concept and her personal experiences with it.
Godsey delivered her talk at a TEDx Evanston event at Northwestern University in Evanston, Illinois, citing research on the mind-body connection and sharing stories about her family and her own recovery from a spinal injury and depression. At the end, she provides a daily self-care checklist to maintain mental and physical health.
After graduating in 2013 from UC's Master of Science in Nursing (MSN) in Adult-Gerontology Acute Care program, Godsey worked in cardiology for a decade at The Christ Hospital in Cincinnati before moving to Monterey County, California, to start the heart failure program at Montage Health. She has spent her nursing career studying how emotions and mental health impact physical health.
"In the medical field," Godsey says in her talk, "we don't always place a lot of emphasis on how our mental health affects our physical health, which in turn limits what we can do about it."
Months into the pandemic, Godsey frequently witnessed this shortcoming. Patients in her Monterey County clinic were experiencing stress-induced cardiovascular events because they were not properly caring for themselves.
"When I started digging deeper with my patients into what was really going on in their lives, I realized so many people don't know how to do self-care and they're so stressed that their bodies just have this surge of stress hormones," Godsey says.
That's when she decided she wanted to more broadly help others heal themselves and thought, "What better way than TED?"
It has to be OK for people to talk about their mental health when they're struggling.
Kimberly Godsey MSN '13
A global media nonprofit, TED is known for its invite-only annual conference and free video "talks" on topics from technology to business, design and more. Licensed by TED, TEDx events are independently organized, community-based and open to anyone to apply to present.
Once accepted to the TEDx Evanston event, Godsey worked with speech coaches to create an impactful presentation and was encouraged to include her personal experience, which was not easy.
"I didn't want (the presentation) to feel like a lecture, and I wanted to connect with my audience, but I didn't intend on sharing the deep personal information that I did," Godsey says. "It took me a while to be OK with it."
In her talk, Godsey opens up about the time a few years ago when she was training for the Big Sur International Marathon. As she tells it, "I went from being able to run 26.2 miles to barely being able to walk. I had no idea why."
In the following year, she gained weight and developed high blood pressure and sleep apnea — all precursors for cardiovascular disease, diabetes and stroke. At the same time, her mental health declined.
"I started waking up every morning loathing myself and, eventually, thoughts of suicide crept in. Outwardly, I had everything I could want … Inwardly, I was miserable," she says in her talk.
When Godsey finally went to see a physician, she was diagnosed with thyroid disease and multiple spinal injuries with nerve compression. From there, she started to heal by stretching, walking, eating healthfully and practicing self-care and mindfulness, which included accepting her physical and mental pain and moving through it.
"It really was piece-by-piece, picking myself up by doing the multiple things that I know we have to do to take care of ourselves that made a big difference, and I still practice it every day," she says.
Before her talk, in fact, Godsey sat in the audience, listened intently to the speakers scheduled ahead of her — she was the last of seven to present that day — and practiced mindfulness to calm her nerves.
Godsey says she received positive feedback about her talk and hopes to continue speaking in public on the topic and her experiences, which she says she "gets so much out of."
"I would love to see a paradigm shift within health care where we are incorporating the mental health aspects of everything," she says. "It's important that when we treat patients we not only look at the medical side, but the human experience, as well. … It has to be OK for people to talk about their mental health when they're struggling."
Featured image at top: Kimberly Godsey, MSN '13, during the Big Sur International Marathon. After an injury prevented her from running in the event, she volunteered as a mobile medic. Photo provided.