Spring commencement will celebrate record graduation
UC graduates will be recognized during three days of ceremonies at Fifth Third Arena
The University of Cincinnati will recognize a record number of graduates at its spring commencement.
The three-day celebration will honor a record 7,231 graduates, according to preliminary numbers from UC's Office of Institutional Research. They will earn a record 7,359 degrees. (Some graduates are receiving multiple degrees.)
Commencement begins 3 p.m. Thursday with UC's doctoral hooding and master's degree recognition ceremony. Doors to Fifth Third Arena open at 1:30 p.m. Per UC's security policy, guests may bring only clear plastic bags into the arena. Tickets are required for all guests. The ceremony will be livestreamed here at UC's Commencement website.
Commencement for UC's undergraduates begins Friday with ceremonies at 9 a.m. and 2 p.m. and wraps up at 9 a.m. Saturday, also at Fifth Third Arena. Doors open 90 minutes before each ceremony. Golf carts will be on hand to ferry passengers to and from the garages.
Graduates in the class of 2023 persevered through a global pandemic, celebrated Bearcat victories and saw UC's footprint expand in both new programs and new facilities.
UC created a new College of Cooperative Education and Professional Studies. It builds on the model that Dean Herman Schneider pioneered in 1906 in which students spend part of the year in the classroom and part of the year working full time at employers in their chosen fields.
UC was named the nation's top public university for co-op by U.S. News & World Report in its latest 2022-23 rankings.
UC opened its new Digital Futures building in 2022 as a collaborative research hub for science and industry. Calhoun Hall reopened this year after an $80 million renovation. And UC unveiled a new Esports Innovation Lab in the 1819 Innovation Hub.
UC also celebrates the first graduates in the new Early IT program, which allows students to complete the first year of their bachelor's degrees while they're in high school. Four students in the program graduate this month.
Both the UC Bearcat mascot and the UC cheerleading team defended their titles by winning second-consecutive national championships during the 2023 College Cheerleading and Dance National Championship at ESPN's Wide World of Sports Complex.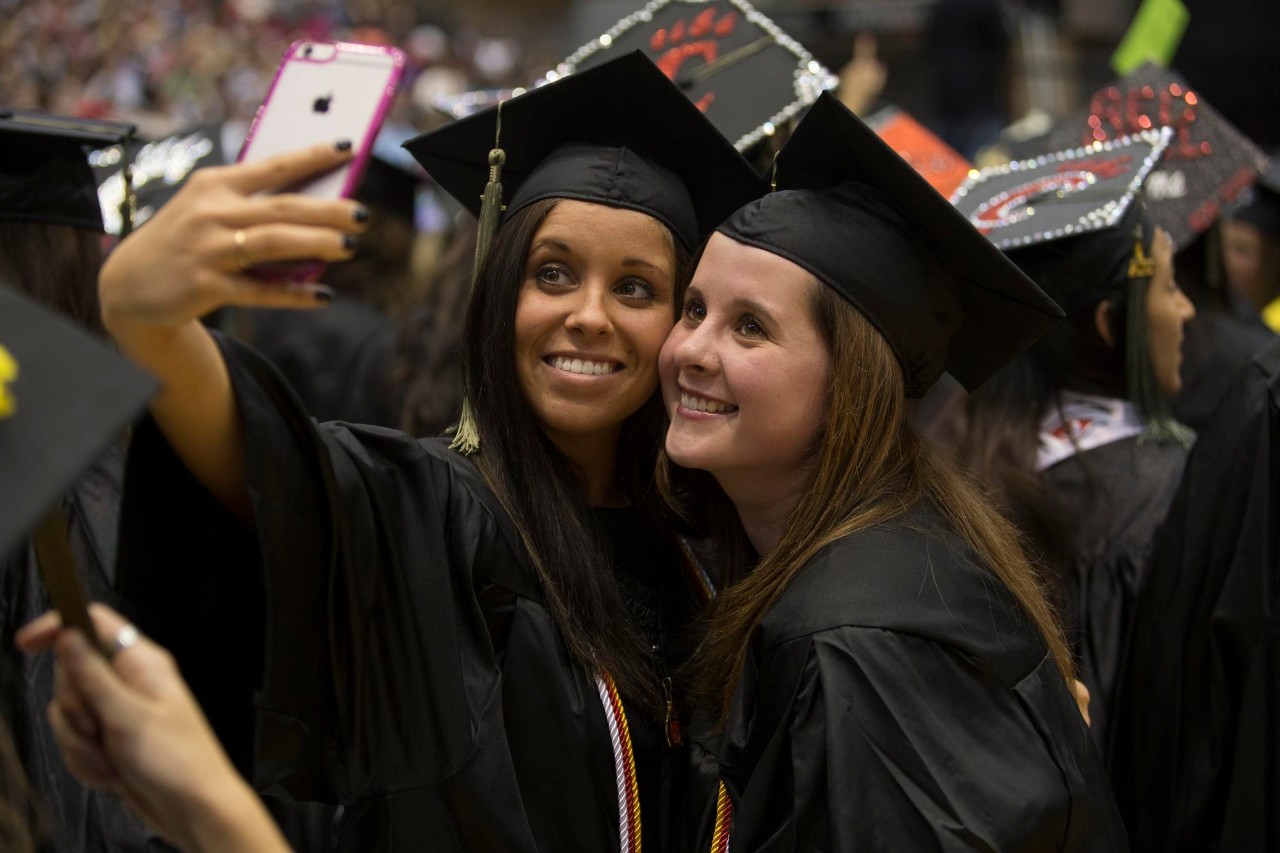 About the spring class of 2023
UC will award 526 associate degrees, 4,729 bachelor's degrees, 1,543 master's degrees, 264 doctoral degrees and 297 professional certificates. About 46% of degrees are in science, technology, engineering, math or medicine.
Graduates hail from 81 countries on six continents, all 50 states and the District of Columbia. 
The youngest grad is 17 and the oldest is 65, both earning associate degrees. Nearly 3% of graduates are veterans or dependents of veterans. And 219 students graduated from Cincinnati Public Schools.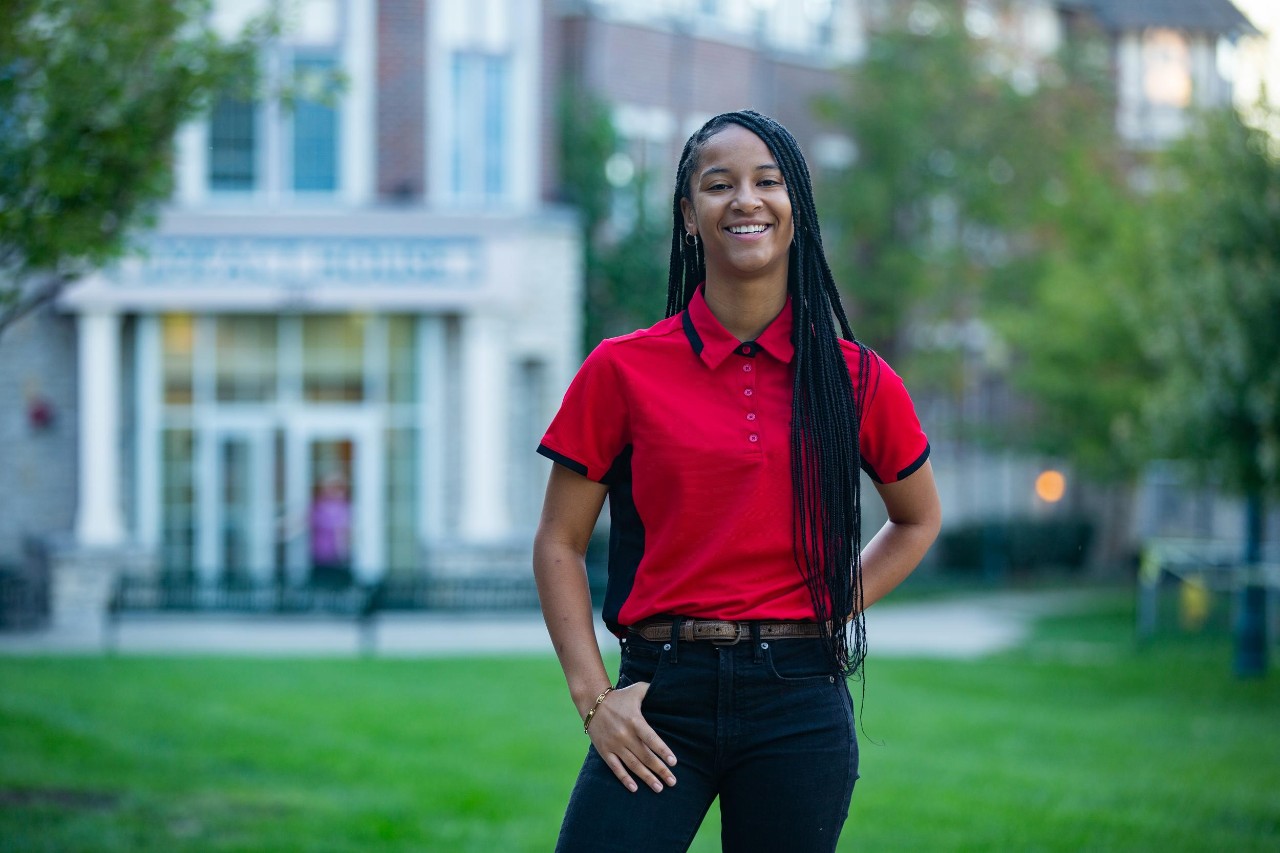 About 16% of this year's graduates are the first in their family to go to college — students like Karrington Rainey, who earned a bachelor's degree in sociology from UC's College of Arts and Sciences.
In her first year, Rainey stayed in a UC residence hall dedicated to first-generation students where she said she quickly found a community.
"I became really close to other freshmen Gen-1 students. It's been very beneficial to my success," she said. "The Gen-1 program is designed for peers to help peers who can lean on each other. Also a big thing they teach is to ask for help sooner than later."
Rainey is studying for the LSAT and plans to enroll in law school. She is also celebrating the publication in April of her first book, a memoir titled "Queen City" about her family and growing up in the early 2000s.
Rainey took part in UC's Cincinnati Public Schools Ambassadors outreach program to high school students. She said she would recommend UC to any student, but especially those like herself who are the first in their families to pursue higher education.
"The selling point was UC's unique Gen-1 program, which puts a lot of resources into helping first-generation college students succeed," she said. "I would recommend UC for anyone looking for college. All of our programs have great connections."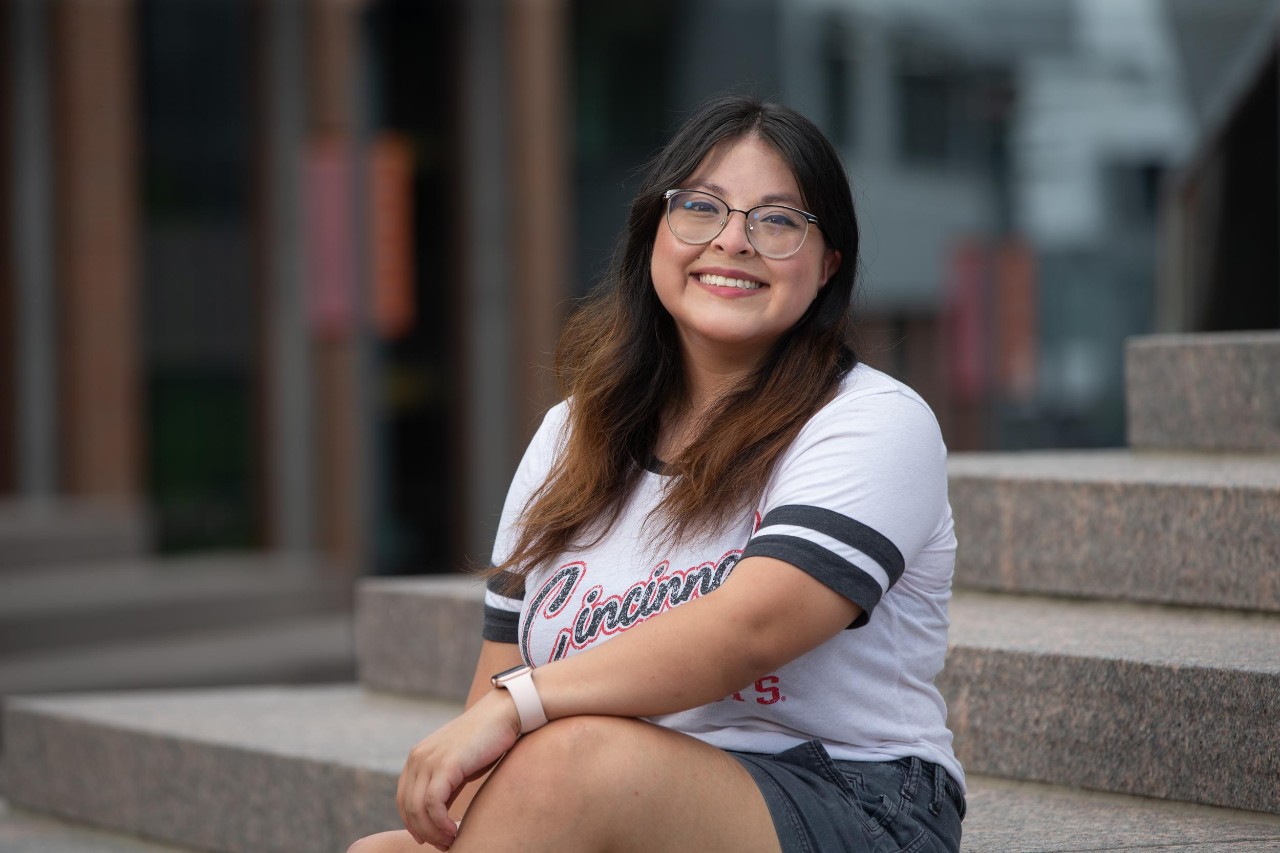 Recognizing what's important
Yulia Martinez had her choice of colleges when she applied to UC more than five years ago. But she chose UC for its top-rated co-op program in which students spend part of the year in classes and part of the year working for employers in their chosen field.
Martinez earned a bachelor's degree in computer science in UC's College of Engineering and Applied Science.

But the Cincinnati native had another reason to stay close to home. She wanted to be close to her baby brother, Ian, who was just 2 when she enrolled.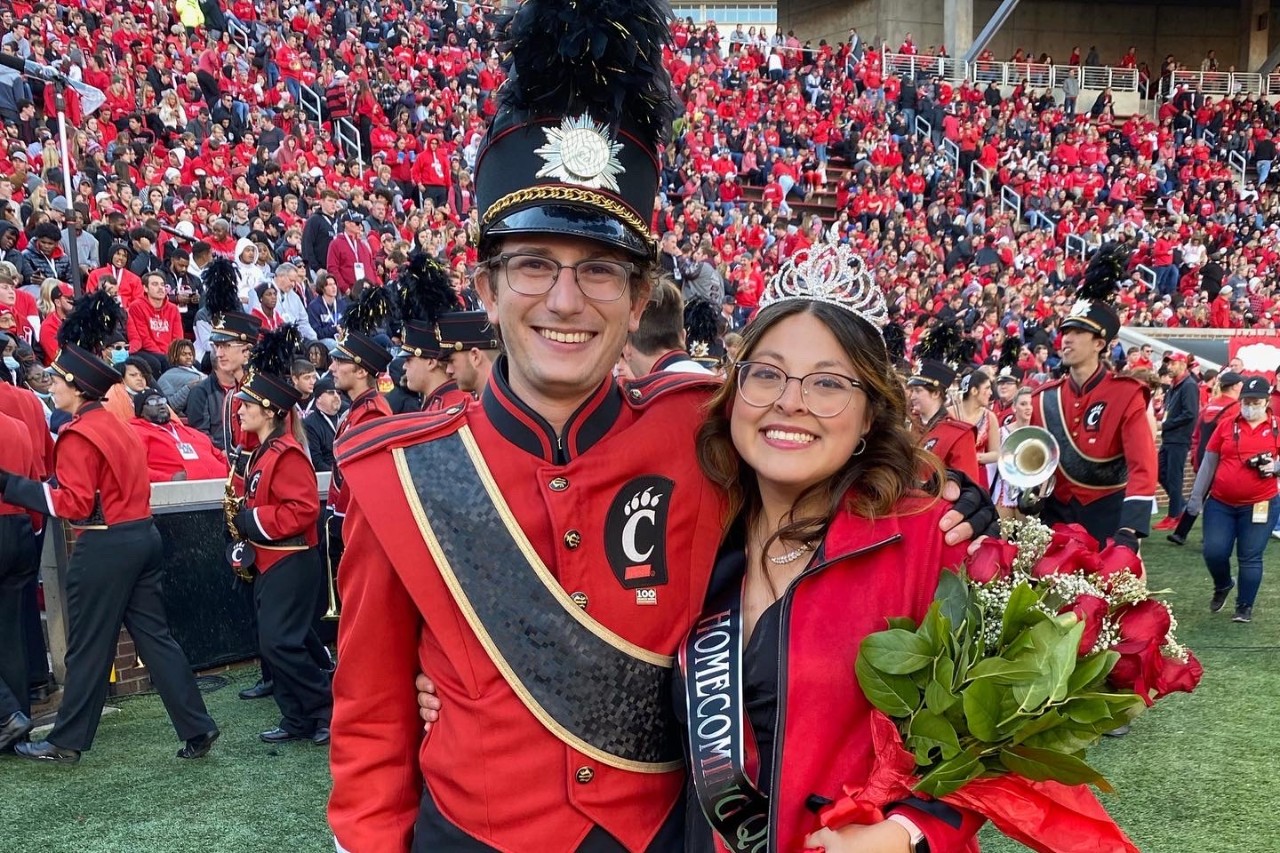 Martinez was able to spend a lot of time with her younger sister, Britani, and her baby brother, especially during the COVID-19 pandemic when UC switched to remote learning. Even now, she finds time to slip home between classes. She and her family just took her brother to see his first movie.
"We saw 'Super Mario.' If I had gone away to college, I would have missed so many milestones. I wanted to see him grow up," she said.
Martinez is equally involved in campus life. She joined student government where she served as a senator before her election as vice president of the student body. She performs in the UC Bearcat Marching Band and the Bearcats Wind Ensemble. And she was named UC's first Latina Homecoming Queen.
"I'm incredibly proud to be Mexican. I'm incredibly proud of my accomplishments at UC," she said.
Through co-op, Martinez got a chance to work for companies such as finance company FIS, Marathon Petroleum Corp. and the retail data-science company 84.51°. Now she is interviewing for engineering jobs in her hometown.
"I loved my time being a Bearcat," Martinez said. "My mom is more excited about commencement than I am, honestly. Even talking about graduation, she starts crying. Both of my parents are immigrants. To see her first child graduate from college is a little overwhelming. She's my No. 1 supporter."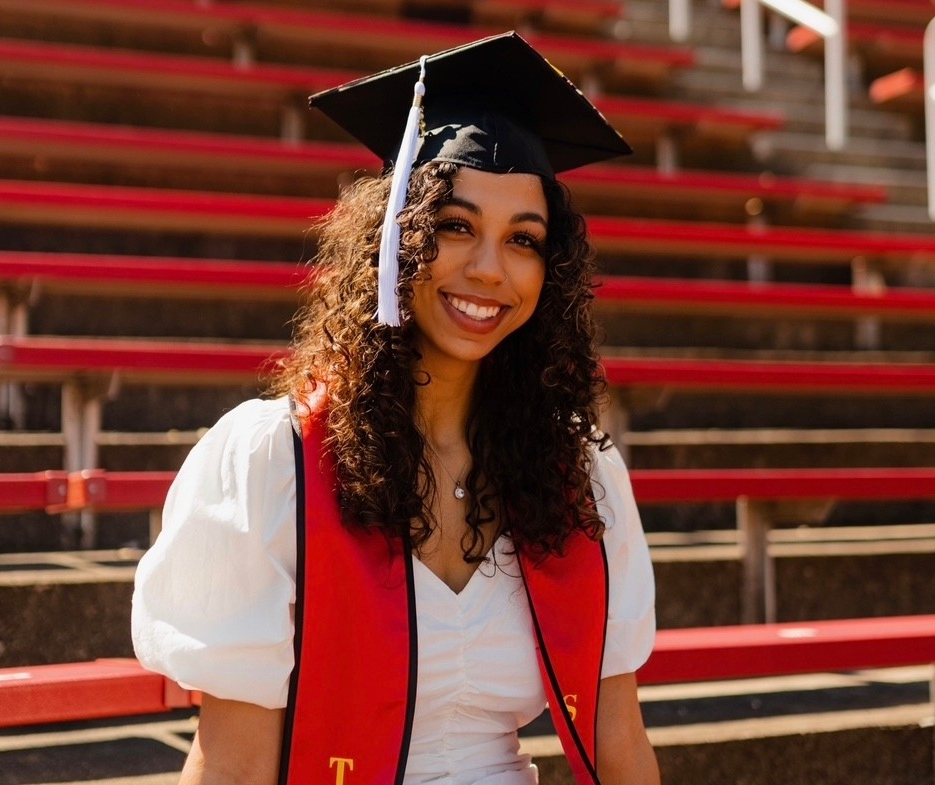 Making global connections
Ever since she was young, Taylor Allgood has loved to see the world.
A graduate of UC's College of Arts and Sciences, Allgood turned her lifelong curiosity about other people and cultures into an academic passion as a double major in political science and international affairs. Next year she will get her master's degree in public administration through UC's 4+1 program, which allows students to earn a graduate degree through just one additional year of classwork.
"I came from a family that loved to travel. We didn't have the most money, but traveling was a core value for my mother," she said. "She made sure that we had the opportunity to explore different places."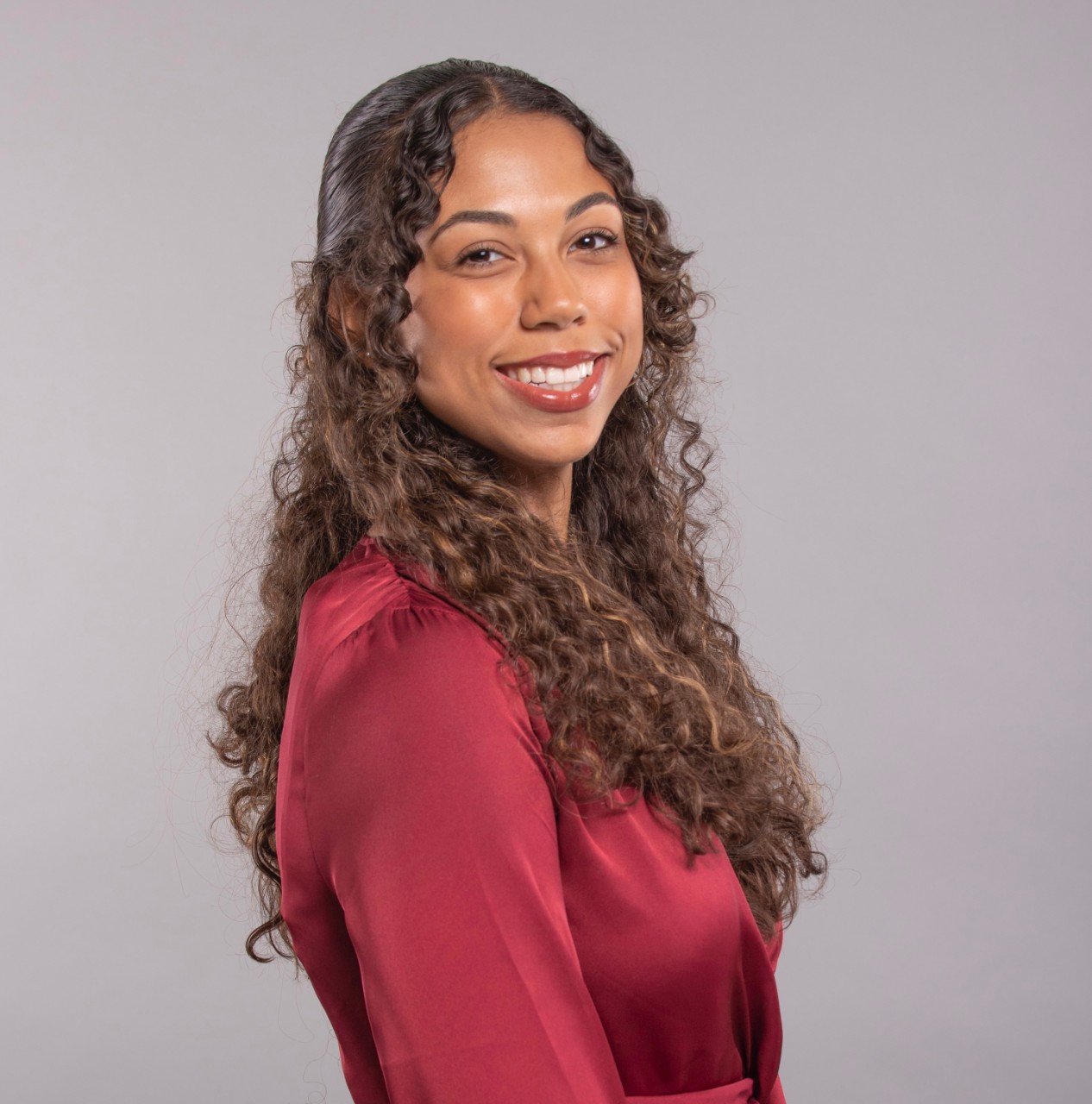 Allgood is considering a career with the U.S. State Department or perhaps working for a nongovernmental organization. As an undergraduate, she had the chance to study abroad in Bordeaux, France. For her dual minors, she studied women's, gender and sexuality studies and French, considered the diplomatic language for its use by the United Nations, NATO and the European Union, among others.
Allgood said she learned from top experts in the fields of national politics and international relations.
"The faculty here are renowned, really masters in their field," she said. "It makes my own ambitions feel like they're within reach knowing that my professors were diplomats and leading scholars in their field."
While at UC, Allgood joined student government and was elected vice president. She also worked with local middle schoolers during an internship with a nonprofit civic engagement program.
"I really didn't know what to expect my first year. I felt like a small fish in a very big pond," Allgood said. "But during my time here I developed a strong sense of identity and leadership that I will carry through my career. I'm just grateful that I took a chance on UC and UC took a chance on me."
Featured image at top: The University of Cincinnati will celebrate a record commencement during three days of ceremonies at Fifth Third Arena. Photo/Andrew Higley/UC Marketing + Brand
Impact Lives Here
The University of Cincinnati is leading public urban universities into a new era of innovation and impact. Our faculty, staff and students are saving lives, changing outcomes and bending the future in our city's direction. Next Lives Here.
2
UC's $10.6 billion impact
May 9, 2023
The University of Cincinnati delivers a significant economic boost to the region and state of Ohio thanks to alumni impact, operations and research spending, student demand for goods and services, launch of startup companies and more.