UC begins DOD-funded clinical trials with Amplicore
Novel treatment option seeks regenerative healing of a meniscal tear
With support from Amplicore, a University of Cincinnati spinoff biopharmaceutical company, researchers at UC have begun a Department of Defense-funded clinical trial that seeks a regenerative pharmaceutical solution for meniscal tears.
Each year more than 500,000 people in the United States sustain acute tears in their meniscus, a piece of cartilage in the knee that cushions and stabilizes the joint. This rate is even higher in the military population, where such injuries can greatly impact the ability of servicemen and women to perform their duties.  
The Phase 1/2 clinical trial enrolled its first patients in Cincinnati with Brian Grawe, MD, professor at the Department of Orthopedic Surgery and the director of sports medicine in UC's College of Medicine, as the principal investigator. Patients also will be enrolled at other sites across the U.S., including Walter Reed National Military Medical Center, as the researchers aim to improve the success rate and reliability of current surgical approaches.
"It's immensely exciting," Grawe said. "Given that meniscal tears are one of the top diagnoses evaluated by military health care professionals, this trial represents a major milestone in the development of this promising therapy."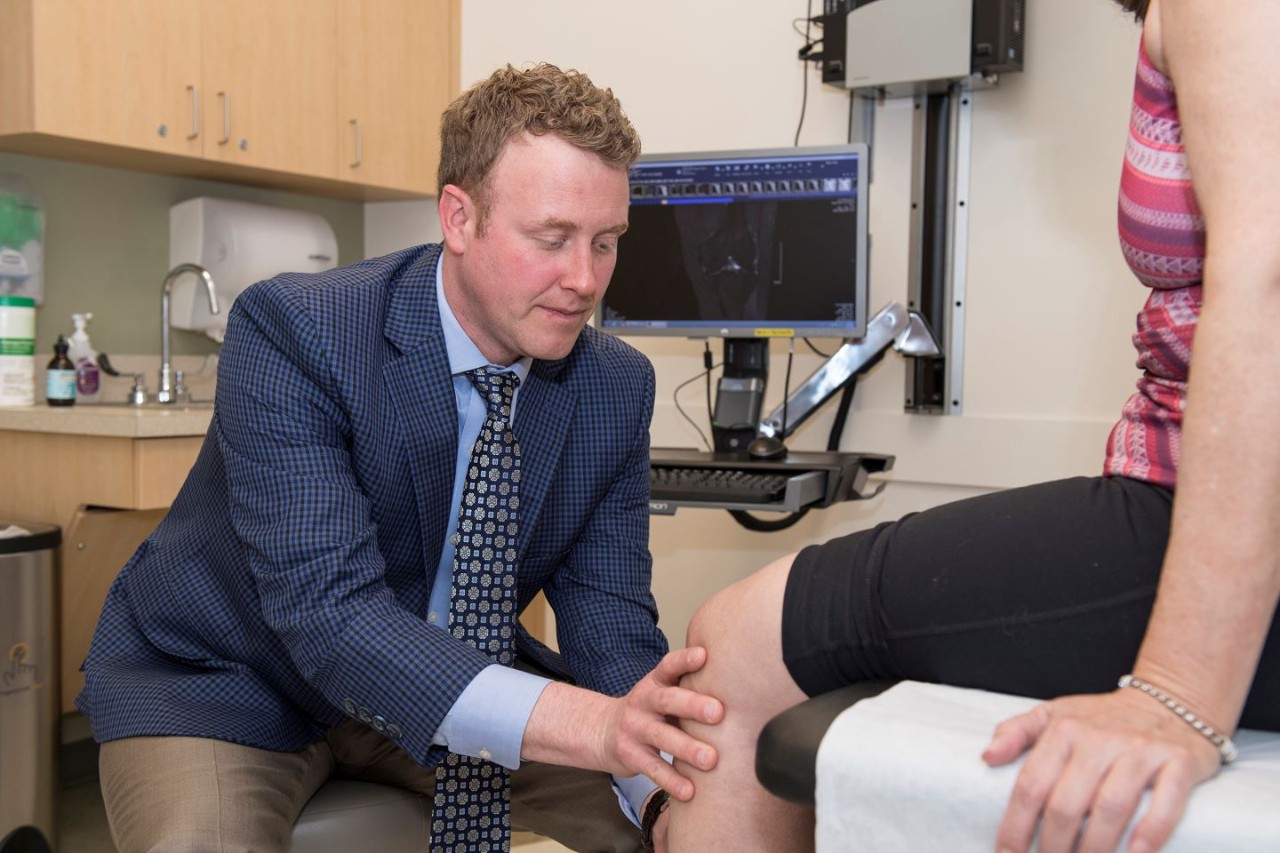 The product, known as AM3101, is a secondary intervention to accompany surgical suturing.
"The odds of failure with this type of procedure are quite high, affecting approximately 20% of patients," Grawe said. "In these cases, there's a large risk for the development of downstream comorbidities, including trauma-induced osteoarthritis."
Established in 2019, Amplicore is working on multiple products to treat unmet needs in the musculoskeletal field, including joint osteoarthritis, cartilage damage and degenerative disc disease. AM3101 is being developed in concert with UC for acute meniscal tears.
"AM3101 was designed to be injected just adjacent to the site of suturing after the procedure has been completed. The goal is to create a more pro-reparative, regenerative environment that reduces the odds of failure," said James C. Y. Lin, PhD, the Mary S. and Joseph S. Stern Jr. Professor of Orthopaedic Surgery and founder of Amplicore.
The UC Venture Lab-backed company's injectable therapeutics offer hope that in the near future, wear and tear on joints could be treated with a regenerative approach that reduces the need for invasive surgeries or addictive painkillers. Current treatments, such as steroids, can only alleviate pain and stave off joint replacement surgeries for a limited time; they cannot reverse damage or restore normal anatomy.
The double-blind trial will include 74 patients, both civilians and military members. Half of the patients will receive Amplicore's treatment following surgery while the other half will be in a control group that receives surgery alone.
The patients will be monitored for a year after their surgeries to ensure safety and look for evidence that the treatment is working. To determine if the trial is successful, the patients who receive Amplicore's treatment should have signs of improved success of the intervention including reduced pain and evidence of repair beyond what is seen with surgery alone.
The trial, including patient follow-up, should last approximately a year and a half. Amplicore, which is conducting a Series A fundraising round, would proceed to a larger Phase 3 trial in the following year if the Phase 1/2 trial goes well and the startup raises enough funds.
UC's Venture Lab provides a launch pad for entrepreneurs to turn their ideas into reality. The lab is located in the 1819 Innovation Hub in the Cincinnati Innovation District, providing a connection point to talent, support and funding.
The UC Venture Lab's eight-week pre-accelerator program provides tools and expert guidance to help new entrepreneurs determine their business idea's commercial potential and identify resources and next steps. It's open to anyone in the Cincinnati community.
"By advancing to the Phase 1/2 trial, Amplicore already has cleared a major hurdle toward success," said Tyler Vandivort, PhD, director of regulatory affairs and operations at Amplicore. "Only roughly one in 10,000 drugs make it from early development to [Food and Drug Administration] approval. But once a drug makes it to clinical trials, the approval rate improves to around one in 10. Your odds of being successful go up immensely when you cross that clinical threshold."
More information on this clinical trial can be found at www.clinicaltrials.gov. Patients interested in additional information can contact Rebekah West at westrk@ucmail.uc.edu.
Featured image at top: James C. Y. Lin. Photo/Colleen Kelley/UC Creative + Brand
Innovation Lives Here
The University of Cincinnati is leading public urban universities into a new era of innovation and impact. Our faculty, staff and students are saving lives, changing outcomes and bending the future in our city's direction. Next Lives Here.
2
Action News 5: PEP Buddy helps people breathe easier
May 5, 2023
A hands-free device developed by researchers at the University of Cincinnati could help the 12.5 million Americans who have chronic obstructive pulmonary disease breathe easier, Action News 5 in Memphis, Tennessee, reported.