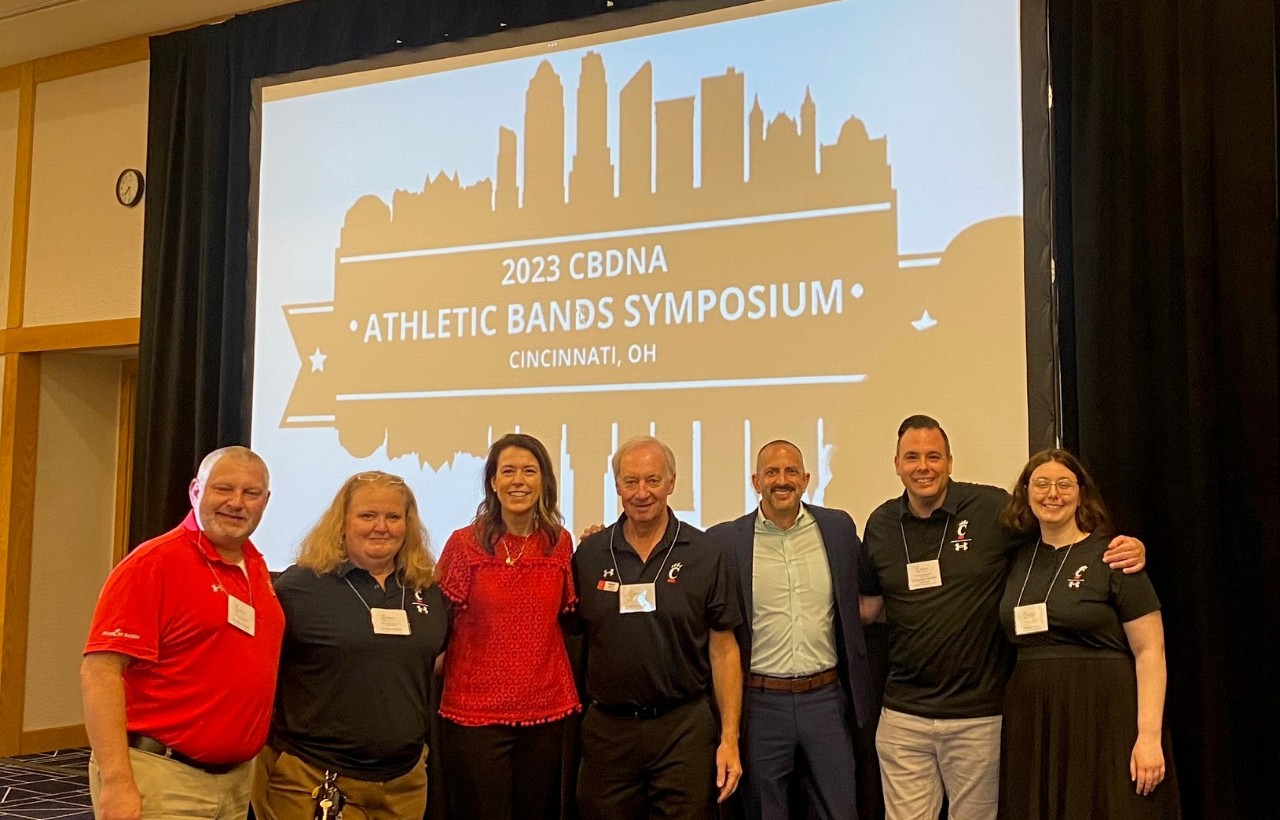 UC hosts national conferences for athletic bands
Bearcat Bands welcomed national audience for CBDNA, NAoAB symposia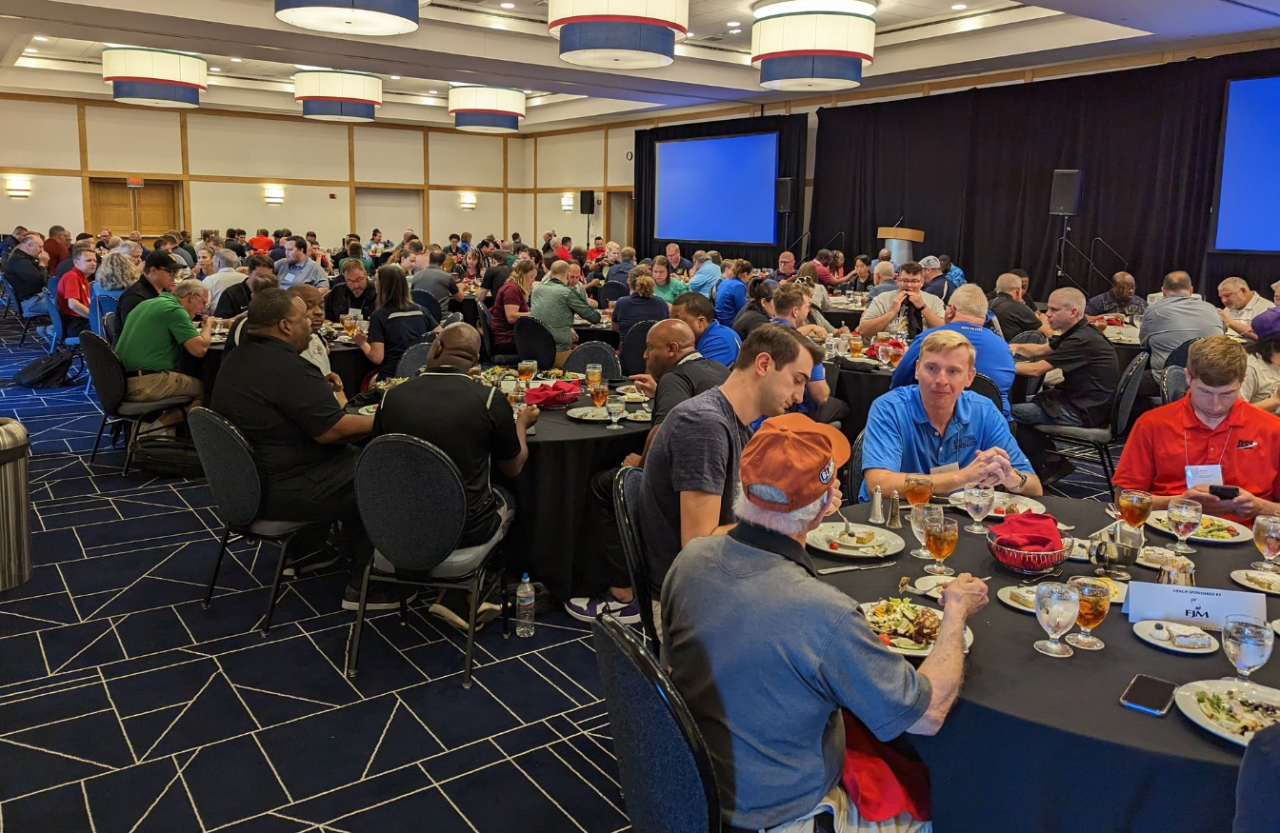 Over 150 college band directors representing over 100 colleges and universities visited UC from May 30 to June 3 for the 2023 College Band Directors National Association (CBDNA) Athletic Bands Symposium and the National Association of Alumni Bands (NAoAB) Symposium, held concurrently at the Graduate Hotel. UC's Bearcat Bands hosted the five-day event where attendees shared best practices in 28 panel discussions, breakout sessions and clinic presentations on diverse topics related to music education and technology.
In 2018, Director of Bearcat Bands Chris Nichter applied to host the 2020 CBDNA Athletic Bands Symposium in what was the Bearcat Bands' centennial year. Cincinnati was rescheduled as the symposium location in 2023 following a COVID-19-related postponement in 2020. After attending the conference for many years and waiting several more to host, finally bringing the symposium to life was a proud moment for Nichter. "It is both an honor and a privilege to host this prestigious event and showcase the Bearcat Bands, the University of Cincinnati and our beautiful Queen City on a national stage," he said. 
Nichter has attended these annual conferences since 2006. "The intention of the event is to provide something for everyone. Whether a large university or a small college, the goal is to elevate the experience for all," he explained.

Event speakers included Interim Vice President of Student Affairs Dr. Nicole Mayo and Assistant Vice President and Dean of Students Dr. Juan Guardia. Educational sessions hosted by presenters from around the country covered aspects of the athletic band experience. Associate Director of Bearcat Bands Nick Angelis presented on pedagogical writing and arranging for colleagiate bands. "I try to extract the 'wow' factor from the music to bring Bearcats fans to their feet," he said reflecting on the process he uses to produce a field show that sounds authentic to the original piece of music and artist interpretation. Retired Director of Bearcat Bands Dr. Terren L. Frenz coordinated a local golf outing. 
The Bearcat Bands leadership team managed all aspects of planning with assistance from student leaders, alumni and 30 corporate sponsors representing companies around the world. Student leaders from the Theta chapter of Tau Beta Sigma, a co-educational national honorary band sorority, assisted with logistics throughout the conference, including registration, daily campus tours and wayfinding.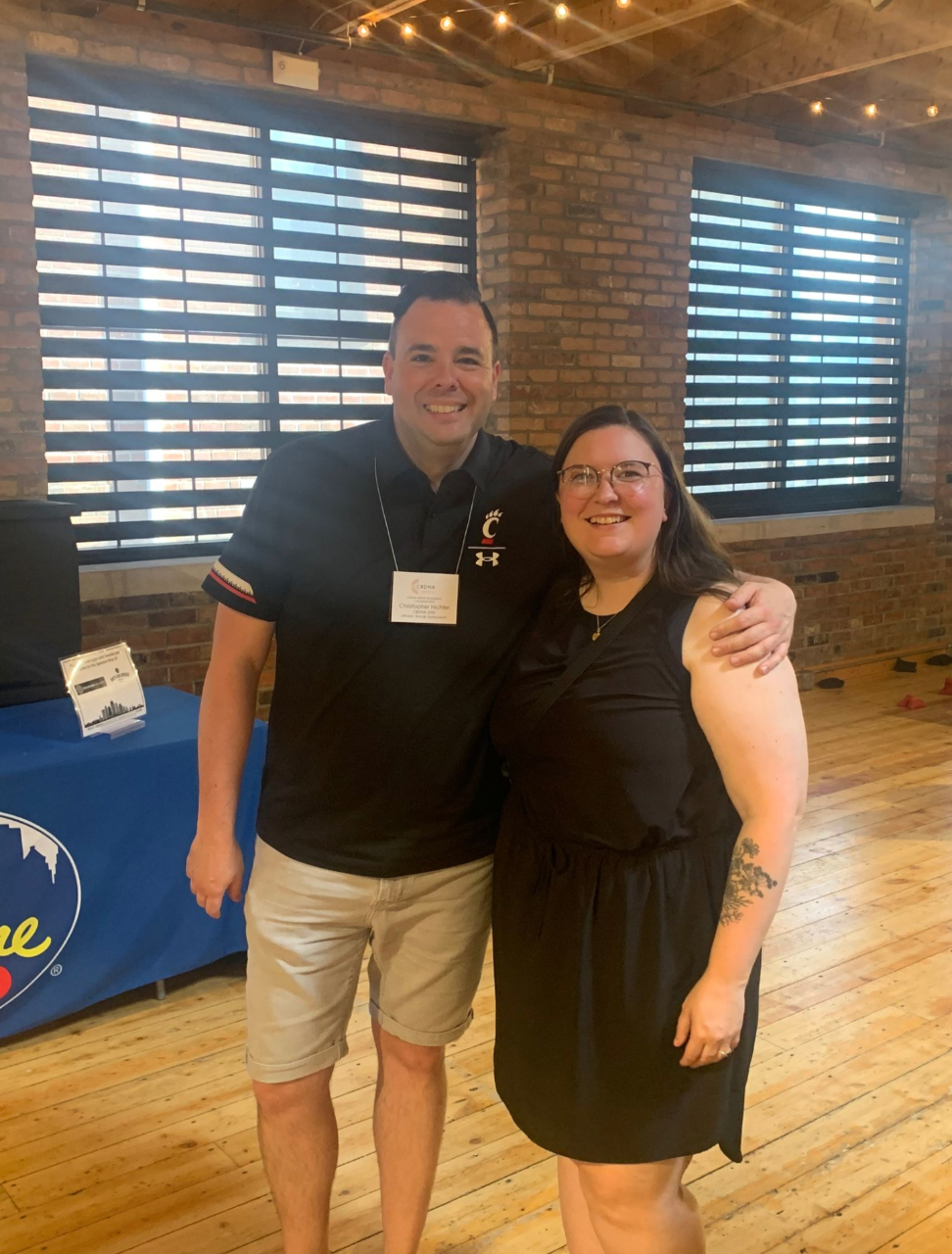 The University of Cincinnati Band Alumni Association (UCBAA) hosted the concurrent symposium for the NAoAB, welcoming 40 alumni from 17 different band programs. UCBAA President Natalie Ochmann served as the symposium ambassador and led a session about preserving band history through digital and physical publications. 
The CBDNA and NAoAB events were a long-awaited culmination of many hours of planning to ensure attendees had a memorable and educational experience. Attendee Gary Rupert perhaps said it best offering "my sincere thanks to Chris Nichter, Andrea Meyer, Nick Angelis, Alicja Lipsky, Terren Frenz and their students for providing a positive and informative experience for over 100 universities."
1
UC hosts national conferences for athletic bands
July 18, 2023
From May 30 to June 3, the University of Cincinnati Bearcat Bands hosted the 2023 College Band Directors National Association (CBDNA) athletic bands symposium and the National Association of Alumni Bands (NAoAB) symposium at UC.