UC celebrates Marian Spencer Scholars
Special induction ceremony held Sept. 9 at Nippert Pavilion West
Twenty students were recognized during a Sept. 9 induction ceremony for the Marian Spencer Scholarship program at the University of Cincinnati. The ceremony, held at Nippert Pavilion West, drew more than 100 guests.
The Marian Spencer Scholarship was first announced in fall 2021 and was made possible by an alumni donation and university investment. The scholarship is for high-achieving Cincinnati Public School graduates and includes full tuition, room and board, a service abroad trip to Tanzania and many more opportunities. 
During their first year, Spencer Scholars form a living-learning community, housed together in Marian Spencer Hall on campus. Marian Spencer, a civil rights icon, is a UC alumna who was instrumental in desegregating Cincinnati's Coney Island as well as Cincinnati Public Schools. She went on to become the first African American woman elected to Cincinnati City Council in 1983.
The first cohort of Spencer Scholars arrived at UC in the fall 2022. The second cohort of Spencer Scholars arrived on the UC campus this fall. Both cohorts were honored during the recent induction ceremony. Some of those inductees are:
Djeneba Camara, Dater High School

Sadie Smith, Oyler High School

Armani Kelley, Taft Information Technology High School

Joshua Lerma, Walnut Hills High School

Amelia Tyson-Mueller, Clark Montessori High School

Helen Dawit, Western Hills University High School

Jaylan Green, Withrow High School

Kailei Brown, Woodward Career Technical High School

Jamiah Mixon, Withrow High School

Katelyn Cotton, Walnut Hills High School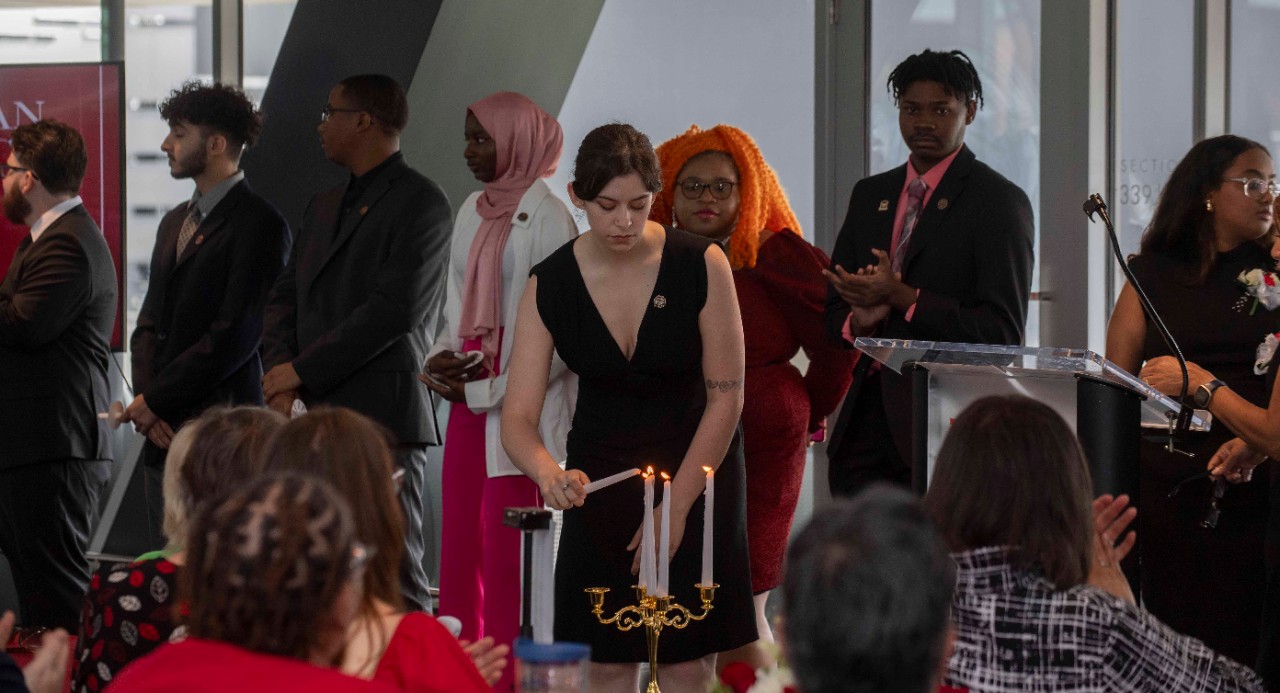 Other inductees include:
Benya Coleman, Hughes High School

Marcus Elliott, Oyler High School

Natalie Bennings, School of Creative and Performing Arts

Takora Arnold, Virtual High School

Mbathio Lo, Aiken High School

Jalen Tucker, Shroder High School

Brooke Bartholomew, Clark Montessori High School

Maxwell Larson, Spencer Educational Center

Muslim Khzir, Gilbert A. Dater High School

Nia McGlothin, Gamble Montessori High School
Distinguished guests at the induction ceremony included UC Provost Valerio Ferme; Jack Miner, vice provost for enrollment management; Bleuzette Marshall, vice president of equity and inclusion; and Cincinnati Vice Mayor Jan Michelle Kearney, along with Eric Kearney, president of the African-American Chamber of Commerce: Greater Cincinnati and Northern Kentucky. 
Woody Keown Jr., president and chief operating officer of the National Underground Railroad Freedom Center, and Dot Christenson, author of the Marian Spencer biography "Keep on Fighting", attended the event as did Susan Noonan and Alice Sneider from the Cincinnatus Foundation.
Inductees were asked to pass the light of a candle from scholar to scholar, symbolizing the torchbearer's responsibility of carrying forth the ideals and values exemplified by Marian Spencer. It was a poignant reminder of the importance of collaborative and collective efforts to support these deserving students on their journey to college success.
The induction ceremony served as a testament to the commitment of the community to nurture and uplift the next generation of leaders. As the torch of education and social justice continues to burn brightly, it is clear that Marian Spencer's legacy will live on through the lives of these exceptional students.
Local media have followed the journey of Marian Spencer Scholars at UC with coverage of the inaugural class of students as well as this year's second group of honorees. The Spencer Scholars were able to make their global imprint known during a recent study abroad service learning trip in Tanzania sponored by Village Life Outreach Project.
The Cincinnati nonprofit partners with three villages in northern Tanzania's Rorya District — Roche, Nyambogo and Burere — to implement programs to fight poverty by increasing access to clean water and healthcare and improving educational outcomes.
Learn more about their experience captured in Greetings, Grace and Gratitude.
Featured image of the Sept. 9 Marian Spencer Scholars induction ceremony. Credit/Joe Fuqua II.
1
Student scholars continue Marian Spencer's legacy
February 9, 2023
A total of 10 students in Cincinnati Public Schools have been named Marian Spencer Scholars for the Fall 2023. Four learned of their award on Decision Day, January 23, while six others received the surprise announcement during the following week. UC officials visited eight Cincinnati schools to congratulate these high-achieving students.
2
Growth at UC brings largest first-year class ever
September 23, 2022
The University of Cincinnati recorded its largest enrollment ever this week as the official head count landed at 47,914 students for the fall semester. The figure represents nearly a 2.6% increase over last year's enrollment or an additional 1,204 students.