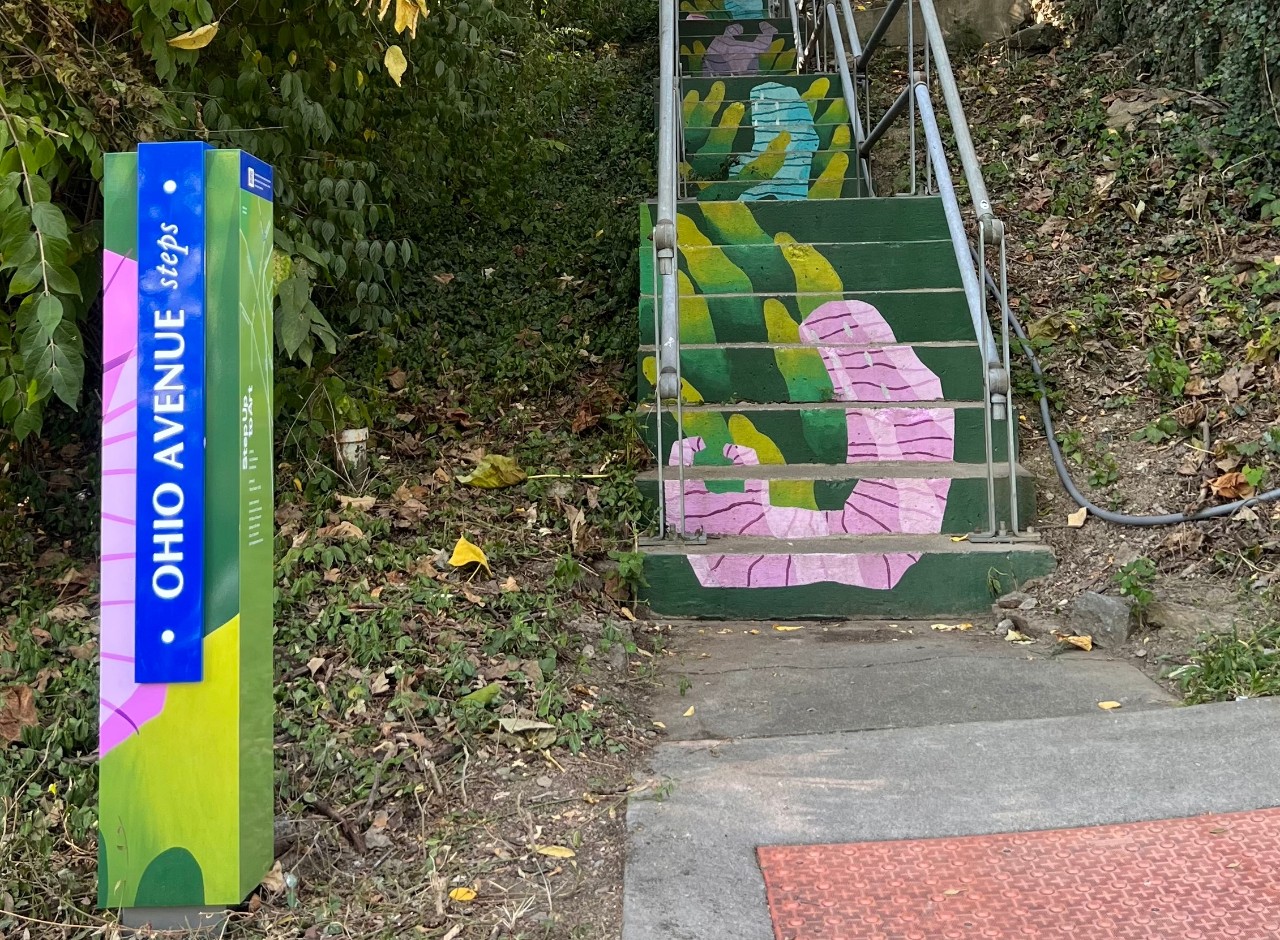 DAAP's Step Up to Art cuts ribbon on Fig Alley and Ohio Avenue stairway projects
One step at a time, UC researchers enhanced pedestrian pathways from campus to downtown
There are approximately 400 public stairways in the City of Cincinnati, and two of those near the University of Cincinnati just got a refresh. Both in the CUF neighborhood near Van Lear, the upper Ohio Avenue steps boast a new mural and signage, while the nearby Fig Alley steps have been officially named with new signs. 
"This is just a start to accomplishing a bigger idea, which is to improve more stairways and encourage people to get out of their house and their car and into public spaces to walk," says Kate Bonansinga, principal investigator on a $15,800 UC Office of Research grant that funded the bulk of the project.
Although still usable, the stairways were previously overgrown and littered. Researchers and volunteers cleared the brush and trash and the city power-washed and made repairs to the concrete. On the risers of the Ohio Avenue stairs, which begin at Bellevue Park and end at Van Lear, muralists Lizzy DuQuette and Dai Williams painted a colorful scene called "Ghost Garden" and new signs were added. The Fig Alley stairway, which leads to Vine Street near Findlay Market, received something it had never had before, a name and signage. The inspiration for its naming comes from a large fig tree near where the stairs begin at Van Lear Alley.    
The project's origins began in 2019, when the UC College of Design, Architecture, Art, and Planning (DAAP)'s grant accelerator program paired Bonansinga, a professor and director of DAAP's School of Art, with Muhammad Rahman, an assistant professor of design, to research and develop a community enrichment program.
"We brainstormed our own commonality in research with our own interests in art and public space," Rahman says of their establishing Step Up to Art, a collaboration with the City of Cincinnati, a local nonprofit and residents to pilot a stairway improvement project. 
Both say that the nonprofit Spring in Our Steps was a natural ally since its founder, Christian Huelsman, earned both his undergraduate and graduate degree in urban planning from DAAP.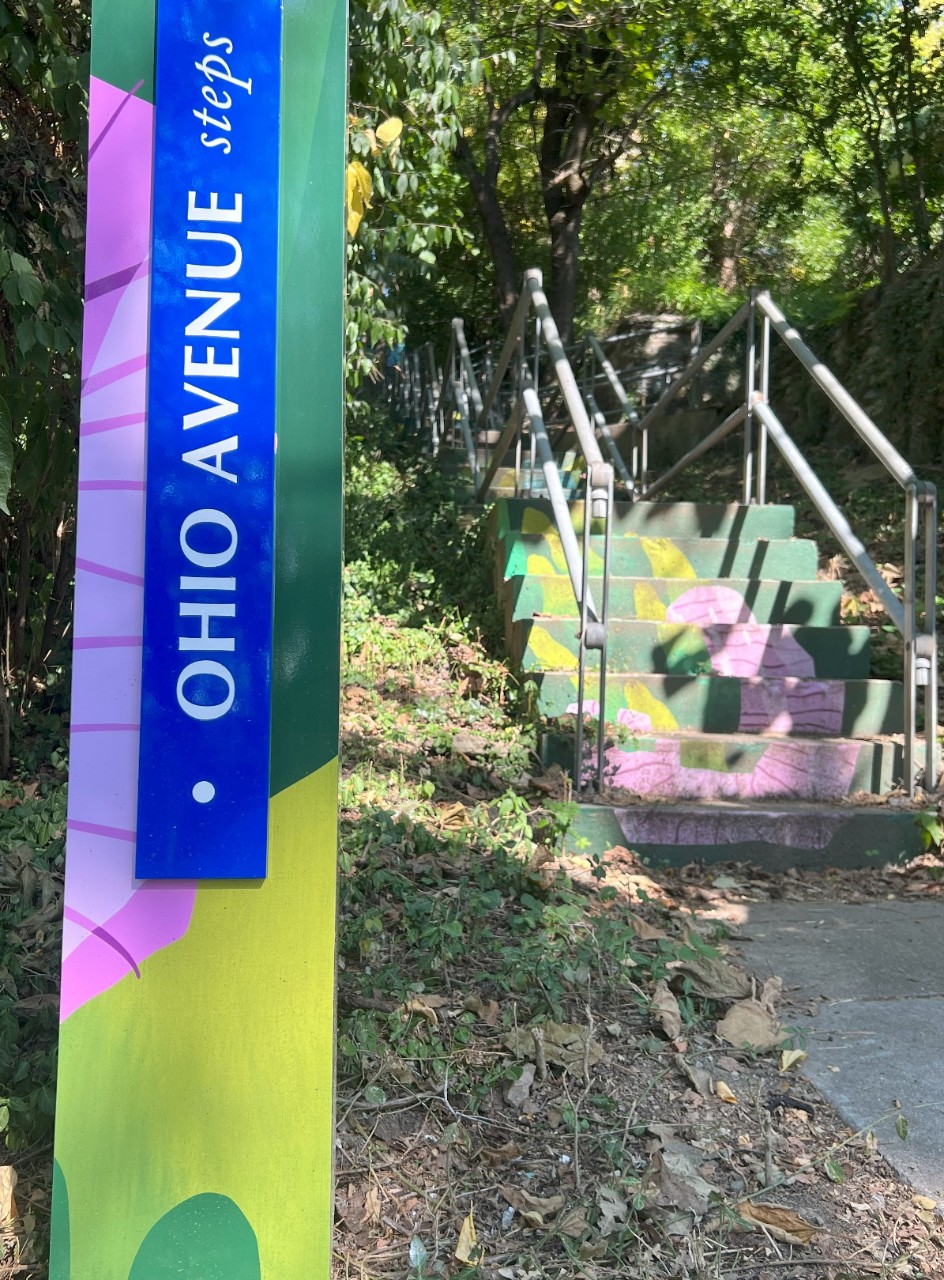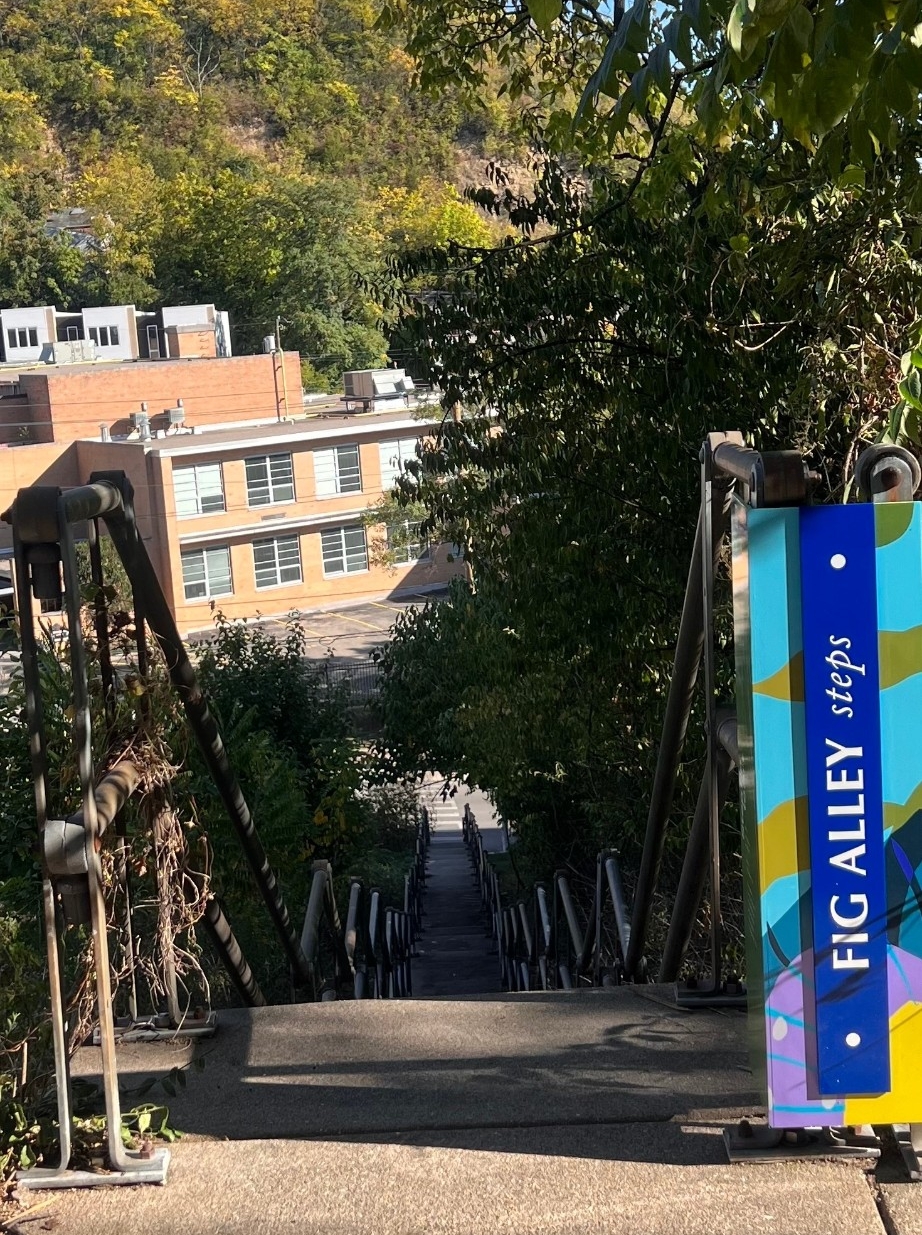 Huelsman took an interest in the city's stairways in 2012, while living on Vine Street as an UC undergraduate. His efforts began with community clean-up projects — running wheelbarrows full of tools back and forth to the sites — and evolved into large scale initiatives. For example, he worked with the city on government-funded pedestrian renewal projects in Mount Auburn and Over-the-Rhine, which won multiple civic awards.  
This project, he says, which also involved the public space expertise of Vikas Mehta, UC professor of planning, is what inspired Huelsman to enroll in graduate school at DAAP, after a brief stint away. The murals were overseen by UC's Jenny Ustick, an associate professor of art widely known for her murals in downtown Cincinnati, throughout Ohio and beyond.
"There's a lot of opportunity here and there's a lot of overlap, which is why the connection between art, public health, urban design, city planning, community planning — all of these things come into play," says Mehta.   
It's a blueprint for future stairway projects.
Vikas Mehta UC DAAP professor of planning
"The goal is to re-connect our neighborhoods through the City's public staircase system using signage and placemaking to promote neighborhood identity, pride, and livabiltiy," says Joell Angel-Chumbley, City of Cincinnati, experiential graphic design Lead. It's through these partnerships, she says, that the team has been able to leverage grant funding to get some of these steps opened back up and more functional for pedestrian connectivity between uptown and downtown.   
The total cost of the project was $26,300 of which the city contributed $10,500 for design, fabrication, and construction oversight. All of the organizations, plus others, contributed countless number of hours in labor, says Bonansinga.  
While the team had a ribbon cutting on Sept. 23, 2023, the initiative is far from over, says Rahman, calling the pilot "a blueprint for future stairway projects".
Featured image at top of Step Up to Art team at the reveal. Photo/Bonansinga 
Impact Lives Here
The University of Cincinnati is leading public urban universities into a new era of innovation and impact. Our faculty, staff and students are saving lives, changing outcomes and bending the future in our city's direction. Next Lives Here. 
1
DAAP's Step Up to Art cuts ribbon on Fig Alley and Ohio Avenue stairway projects
October 2, 2023
In 2019, DAAP's grant accelerator program paired Bonansinga, a professor and director of UC's School of Art, within the College of Design, Architecture, Art, and Planning, with Muhammad Rahman, an assistant professor of design, to research and develop a community enrichment program. The result was Step Up to Art.
2
FOX19: UC's DAAP helping address COVID-19
September 9, 2020
Claudia Rebola is an associate professor and the associate dean for research at the University of Cincinnati's College of Design, Architecture, Arts, and Planning. She is part of a UC team using innovation and design expertise to respond to COVID-19.
3
UC honors students to lawmakers: Here are ideas to fix public education
December 2, 2020
On Dec. 7, University of Cincinnati honors students in the Save our Schools! seminar will present Ohio political leaders with their best ideas to address some of the state's thorniest education issues at an educational reform symposium, to be held via remote technology.