UC Foundation announces philanthropy award winners
Outstanding Philanthropic Volunteer Awards include alumni, community leaders, faculty and students
The University of Cincinnati Foundation will recognize its Outstanding Philanthropic Volunteer Award honorees at the George Rieveschl Recognition Dinner on Oct. 12.
These individuals received the Foundation's highest accolades for their extraordinary philanthropic and volunteer commitments to UC and UC Health. The honorees are: Gary D. Johns, BBA '83; Randall E. Smith, BBA, BSIM '77; the UC College of Engineering and Applied Science Alumni Board and Golf Committee; Christopher B. Peltier, BS '91, MD '95; Elizabeth Geraghty, DAAP '23; Alex Mason, Bus '23; Lara Taylor, Bus '24; and Matthew Toigo, Bus '23.
"George Rieveschl knew that for the university community to grow, we needed to actively foster a culture of philanthropy," said UC Foundation President Peter E. Landgren. "His tireless efforts on behalf of students, innovation, imagination and research are mirrored by this year's award recipients and their contributions."
Long-time faculty member, researcher and inventor of the antihistamine Benadryl, Dr. George Rieveschl, Jr. also founded the UC Foundation. He was a UC alumnus and professor emeritus in the College of Engineering and Applied Science. 
Chairperson's Award – Gary D. Johns
The Chairman's Award is the UC Foundation's highest recognition for a volunteer who has made a significant, institution-wide philanthropic impact. Gary Johns' commitment and dedication to UC and UC Health is a benchmark of excellence. His role on the James J. and Joan A. Gardner Family Foundation Board helped facilitate a $5.5 million gift to establish the James J. and Joan A. Gardner Family Center for Parkinson's Disease and Movement Disorders; a $2.3 million gift to advance research efforts in Parkinson's and Alzheimer's diseases; and a $14 million commitment to establish a new home for the UC Gardner Neuroscience Institute.
An avid Bearcat fan, Johns has supported UC Athletics on several levels. He served on the Athletic Director's cabinet, was a founding member of the Nippert West Pavilion Renovation and Expansion project and has supported female athletes through the Women's Excellence Fund.
A highly engaged community member, Johns is a member of the UC Foundation Board of Trustees and the UC Health Board of Directors. He is also the CEO and owner of G&W Products in Fairfield, Ohio. 
Trustees' Award – Randall E. Smith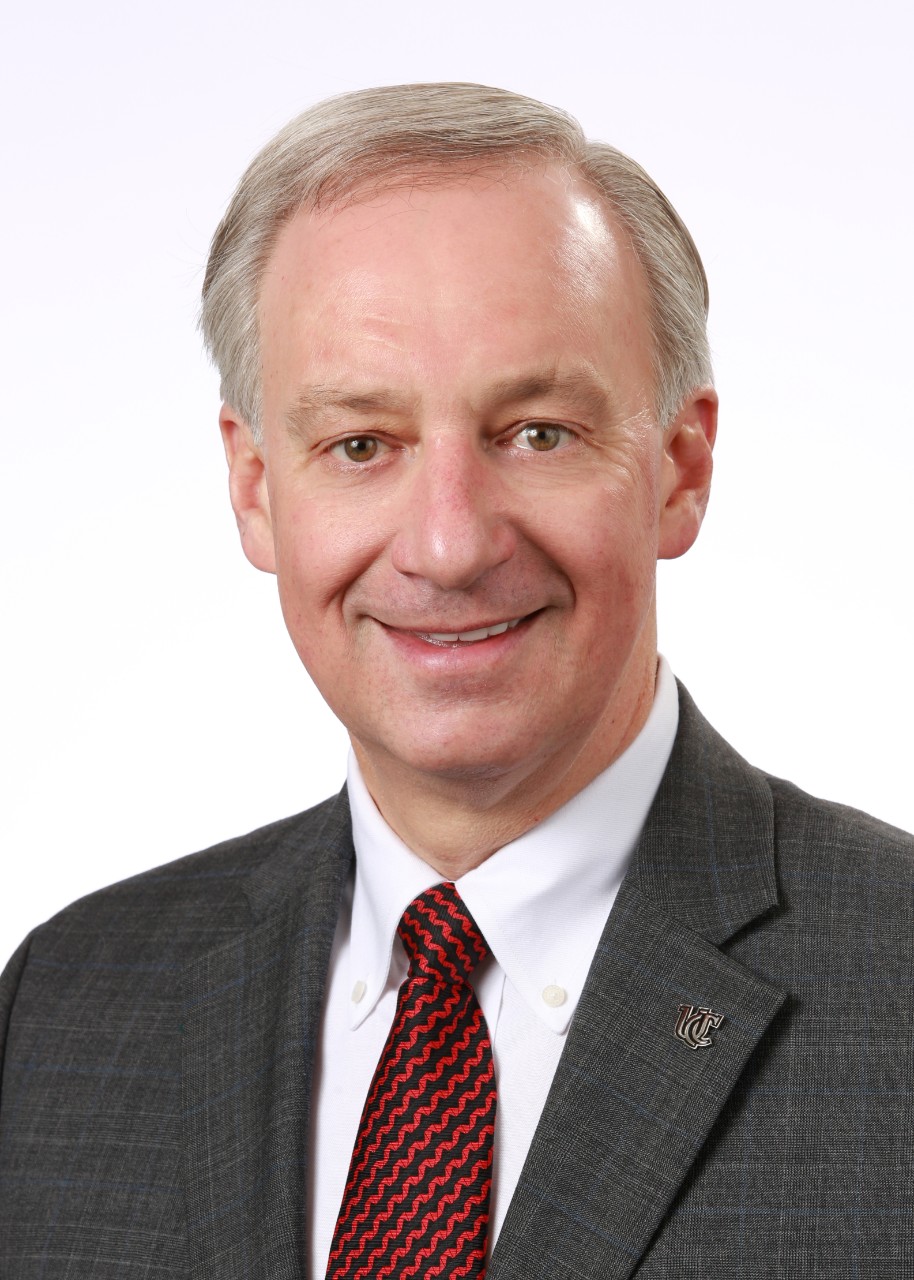 The UC Foundation Trustees' Award recognizes a volunteer's contribution to advance philanthropy for UC Health or a specific UC college or unit. Named Mr. Bearcat during his commencement year, Randy Smith has remained an active and dedicated UC alumnus. The former president of the UC Marching Band, where he was a trombonist, Smith was a founder of the UC Band Alumni Association in 1978. He remains active with this group, and his leadership has galvanized the band's donor base to raise more than $350,000 towards an instrument initiative. Smith is also fondly known as "The Voice of the Bearcat Bands" at football games.
He has also served his alma mater through his work as a member of the UC Foundation Board of Trustees, chairing its Communications and Recognition Committee for several years. 
Group Philanthropy Award – College of Engineering and Applied Science Alumni Board and Golf Committee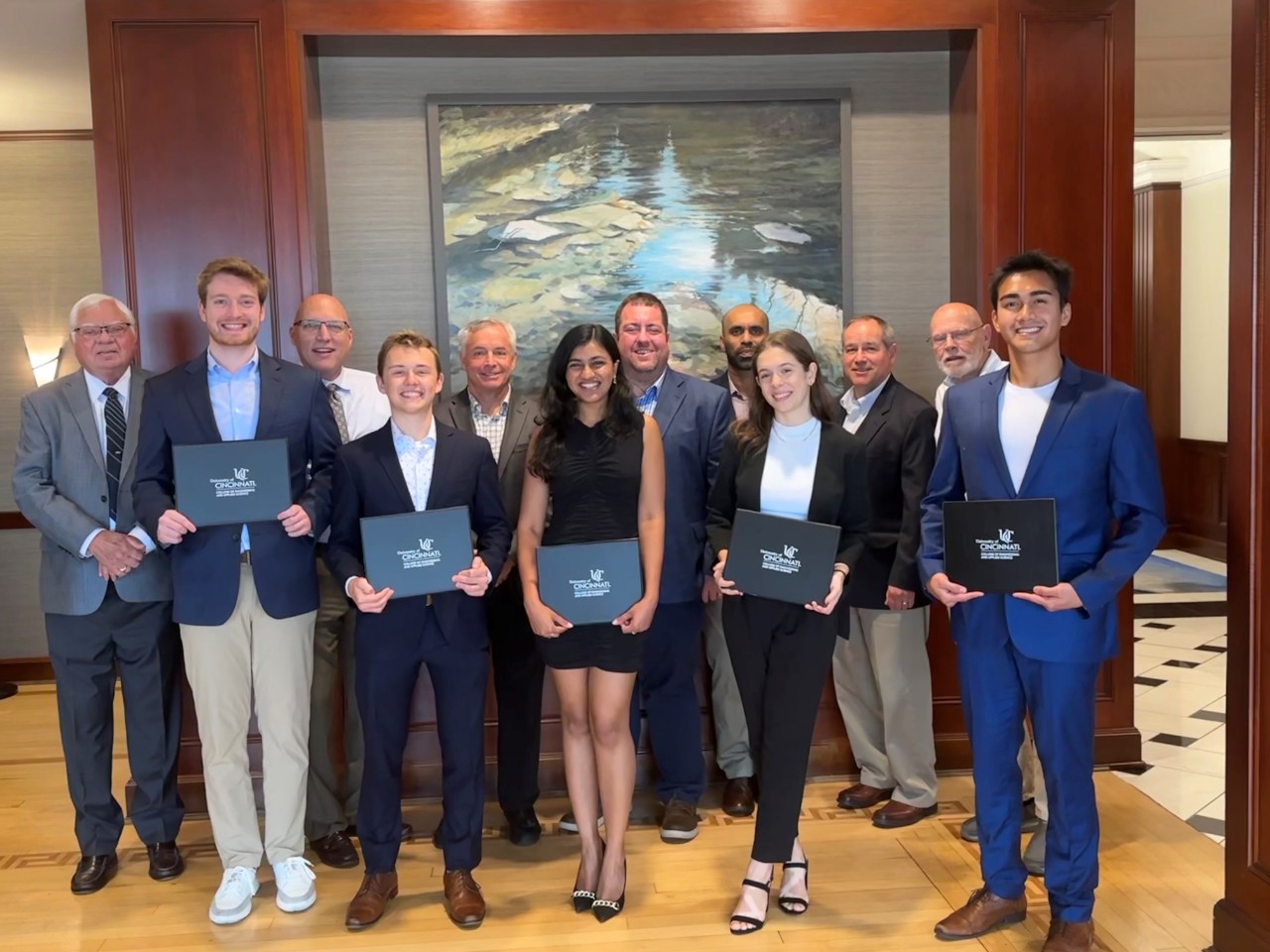 The Group Philanthropy Award highlights a group that has been highly engaged in philanthropic activities at UC or UC Health and has made a significant positive impact. The College of Engineering and Applied Science Alumni Board and Golf Committee established a scholarship fund in 1995 using the proceeds from its annual golf outing. Since its inception, more than $250,000 and 150 scholarships have been awarded. At its 20th anniversary golf outing, the Alumni Board announced it endowed the scholarship, ensuring its continuation in perpetuity. This group of alums proved resilient during the COVID-19 pandemic, pivoting to a separate campaign when the golf outing was canceled.   
Staff Award of Merit – Christopher B. Peltier, MD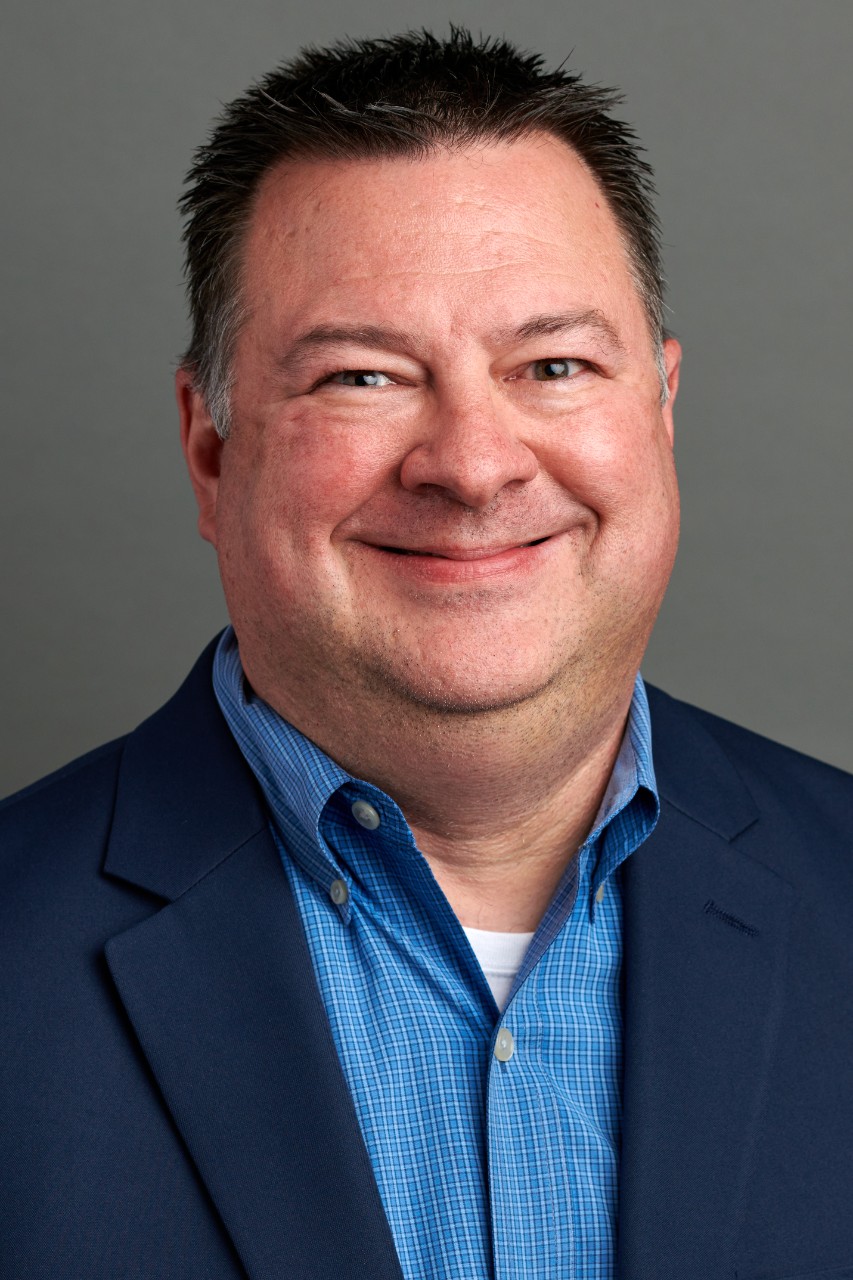 The Staff Award of Merit honors a staff member who has fostered a culture of philanthropy at UC or UC Health and embraces the spirit of George Rieveschl. Peltier has indelibly impacted the UC Alumni Association alumni relations and annual giving programs. He has been a member of the UC Day of Giving Champions Committee, raising scholarship funds. His #GivingTuesday support resulted in nearly $12,000 from his network. Peltier also fundraises for the IvaDean Lair Scholarship Fund for College of Medicine students. He serves as the class representative for the College of Medicine Class of 1995 and represents the college at the annual UC Alumni Association Network Leader Conference.
Peltier is a pediatrician at the Pediatric Associates of Mount Carmel, Inc., director, Community Section, Division of General and Community Pediatrics at Cincinnati Children's Hospital Medical Center and an associate professor in the UC Department of Pediatrics.

Student Philanthropy Award – Warren Bennis Leadership Institute Student Team, Lizzy Geraghty, Alex Mason, Lara Taylor and Matthew Toigo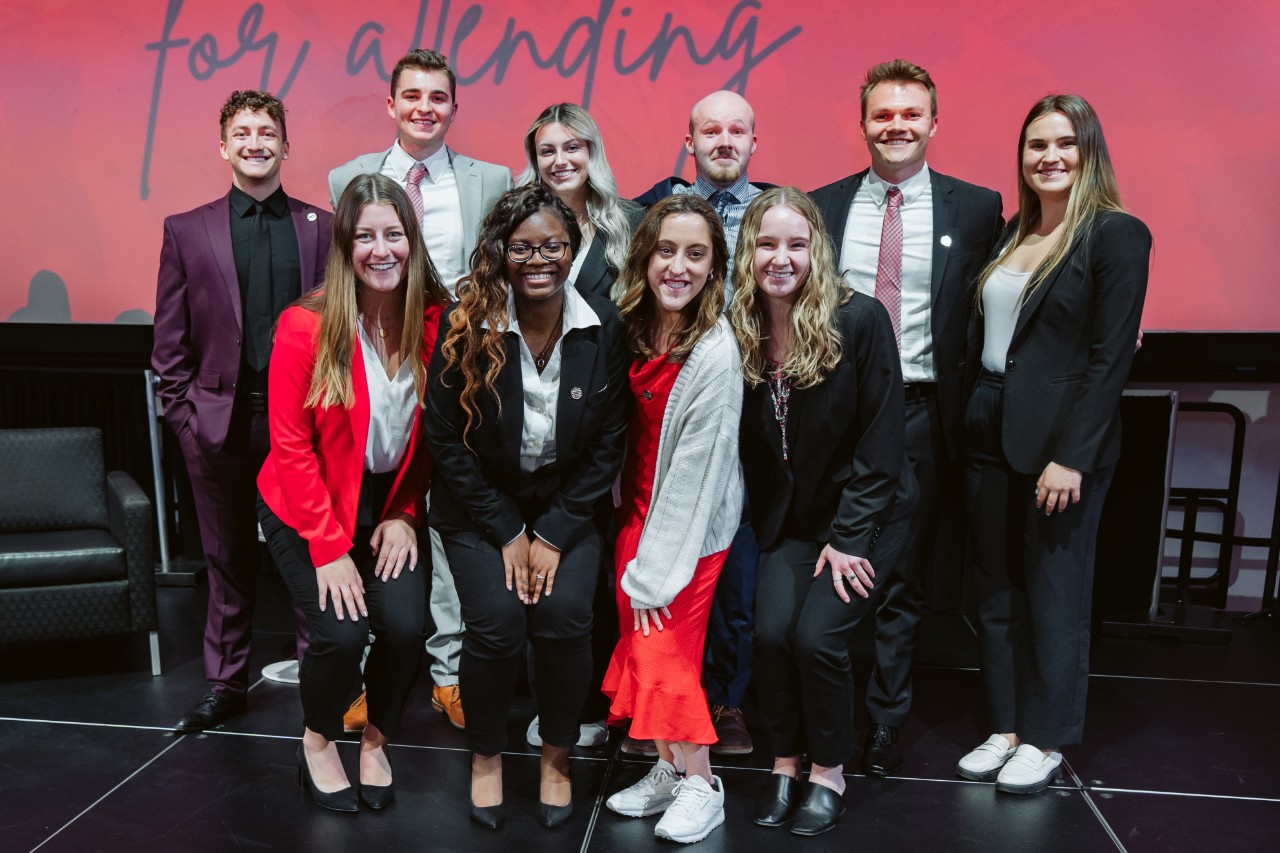 The Student Philanthropy Award recognizes students who have been highly engaged in philanthropic activities at UC. Housed within the Carl H. Lindner College of Business, the Warren Bennis Leadership Institute creates opportunities for enhanced learning and growth for UC's students, faculty, staff, alumni, and community partners. During the 2022-2023 academic year, students Lizzy Geraghty, Alexander Mason, Lara Taylor, and Matthew Toigo, were responsible for planning the Warren Bennis Leadership Experience, an opportunity to engage with thought leaders. They also assisted in the Women's Leadership event with author Betsy Myers. Taylor and Toigo shared their student perspective with alumni, resulting in a $400,000 gift for inclusive leadership. 
Featured image at top: Gary D. Johns, BBA '83. Photo/Provided. 
Next, Now
With its focus on innovation and impact, Next, Now: The Campaign for Cincinnati is where ambition meets action. At the University of Cincinnati and UC Health, we're driven by next; thinking bolder and dreaming bigger to create the tomorrow we envision, today. Learn more at nextnow.uc.edu. 
1
UC Day of Giving a success
April 28, 2021
University of Cincinnati Day of Giving's 24-hour challenge was a tremendous success this year, raising $2,219,197 with 3,232 gifts. The fourth annual UC Day of Giving raised its most money to date with alumni, donors, students, faculty and staff joining together to support UC and UC Health.