The future of news reporting celebrated at UC's new Center for Local News
Veteran news reporter Geraldo Rivera lent his knowledge and insight to journalism students
The University of Cincinnati hosted approximately 150 attendees Nov. 11 at an event to announce a new Center for Local News in the Department of Journalism within the College of Arts and Sciences.
"The local news and the stories we tell in our own community are really important," James Mack, dean of the college, remarked at the celebratory event headlined by legendary news reporter Geraldo Rivera. 
Rivera rose to national prominence in 1975 for pushing for and anchoring the first public airing of "The Zapruder Film" — a 1963 home movie of the Kennedy assassination taken by bystander Abraham Zapruder — on ABC's Good Night America. The film shows the assassination of President John F. Kennedy in Dallas, Texas on November 22, 1963, which occurred 60 years ago this month.
At UC's Probasco Auditorium, Rivera — and former colleague Joe Coscia, longtime WABC-TV assignment editor — engaged in an hour-long discussion on the history of Rivera's early contributions to "in the field" reporting under the mentorship of Al Primo (1935-2022), the creator of WABC-TV's Eyewitness News format (which celebrated its 55-year anniversary on Nov. 11).
Rivera stressed to students to remember that "facts are facts" and to stay true to themselves when reporting the news, citing his own coverage in 1972 of the Willowbrook State School on Staten Island.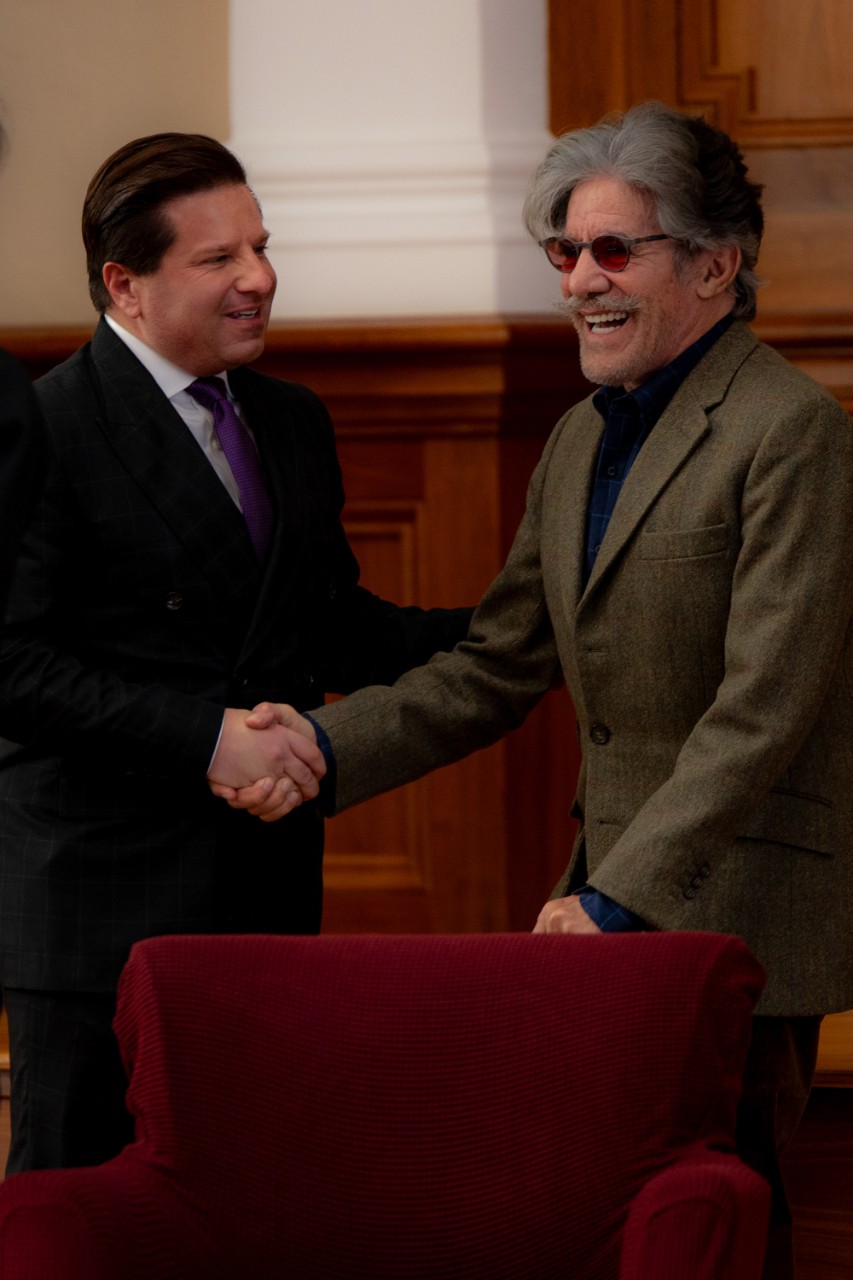 The event included a preview of an in-the-works documentary to commemorate Primo that is being produced and directed by Brian Calfano, professor and head of UC journalism. The project is edited by Reece Rexroad, a senior in UC's School of Communication, Film and Media Studies, and produced by Tanmay Srivastava, a UC digital media and history major who has already had his productions screened at the Cannes Film Festival. 
In describing his interview with Primo taken a few months before Primo's death in September 2022, Calfano said, "Al Primo was a humble, artistic genius. He shared his vision for journalism, his inspiration for Eyewitness News, and his take on future trends in the industry." WABC-TV used portions of the documentary's footage in the station's 75th anniversary event in August of this year.
The UC Center for Local News, Calfano says, will promote and continue Primo's philosophy of eyewitness storytelling. 
The event complements the recent addition of a fully functioning television studio at the college's new building, Clifton Court Hall.
Calfano says, "UC Journalism's motto is: 'Real World Ready.' You can't ask for a better real-world example to follow than Geraldo and Eyewitness News."
A preview of the event appeared on WLWT-Channel 5.
Read more about the Clifton Court Hall television studio. 
Featured photo at top/Maylea Salmon
Impact Lives Here
The University of Cincinnati is leading public urban universities into a new era of innovation and impact. Our faculty, staff and students are saving lives, changing outcomes and bending the future in our city's direction. Next Lives Here. 
1
Clifton Court Hall grand opening garners detailed media coverage
September 20, 2023
The University of Cincinnati celebrated the opening of Clifton Court Hall on Tuesday, Sept. 19, with a ribbon cutting, attended by approximately 200 administrators, faculty, staff and students. The event was covered by multiple media outlets.
3
USA TODAY: Fact check: Identical injured dog posts are a viral scam
October 21, 2022
UC social media expert cited in USA Today explains how social media posts can be replicated to see who might be vulnerable to sad stories such as a dog getting hit by a car. Use caution and verify posts through outside sources, says Jeffery Blevins, professor and head of UC's Department of Journalism.