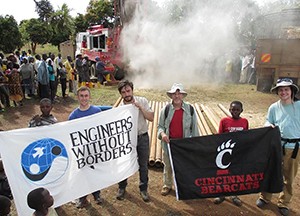 UC Engineers Without Borders Chapter Wins Penetron Contest
The University of Cincinnati
College of Engineering and Applied Science
student chapter of
Engineers Without Borders (EWB UC)
was a clear favorite among voters in the
Penetron International's Fall 2017 EWB-USA Grant Award Contest
, winning by a margin of more than 400 votes. The contest's other two finalists were chapters from the University of Wisconsin Madison and the Oregon Institute of Technology.
EWB UC will receive a $5,000 grant towards its project. The group has been traveling to Burere, Tanzania, working to provide a solar-powered pump system that will draw clean drinking water from a well for a community of approximately 6,000 people.
Burere is in dire need of clean drinking water. The town currently relies on Lake Victoria as its main source of water due to its reliability throughout the rainy and dry seasons. However, disease-causing viruses such as Schistosomiasis are found in the lake and are very prevalent in Burere. Although the community has an existing well, which is the only clean source of water in Burere, much of the population can't use it because of its remote location. The well's pump is also hand-powered, which is time-consuming and leads to long wait times to draw water during the dry season. By implementing a pump and tank system to the well and increasing accessibility, EWB UC can assist the community in promoting safe drinking and water-collection habits. Reducing the incidence of disease is expected to result in a healthier overall community and will increase both productivity and the quality of life for its residents.
With this grant, EWB UC will implement phase one of its water-system design to start providing clean water to the community. This phase includes overseeing contractor installation of the solar panels and electric pump in the borehole well, installing the storage tank at the well site and connecting it to the pump. This phase will allow the water-collection system to be expanded, if necessary.
"We would like to thank everyone who voted and shared to help us win first place in Penetron's grant competition," the UC chapter said after winning Friday. "We cannot express enough how much your support and efforts are appreciated. Thanks to Penetron, and with the help of all of you, we are one giant step closer to helping the people of Burere get access to clean drinking water."
About Engineers Without Borders
Engineers Without Borders USA (EWB-USA) is a nonprofit humanitarian organization that supports community-driven development programs worldwide, through partnerships that design and implement sustainable engineering projects. EWB-USA's vision is a world in which the communities they serve have the capacity to meet their basic human needs sustainably. Today, more than 2 billion people lack access to the most basic necessities – clean drinking water, adequate sanitation, reliable passage to local markets and more. EWB-USA's projects create transformative experiences that enrich global perspectives and promote responsible leaders.
1
Construction management alumna honored for impact in her field
December 5, 2023
Gloria Samuel entered the construction industry more than 20 years ago as a University of Cincinnati co-op student and never looked back. Since then, she has earned both undergraduate and graduate degrees at UC and has taken great pride in giving back to the college by sharing her education and experiences with others as an adjunct faculty and serving on numerous community boards and committees. Currently, she is the Senior Vice President and Director of Construction Program and Project Management for Fifth Third Bank.
2
In Memoriam: Dion Dionysiou, PhD
December 4, 2023
Dionysios (Dion) Dionysiou, PhD, professor of environmental engineering in the University of Cincinnati College of Engineering and Applied Science, died unexpectedly Nov. 20. He was 57 years old. He was a world-renowned researcher, who was frequently lauded for his work developing technologies and strategies to identify, monitor, and treat water pollutants and toxins.
3
UC Learning Lab inspires College of Medicine to SIT
November 29, 2023
In a convergence of academic integration, the University of Cincinnati's renowned colleges — Design, Architecture, Art, and Planning, Lindner College of Business, College of Engineering and Applied Sciences and College of Medicine — recently joined forces at the 1819 Innovation Hub for an ideation session that exemplifies the institution's commitment to interdisciplinary collaboration.
Debug
Query for this