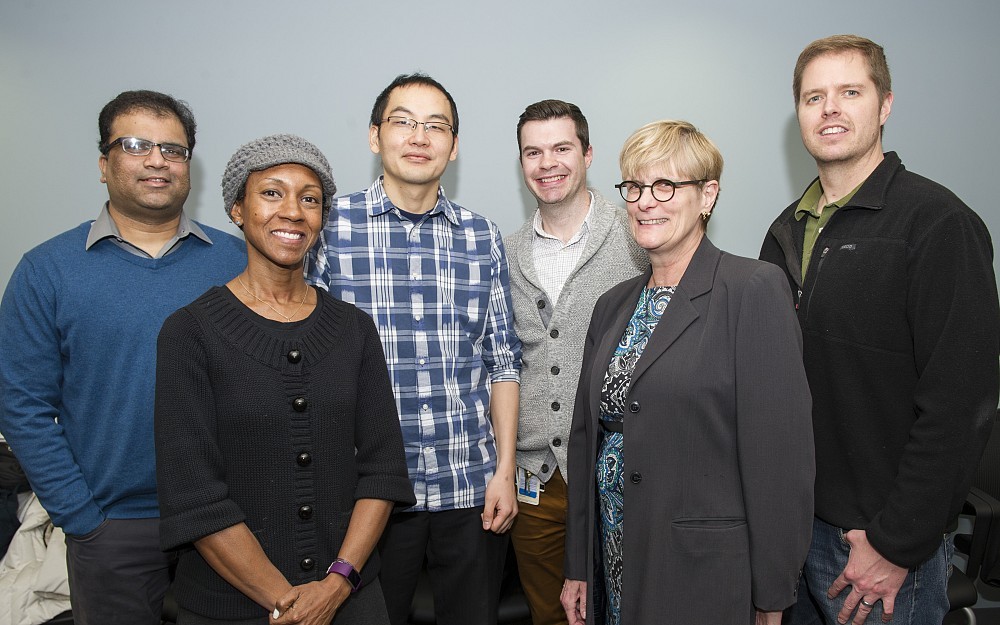 University's Cancer Cluster Hires Celebrated During Event Jan. 6
During President Barack Obama's State of the Union address on Jan.12, 2016, the Cancer Moonshot initiative to accelerate cancer research was brought to light. The initiative—led by Vice President Joe Biden—aims to increase therapy options to more patients while also improving the ability to prevent cancer and detect it at an early stage.
However, a similar initiative began at the University of Cincinnati two years before this announcement, culminating in the hire of six cancer cluster researchers at the Academic Health Center who will work together to establish a center focusing on precision cancer care and prevention.
Four of these hires were celebrated in an event Friday, Jan. 6, where leadership from each of the involved colleges spoke about the momentum of this initiative moving forward. 
These new hires are:
Nalinikanth Kotagiri, PhD, James L. Winkle College of Pharmacy, whose research will focus on molecular imaging and cancer therapeutics
Karlynn BrintzenhofeSzoc, PhD, College of Allied Health Sciences, whose research will focus on talking about death and the grieving process
Tom Cunningham, PhD, College of Medicine, Department of Cancer Biology, whose research will focus on understanding the mechanisms by which cancer cells acquire and use nutrients to promote their uncontrollable growth and expansion
In Kwon Kim, PhD, College of Arts and Sciences, Department of Chemistry, whose research will focus on PARP inhibitors for cancer treatment. PARP inhibitors work by blocking the action of poly (ADP-ribose) polymerase, an enzyme that helps repair DNA.
The hire of two additional members, 1. A senior member who will serve as the cluster leader and 2. A faculty member within the College of Nursing, will be confirmed in coming weeks.
Cluster hiring is a way to capture the expertise of multidisciplinary researchers for a shared focus. Part of  the funds used to create the new positions come from the Office of the Provost (half of the hire's 3-year salary), the vice president for research pays for half of the start-up costs and the respective college where the hire will hold an appointment pays the remainder.  
"The cluster hiring initiative began with a proposal from former provost and president, Beverly Davenport, PhD, in 2014," says Shuk-mei Ho, PhD, Jacob G. Schmidlapp Professor and Chair of the Department of Environmental Health at the UC College of Medicine, Hayden Family Endowed Chair for Cancer Research and director of the Cincinnati Cancer Consortium. "I was asked by the dean of the College of Medicine at the time to take on this initiative for the Academic Health Center, and so, together with my colleagues at the CCC, I put together a proposal and request for funding titled 'Precision Medicine in Cancer Care.'"
According to the National Institutes of Health, precision medicine is an emerging approach for disease treatment and prevention that takes into account individual variability in genes, environment and lifestyle for each person.
"One example is to study what we call the 'super responders,' those people who respond exceptionally well to a specific therapy, and pinpoint the reasons why they do so well. The knowledge we gain can allow us to further tailor treatments for other patients, individually or as a group, for his/her or their matched treatments/interventions," she says.
After a competitive proposal and review process, it was announced that the cancer cluster hiring plan was approved, along with for the plan for analytics (lead faculty in the Carl H. Lindner College of Business) and water (lead faculty in the College of Engineering and Applied Science).
Ho says a cancer cluster hiring committee was formed to coordinate and assist individual department/college-based search committees to find complementary talents. All searches adhere to college/departmental faculty search guidelines and the competitions are vigorous.
"There were representatives from each college—Beverly Reigle, PhD, from the College of Nursing, Georg Weber, PhD, and Pankaj Desai, PhD, from the Winkle College of Pharmacy, Gary Dick, PhD, from the College of Allied Health Sciences, Eddie Merino, PhD, from the College of Arts and Sciences—and then William Ball, MD, who was in the Office of Research at that time and then Pat Limbach, PhD, once Dr. Ball became our new dean," Ho says. "At least one committee member was involved in the search process of each of the hires, along with the hiring committees from each college."
Ho says there were so many impressive candidates, the colleges decided to bring some additional faculty members on board, using funds from their own budgets. Anjanette Wells, PhD (College of Allied Health Sciences, who will lead research on social barriers in cancer prevention) and Tim Phoenix, PhD (Winkle College of Pharmacy, who will focus on tumor formation in pediatric populations) are not technically cluster hires but will be conducting research with them. These two were acknowledged on Friday as well.
"Cancer has become a major focus for the entire university," said Ball, senior vice president for health affairs at the Academic Health Center and Christian R. Holmes Professor and Dean of the College of Medicine, during the event. "This is an opportunity to make a tremendous impact. We couldn't have done any of this without the support of Beverly Davenport.
"Now, we have an obligation to ensure that this cluster works."
Tiina Whalen, EdD, dean of the College of Allied Health Sciences, says that the idea of a cluster hire is a brilliant way to harness the potential of many experts in many areas and that the translational research that will come from this initiative is exciting and necessary.
Winkle College of Pharmacy Dean Neil MacKinnon, PhD, agrees.
"We're fighting a noble fight that impacts all of us," he says. "This is an opportunity for us to break down barriers and work as one. I'm excited to see what great things come of this." 
"This is very significant," adds Ho. "The cluster hiring initiative serves as a catalyst to draw in a bigger group to focus on precision medicine. This theme is central to ongoing planning for an application for a National Cancer Institute Designated Comprehensive Cancer Center."