Composition alumnus selected for New Music USA Amplifying Voices Program
Brian Nabors will write a new work through the program, supported by Sphinx Venture Fund
New Music USA recently announced that six composers have been co-commissioned to write new orchestral works through its Amplifying Voices Program, supported by the Sphinx Venture Fund. As one of the lead orchestras in the program, Berkeley Symphony co-commissioned UC College-Conservatory of Music alumnus Brian Raphael Nabors (MM Composition, '15; DMA Composition, '19) to write a new piece that will be premiered in the 2021-22 season.
Amplifying Voices fosters collaboration and collective action toward equitable representation of composers in classical music. In addition to the Berkeley Symphony, the lead orchestras co-commissioning new works are the Philadelphia Orchestra commissioning Valerie Coleman, the Las Vegas Philharmonic commissioning Juan Pablo Contreras, the Arkansas Symphony Orchestra commissioning Tania León, the Atlanta Symphony Orchestra commissioning Tyshawn Sorey and Los Angeles Chamber Orchestra commissioning Shelley Washington. Each of the composer's pieces will be performed by a minimum of four orchestras.
We must dig deep to create works that will foster unity and positive change. We must be vigilant and unafraid.
Brian Raphael Nabors
"I'm in the early planning stages," Nabors says of his piece. "What I can say is that it will definitely be a reflective work that speaks to our humanity. Now more than ever, I feel that it is an artist's duty to 'speak to the times,' as Nina Simone said. We must dig deep to create works that will foster unity and positive change. We must be vigilant and unafraid. To share a work that powerful amongst not only Berkeley, but a slate of other orchestras, is a very gratifying thing."
According to the Institute for Composer Diversity's analysis of 120 American orchestras' 2019-20 plans, 94 percent of music programmed for that season's mainstage orchestral concerts was written by white composers. In an effort to transform the classical canon and make it more inclusive, Nabors will work with Berkeley Symphony to increase the programming of works by composers of all generations whose voices have not been represented in orchestral programming.
"I'm going to do my best to help highlight the underrepresented gems of concert music, to hopefully expose audiences not only to underrepresented composers and their works, but new ways of thinking about musical experiences and the classical cannon," Nabors says. "I would love to also highlight the works of several of my dear friends and colleagues who are fabulous composers and artists who may have not yet had the opportunity for their works to be showcased."
Nabors is inspired by composers who not only have a firm grasp of technique, but who also have a deep reflection of humanity and purpose. The development of musical ideas, orchestration, timbres, pitch collections, etc., all have a clear purpose and connection to the emotional depth of the music, he says. "I consider myself an artisan with a deep hunger for craft and meticulous layout in service to emotion. I am immensely influenced by composers who embody that."

Some of the composers who have influenced his compositional voice as it has evolved are living composers John Adams, Jennifer Higdon, Gabriela Lena Frank and Carl Vine, who Nabors studied with as a 2020 Fulbright Fellow. He is also inspired by many composers who have passed on such as George Walker, Christopher Rouse, Florence Price, Béla Bartók and more.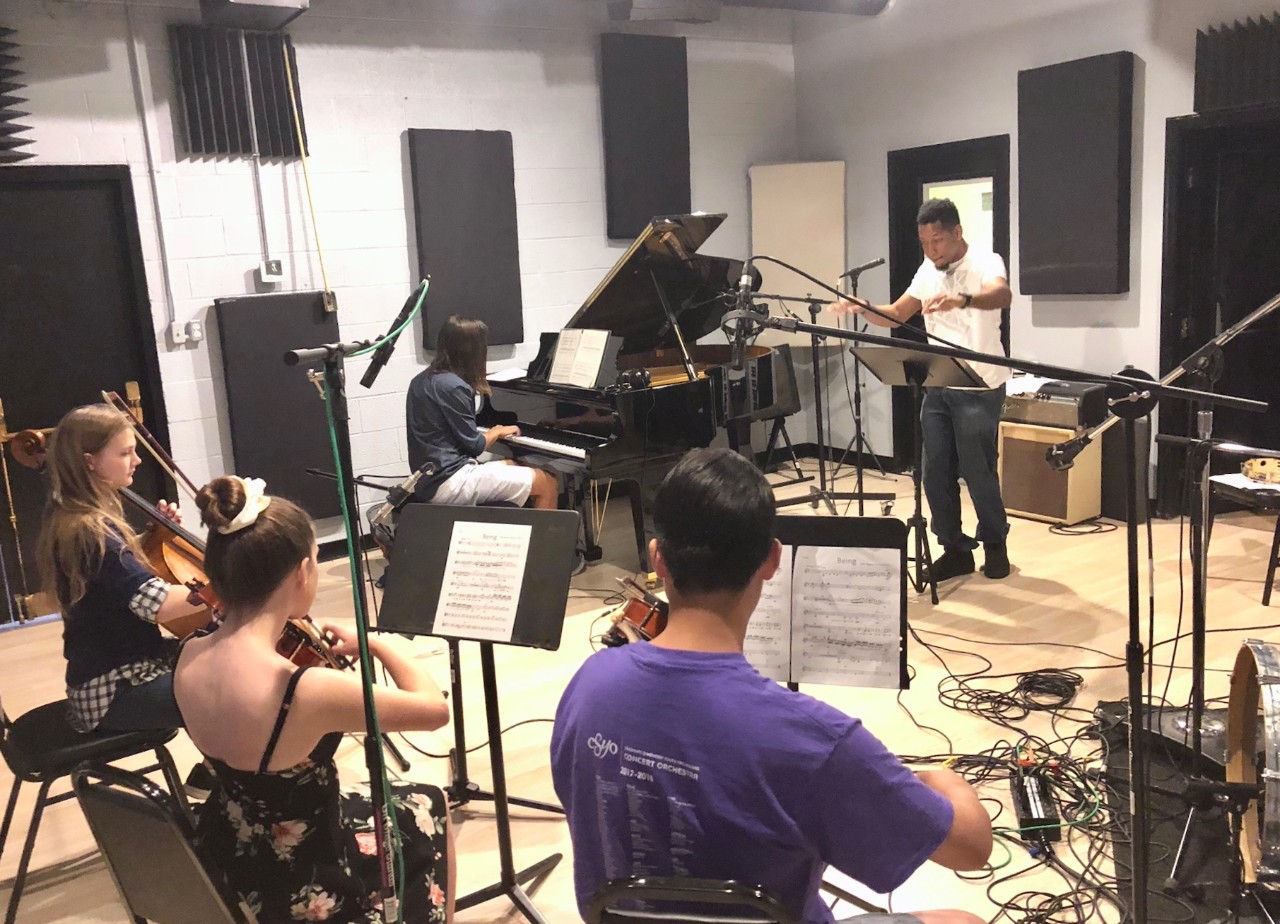 Nabors' compositional voice has developed through every artistic endeavor and opportunity he has received so far, he says. He remembers taking strides in developing this voice at CCM with Distinguished Teaching Professor of Music Theory and Composition Miguel Roig-Francolí.
During their second meeting, Nabors played an excerpt of a "Kabalevsky-esque" piano sonata that he had started for Roig-Francolí. After Nabors played through the first page, Roig-Francolí abruptly asked, "Who are you?" But Nabors didn't have an answer.
"We then began a journey that would bring me to the very cusp of my composition voice," Nabors remembers. "By the end of my masters, I could proudly affirm that I was a composer of the greatest 'Russian-French-Bartókian-Gospel-Jazz' you've ever heard!"
"I had indeed started to become myself; a true mosaic of all that had made me who I am and who I was becoming."
Nabors misses having lessons with CCM Norman Dinerstein Professor of Composition Scholar Douglas Knehans. He says that he became more thoughtful and meticulous about his work after Knehans' mentorship. The greatest compliment he had ever received came from Knehans during a lesson shortly before he graduated.
"I walked in, sat down, and he took one look at a piece I'd brought in and said, 'Get out of here. You don't need these lessons!' That one statement was confirmation that I had begun to come into my own as an artist. I had felt it towards the end of my schooling, but to hear it from someone I greatly admired and respected meant everything. I'll never forget that."
Learn more about Nabors' involvement in New Music USA's Amplifying Voices Program.
Brian Raphael Nabors (b.1991, Birmingham, Alabama) is a composer of emotionally enriching music that tells exciting narratives with its vibrant themes and colorful harmonic language.

Nabors' music has been performed by the Cincinnati Symphony Orchestra, Atlanta Symphony Orchestra, Nashville Symphony Orchestra, Detroit Symphony Orchestra and ROCO Chamber Orchestra. His music has been performed at many events across the US, including the Texas Music Educators Association Conference (TMEA), the Midwest Composers Symposium and the International Double Reed Society Conference (IDRS). He has also been performed by artists such as the Atlanta Chamber Players, Dallas's Voices of Change, Boston Musica Viva and the Detroit Chamber Winds and Strings. His work has been featured in master classes with composers such as William Bolcom, John Harbison and Lowell Liebermann.

With an eclectic musical palate and crafty compositional technique to match, Nabors' music draws from combinations of Jazz Funk, R&B, and Gospel with the modern flair of contemporary classical music. This interesting blend of sound worlds is one that continues to craft his unique musical voice.

A charming southern upbringing exposed Nabors to many deep-rooted musical ideals, many of which are rooted in spirituality; one of the main principles that inspires Nabors' music. Much of his music deals with new reflections on life, nature, and the human condition. This includes how music plays a psychological role in shaping the perception of a society, and how this can be used as a tool to inspire conversations on subjects such as prejudice, racism and bigotry. As a pianist, he is proficient in many styles and plays in several groups, functioning as a church musician, keyboardist in a R&B/Neo Soul band and classical artist. Having a hand in several genres plays a large role in the type of sound spaces that Nabors creates. It has also broadened his creative/technical facility in realizing his compositional ideas.   
​He was named the 2018-19 Composer-in-Residence with the Castle of Our Skins organization in Boston, Massachusetts; a 2019 composer fellow in the American Composer's Orchestra Earshot program with the Detroit Symphony Orchestra; a 2019 composer fellow with the Nashville Symphony Orchestra's Composer Lab; and 2019 cycle five grand prize winner of the Rapido! National Composition Contest by judges Robert Spano, Jennifer Higdon and Michael Gandolfi. Nabors is also a 2020 Fulbright scholarship recipient to Sydney, Australia, studying with composer Carl Vine at the Sydney Conservatorium of Music.

​Nabors earned both a Doctor of Musical Arts and Master of Music degree in Composition at the University of Cincinnati College-Conservatory of Music (CCM), where he studied with Douglas Knehans, Ellen Ruth Harrison and Miguel A. Roig-Francolí. Prior to graduate studies, he obtained a Bachelor of Music Theory and Composition degree from the School of the Arts at Samford University in Birmingham, Alabama, where he studied composition with Sarana Chou and piano with Kathryn Fouse. 
New Music USA supports the sounds of tomorrow by nurturing the creation, performance, and appreciation of new music for adventurous listeners around the world. We empower and connect US-based music makers, organizations, and audiences by providing funding through our Project Grants; fostering new connections through our programs; and deepening knowledge through our online magazine, NewMusicBox, and our work as an advocate for the field. New Music USA works in collaboration with its community in response to pressing needs and to amplify the diverse voices of music creators. New Music USA envisions a thriving and equitable ecosystem for new music throughout the United States. Amplifying Voices is the next step in New Music USA's 20 years of support for the orchestra sector in the US. It builds on New Music USA's Music Alive Composer residency program which was supported by Andrew W. Mellon Foundation and run in partnership with the League of Orchestras. Learn more at www.newmusicusa.org. 
The Sphinx Organization is the social justice organization dedicated to transforming lives through the power of diversity in the arts. Sphinx's four program areas – Education & Access, Artist Development, Performing Artists, and Arts Leadership – form a pipeline that develops and supports diversity and inclusion in classical music at every level: music education, artists performing on stage, the repertoire and programing being performed, the communities represented in audiences, and the artistic and administrative leadership within the field. Sphinx was founded in 1997 by Aaron P. Dworkin with the goal of addressing the underrepresentation of people of color in classical music. The name Sphinx, inspired by the mythical creature and legendary statue, reflects the power, wisdom and persistence that characterize Sphinx's participants, as well as the enigmatic and interpretive nature of music and art. Now lead by President and Artistic Director Afa S. Dworkin, Sphinx programs reach more than 100,000 students and artists as well as live and broadcast audiences of more than two million annually.
Over five years, Sphinx will invest $1.5 million to transform the future of cultural diversity, equity, and inclusion in the arts with the Sphinx Venture Fund (SVF). Through competitive grants, SVF will catalyze initiatives designed to solve a challenge or an issue related to DE&I in the sphere of the performing arts, with an emphasis on classical music. Learn more at www.sphinxmusic.org.
Featured image at top: Brian Raphael Nabors. Photo/Provided.