UC's award-winning campus designated bicycle-friendly
The League of American Bicyclists awards the University of Cincinnati's Uptown campus as one of the country's most bicycle-friendly
With many green and efficient buildings and recognized as a Gold rated institution by the Association of the Advancement of Sustainability of Higher Education's STARS Report, the University of Cincinnati can now add another sustainability honor to its award-winning campus.  
The League of American Bicyclists recently named UC as a bicycle-friendly university — presenting a bronze-level award to the Uptown campus for its commitment to cycling and dedication to bicycle safety and accessibility.

The award, established by the league in 2011, recognizes states, communities, universities and businesses for creating safer roads, stronger communities and a more bicycle-friendly America.
"The award committee looked at a very comprehensive set of criteria for universities," says Daniel Hart, coordinator of UC's Office of Sustainability. "They looked at everything from planning, to engineering, engagement, education and safety."

The league aims to inspire higher education institutions to develop more sustainable, livable campuses that make biking better for students, staff and visitors.
As a state, Ohio ranked 18th out of 50 in the nation overall for bike friendliness, recognizing UC as one of six universities in the state with bronze and boasting another 18 communities and 43 businesses in the state with either bronze, silver or gold awards.   

UC Sustainability's bike plan started several initiatives in 2009 to foster safety, education and encourage greater bicycle use on campus. Since then, Hart credits the campus infrastructure and accessible hard space for encouraging more bicycling, leading to greater urban impact.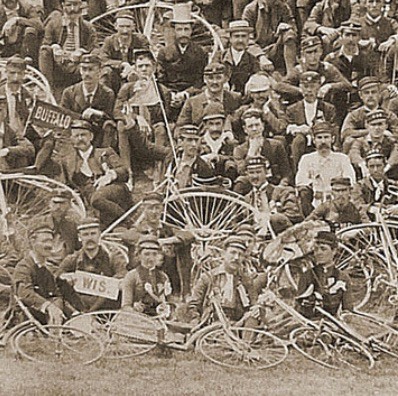 The university's ongoing efforts to increase sustainability resulted in many major improvements, especially transforming traditional sidewalks into shared-use paths, he adds.
Now that most of UC's hard spaces on campus are large enough for both bicycles and pedestrians, Hart says the university is currently working to widen the sidewalks around the perimeter of campus. Last August, UC expanded the sidewalk along its eastern border on Jefferson Avenue to more than eight feet wide to make it easier for bicyclists and pedestrians to navigate together. 
To ride or walk around construction areas, or avoid them altogether, campus detour maps are updated online at UC's Planning + Design + Construction.
"UC's Office of Sustainability's Bike Kitchen is another primary reason for our status as a bike-friendly university," says Hart. "The Bike Kitchen is important as an all-campus hub for bike education and maintenance, including trained student bike mechanics to help repair or maintain your bike."  
The Bike Kitchen, located on 101 W. Daniels St., by Dabney Hall, also includes the Bearcat Bike Share, a campus ride-share system that Hart describes as a lending library for bicycles. Here UC students, faculty and staff can check out bikes with their Bearcat card for up to a week at a time. The ride-share bikes are branded with UC logos, and each bike is equipped with a sturdy U-lock to prevent theft when on campus. 
The trained mechanics — interdisciplinary students from all over campus — will even teach you how to fix minor problems so riders can make repairs using the facility's available tools. 

"The Bike Kitchen has become a unique hub for building community, reducing our carbon footprint and is a financially savvy resource for students who want to bike and don't want to spend money on gas," adds Hart. "Biking is also advantageous for your physical and mental health because you're getting out and doing something active."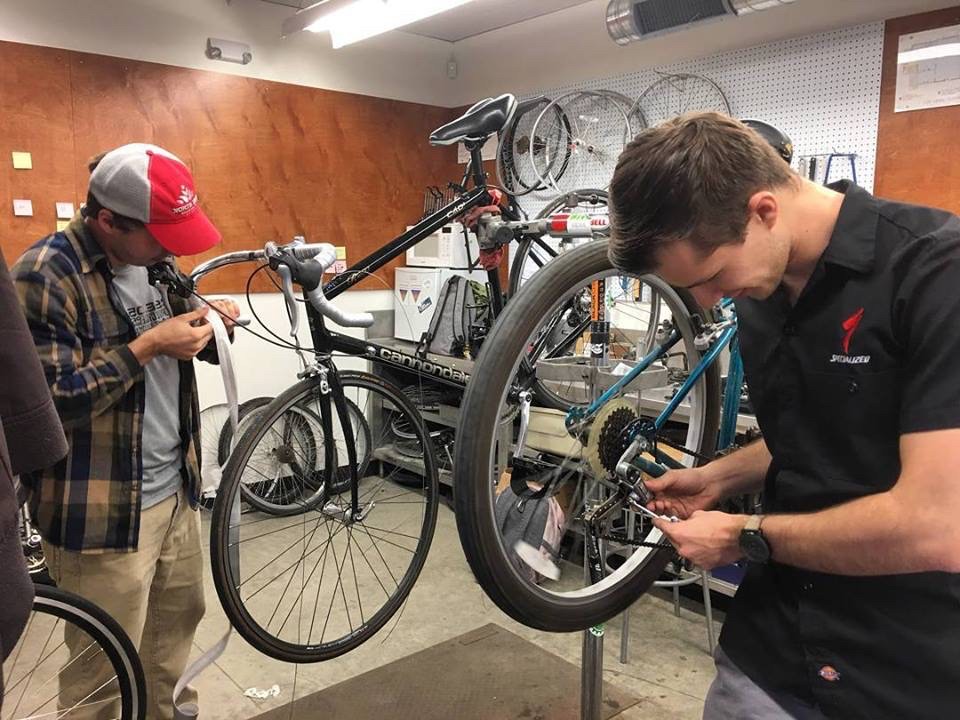 To help celebrate UC's campus accessibility, the Office of Sustainability organizes an annual bike show, a half-day celebration each fall that encourages bicycling education and community engagement. The event includes local environmental and bike advocacy groups that come to campus to participate in a variety of contests and activities, Hart says. Prizes are awarded for "best bike" in several categories.  
"We also partner with [UC] Public Safety which encourages students to register their bikes with UCPD and give away free U-locks to all who attend," says Hart. "So, it's another way of celebrating bike culture and building community around cycling."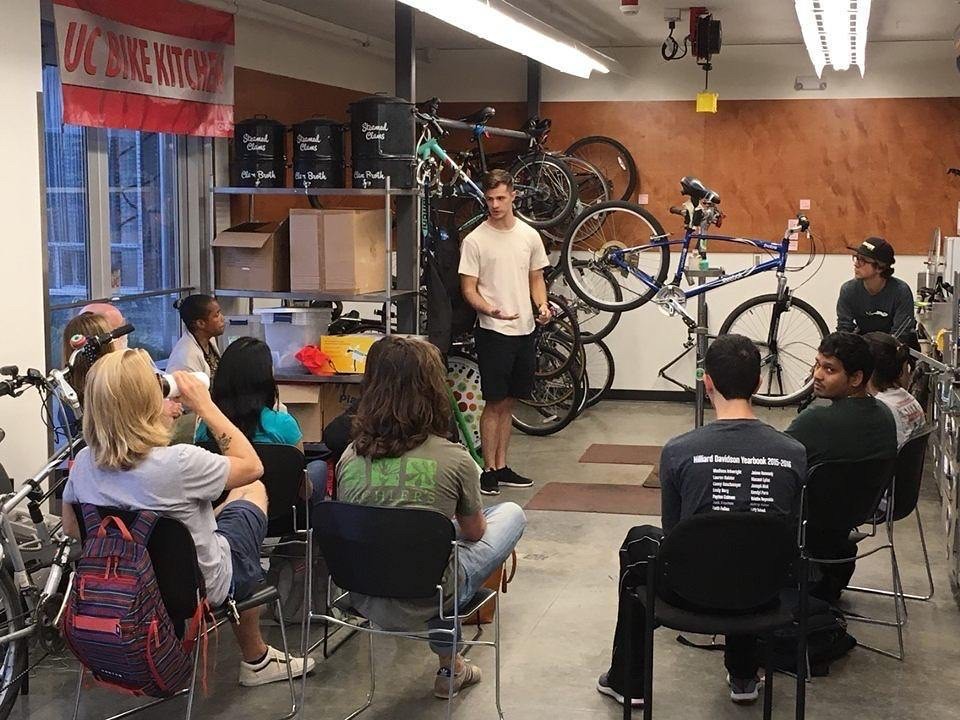 Between the Bike Kitchen, Bearcat Bike Share and UC Health's Red Bike rental system along the perimeter of East and West campus, Hart says bicycles are a popular form of transportation around campus, especially by international students who are not able to bring a bike and may not have a car or driver's license.
UC's ongoing efforts as a bike and wheel-accessible campus helps maintain a strong urban impact. The university is creating a better environment by reducing pollutants from automobiles and encouraging people to be healthy through active transportation, he adds. 

"The most interesting aspect about biking and the importance of our overall sustainability efforts at UC is how students take behaviors they learn here with them," says Hart.  

"Through biking and the supporting infrastructure at UC, we hope they take these sustainable behaviors with them when they leave college in the hopes that they will use them to enhance their lives."
More about:

Feature image at top: Sakina Jarmon, fourth-year journalism student enjoys the ease in traveling across UC's award-winning campus on her bike. photo/Joseph Fuqua II/UC Creative Services
2
Venture Lab, Center for Entrepreneurship merge to boost...
December 1, 2022
The UC Venture Lab and the UC Center for Entrepreneurship will merge into a single unit. The newly integrated team will be led by Kate Harmon, executive director of the Center for Entrepreneurship and the El and Elaine Bourgraf Director of Entrepreneurship.
3
CBC: Feast of Carols is a "best bet" for Cincinnati holiday...
Event: December 3, 2022 2:00 PM
Bring your family to enjoy the annual Feast of Carols concert at UC's College-Conservatory of Music. Named in the Cincinnati Business Courier's top "10 best bets for Cincinnati's performing arts this season," the concert is presented at 2 and 5 p.m. on Saturday Dec. 3, and Sunday, Dec. 4 in CCM's Corbett Auditorium.
Debug
Query for this