UC professor receives research award for lab-on-a-chip work
University of Cincinnati Professor Chong H. Ahn received the 2019 Distinguished Research Professor Award in a STEMM (science, technology, engineering, mathematics or medicine) Discipline. The honor represents the highest level of recognition for achievements and contributions in STEMM research at UC. The university honored Ahn Thursday at its faculty awards ceremony.
Ahn is a professor in the Department of Electrical Engineering and Computer Science and director of two labs on UC's campus: the Engineering Research Center Cleanroom and the Ohio Center for Microfluidic Innovation.
Internationally, Ahn is recognized as a pioneer in biomedical microelectromechanical systems (BioMEMS), microfluidics, lab-on-a-chip and point-of-care testing. He has received dozens of federally funded grants and has published more than 130 journal papers and 200 conference papers.
Ahn's innovative work is a reflection of UC's strategic direction, Next Lives Here. 
Early in his career, Ahn developed micro hard-disk drive systems at the IBM T.J. Watson Research Center in Westchester County, New York. Soon after joining UC in 1994, Ahn turned his focus to human health. In 1997, hereceived his first federal grant at UC: $4 million from DARPA to research a handheld system for detecting chemical warfare agents.
"Human application is exciting," said Ahn. "I'm interested in how microfluidics and lab-on-a-chip can change the individual by improving the quality of life."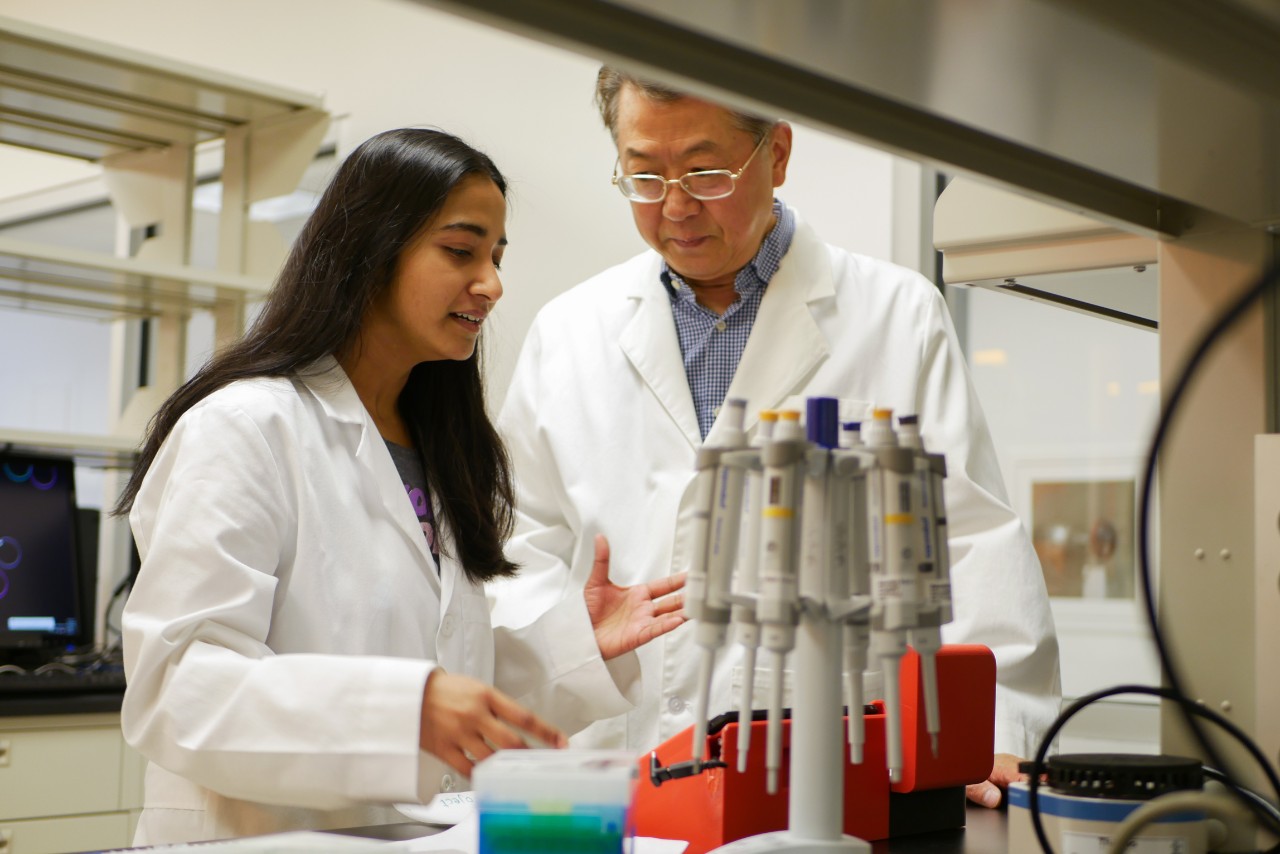 This human-centered approach propelled him to point-of-care testing through lab-on-a-chip technologies. Lab-on-a-chip fits all combinations of labs – blood and serum separation, mixing, reaction, incubation and protein and DNA analysis – onto a polymer-based chip.
With lab-on-a-chip, medical professionals can diagnose a patient in minutes, whereas traditional lab tests may take as long as an hour or more.
In emergencies, you need diagnosis fast, Ahn said. Surgeons and medical professionals need to immediately know how to treat their patients, and lab-on-a-chip offers the point-of-care testing to do that right in an operation room.
In technological innovation, you're always finding ways to improve performance, improve service and improve quality of life.
Chong Ahn, 2019 Distinguished Research Professor Award recipient
Outside of the emergency room, lab-on-a-chip also offers point-of-care testing for the everyday person, Ahn said. By analyzing a sample of blood, saliva or urine, for example, a lab-on-a-chip can offer immediate diagnosis. This technology can forecast previously unpredictable occurrences like heart attacks, detect viruses like influenza and other infectious diseases and provide valuable information about looming diseases like cancer. 

The next step for lab-on-a-chip is connecting it to something nearly everyone has: a smartphone. By connecting this lab-on-a-chip with a smartphone, point-of-care testing becomes accessible and universal for people around the world. 
Ahn is also passionate about applying his work commercially. He has 10 issued U.S. patents, and in 2004 he founded Siloam Bioscience Inc., a business recently acquired by an international diagnostic company.

Today Ahn is continuing his lab-on-a-chip research through a four-year grant from the Center for Disease Control and Prevention. With a team from the National Institute for Occupational Safety and Health, Ahn is exploring health effects from silica aerosol exposure. The research can help diagnose life-threatening diseases, like silicosis or lung cancer, in workers exposed to silica produced in mining and construction industries.
"In technological innovation, you're always finding ways to improve performance, improve service and improve quality of life," Ahn said.
Today, applications for microfluidics technologies are everywhere, from medicine and life sciences to industry and military. Ahn's work has helped make UC a hub for this exciting, new technology, improving people's quality of life through engineering innovations.
"I love it here. Every year, working with our great students and colleagues brings new innovation. Innovation influences the community and changes the world."
Featured image at top: UC professor Chong Ahn talks with a graduate student in the lab. Photo/Corrie Stookey/CEAS Marketing
Next Lives Here
The University of Cincinnati is classified as a Research 1 institution by the Carnegie Commission and is ranked in the National Science Foundation's Top-35 public research universities. UC's graduate students and faculty investigate problems and innovate solutions with real-world impact. Next Lives Here.