Finding Fiona: Social media quest leads to new UC startup
Computer engineering students Douglas Mace and Bo Brunton turned their quixotic effort to track a famous Cincinnati hippo into a business opportunity
They just wanted to see a baby hippo. Now two University of Cincinnati alumni are exploring ways to predict and prevent terrorist attacks.
That's the story of one of UC's newest startup companies.
Douglas Mace and Bo Brunton, graduates of UC's computer engineering program, recently founded TadPoL, a software company that uses cyber metadata to predict people's patterns of life. Applied to the military, this data can be used to track troop movements, as well as predict the behavior of terrorist organizations.  
TadPoL, which just won its second IQ E-Pitch competition in two years, reflects UC's commitment to innovation and forward thinking, as outlined in its strategic direction Next Lives Here.
But this company likely wouldn't exist without one of Cincinnati's most beloved, and apparently hard-to-find, celebrities: Fiona the hippo.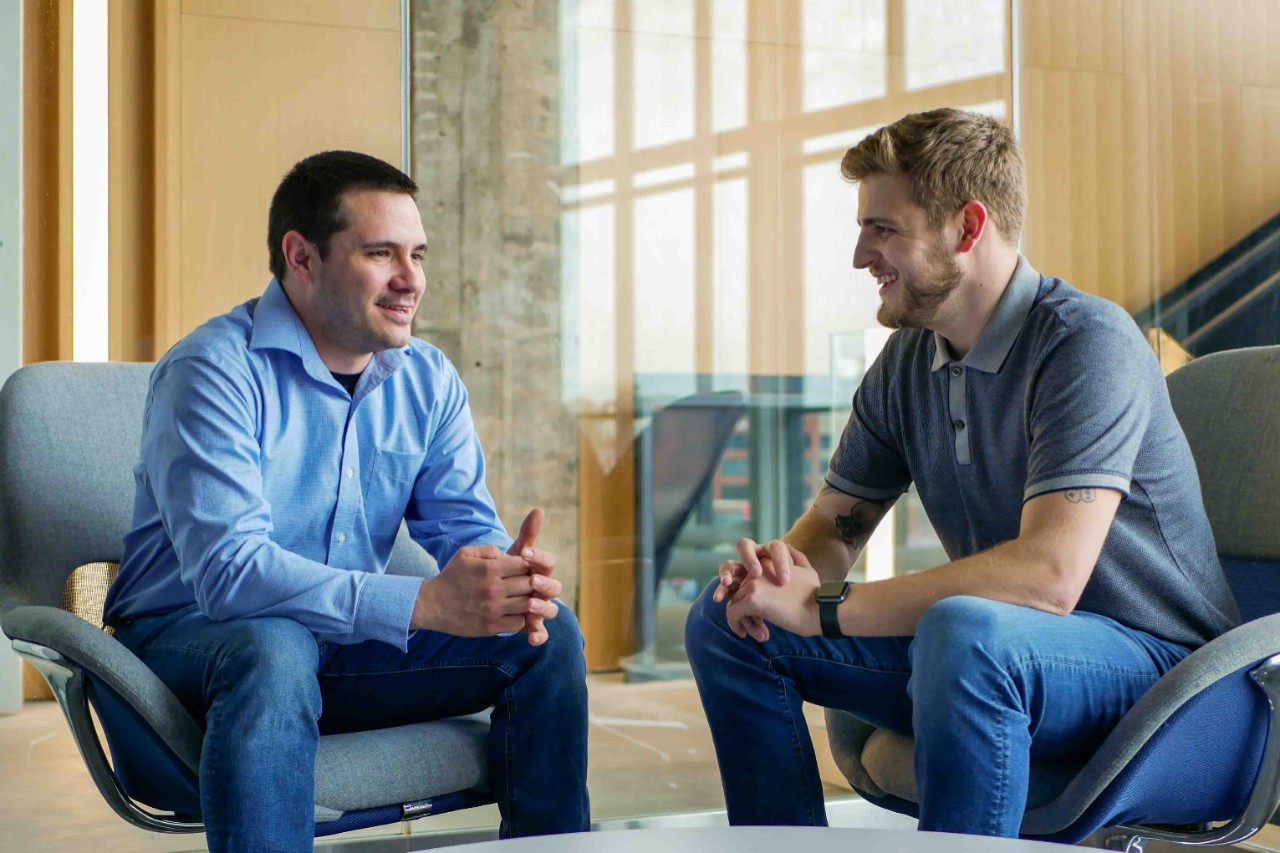 Early last year, Fiona, the popular baby hippo at the Cincinnati Zoo & Botanical Garden, had captured the hearts of people across the country. Mace and Brunton, however, hadn't seen her yet. So they came up with a way to combine their curiosity with their senior capstone project. They would use pattern-of-life analysis to predict when Fiona was in public.
"We were just looking for something fun and goofy to finish our degree requirements," Mace said.
Pattern of life is a way to predict people's (or a hippo's) future actions based on their past behavior. The idea was to run analyses on tweets by the Cincinnati Zoo's Twitter account (@CincinnatiZoo) and use that information to predict when Fiona was on display. 
"We did it for fun initially to find this hippo. It didn't work out, but we found a lot of other stuff that may have some practical applications beyond that.
Douglas Mace, UC alumnus, co-founder of TadPoL
Instead, they ended up with a lot of information about the zoo's public relations staff that runs the Twitter account – where they worked, the hours they worked, their lunch breaks – and little about Fiona's location. That got them thinking.
"We did it for fun initially to find this hippo," Mace said. "It didn't work out, but we found a lot of other stuff that may have some practical applications beyond that."
Terrorism on the ground, on the web
Before studying at UC, Mace served as an intelligence operator in the U.S. Marine Corps, tracking the physical behavior of targets in the Middle East. Over time, he pieced together information to predict where targets would be at exact times.
By inadvertently tracking the physical activity of zoo staff through their tweets, Mace and Brunton spotted a correlation between online activity and physical activity. It didn't take long for them to make connections to bigger applications, like the military.
"At a high level, we thought this software could be used to predict the movements of troops," said Brunton. "At a more narrow level, if we have an individual target that we want to infiltrate and go after, we can look at their pattern of life and try to manipulate their movements or change the way they're interacting."
Many terrorist organizations, for example, use social media sites like Facebook, Twitter and YouTube as a recruitment platform. When the sites learn about these accounts, they shut them down. That's only a temporary solution, though.
"It's not that hard to make a new username and password, start it up and you're broadcasting again," said Mace. "Using TadPoL's technology, we can actually find the person broadcasting the propaganda."
Brunton and Mace knew they were on to something, but they needed a way to quantify it. That's where Mace's master's thesis comes in. 
An expensive science project
Mace was finishing up his master's degree in computer engineering right as the idea of TadPoL was emerging. Pattern of life, and what it said about the correlation between cyber and physical activity, presented a great subject for a master's thesis. And if it could help prove TadPoL's technology worked, even better.  
Mace recruited two senior design teams to help with the project. The two teams and Mace sampled 221 first-year students at UC who agreed to have their Twitter data analyzed. The teams pooled date-time stamps on 63,000 tweets and retweets and plotted that data on a graph to visualize cyber activity.
Then it got expensive. Mace and Brunton bought 221 Fitbits and gave each student one. Mace and the teams tracked the physical activity of students using these Fitbits and compared the students' physical activity to their cyber activity. The teams found a direct correlation between the two.
"We were able to show that this stuff really worked," said Mace. "This was a functioning thing for predicting physical activity based solely on somebody tweets."
Shortly after Mace drew these conclusions, he and Brunton presented TadPoL's minimum viable product at the IQ E-Pitch competition and again won the grand prize of $5,000. That money helped get TadPoL off the ground.  
The future of cybersecurity
Today, national security organizations must defend against threats in both the physical realm and cyberspace. Russian interference in recent U.S. elections shows just how important an effective cybersecurity strategy can be.
Brunton and Mace think TadPoL can contribute to the nation's cybersecurity policy. They are programming TadPoL software to attack enemies while also preventing those same attacks being used on the U.S. The idea reflects the strategy of persistent engagement, a term coined by UC professor of political science Richard Harknett. 
[Startup UC] helped us speak in business terms, understand what our product and what our business is capable of. It's completely changed the way we look at the company.
Bo Brunton, UC alumnus, co-founder of TadPoL
Harknett, who helped Mace with his master's research, is one of the many UC professors and resources who have assisted Brunton and Mace in shaping their company. 
"Startup UC helped us a ton in the last year," said Brunton. "They have helped us speak in business terms, understand what our product and what our business is capable of. It's completely changed the way we look at the company."
With the university's guidance and support, along with its ambitious aims, TadPoL looks poised for future success. 
"I want to see how much of an impact we can actually make," Brunton said. "I have no idea what's going to happen next, but I think it's going to be pretty awesome to see what we can do."
Featured image at top: Douglas Mace and Bo Brunton, co-founders of TadPoL, stand outside the 1819 Innovation Hub. Photo/Corrie Stookey/CEAS Marketing
Next Lives Here
The University of Cincinnati is classified as a Research 1 institution by the Carnegie Commission and is ranked in the National Science Foundation's Top-35 public research universities. UC's graduate students and faculty investigate problems and innovate solutions with real-world impact. Next Lives Here.