Startup provides innovative workplace for UC grads
Data analytics company Predictronics was born in a UC lab. Five years and more than 50 projects later, the company serves as a model for collaboration and partnership between UC and industry
Cincinnati is a top-10 rising city for startups, according to Forbes. At the heart of this startup culture is Predictronics, a software company that uses predictive analytics to detect and prevent machine failure.
Three University of Cincinnati students — Edzel Lapira (Ph.D., industrial engineering), David Siegel (B.S., M.S., Ph.D., mechanical engineering) and Patrick Brown (B.A., English) — started Predictronics in 2013 after working in UC's Intelligence Maintenance Systems (IMS) Center. Since then, the company has grown, and so too has the number of Bearcats it employs: Over 80 percent of Predictronics employees are graduates of UC.
Predictronics does't only reflect Cincinnati's startup boom; it reflects the university's strategic direction, Next Lives Here, which encourages collaboration between academia and industry.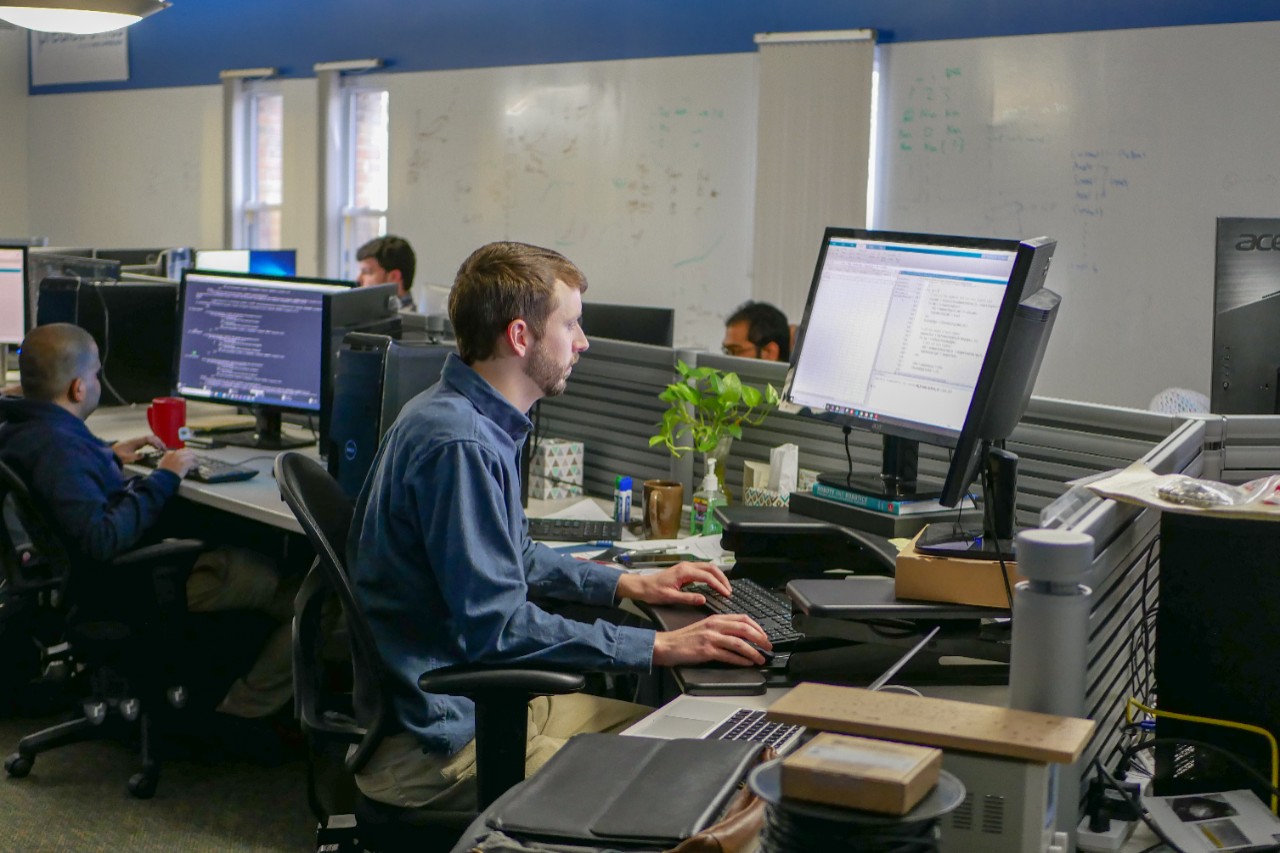 In many ways, this collaboration was how Predictronics was founded.
The IMS Center, under the direction of UC professor Jay Lee, specializes in predictive analytics research, leading projects for manufacturing companies around the world. 
"The center acquires the data needed for understanding the behavior of a machine, analyzes that data and then runs it through our toolbox of predictive algorithms," said Brown, chief financial officer. "With data analytics, you can predict the life cycle of machines and prevent unscheduled downtime by taking corrective action before a failure occurs."
UC is the ultimate resource for finding new talent, from the IMS Center to other university programs.
David Seigel, Predictronics chief technology officer
These projects usually end in a proof of concept or a demonstration software. Over time, however, members of the center wanted someone to take this research and convert it into an actual product. And for that, you need a company.
Lapira, Siegel and Brown toyed with the idea of commercialization for a while and, with the encouragement and mentorship of Lee founded Predictronics.  
Five years and more than 50 projects later, many with Fortune 500 companies, Predictronics has made a name for itself in the manufacturing sector and beyond. The company has expanded into transportation, energy and industrial equipment.
What's stayed consistent is its relationship with UC.
"The connections to UC have been very helpful," said Siegel, chief technology officer. "For us, UC is the ultimate resource for finding new talent, from the IMS Center to other university programs."  
This relationship with UC is a two-way street. Predictronics gets talent, and UC students and graduates get experience on the ground floor of a startup. Predictronics has hired students for cooperative education (co-op), as well as full-time and part-time, positions.

"The great thing about the UC co-op program is that students already have some experience to bring to the table," said Siegel. "They're equipped with the knowledge and talent to hit the ground running."
Many of the former UC students had other job offers after graduation but were drawn to the startup culture of Predictronics.
Data scientist Matt Buzza (M.S., mechanical engineering) started part-time at Predictronics when the company was still in its infancy.
"I love the flexible and collaborative atmosphere of our work environment," he said. "It's exciting to work for a startup, because you have a higher level of responsibility and get to make a greater impact."
Content Marketing Manager Jillian Leedy (B.A., professional writing) has expanded her portfolio of creative projects at Predictronics. Leedy heads Predictronics' marketing efforts, writing blog posts, website copy, social media content and press releases. She also shoots photography, makes videos and coordinates marketing events.
The job suits her, said Leedy, who spent several years as a freelance writer and photographer after UC. She enjoys bringing everything she learned in undergrad to Predictronics. 
I love that I have the opportunity to utilize the many skills I have developed since I was at UC.
Jillian Leedy, Predictronics content marketing manager
"No two days are the same, so my job is never boring," Leedy said. "I love that I have the opportunity to utilize the many skills I have developed since I was at UC."
Leedy isn't the only one who appreciates her UC education in a startup environment. Nanda Kumar Saladi (M.S., information systems), who helped develop the company's software from scratch, credits UC for giving him a diverse toolset.
"We get to make improvements and add new features every day, all while staying ahead of the technological curve," said Saladi. "My coursework at UC was extremely diverse, from coding and analytics to database design. It has all been integral to what I do here."   
As the University of Cincinnati launches into a new era of innovation and impact, companies like Predictronics showcase how startups can be successful: Predictronics fosters the same collaboration and partnership that the UC Office of Innovation and the 1819 Innovation Hub advocate.
The 1819 Innovation Hub's tenants include Procter & Gamble, Kroger and Cincinnati Bell. It is a collaborative space where students from all disciplines can work together to drive change. And it's only the start of an expanding Innovation Corridor, which will include a 180,000-square-foot Digital Futures Building that will focus on cyber research.
These investments, combined with the rise of startups in Cincinnati, is great news for UC students.
"UC fosters the entrepreneurial spirit of startups like Predictronics and gives its students the education to apply their skills and make an impact in the world," said Leedy.
Featured image at top: Data scientist and UC grad Aaron Shelly works at data analytics startup Predictronics. Photo/Corrie Stookey/CEAS Marketing
Next Lives Here
The University of Cincinnati is classified as a Research 1 institution by the Carnegie Commission and is ranked in the National Science Foundation's Top-35 public research universities. UC's graduate students and faculty investigate problems and innovate solutions with real-world impact. Next Lives Here.