UC Board freezes tuition fifth year in a row for current undergrads; confirms Tuition Guarantee for new incoming undergrads
The Board of Trustees voted to freeze undergraduate tuition for the fifth year in a row for current undergrads. President Pinto thanked the Board for "holding tuition flat and putting students and families first."
Two actions today by the University of Cincinnati's Board of Trustees promise to provide continued stability to UC students and their families around educational costs.
The Board today voted to once again freeze undergraduate tuition for current, degree-seeking students at the same rate it has been for the last five years, at the Fall 2015 level.
For current, degree-seeking undergrads attending UC's Uptown Campus full time, tuition will remain flat at $11,000 annual in-state tuition. Tuition for returning students seeking degrees at UC's regional campuses (UC Blue Ash College and UC Clermont College) will also remain flat at current rates, ranging from $5,316 to $6,010 annually for full-time study.
University President Neville Pinto explained, "UC's diligence in holding the line on tuition for five of the past six years is a sign of our commitment to access and affordability as a public university. With students and families in mind, our university has worked hard to find efficiencies and creative ways to reduce costs for our students."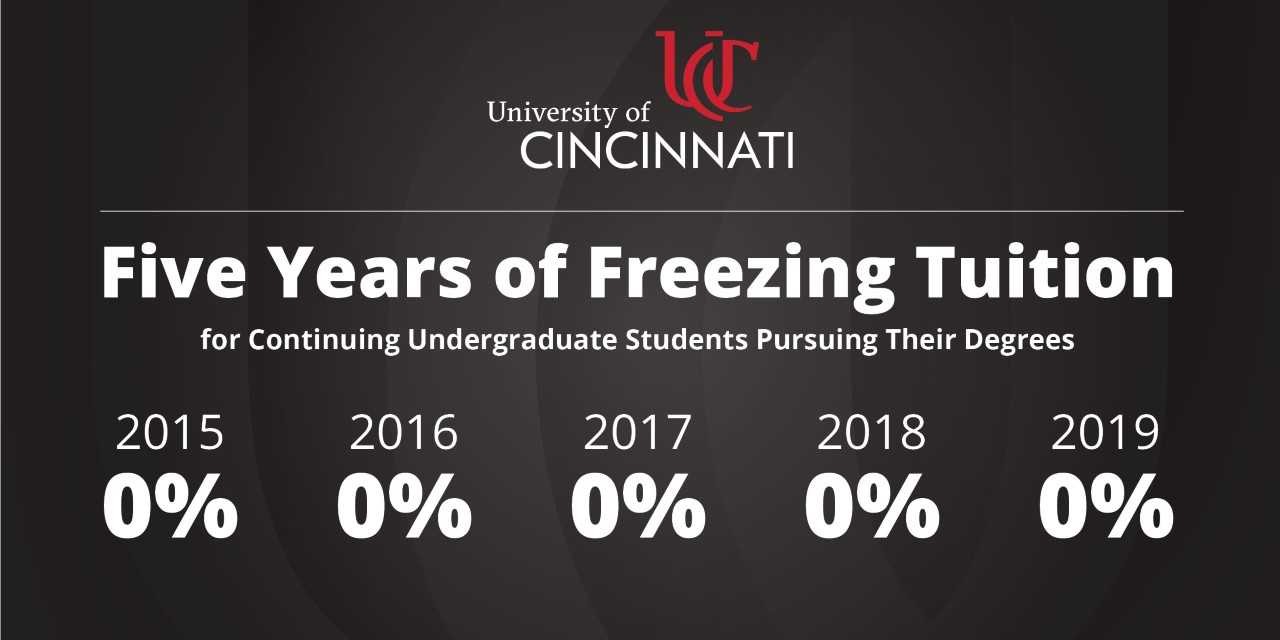 At the meeting was UC Student Government President Chandler Rankin, who applauded the move by university leadership, said, "As the direct representative of the undergraduate student body, it's in our best interest as a university to freeze tuition for our students, and I fully support President Pinto's and the Board's decision to do so for our returning students this year. It's my hope that the president and Board will continue with such freezes until the time all undergraduate students are covered by the formal Tuition Guarantee program."
UC Student Government Vice President Abbie Smith stated, "The decision to not only freeze tuition for one year or two years but three, four and even five years in a row is something that really makes a statement about President Pinto's support of affordability for our students. I think that is something that, dare I say, could be considered Boldly Bearcat."
RATES SET FOR TUITION GUARANTEE PROGRAM AFFECTING INCOMING STUDENTS
The Board also set rates for the new Tuition Guarantee model that will affect this fall's incoming first-year, degree-seeking students as well as new transfer students entering the university. For instance, thanks to Tuition Guarantee, this incoming class of approximately 5,400 undergraduates to UC's Uptown Campus will see their annual in-state tuition of $11,660 frozen throughout their four- or five-year degree programs.
Tuition Guarantee also applies to the approximately 2,000 incoming, degree-seeking students entering UC's regional campuses, UC Blue Ash College and UC Clermont College. Tuition Guarantee will mean that those pursuing associate degrees full-time on these campuses will see an annual tuition rate ranging from $5,634 (Clermont) to an unchanged rate of $6,010 (Blue Ash), both rates now frozen for four years for this Fall 2019 incoming class.
This year's decision to freeze tuition for already enrolled undergraduates who are continuing their education at UC as well as the new Tuition Guarantee for incoming students continues the university's commitment to affordability, accountability and access.
According to Student Government President Rankin, "Students really want to be able to pay the same amount throughout their undergraduate careers from day one up until their last semester, whatever that rate is. From students, we're hearing that is something they truly support. They are definitely in full support of keeping a price affordable for them and not having to experience an increase during their time here. "
WHY DID UC ADOPT THE TUITION GUARANTEE MODEL
The Tuition Guarantee model was adopted by UC in April, and it formalizes what had already become practice at the university in the form of ongoing year-over-year tuition freezes since 2015.
Because all but two (UC and Central State University) of Ohio's public universities have already adopted the Tuition Guarantee model, the university was able to evaluate the merits of Tuition Guarantee programs at counterpart universities across the State of Ohio, taking the time to ensure that any recommended plan would align with the university's guiding principles and values. In addition, the governor's proposed budget for fiscal year 2020 mandates that all public universities in Ohio offer the Tuition Guarantee model.
Said Ohio Governor Mike DeWine, "Students at UC will now have predictability, meaning students will lock in their tuition rate their freshman year, allowing them to better plan for their futures. I believe families with students at all of Ohio's public universities should be able to rely on tuition guarantees, making higher education more accessible and ensuring more students can pursue their dreams."
Randy Gardner, chancellor of Ohio's Department of Higher Education, agreed, stating, "I'm glad that UC has joined the family of universities in Ohio that participate in the strongest, pro-student tuition guarantee program in America. Students and their families can now plan for their education futures without concern for unpredictable tuition rates."
See an FAQ on the UC Tuition Guarantee model.


Thanks, in part, to UC's year-over-year frozen tuition for continuing students, the university's Total Cost of Attendance recently dropped below 2015 levels.
UC SCHOLARSHIPS AND CO-OP EARNINGS FOR STUDENTS ADD UP TO $150 MILLION ANNUALLY
To help cover educational costs, students and their families can apply scholarships, grants, work study and other forms of financial aid along with any loans or earnings. The university provides more than $84 million annually to undergraduates in the form of institutional merit-, talent- and need-based aid and scholarships. When this institutional aid (provided directly from the university) is combined with federal, state and private support, UC administers close to $500 million in aid to its 45,949 students.
At UC, opportunities for students to earn while they learn – 'hire learning' as it's sometimes called – are   also integrated into their academic coursework thanks to the university's nationally Top-20 ranked cooperative education program. Each year, UC students earn a collective $66 million thanks to alternating academic semesters with professionally paid work semesters tied to their majors --   employed locally, regionally, across the nation and even internationally.
Alumna Sheila Jackson-Conley, the parent of a UC student and of a student in high school, stated, "I am the single parent of a first-year DAAP student. My desire for my children is that they will obtain a solid education from competitive institutions at an affordable rate without incurring debt. Scholarships, grants and tuition freezes are blessings in our lives which help to close the gaps which are present in our pursuits of education at every level and allow us to plan for our futures freely."
Thanks to access and affordability efforts, UC is among the 300 national universities to makes Forbes' recent 2019 Best Value Colleges list.
STATE/NATIONAL TRENDS AND COMPARISONS
UC is a leader in Ohio and nationally in demonstrating restraint and flexibility on holding down tuition growth.
According to the Center on Budget and Policy Priorities, Ohio leads the nation in holding down tuition costs, and UC is contributing to that effort.
Between 2008 and 2018, many states saw double- and even triple-figure increases in tuition costs. For example, Louisiana saw a more than 100 percent increase in average tuition at public, four-year colleges. In Kentucky, that figures stands at 38.8 percent, and in Indiana, 15.2 percent. Ohio has led the nation on holding down tuition costs, boasting the lowest average rate of tuition growth for public universities among all states. The inflation-adjusted tuition rates in Ohio have risen 5 percent.  
Next Lives Here, the University of Cincinnati's strategic direction, defines our moment and our momentum. More nimble and more robust than a plan, Next Lives Here announces our vision to the world—to lead urban public universities into a new era of innovation, impact, and inclusion.
Experience UC's Bearcat Promise yourself. Apply to UC or learn more.