First international bridge students arrive at UC
The University of Cincinnati pilots a bridge program for new international freshmen
The first cohort of students in UC International's pilot Summer Bridge Program arrived on campus at the University of Cincinnati early this week.
These eight first-year students from China, India and Uzbekistan are getting a personal introduction to the campus, to their new city and to the US academic system. Just as important, they're meeting a first group of friends and learning about the comprehensive support system that UC provides to help them make the transition across cultures from their homes and high schools to life at an American university.
Confirmed international freshmen were offered the chance to enroll in the pilot early-arrival program last May.
Sunday morning, they were picked up at their doorsteps in student housing by Lindsey Barta, the graduate assistant who worked with UC International student services Program Manager Lorri Blanton to develop the bridge option. It was the start of a week of extra tours, talks, practical assistance and social events designed to supplement new international student orientation and the campus-wide events of Welcome Week.
Bridge programs for student success
"This program was born out of the need to improve the transition to university life for our international students, increase retention for our institution, and strengthen students' community connection," says Blanton.
"It's a new addition to our student success initiatives that extend throughout the academic year. It's designed to help them prepare for their classes, develop relationships with others, and manage cross-cultural relationships at their new home."
This early arrival program differs both from pathway programs that focus specifically on language skills and from college programs that focus on academic readiness and professional skills in specific disciplines.
It is modeled on gen-1 bridge programs that help first-generation college students fill in the gaps in their knowledge of university social and academic culture. These programs teach them how to navigate their first-year experience and find the support that is available for them.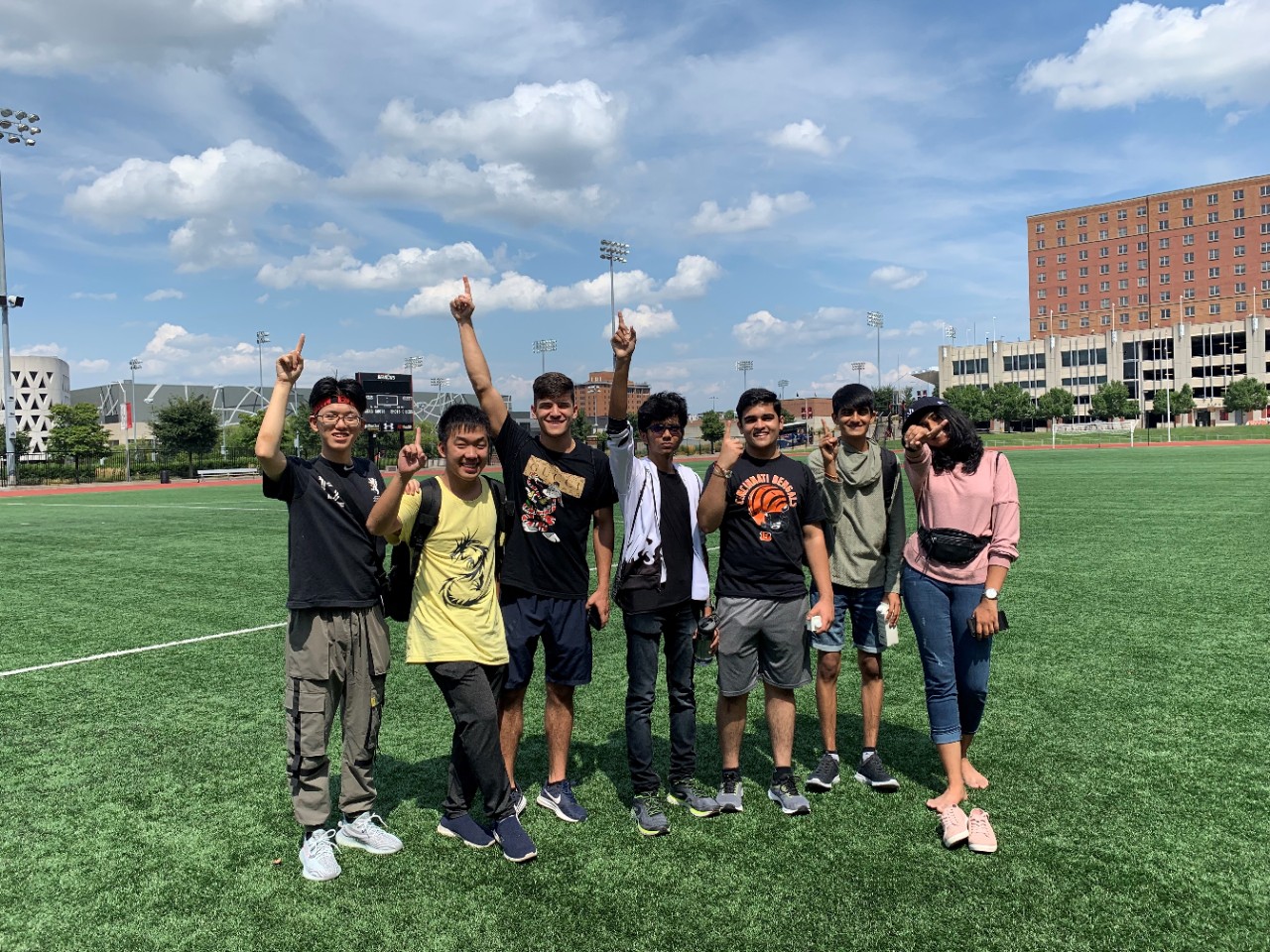 As Barta points out, international students face similar problems understanding university culture, but of course they also have to adapt to American life.
"When I've talked to students, they've said, 'Man, my first semester, I was just so focused on trying to just figure it out that I didn't even do anything socially or try to make friends. I just felt like I couldn't — and so I was really going it alone.' If we're able at all to ease that process so that they can start building friendships, building a community faster, I think that's a win."
When designing the program, Blanton and Barta based it on the communication theory of socialization (integrating new people into an organization) and what is known through research and experience about the culture shock that international students face. There are predictable stages and specific, identifiable needs that students have during each of those stages.
Quoting the model taught by NAFSA, the global association of professionals in international education, Barta explains, "The things that research and practice have shown that students really need are an orientation to campus and a sense of social and cultural etiquette for daily life. They need to understand student rights and safety. They need to understand the educational system and the academic expectations upon them. They need to know financial and work opportunities. And they need some kind of social event to help them start developing relationships."
If we're able at all to ease that process so that they can start building friendships, building a community faster, I think that's a win.
Lindsey Barta UC International GA
Using that framework, the program planners developed the week's events, paring the possibilities down to avoid overload or any repetition, like the public safety information covered in the general new-student orientation.
On Sunday, the experience began with a tour of campus and the immediate neighborhood. The group then had dinner with some American students who showed them favorite places nearby.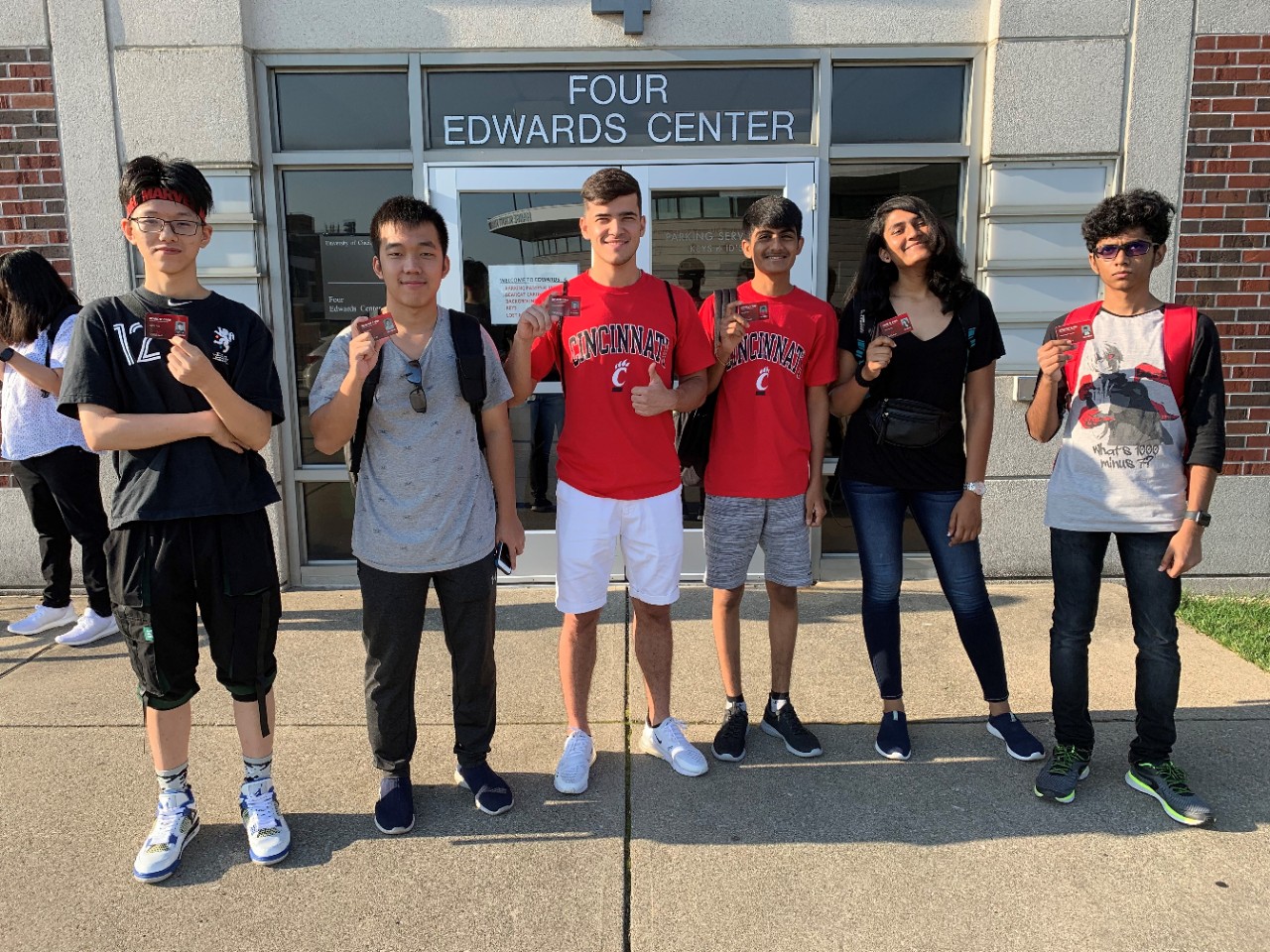 Monday morning, they had breakfast in the Center Court dining hall. "I remember being terrified of going to the dining hall by myself, because I just didn't know how it worked, and I felt dumb. So we're just going to do it," said Barta.
Then they "took care of business," picking up student IDs, opening bank accounts and setting up their phones. "We kind of realized that until they get those three things done, they're not going to feel settled at all. So those are the first things."
They got a short introduction to Cincinnati culture — including a taste of local specialties Skyline chili and Graeter's ice cream. And then they got a cruise down the Ohio River on a historic riverboat, the kind they might have read about in "Huckleberry Finn," which gave them a glimpse of our river city's past.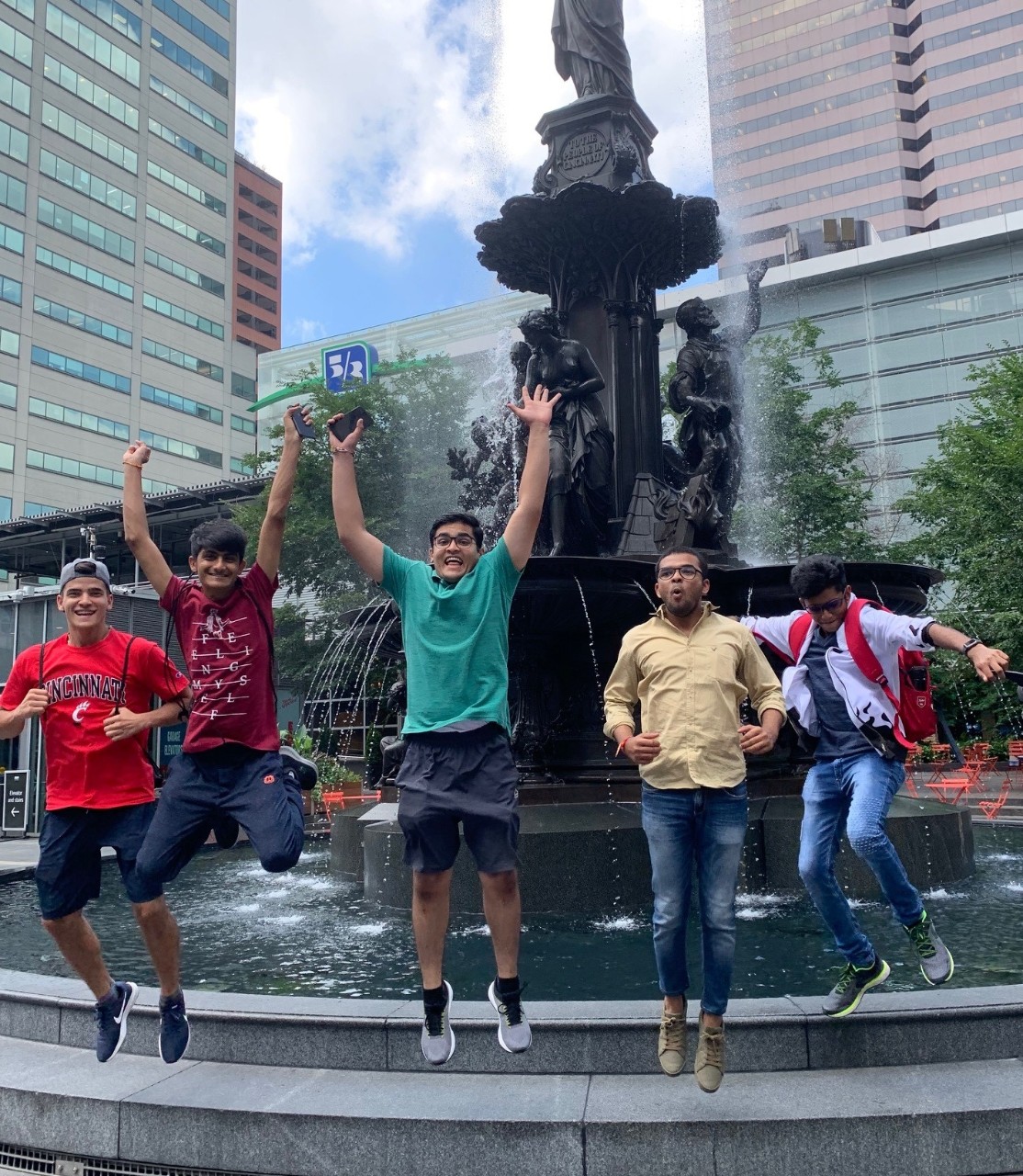 They toured Cincinnati landmarks and learned how to use public transportation. They grocery shopped at a nearby supermarket.  
They're also getting brief workshops on everyday life in the US. There's one on basic social etiquette ("Why do Americans say, 'What's up?' How do I respond to 'What's up'?"), one on financial and work opportunities, one on UC's online class management systems and one on academic expectations in the learner-centered, self-directed American classroom.
Every evening, Barta encourages them to find friends to dine with and to go to Welcome Week social events.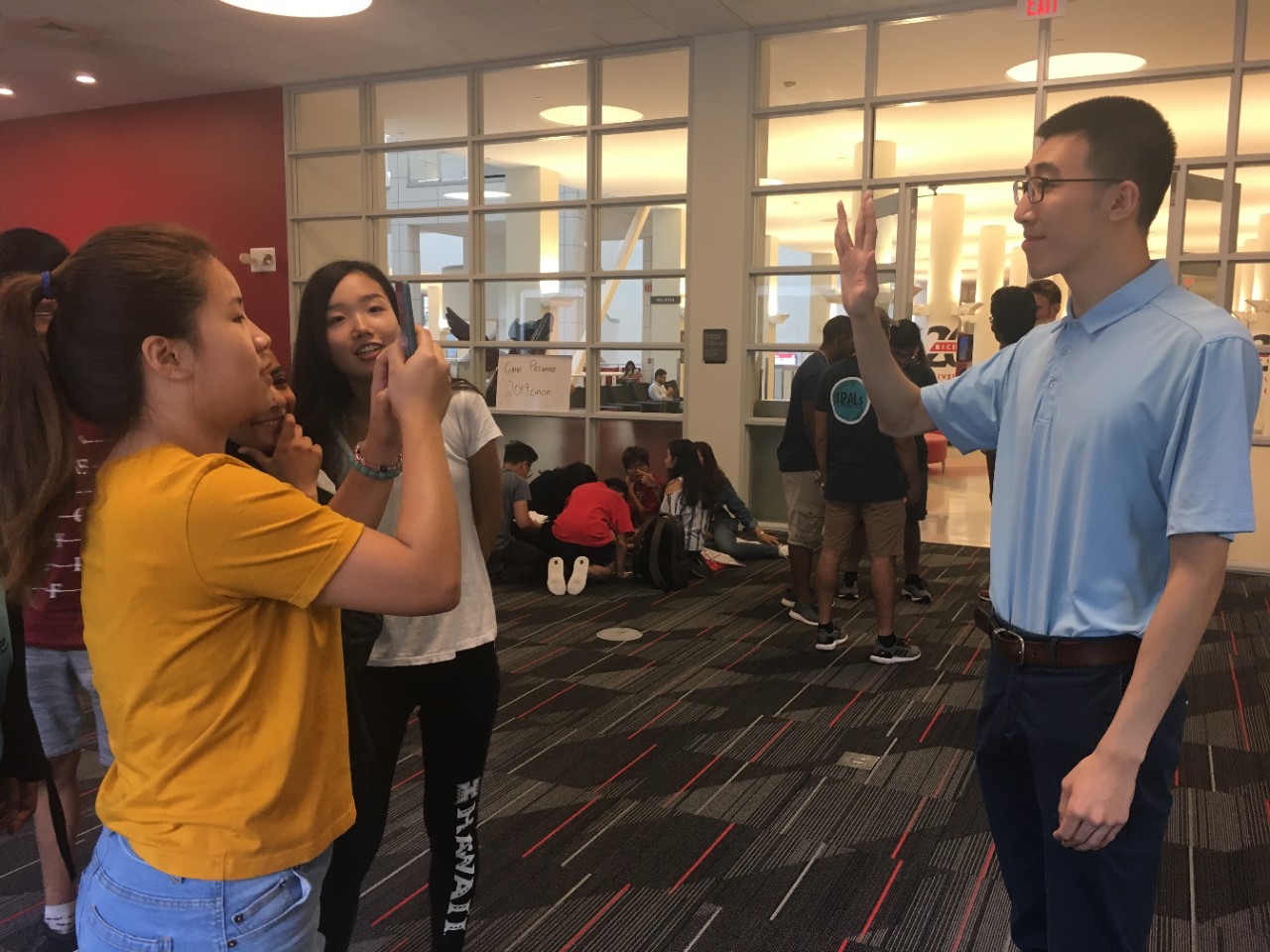 Midweek, they joined their fellow international first-year Bearcats for required orientation. The event involved lots of ice-breaking activities to get students laughing and comfortable. Small teams used an app to record themselves performing a series of challenges.
Toward the end of the week, Barta will connect the bridge students to Learning Commons and other first-year-student resources and organizations.
And Friday, they'll gather with all of the new Bearcats for New Student Convocation.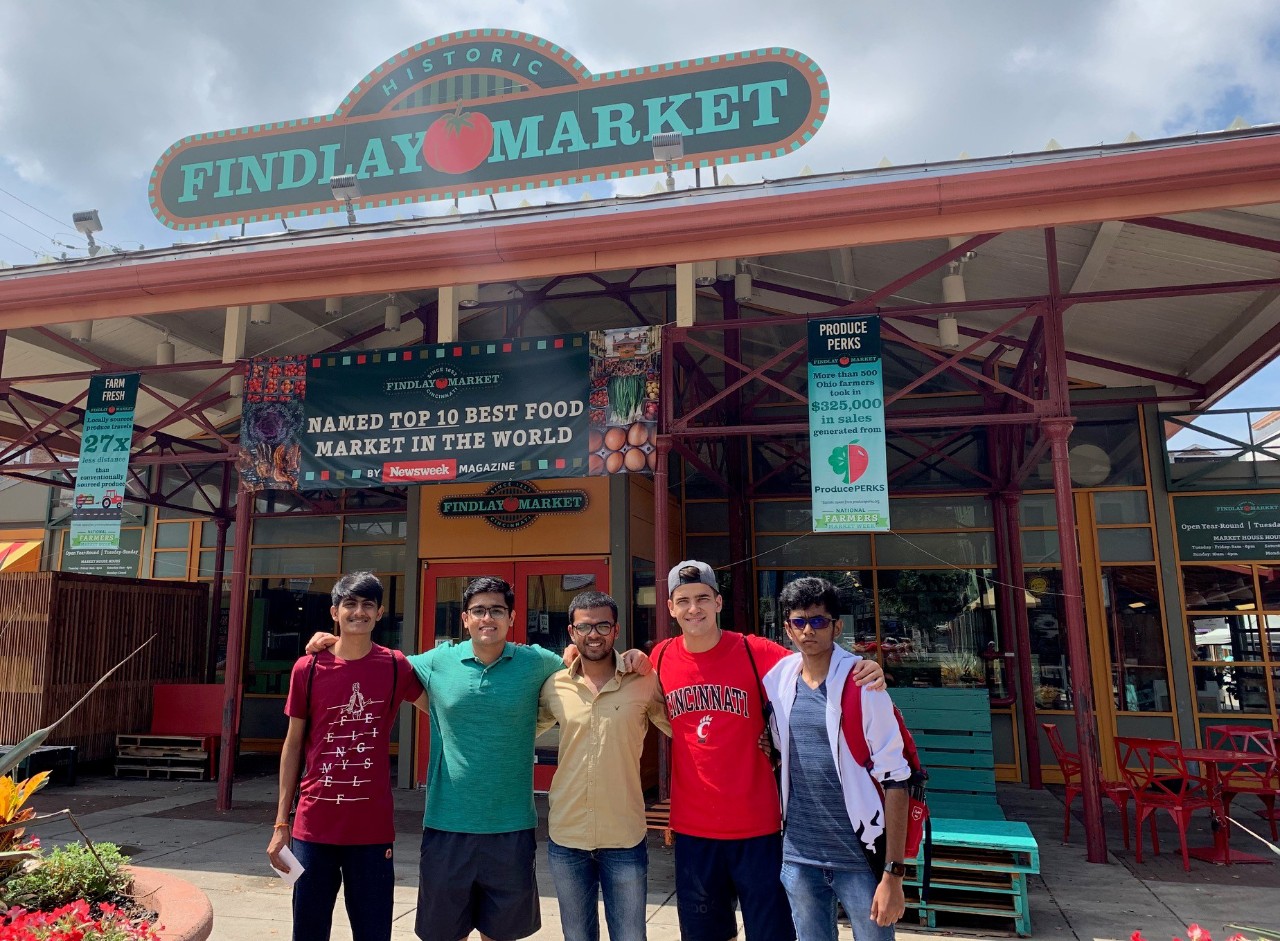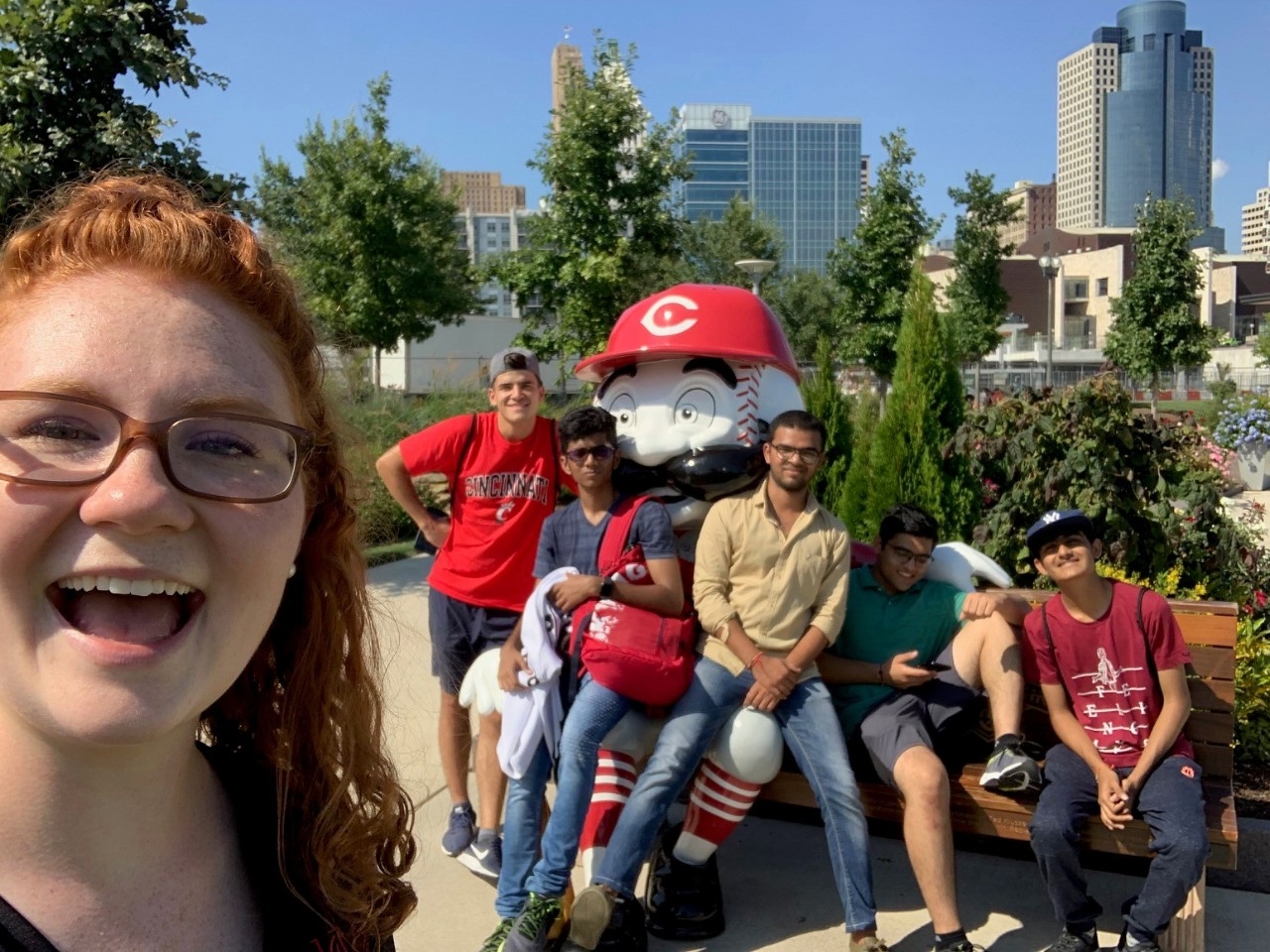 Barta expects to find out that she has "crazily overlooked some pretty obvious things" in planning the bridge program events. She is glad that the pilot group is small so she has been able to make the experience personal and so the students are comfortable giving her feedback.
She plans to meet up with them later in the semester to see how they're doing and to ask them what changes they would recommend for next year's program. She and Blanton are also looking at ways to market the program earlier in the international recruiting cycle.
A communications major, Barta will be reporting on the development and implementation of the bridge program as her praxis project toward her MA, which she'll earn this December. She'll also help Blanton present about the program at the NAFSA regional conference in Indianapolis this October.
The feature image shows the bridge students in the Richard E. Lindner center. All photos courtesy of Lindsey Barta.
1
Global students thriving at the University of Cincinnati
November 13, 2023
With a new class of 1,543 for fall 2023—just 4 students short of last fall's record-smashing intake—the University of Cincinnati's international enrollment has reached 4,899 students, or 9.6% of the student population. It's the highest number in UC's history, up 15% from last year, due in part to UC's strong support for international student success.
2
Chronicle of Higher Education: More international students...
October 17, 2023
UC's Jon Weller speaks with the Chronicle of Higher Education for a story about growth in new student visas. India has overtaken China as the largest source of international students in the United States. At UC, India also continues the largest share of international students on campus.
Debug
Query for this