CCM sophomore violinist makes New York Carnegie Hall debut
Described as a "wondrous and natural talent in the purest sense," KayCee Galano performs J.S. Bach's complete Solo Sonatas and Partitas on Saturday, Oct. 12, at Weill Recital Hall at New York City's Carnegie Hall
Philippine violinist Kristine Clair Uchi "KayCee" Galano performs the complete J.S. Bach Solo Sonatas and Partitas from memory on Saturday, Oct. 12, at 7:30 p.m. at Weill Recital Hall at Carnegie Hall in New York City.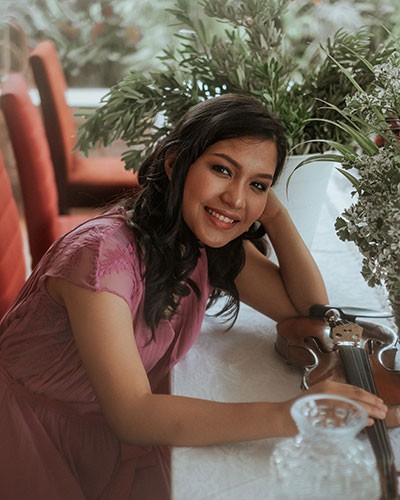 The 18-year-old violinist is currently a sophomore at the University of Cincinnati College-Conservatory of Music (CCM), where she studies with Professor Kurt Sassmannshaus, the Dorothy Richard Starling Chair in Classical Violin. Galano's performance is presented by the Starling Project Foundation Cincinnati. Details and tickets for Galano's the rectial are available on Carnegie Hall's website.
Galano became an overnight sensation in her home country in October 2018 when she stepped in as a soloist for Max Brunch's first violin concerto with the Philippine Philharmonic with just a few days' notice. Conductor Gerard Salonga, Music Director of the ABS-CBN Philharmonic Orchestra and Resident Conductor of the Malaysian Philharmonic Orchestra, said:
"In 2018 I had the good fortune of meeting KayCee for the first time in her hometown of Dumaguete in the Philippines. What immediately struck me about her was her beautiful sound, technical security, keen phrasing and natural musicality. KayCee is also a wonderful, positively charged human being, and a delight to work with."
I really cannot say enough about what a talent she is, and how proud she is making her country. We should all look forward to hearing her contributions to the music world.
Gerard Salonga
From an early age, Galano had an irresistible fascination with the violin. At age 10, she attended the Great Wall International Music Academy in Beijing to study violin with Sassmannshaus. When she returned to her home in Brunei, Galano enrolled as a scholarship student in Sassmannshaus' Starling Preparatory String Project at CCM, and she began weekly, long-distance lessons over Skype with him. She quickly began to establish herself as one of the leading young violinists of her generation.
Galano has won first prize at the Malaysian Youth Music Festival and at the Great Wall Violin Concerto Competition in Beijing. At age 12, she performed in the first Asian broadcast of NPR's "From the Top" show. The following year she performed Tchaikovsky's violin concerto with the Metro Manila Concert Orchestra. At age 14, Galano toured the U.S. with renowned pianist Rohan De Silva, and has since collaborated and recorded with him many times.
"I tremendously enjoy performing with KayCee Galano," said De Silva. "Her infectious musicality and magnetic stage presence were obvious in our first encounter. I foresee and wish her a blessed life as an important musician. Ms. Galano is a charming and stellar artistic ambassador for her native country of the Philippines."
Her concert tours in China include performances at the National Centre for the Performing Arts and the Forbidden City Concert Hall in Beijing, as well as a tour of many Chinese cities with the Starling Chamber Orchestra. In 2017, Galano performed Korngold's violin concerto with the Jena Philharmonic in Germany.
Five years after she began the Skype lessons with Sassmannshaus, Galano moved to Cincinnati, Ohio, to complete her studies in CCM's Starling Preparatory String Project and finish high school. She enrolled at CCM to pursue a BM in violin in fall 2018.
In anticipation of her Carnegie Hall debut, Galano's teacher and mentor Sassmannshaus said:
"KayCee's affinity and love of Bach's Solo works has been a source of inspiration in her young life for many years. Her captivating interpretations show the rare confluence of a youthful spirit and uncommon maturity — and both continue to deliver delightful surprises. Her New York Recital Debut of the complete Bach solo violin works at age 18 will be both the culmination of in-depth study of many years, and the beginning of a life-long journey."
Carnegie Hall Debut by CCM Sophomore Violinist KayCee Galano
Presented by the Starling Project Foundation Cincinnati
Repertoire: J.S. Bach: Six Sonatas and Partitas for Violin Solo (Complete)
Time: 7:30 p.m. Saturday, Oct. 12, 2019
Location: Weill Recital Hall at Carnegie Hall. Please visit Carnegie Hall's website for directions and parking.
Tickets: $30; student and senior discount tickets are available at the Carnegie Hall Box Office. Tickets can be purchased through Carnegie Hall's website or over the phone by calling the Carnegie Hall Box Office at 212-247-7800.
About the Starling Preparatory String Project
Founded in 1987 by CCM Professor Kurt Sassmannshaus, the Starling Preparatory String Project is a specialized honors program training young string students. The program is generously funded through a grant by the Dorothy Richard Starling Foundation. The superbly talented musicians perform as the Starling Chamber Orchestra and are selected by audition.
Students receive one hourly lesson per week, and take music theory, chamber music and orchestra each Saturday. Instructors include CCM faculty and graduate students specially trained and chosen by Professor Sassmannshaus. Most of the students are from the greater Cincinnati area, and many others commute on Saturdays from other states. SCO has a concert series at Robert J. Werner Recital Hall at CCM and tours regularly. For more information on the Starling Preparatory String Project, visit www.starling.org.
1
WVXU: Health benefits and risks to recreational marijuana
December 1, 2023
The University of Cincinnati's LaTrice Montgomery joined WVXU's Cincinnati Edition to discuss the potential health benefits and harms associated with expanded cannabis access after Ohio voters approved legalizing recreational marijuana in the November election.
2
Public gardens contribute to invasives problem
December 1, 2023
University of Cincinnati botanists found that plants at arboretums and public gardens inadvertently can seed wild areas with nonnative plants. Their study was published in the journal Ecological Restoration.
3
Clean Earth Rovers cofounders named to Forbes 30 Under 30 list
November 30, 2023
A pair of graduates of the University of Cincinnati's Venture Lab program were recognized as being among the top entrepreneurs in North America as part of the 2024 Forbes 30 Under 30 list. Clean Earth Rovers cofounders Michael Arens and David Constantine were named to the 13th annual Forbes 30 Under 30 list in the energy category.
Debug
Query for this