UC breast cancer event focuses on innovation
The UC Cancer Institute's Breast Cancer Center's annual educational event, Nov. 2, will focus on the latest in prevention, detection and treatment
Without new discoveries, the field of medicine hits the brakes, and already established standard of care, which doesn't work for everyone, is all we have to rely on.  
Thankfully, new research is being conducted every day, both nationally and at the University of Cincinnati, to bring new ideas to light.
This year, the UC Cancer Institute's Breast Cancer Center is also shining a light on these advancements with their annual educational symposium, titled "Breast Cancer Prevention, Detection and Treatment:  Innovations Around Every Corner." The event, targeted for survivors, their families and the community, will be held from 9 a.m. to 3 p.m. on Saturday, Nov. 2, at the Kingsgate Conference Center, 151 Goodman Drive.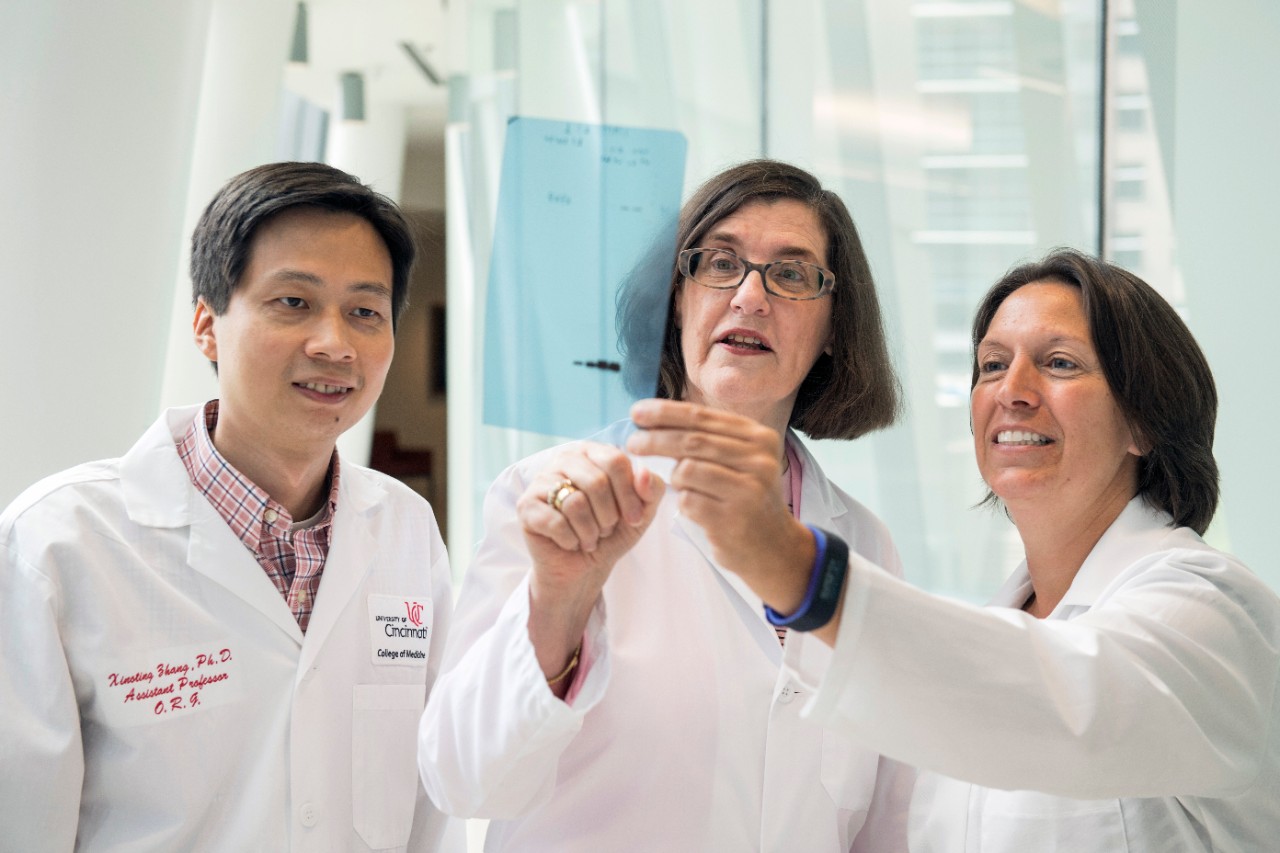 The day's events will focus on the latest guidelines on genetic testing, address the purpose for high-risk evaluation, discuss new strategies in breast imaging and explore the changing world of metastatic breast cancer, among other topics.
"At the University of Cincinnati, we have world-class researchers who are thinking outside of the box and coming up with innovative approaches in treating this disease," says Dr. Elyse Lower, director of the center, professor in the Division of Hematology Oncology and a UC Health oncologist. "This annual event allows us to educate attendees about new advances in the field of breast cancer and learn about the work experts at the UC Cancer Institute are doing right here, in our own backyard. We're excited to host the conference again to showcase our strengths locally and educate on what's going on in labs that could become new treatments tomorrow."
Event details
There is no charge for attendees, but registration is required. Lunch will be provided. Attendees should park in the Kingsgate Marriott garage.
1
Everyday Health: Does chest pain always mean a heart attack?
November 28, 2022
The American Heart Association (AHA) says that chest pain accounts for more than 6.5 million emergency room visits each year in the United States, plus nearly 4 million outpatient visits. While not all episodes of chest discomfort turn out to be life-threatening, chest pain is the most common symptom of a heart attack in adults of all ages, so it needs to be taken seriously. In a story posted by Everyday Health, Richard Becker, MD, of the UC College of Medicine is one of the experts quoted.
2
UC research examines workplace stress in the aftermath of the...
November 28, 2022
A new study from the University of Cincinnati examined the impact of workplace stress and provided insights for organizations to explore ways to reduce workplace stress for a better and healthier working environment. The study had two parts: a survey in which respondents described their experiences of workplace stress during the COVID-19 pandemic and a quantitative study using saliva cortisol as a biomarker of stress along with a stress diary to find out where and when workplace stress commonly occurred.
Debug
Query for this