UC endorses Rhodes and Marshall candidates
Four UC students wait to hear whether they will be shortlisted for interviews in the national competitions for these prestigious global fellowships
University of Cincinnati student Din Selmanovic, who has been endorsed by UC as a candidate for the Rhodes scholarship, is waiting to hear this week whether he will advance to interviews for one of only two scholarships awarded in the Canadian constituency that covers his hometown of Mississauga, Ontario.
Anna Armao, Caroline Lembright and Grace Lillie, who have been endorsed for the Marshall scholarship, are waiting to hear whether they will advance to the deciding round of interviews in Ohio's 13-state region for that award.
These high-profile, full-ride scholarships, which recognize academic excellence, leadership potential and community engagement, can go to only a tiny handful of the outstanding students who apply. Each year, no more than 100 Rhodes scholarships are awarded around the globe for graduate study at Oxford University. Only 40 to 50 Marshall scholarships are awarded each year for U.S. students to pursue graduate study at universities in the United Kingdom.
"Both Rhodes and Marshall ask that, as an institution, we interview students and decide whom we want to send forward as our University of Cincinnati nominees," said Director Jenny Hyest of the Office of Nationally Competitive Awards.
"A university endorsement is an acknowledgement of everything that the students have accomplished up to this point," she said. "It is also an expression of confidence in their potential: We believe they will go forward to do great things. These students embody not only the ideals of the scholarships but also those of the University of Cincinnati."
Unlike Oscar nominees, the UC candidates don't know exactly when the finalists will be notified. And unlike Oscar nominees who unconvincingly say that it's an honor just to be nominated, these four have very good reasons to confirm that the grueling application process is absolutely worth it, even though any individual's chance of winning is so small.
These students embody not only the ideals of the scholarships but also those of the University of Cincinnati.
Jenny Hyest, UC's Office of Nationally Competitive Awards
UC's Office of Nationally Competitive Awards
For the past six months or more, the four have been working with the Office of Nationally Competitive Awards to identify graduate study opportunities that will let them pursue their dreams.
This is UC's fellowship advising office that focuses on matchmaking between students and the scholarships and graduate programs that will be the best fit for their passions and their talents. That matchmaking process happens through an intensive series of one-on-one conversations between Hyest and each student to pinpoint the student's interests and strengths and identify the best options for programs and fellowships.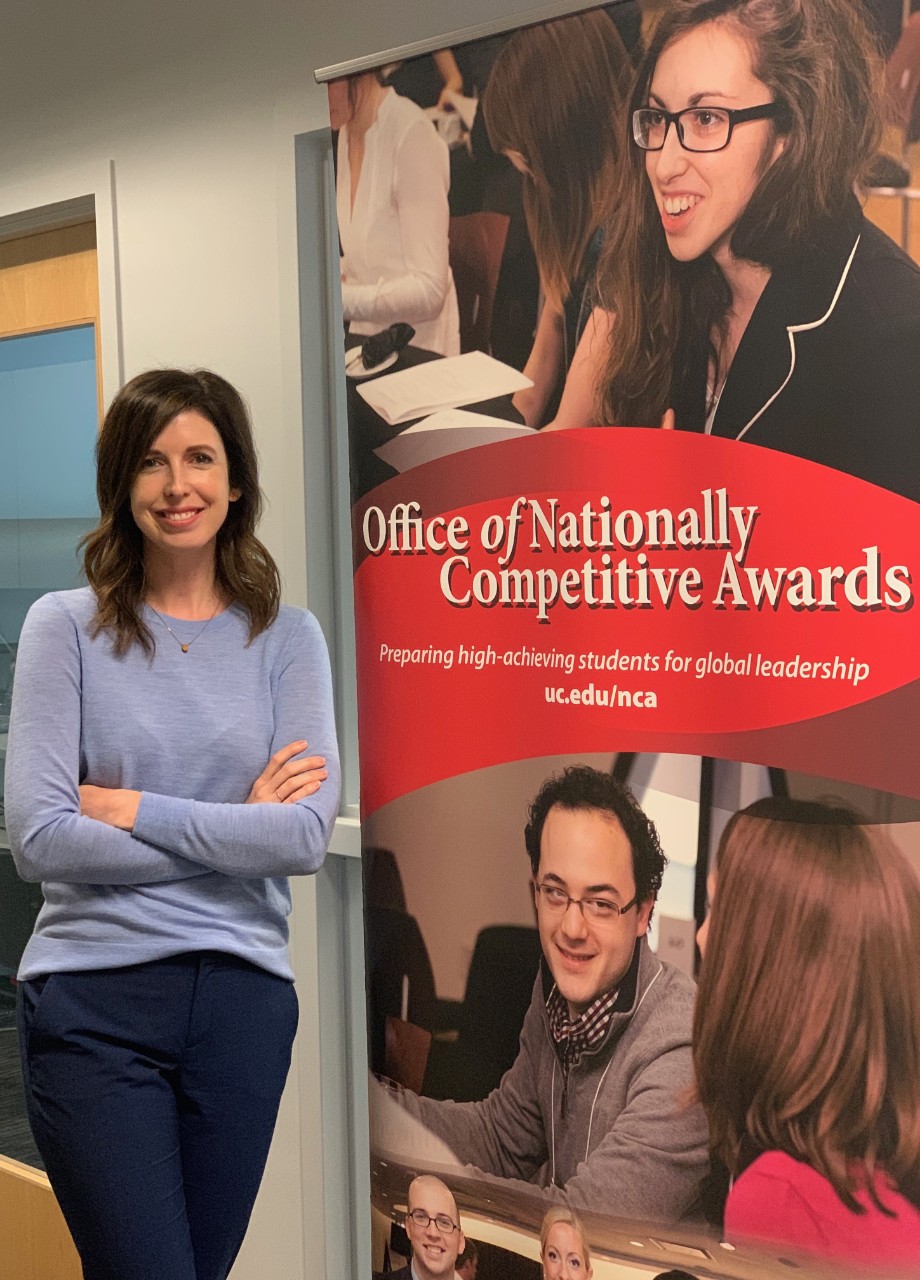 The majority of these opportunities are global, as is the case for both the Marshall and the Rhodes scholarships, since international education, multicultural competency and interdisciplinary innovation are increasingly important to solve the complex, multisystem problems that future researchers and leaders will address. This global emphasis is one reason that Hyest's office falls under the umbrella of UC International.
Once students have identified the academic programs and scholarship opportunities they want to pursue, UC helps guide them through the application process.
That can require writing as many as half a dozen essays that must be carefully thought through and focused to highlight the academic and personal accomplishments, as well as the goals and career plans, that will show how the student meets the ideals of the scholarship foundation. Candidates must also assemble a portfolio of recommendation letters attesting to their scholarship, character and achievements.
A multidisciplinary committee of faculty and administrators reviews the applications. The 2019 committee members are Tim Jachna (Dean, DAAP), Carolette Norwood (A&S), Anne Runyan (A&S), Carolyn Price (College of Medicine), Awadagin Pratt (CCM), and Charles Matthews (LCB).
The committee chooses which students to bring in for university-level interviews. From the interviews and the application materials, they then select the students to endorse for the national competition. Finally, President Pinto signs a letter highlighting the reasons for UC's endorsement of each candidate.
"It is an absolute pleasure to work with Rhodes and Marshall candidates. They are inspiring. It would be very difficult to know these students and not be filled with hope for our collective future," Hyest said.
"Certainly, they are academically strong — that's a given — but it's what they do and who they are outside the classroom that really makes them stand out. Students like Caroline, Anna, Din and Grace have found thoughtful ways to put their values and commitments into action. Whether they are conducting research, establishing a new student group, volunteering at a local nonprofit or interning on Capitol Hill, they look for ways to make meaningful and lasting contributions to their various communities."
Din Selmanovic, the 2019 Rhodes candidate, is a neuroscience major with a concentration in neurobiology, with minors in medical science and biology and a pre-med certificate. His research is on sex-linked factors in the development of Alzheimer's disease.  
He became fascinated with neuroscience as a high school acting student.
"We did a very in-depth lesson about how laughing and crying are the exact same action, just two different sides of the spectrum. About understanding what emotion is like in the brain," he said.
"I really fell into loving neuroscience. My biology teacher in high school kind of realized that; she really pushed me into during a neuroscience degree."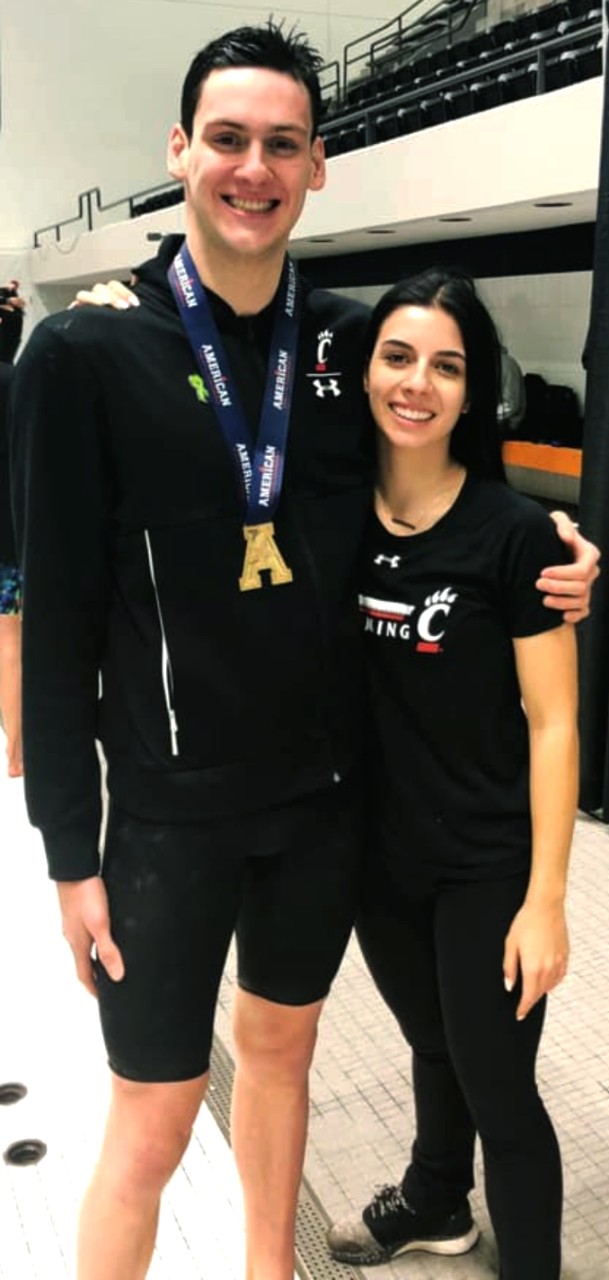 Matia Solomon, associate professor in UC's departments of psychology and psychiatry and behavioral neuroscience, said she recognizes the driving sense of curiosity in Selmanovic.
"He's a once-in-a-lifetime kind of student," Solomon said. "I have mentored several outstanding students and he is one of the best I have worked with. Din is currently working on an experiment where he is determining whether there are sex differences in brain responses to stress in a mouse model of Alzheimer's disease. We know that there is a female-biased increase in Alzheimer's, and we are trying to determine if stress plays a role in this. Din will be the first author on this project."
Selmanovic is team captain of the varsity men's swim and dive team, president of the Student Athlete Advisory Committee executive board and director of public relations of the American Athletic Conference executive board. With his sister and fellow student athlete, Enna, and along with athletes from other American Athletic Conference schools, he founded the conference's Pow6rfulMinds initiative to reduce mental illness stigma for student athletes.
"Not only is student mental health a huge crisis throughout campuses, but student athlete mental health is as well," Selmanovic said.
"People have this notion toward athletes that they're strong or tough, so they shouldn't have any mental health crises. So as a conference, we created the Pow6rfulMinds initiative to raise awareness and help destigmatize mental health problems.

"We started out with only one psychologist for the athletes at UC; now we have three full time. And on top of that, we've actually brought legislation to the NCAA where it will soon be mandatory for all institutions that are NCAA funded to have a licensed mental health counselor for student athletes."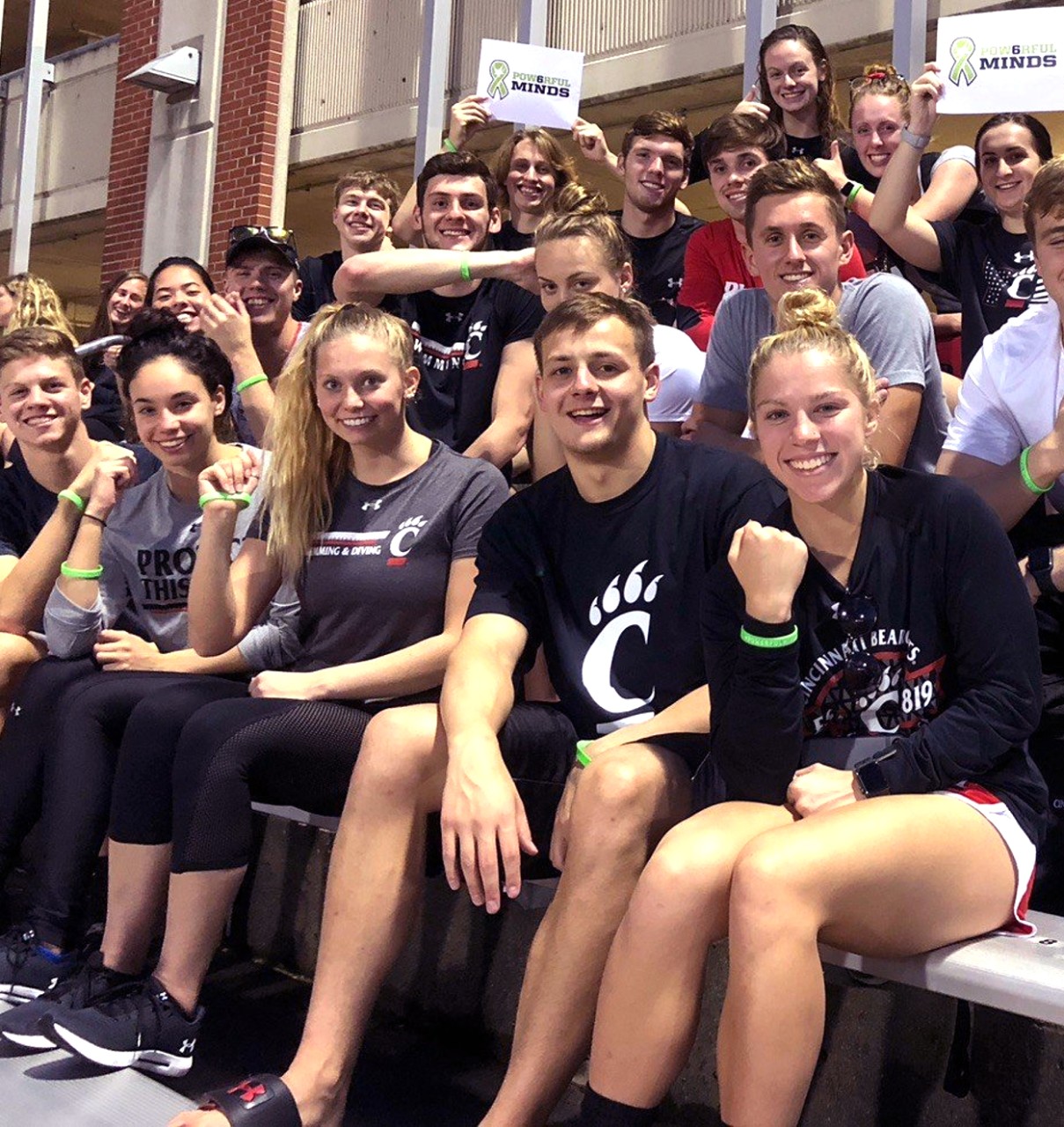 Selmanovic has been a leading voice in other student-athlete and student mental health initiatives at UC, using the visibility of varsity games to promote resource awareness and wellness messages.
Selmanovic's parents came to Canada as refugees from the war in Bosnia, so he grew up with strong ties to Europe. It was natural for him to look at European universities for his postgraduate work. Through the Rhodes scholarship, he hopes to apply to the DPhil program in clinical neurosciences at Oxford to continue his Alzheimer's research.
The Rhodes scholarship is the oldest global fellowship, founded in 1902 through a bequest from British businessman and imperial statesman Cecil J. Rhodes. The scholarship funds postgraduate study at Oxford for students with outstanding records of academic excellence, service, teamwork, leadership and moral force of character, or willingness to "fight the world's fight."
That motto resonates with Selmanovic quite personally. "Privilege," he quotes his father, "is not about what you go through but about what you haven't had to go through."
UC students were named Rhodes scholars in 1917, 1925, 1935 and 1938.
Anna Armao is in her last semester as a University Honors Program student and Lindner Honors-PLUS scholar in business economics, with a minor in environmental analysis and policy.
Through the Marshall scholarship program, she hopes to pursue an MSc in science and technology policy at the University of Sussex and then in climate change, management and finance at Imperial College London.
The Marshall scholarship was founded by an act of the British Parliament in 1953 to foster close relations between the United Kingdom and the United States. It funds postgraduate study at leading UK universities for US students of outstanding academic merit and leadership potential to immerse themselves in British culture and act as lifelong ambassadors between the two countries.
UC has had one previous Marshall winner.
Armao's passion is data analysis, which she hopes to direct into climate change research at a policy institute focusing on the intersection of economics and energy policy.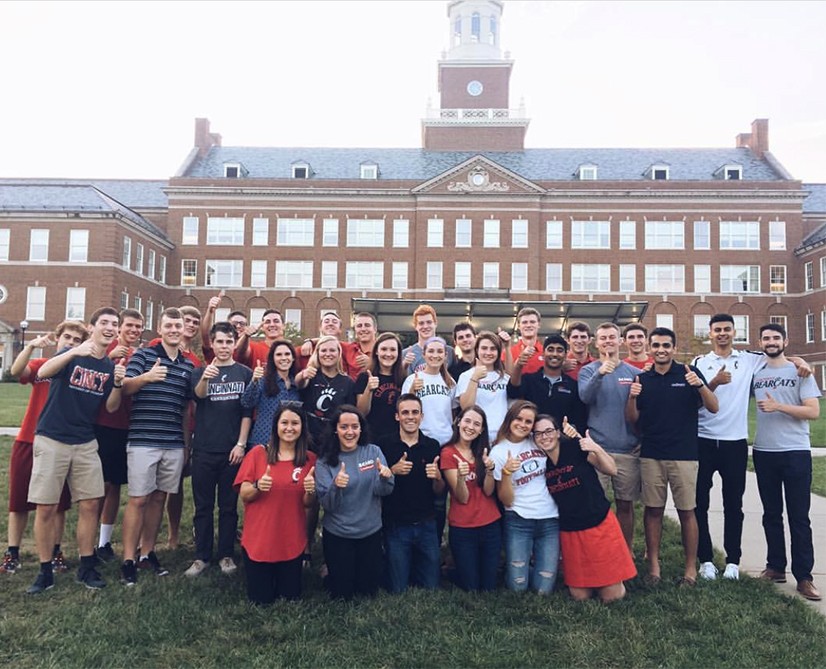 Armao is accustomed to using her data analysis skills to effect social change. In her freshman year, she co-founded Students Consulting for Nonprofit Organizations. One of the volunteer group's first nonprofit clients was the remodeled Central Parkway YMCA.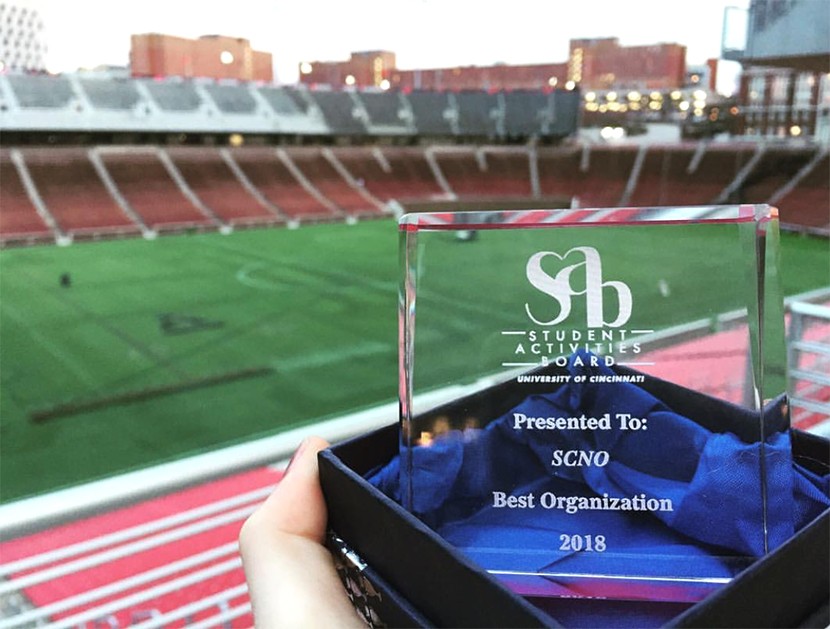 "We worked with them to do surveys and data collection in the facility to figure out what people actually wanted and what would make it a better community space," Armao said.

"I think a lot of times, we really want large change to happen all at once. But if you look out there, there's hundreds of nonprofits in Cincinnati, and the same in other cities, that are doing such important work. Often they don't have the funding to hire more employees or to have volunteers all the time. So to have students that are learning and so eager to help working on one sustained project for a semester was just a really unique setup, and it's been really interesting to see it through."
The student consulting group won Student Organization of the Year in 2018.
Armao got to use her data analysis skills again in a competitive National Science Foundation Research Experience for Undergraduates this summer, examining datasets in order to develop insights for campaigns to reduce greenhouse gas emissions.
Amy Townsend-Small, associate professor in the Departments of Geology and Geography and affiliate faculty in the Environmental Studies undergraduate program, was one of the people who recommended Armao for that study. She had met Anna through a political campaign and later taught her in a class about the transition from fossil fuel to renewable energy.
"Anna is in the top one percent of the undergraduate students I have worked with in my nine years at UC," Townsend-Small said. "The fact that she was selected is another indication that she is one of the top undergraduates in the US.
"She wrote her final paper [in the renewable energy class] on sociopolitical drivers of increasing electricity production from wind energy in Texas, a politically conservative state with the largest oil and natural gas production in the US. Ohio also has oil and natural gas production, with declining coal production. Electricity production from wind is very controversial here, and we have a conservative governing party. Anna explored how wind energy, which is labeled 'liberal' in many circles, has thrived in Texas through incentives for farmers who have installed wind turbines. It's exactly this type of thinking that's needed in tomorrow's environmental leaders."
Armao decided to pursue an international fellowship after taking two international courses at UC, particularly a European study tour with her Lindner Honors-PLUS cohort where she took business classes that touched on corporate responsibility and environmental sustainability with students from several countries.
"Addressing the major problems we have with the world—those are going to be global issues," she said. "I want to get the global perspective."
Caroline Lembright is a political science and international affairs major, with minors in women's, gender and sexuality studies and Spanish. Through the Marshall scholarship, she hopes to pursue an MA in conflict transformation and social justice at Queens University Belfast and then an MSc in comparative social policy at Oxford.
Her academic studies, community engagement and political and social advocacy have centered around equity and inclusion for vulnerable and marginalized groups. She has interned with a US Senator and worked and volunteered in local and national political campaigns and voter registration initiatives. She is a doula for Planned Parenthood.
At UC, she has served as a senator-at-large in UC student government. She was co-chair of the student government Equity and Inclusion Committee, mentor in the student government mentorship program, Pride ambassador for the LGBTQ center, member of Women in Leadership and Learning, and president of the UC College Democrats.
One of her passion projects has been a program she headed to stock free menstrual products in women's and gender-neutral restrooms across campus.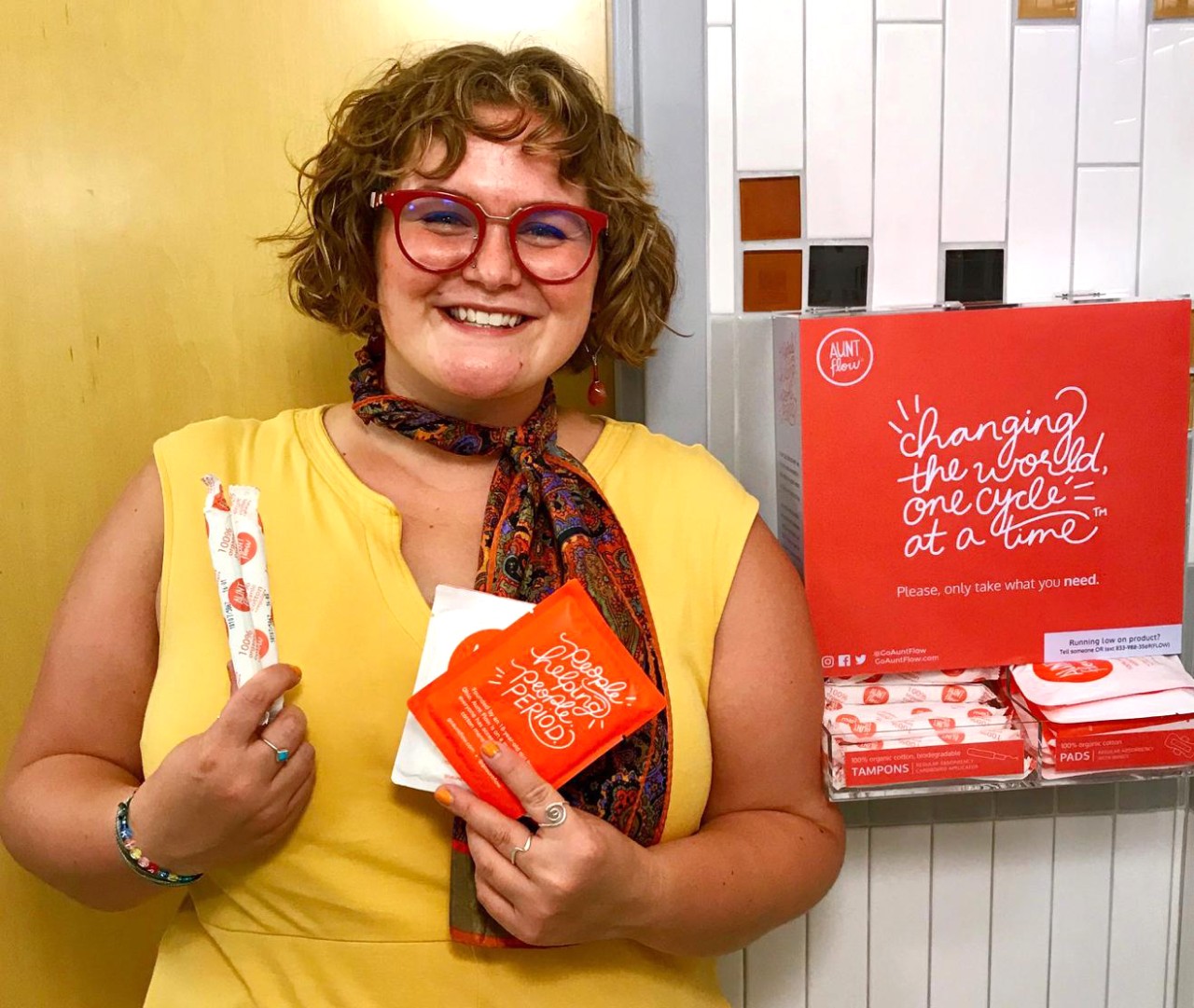 "I just really strongly believe that it's important," Lembright said. "I've talked to many people, I've conducted surveys: Would you see an increase in your attendance of classes? Would you feel more supported? Would you feel like the culture of the university supported you better if there were free menstrual products available for you on campus?
"And the answer has always been yes. This is just an ongoing problem. Other students have tried [similar initiatives] in the past. It took a year and a half and a lot of work but it's happening. It's happening now."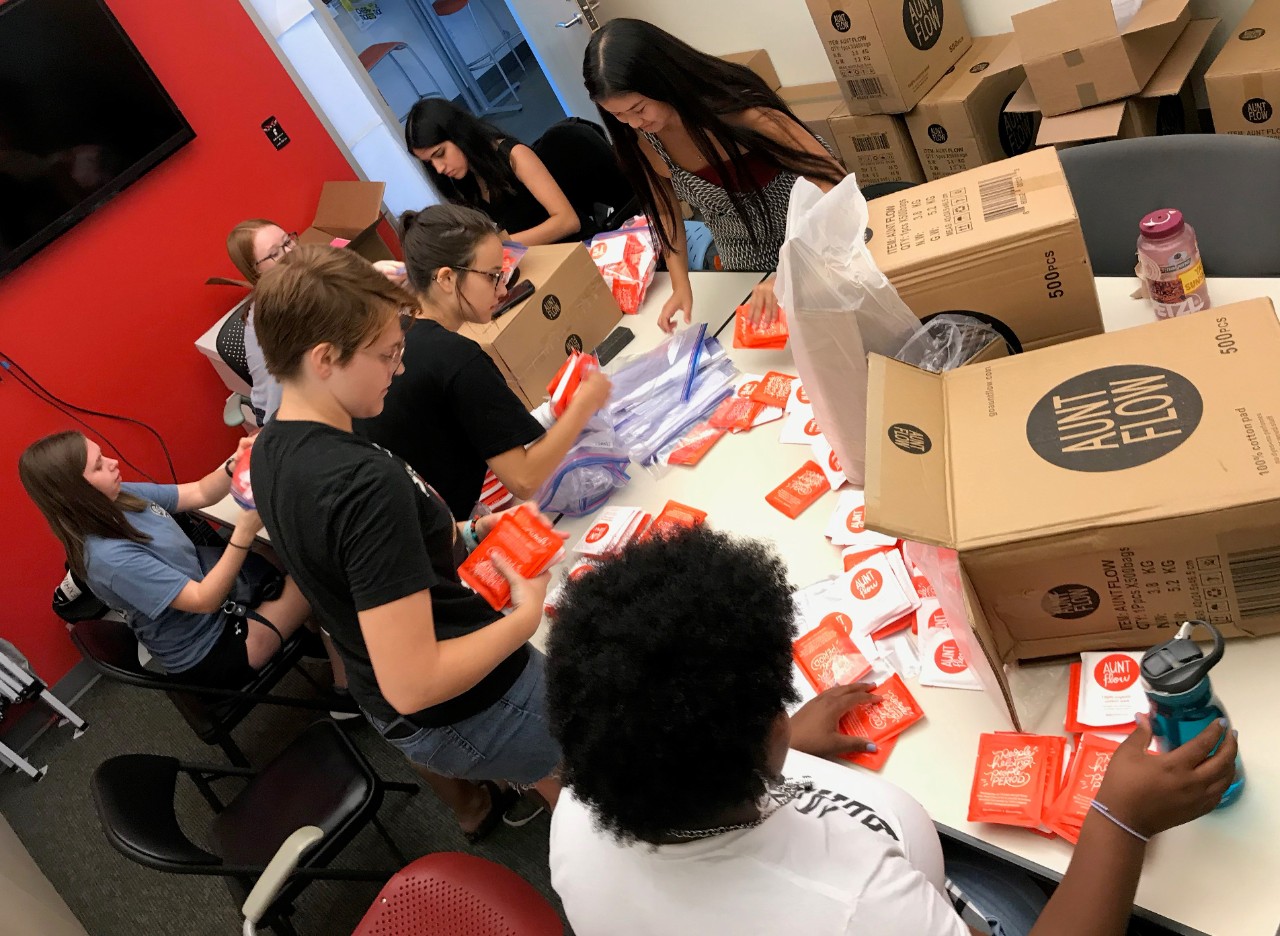 Lembright identified an industry partner, Ohio women-owned business Aunt Flow, that has helped other universities and businesses institute similar programs.
"They've been really good about being transparent about their process, about their model, but also about providing support and some institutional knowledge about how these things work," she said.
"They can tell me, 'Well, at Princeton, it works like this, and students at Ohio University are doing this,' and that really helps in these conversations with administration as well."
Being able to draw on that knowledge of how to navigate institutional culture and its obstacles is one reason that Lembright cites for the current program's success. She has also recruited a team of volunteers to keep supplies stocked and track data on usage patterns. She hopes to transition the program, which is now funded through student government, to university funding in future.

Laura Jenkins, professor and graduate program director in UC's Department of Political Science, said, "Caroline's coursework, advocacy work and community service in the areas of public policy and health policy, all of which focus on gender justice, have prepared her for a career in public health and public service. She was awarded a campus-wide award, the Paradise Scholarship, for her academic excellence and commitment to social justice. I can't think of any other student better prepared to take on the trifecta of global social policy, health policy, and gender justice."
Grace Lillie is a mechanical engineering major, University Honors Program student and Aspire scholar. Her Aspire mentor, DAAP Adjunct Associate Professor Terry Grundy, suggested that she look into a program at the University of Cambridge when she was exploring graduate programs in sustainability.
"I've really enjoyed being able to serve as Grace's Aspire mentor," Grundy said. "We've been able to share many good conversations, through which I've gained an appreciation for her intellectual curiosity, her rock solid ethical values, her ability to focus and concentrate and her taste for adventure. I know [Cambridge] well enough to know that she will do very well there—and I believe that the sustainable development program on which she has her eye will help launch her into a career that will align with her moral convictions and through which she'll make significant contributions."

Through the Marshall scholarship program, Lillie hopes first to pursue an MPhil in engineering for sustainable development at the University of Cambridge and then an MSc in sustainability and consultancy at the University of Leeds. Alternatively, she plans to apply for a Gates-Cambridge Scholarship to pursue the Cambridge degree.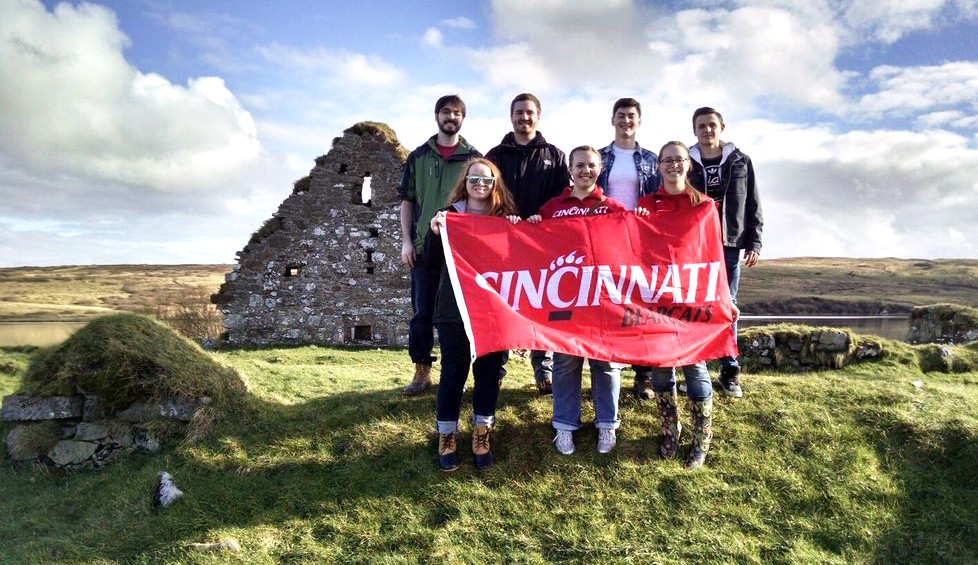 Like Armao, Lillie got her introduction to European sustainability technology and policy through undergraduate study abroad. She had never been on a plane before she took a University Honors Program study tour and an engineering global technical workforce class to Scotland, where she saw those initiatives in the field as well as in the classroom.
 "The UK is generally better at sustainability than the U.S.," Lillie said.
"A lot of traditional programs [here] didn't really have what I wanted. The one at Cambridge was very unique. It combined engineering with sustainability, whereas a lot of the programs in America are either just engineering or environmental studies and policy. For the second year [with the Marshall scholarship] I want to go to Leeds to learn more about consultancy and management. They have a lot of field courses and industry connections to benefit from. I don't want to just take classes — I want to have an experience."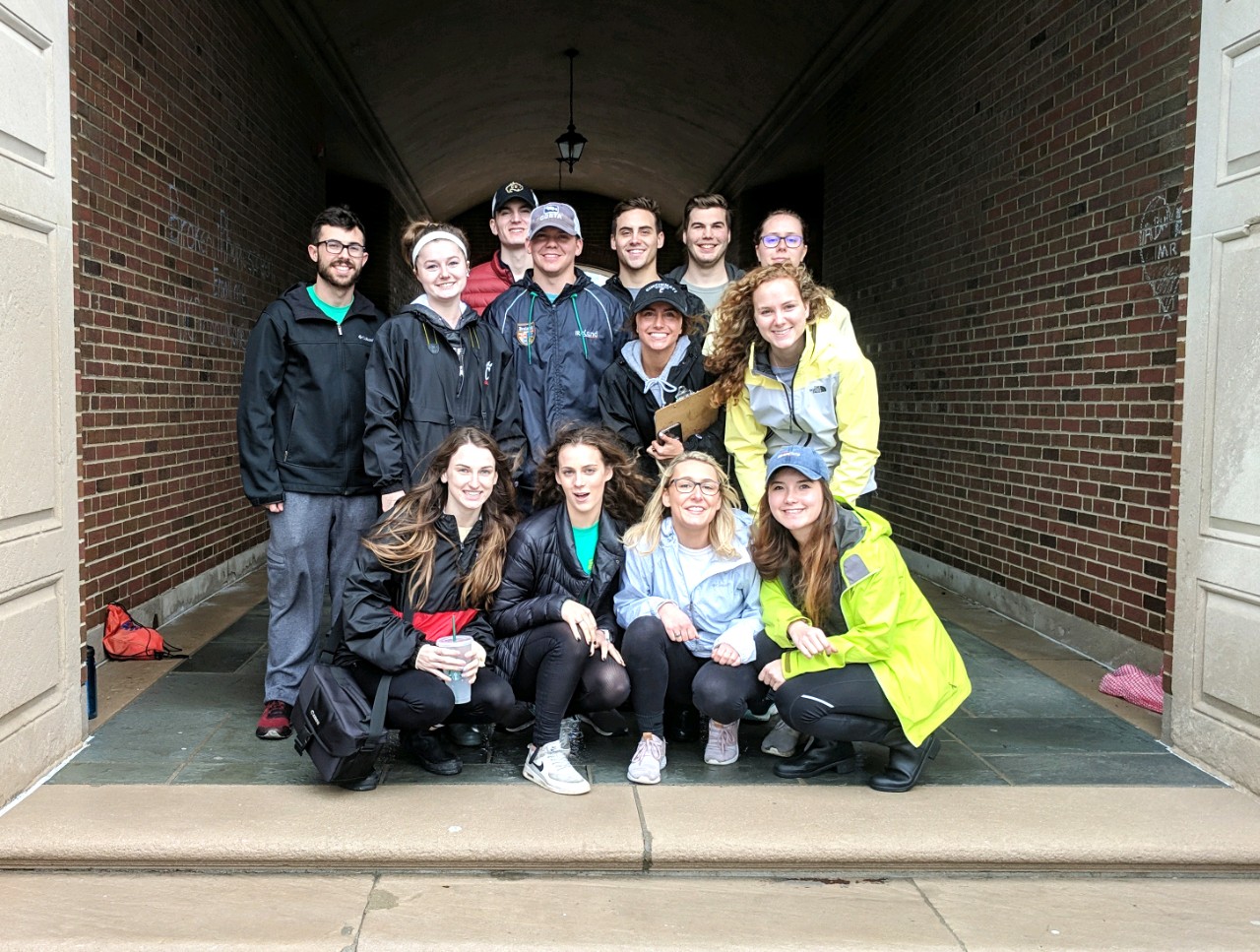 At home, Lillie's passion project is Clean Up Cincy, an independent initiative led by UC students.
"I got involved with them freshman year, which is around the time when they started becoming an organization," she said. "There were a thousand students who all met up and went to different places around the community and just picked up trash for a Saturday morning."
Lillie started as a volunteer and is now a project manager and board member who organizes events in addition to the big cleanup.   
 "We worked with Keep Cincinnati Beautiful, a local nonprofit that has a lot of cool community and sustainability initiatives. They work with the private lot abatement program through the city to take vacant lots that are overgrown or that have a lot of trash and beautify them to improve community morale and safety and quality of life for people. This time it was in North Avondale. We picked up 18 bags of trash and filled almost a dozen lawn bags, weed-whacked and mowed. Since it was a Sunday afternoon, people were out and about, and they thanked us. All the volunteers were excited that, hey, we're doing something that the community appreciates, we're not just barging in. It was just a really cool experience."
The importance of mentors is a common thread that runs through all the students' stories of pursuing highly competitive fellowship opportunities.
"I think that's made a world of difference for me," Lembright said. "Encouragement from people I have connections with on campus saying, 'I think you'd be a good fit for this, I think you should apply, and if you need any support, please let me know.'"
One of Lembright's biggest mentors has been Angela Fitzgerald, former director of the UC Women's Center. Lembright met her in 2016 while working on Hillary Clinton's 2016 presidential campaign.
"Angie encouraged me to run for student government and apply for the Truman Scholarship last year," Lembright said. "I distinctly remember her sitting me down my sophomore year and creating a calendar event six months in advance to talk to her about the scholarship."
Lillie agrees: "Having that faculty support is really encouraging, because without that, it's very daunting and intimidating. Can I really do this very impressive thing? Am I ready, am I qualified? It's hard to just do that on your own."
During the application process, the candidates gain another mentor in Hyest.
"Dr. Hyest was amazing," Armao said. "She would read the drafts [of the application essays] and send really detailed feedback, which made it a lot easier. She was doing that for all of us, and that's saying a lot, because that's not all she does. She runs workshops, meets with other students who are interested, goes to conferences, all of that. Having people that are dedicated to getting you to that place motivates you to get through the stressful parts."

Lillie said she deeply appreciated Hyest's help.
"Definitely. To be able to just send her an email with my draft and then get that feedback, and to be able to schedule a phone call if I needed more direct back and forth," she said.
"I went through four or five drafts at least to get through all the essays—five drafts of five essays. She would take so much time to read them and really ask those hard, deep questions, digging into what is motivating you, why do you want to do this?"

Even for students who (as Lembright puts it) "self-select" for demanding academic and activist lives, the nationally competitive awards application process is a lot of work and a lot of pressure with a small probability of success. Still, all four of this year's candidates find value in having gone through it.
"Even if I don't get [the Marshall], it's been such a really good reflective and rewarding experience, being able to clarify what I want to do," Lillie said.
"I now have this better idea of who I am, who I've become and how the different aspects of college have influenced me. How my career goals are shaping before me."
"Something that encouraged me was that, although it's an extremely competitive award, we would get more out of it than just the chance of receiving it," Armao said. "We worked on it so much, going through it and thinking about, what do I want to be doing? What's important to me? And having those contacts with faculty and people you've worked for are so beneficial in other things we're trying to do after we graduate. So that made it worthwhile for me even though I know it's such a low percent chance for any one person to receive the award."
You're inventing who you are to a certain extent. Not in the sense that you're making something up, but you're really claiming that self.
Jenny Hyest, UC's Office of Nationally Competitive Awards
Selmanovic adds that there are practical advantages, too, in having applied.
"It's nice, because now I'm applying to grad schools here and at other schools in the UK for my PhD, and they only require three recommendation letters [compared to the eight he had to get for the Rhodes]. It's nice to have a backup so you don't have to stress if you want to go to grad school or med school or whatever else."
Lembright says that the process opened up an unexpected future for her.
"I thought that the intersections of my interests were really niche and that no one else really cared about these things," she said. "There are entire programs built on these! It just so happens that they're not here, but they're out there."
One of Lillie's mentors, UC Professor Emerita of Mechanical Engineering Urmila Ghia, says she always encourages her students to apply for competitive fellowships like the Marshall or Rhodes if they have the qualifications.
"Even if they don't win, I say, you will learn so much about yourself and you will discover what you want to do and how you want to do it," Ghia said. "Because you have to present a plan, you have to present a goal, and that's something that we normally don't do in our everyday work.
"It's like writing a proposal. The process of preparing the proposal is very informative and very educational. You have to do a lot of background research, you have to put together some seed results, you get to know the university system of how to submit a proposal. And all that comes very handy in your professional career."
Hyest said the effort is worthwhile.
"There are benefits to this intensive period of reflection, analysis and synthesis, the kind of consolidation of oneself that you get to do," she said. "You're thinking about, what have I done here, what have I learned, what are the skills that I have developed, what are the communities that I have moved in? How do those reflect the things that matter most to me? What are the values that have driven that work?

"You're inventing who you are to a certain extent. Invention not in the sense that you're making something up, but you're really claiming that self. You're understanding who you've been and casting into the future to imagine who you'll become."
"I'll often hear students say that even at this point, just before they're heading into their senior year, sometimes the application process causes them to shift their understanding of what they might be doing and what their future could look like. It's a powerful moment to be doing this kind of work for that very reason, because they're about to launch out. Because they need to project into the future and offer this really clear vision of what they could go on to do.

"And ultimately, I think that's what these scholarship foundations are looking for. They're looking for candidates who have a vision. Everyone understands that the students can and likely will pivot from the plans they describe. But it also it's hard to take your first step forward if you don't have a direction. So go ahead and take that step."
Expand your horizons.
Explore your fellowship opportunities through the Office of Nationally Competitive Awards.
Information sessions are open to all students Mondays and Thursdays at 12:30 p.m. in Swift 709. No appointment is necessary, and you can begin your exploration early in your academic career.
Email nca@uc.edu for more information.
Featured image: Grace Lillie, Din Selmanovic, Anna Armao, and Caroline Lembright. Photo by Natalie Ochmann.
1
UC student teams cracking codes for change at MakeUC event
November 15, 2023
Within the sleek confines of 1819's cutting-edge technology, an army of overnight hackers unleashed a wave of innovation, turning laptops into digital canvases and transforming the ESports Innovation Lab into a virtual battlefield. In the Makerspace's hidden lair, 3D robotic models were forged — all for a good cause.
2
Global students thriving at the University of Cincinnati
November 13, 2023
With a new class of 1,543 for fall 2023—just 4 students short of last fall's record-smashing intake—the University of Cincinnati's international enrollment has reached 4,899 students, or 9.6% of the student population. It's the highest number in UC's history, up 15% from last year, due in part to UC's strong support for international student success.
Debug
Query for this