University of Cincinnati Celebrates #GivingTuesday Dec. 3
Dec. 3 is #GivingTuesday, and the University of Cincinnati is celebrating the many ways it makes a positive impact on the world. Choose the difference you want to make by empowering our next leaders, exploring our next frontier or embracing our next purpose.
Make a gift and receive this year's limited-edition Bearcat ornament (while supplies last).
You can also sign up to be a social media ambassador and spread the word about this year's campaign.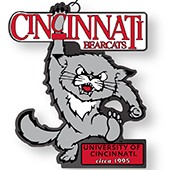 #GivingTuesday is a global day of giving fueled by social media and collaboration, celebrated the Tuesday after Thanksgiving. This year's event is Dec. 3.
What is a #GivingTuesday ambassador?
Ambassadors are passionate individuals who will advocate for important programs and help us spread the word about the overall cause. We provide ambassadors with a toolkit, including social media and email templates, to share with friends. The top online ambassadors are eligible to win prizes. 
Donate to any University of Cincinnati fund on #GivingTuesday and receive this year's limited-edition Bearcat ornament (while supplies last). Give now.

1
Venture Lab, Center for Entrepreneurship merge to boost...
December 1, 2022
The UC Venture Lab and the UC Center for Entrepreneurship will merge into a single unit. The newly integrated team will be led by Kate Harmon, executive director of the Center for Entrepreneurship and the El and Elaine Bourgraf Director of Entrepreneurship.
2
UC research seeks to protect athletes from brain injuries
December 1, 2022
Former football players worry about the effects of concussions suffered during their playing careers and hope research from the University of Cincinnati will help them and future generations avoid the worst consequences of brain injuries. UC's Office of Research hosted a panel discussion in the Flashpoint Series, "Brain Injuries in Sports: How we can help our athletes," which addressed the effects of brain injuries and how research aims to develop solutions to protect athletes.
3
The future of work: How can employers engage employees?
December 1, 2022
With unemployment rates throughout the United States near 50-year lows, American companies have reported difficulties in hiring and retaining employees. Three professors and a staff member from the University of Cincinnati's Carl H. Lindner College of Business discuss how employees can attract potential employees, how they can keep their current employees engaged with their work and shifts in employee engagement trends.
Debug
Query for this