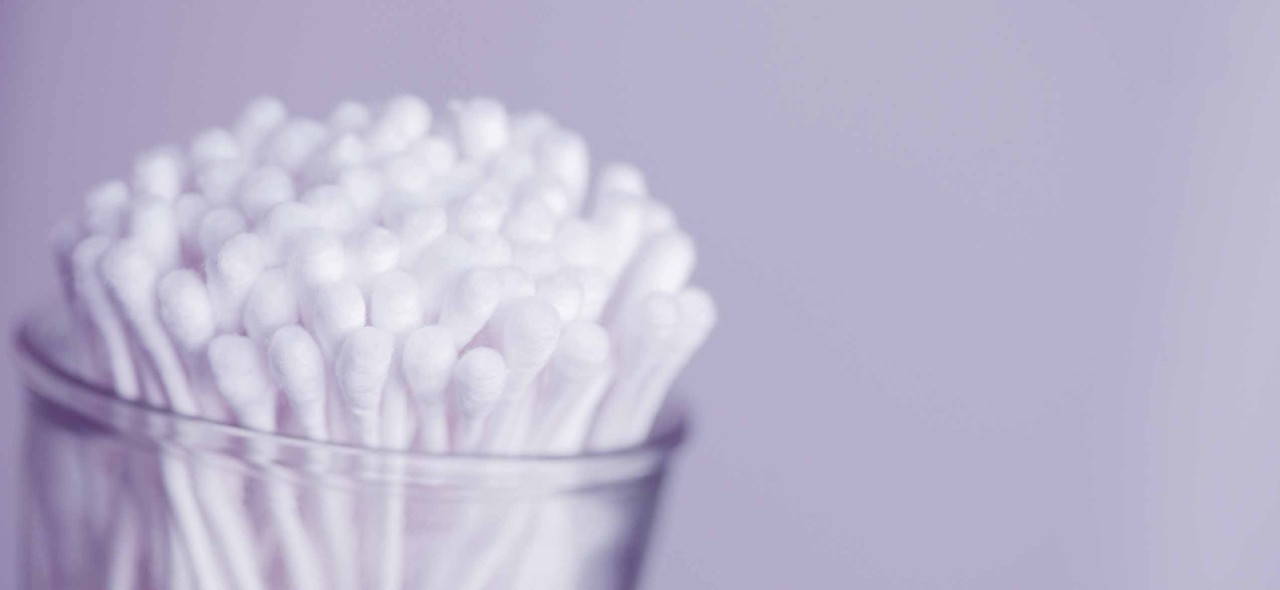 UC grad's company offers new COVID-19 test
MiCo BioMed is looking to market the DNA-testing device in the United States
A University of Cincinnati graduate helped develop a quick DNA test for COVID-19, or coronavirus.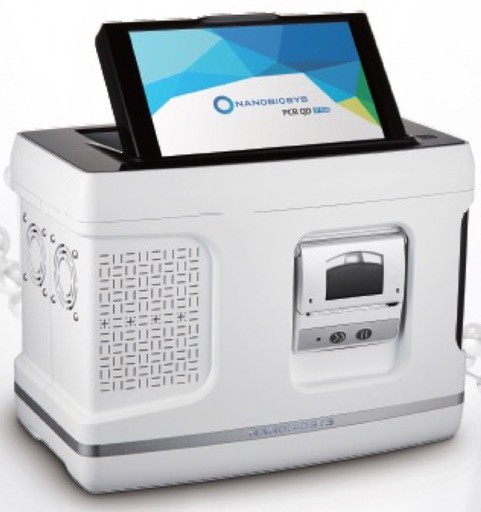 Medical manufacturing company MiCo BioMed, which has an office in Cincinnati, licensed intellectual property related to UC's lab-on-a-chip technology. The company, based in South Korea, has developed a DNA/RNA detection device the size of a toaster that can provide rapid and reliable results in an hour, said Jay Han, a UC graduate who supervises the company's U.S. operations.

The device has regulatory approvals for use in Europe. Now his company is seeking a healthcare partner to get U.S. Food and Drug Administration approvals in the United States.
"Hopefully we can find a partner to get quick approval from the FDA for coronavirus detection," Han said.
The project demonstrates the positive impact UC graduates are having around the world as described in UC's strategic direction called Next Lives Here.
"The portable device can test bodily fluids to quickly identify COVID-19 using a DNA amplifier. COVID-19 can be confirmed within an hour, which is faster than traditional tests that can take three hours using bulky instruments in the lab," Han said.
Each test cartridge can test up to six samples, so each device can test as many as 140 samples per day.
"Our technology is based on microfluidic lab-on-a-chip technology. That is key, I think." Han said.
In microfluidic lab-on-a-chip, small DNA samples from a patient are amplified to create enough DNA to generate a detailed study. The new device allows for a shorter test time, Han said.
Han earned a doctoral degree in electrical engineering from UC's College of Engineering and Applied Science in 2005 after completing an undergraduate degree at Korea University. He studied under UC electrical engineering professor Chong Ahn, whose startup company Siloam Biosciences was purchased by the publicly traded MiCo BioMed in 2019. Han was one of the founding employees of Siloam in Cincinnati.
In his lab at UC, Ahn is developing simple and portable testing devices for infectious diseases such as malaria. For one experiment published this year in the journal Microsystems & Nanoengineering, he developed a portable lab that plugs into your smartphone, transmitting test results to your doctor. A patient simply puts a single-use plastic lab chip into his or her mouth for sampling saliva then plugs that into a slot in a credit-card-sized analyzer which plugs likewise into a smartphone.
A digital app UC developed can transmit the test results to a doctor or the patient.
I was in electrical engineering, but at the same time I learned biology and chemistry. It's a very good interdisciplinary program.
Jay Han, UC electrical engineering graduate
Ahn said a smartphone application for coronavirus isn't yet available. But his lab is developing a DNA lab-on-a-chip for a smartphone that can test coronavirus as well as other infectious diseases.

The market for MiCo BioMed's coronavirus device includes doctor's offices, hospitals and health departments. But Han said he thinks its ability to conduct tests remotely makes it especially useful for rural or isolated parts of the United States or home care services
"There are people who have trouble getting access to labs or hospitals. It takes a lot of time to travel," Han said. "In that case, our system can assist and help people living in those areas."
Coronavirus testing in the United States has been a hot topic this month. As of this week, South Korea has tested about 300,000 people, identifying the virus in 8,000 patients. This has dwarfed the number of tests conducted so far in the United States at just 60,000.

"They prepared earlier," Han explained. "They made a testing kit in two days when coronavirus began to spread. And they began testing every person who arrived at ports in the country."
UC's Ahn said South Korea had more experience dealing with previous deadly epidemics such as SARS. The country's transparency of data, massive early tests and social cooperation in dealing with the outbreak also helped, he said.
"People are willing to keep their social distance and undergo rapid and massive testing to keep the outbreak controlled," Ahn said.

Han said his experience in UC's Department of Electrical Engineering and Computer Science prepared him for the challenges of running a biosciences company.
"UC provides a lot of opportunities to learn new things. The PhD program was well-developed. The coursework was thorough for the advanced research. I worked in the lab and ERC clean room four days a week, so I had opportunities to learn about everything in the lab," Han said.
"I was in electrical engineering, but at the same time I learned biology and chemistry in departments of biomedical engineering and chemistry," he said. "It's a very good interdisciplinary program."
Featured image at top: Cotton swabs. Photo/Sharon McCutcheon/Unsplash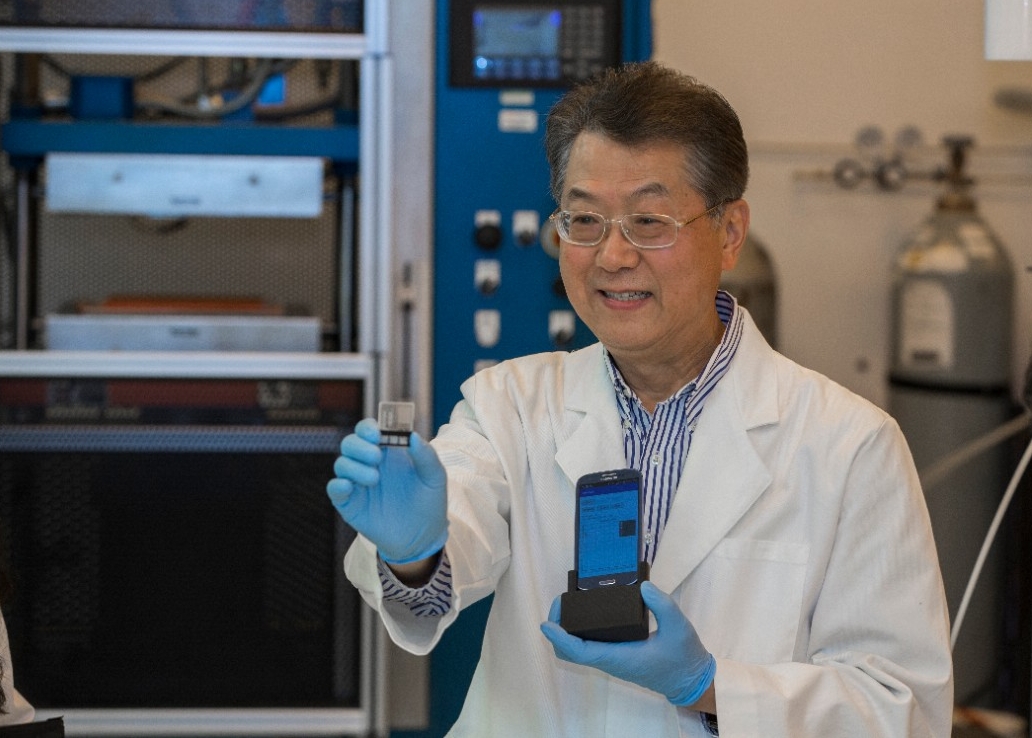 Impact Lives Here
The University of Cincinnati is leading public urban universities into a new era of innovation and impact. Our faculty, staff and students are saving lives, changing outcomes and bending the future in our city's direction. Next Lives Here.
Stay up on all UC's COVID-19 stories, read more #UCtheGood content, or take a UC virtual visit and begin picturing yourself at an institution that inspires incredible stories. 
Become a Bearcat
Apply online or get more information about undergraduate enrollment by calling 513-556-1100.
Learn more about UC's many undergraduate and graduate programs.
1
Ongoing quest for justice a life-changer for all parties
December 7, 2023
The Ohio Innocence Project and its student fellows, past and present, recently marked 20 years working to exonerate the wrongfully convicted. OIP co-founder and director Mark Godsey, as well as past OIP fellows and Cincinnati Law alumni, Eric Eckes, Law '08, and Simar Khera, Law '15, spoke about their shared experience and its life-changing impact.
2
Lindner student named to Schwarzman Scholars class of 2024-25
December 7, 2023
Carl H. Lindner College of Business student Lance Entsuah, BA '24, recently earned admission to the prestigious Schwarzman Scholars program that offers a one-year, fully funded master's degree program in global affairs from Tsinghua University's Schwarzman College in Beijing, China.
Debug
Query for this