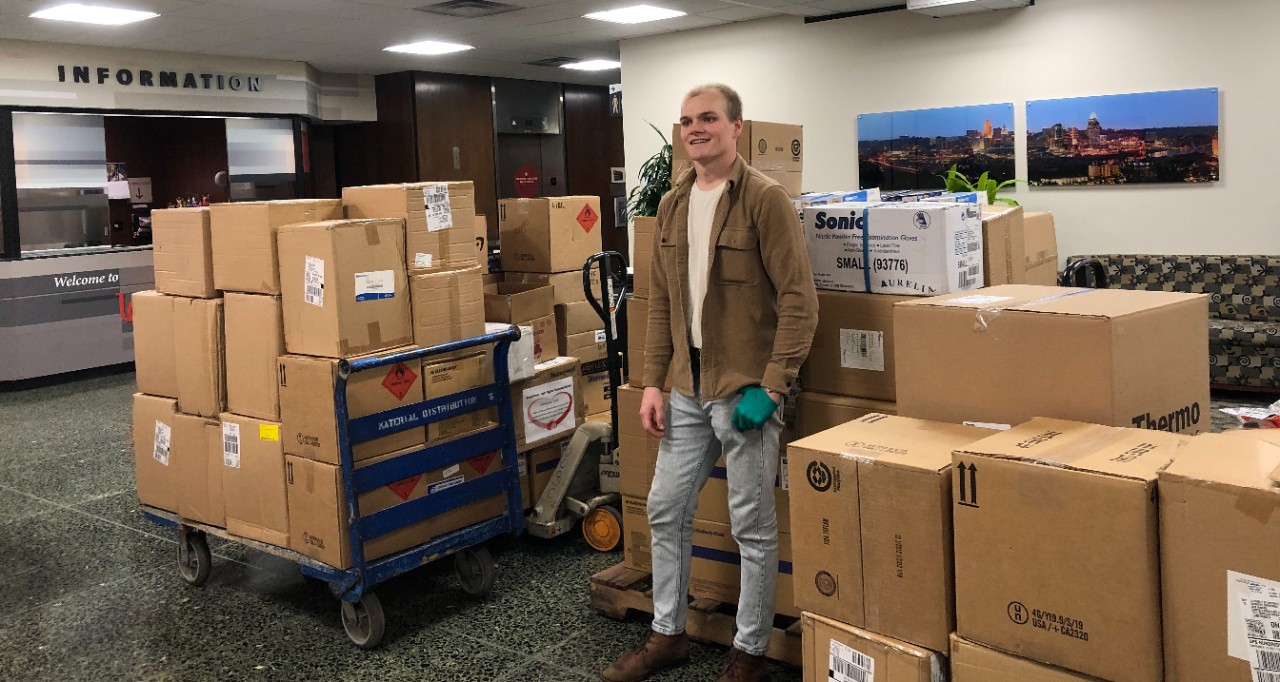 UC science labs donate protective gear to UC Health
With most science labs shuttered, UC donates masks, gloves and gowns for medical staff
Science departments at the University of Cincinnati are donating unused lab equipment to UC Health to augment its supply of personal protective equipment for nurses, doctors and staff.
The Chemistry Department in UC's College of Arts & Sciences reached out to biology, physics and other departments in A&S and then extended its solicitations to the College of Engineering and Applied Science and the College of Design, Architecture, Art, and Planning.
"The University of Cincinnati is a family. And you always help family," said Jack Hinders, senior lab associate in chemistry.
"Our healthcare workers make sacrifice after sacrifice to protect all of us. It feels great to do something that will help protect them, too," he said.

The University of Cincinnati is a family. And you always help family.
Jack Hinders, UC senior lab associate in chemistry
So far this month, Hinders said they had collected more than 41,500 pairs of examination gloves, 30 pairs of lab goggles, 1,500 disposable lab gowns and 500 isolation-type face masks. Hinders said departments across UC's campus continue to look for lab equipment suitable for donation.
UC associate professor Heather Norton found a couple unopened boxes of gloves she had in her anthropology lab. When she dropped them off to Hinders, she was surprised by what she found.

"I didn't realize how much Jack had assembled. It was mind-boggling," she said. 
These days, her students aren't spending time in their anthropology lab. Instead, they're studying and filing assignments remotely.
"This is a weird time for everyone. We all want to help. This is a small way we felt we could contribute," she said.
UC Health spokeswoman Amanda Nageleisen said the donations were welcome.
"We are grateful for all those across our UC family and within the community who are showing support for our medical professionals and patients during this time," she said.
Visit UC Health to learn five more ways you can support local medical professionals and the community during the COVID-19 crisis.
Featured image at top: Jack Hinders stands among donated boxes of personal protective equipment. Photo/Heather Norton
Impact Lives Here
The University of Cincinnati is leading public urban universities into a new era of innovation and impact. Our faculty, staff and students are saving lives, changing outcomes and bending the future in our city's direction. Next Lives Here.
Read more #UCtheGood stories, or take a UC virtual visit and begin picturing yourself at an institution that inspires incredible stories.
1
WVXU: Tech CEOs talk AI with lawmakers
September 22, 2023
Professor Richard Harknett is a guest speaker on WVXU's Cincinnati Edition on the topic of AI and the need, or lack thereof, for government regulations. Professor Harknett is the head of UC's School of Public and International Affairs and is an often sought out media resource on technology, cybersecurity and governmental affairs.
3
UC and GE partner to introduce high schoolers to engineering
September 21, 2023
Rising 9th and 10th graders experienced a free, weeklong, immersive engineering camp at the University of Cincinnati as part of GE's Next Engineers program. Students completed hands-on engineering design challenges while being mentored by GE Aerospace volunteers, industry professionals and current College of Engineering and Applied Science (CEAS) students.
Debug
Query for this