UC engineering student helps raise $170K for COVID-19 relief
The fund will aid UC students facing hardships from the pandemic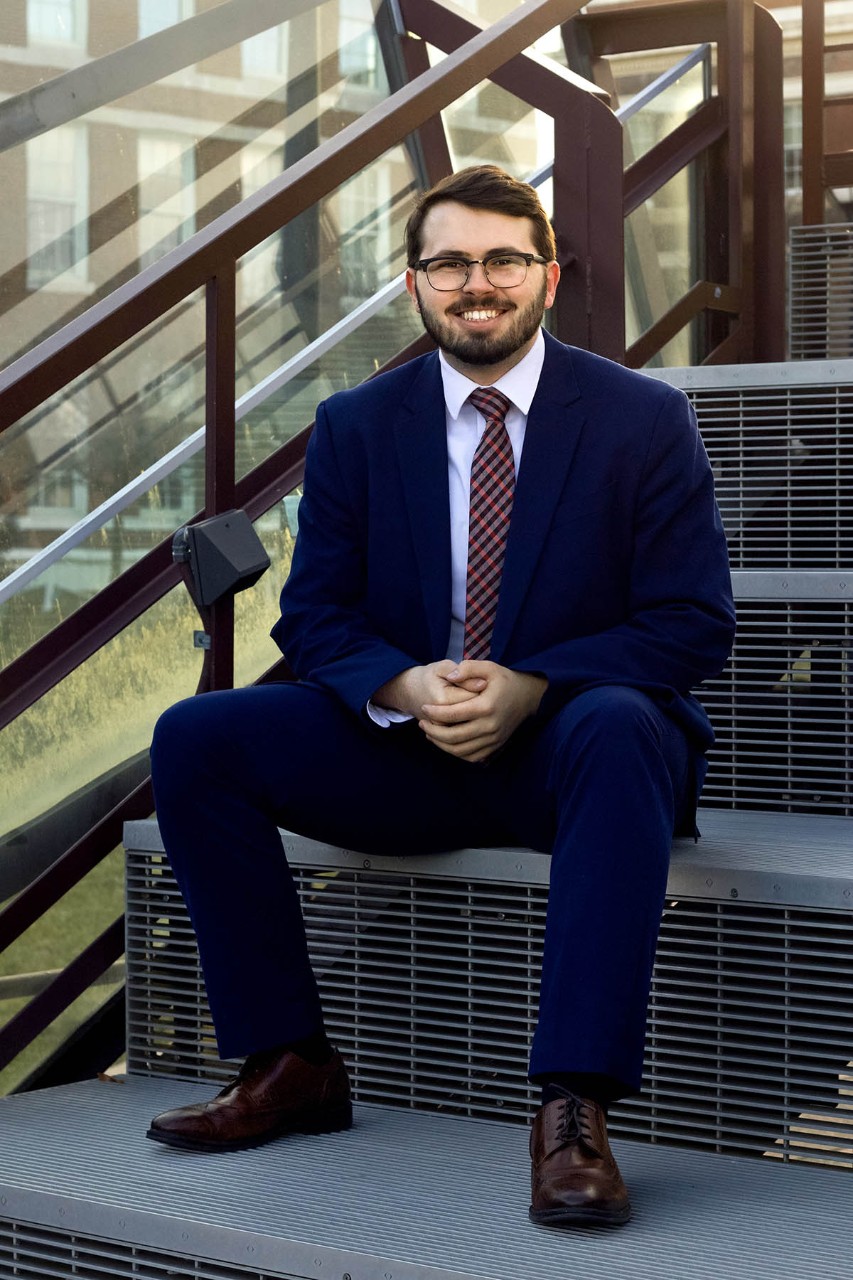 When entering the University of Cincinnati four years ago, Logan Lindsay (computer engineering '21) was given the advice to get involved on campus. He has taken that guidance to heart in a major way.
He helped raise more than $170,000 for UC students in emergency need during the COVID-19 pandemic. 
Lindsay, the incoming student body president of UC, partnered with Chandler Rankin, the outgoing president, to create the Bearcat Emergency Fund. The fund helps students with emergency expenses resulting from unexpectedly having to vacate their dorm room, not having cafeterias available, traveling home and many other needs.
The fund is already benefiting students. Help comes in many forms – Kroger gift cards for groceries, funds for emergency travel to their home, and stocking the Bearcat Pantry with food, hygiene items and cleaning supplies.
A graduate of Lebanon High School 30 miles northeast of UC, Lindsay lettered in football for the Warriors, a team that competed at the highest level of Ohio scholastic sports.
"Although I wasn't a football superstar, I strongly believe that my experience with football helped teach me the discipline needed for my past roles and future role," Lindsay said. "If it wasn't for that sport, I don't think I would be as diligent as I am today."
After hanging up his cleats, his campus involvement started with UC's College of Engineering and Applied Science's Tribunal, which serves as the student government entity for the college. He joined CEAS Tribunal's mentorship program as a first-year student and was off to the races from there.
"This experience shaped my future in student involvement as it gave me a clear vision of what CEAS Tribunal is and which positions I would like to hold," Lindsay said.
As he climbed the ranks in Tribunal, eventually becoming the organization's president, Lindsay found the opportunity to improve conditions for students, driving him further in his campus involvement.
Over the next academic year, Lindsay will work to put his presidential campaign platform to work. His goals include enhancing access to advising, counseling and to the Bearcat Pantry, bolstering the student homelessness fund, increasing resources for identity-based centers, expanding the fight against sexual assault, improving sustainability with regard to food and plastic use on campus, and adding services for food-ordering and career development like professional headshots for all students.
Outside of campus, Lindsay is finishing out his co-op rotations at Siemens PLM where he works as a software developer. He previously gained experience with London Computer Systems with co-ops in quality assurance and software development.
When he chooses his career after graduation, he will use his mix of skill, leadership experience, and drive to help others to progress toward a management position.
Lindsay's story shows what can be accomplished when students enter UC ready to explore involvement on campus. In his case, those accomplishments include being elected student body president and helping raise $170,000 for students in need.
The Bearcat Emergency Fund is still accepting donations. Students in need of emergency financial assistance can visit the UC dean of students website.
1
Ohio-based workplace design company LOTH, Inc. creates...
December 5, 2022
At the University of Cincinnati a small group of students is dedicated to competing in regional and national collegiate sales competitions. They meet weekly to fine-tune their sales skills in preparation for these day-long role-playing contests.
3
UC research seeks to protect athletes from brain injuries
December 1, 2022
Former football players worry about the effects of concussions suffered during their playing careers and hope research from the University of Cincinnati will help them and future generations avoid the worst consequences of brain injuries. UC's Office of Research hosted a panel discussion in the Flashpoint Series, "Brain Injuries in Sports: How we can help our athletes," which addressed the effects of brain injuries and how research aims to develop solutions to protect athletes.
Debug
Query for this